U.S. Open
U.S. Open 2023: LACC finally got mean, and threatens to get meaner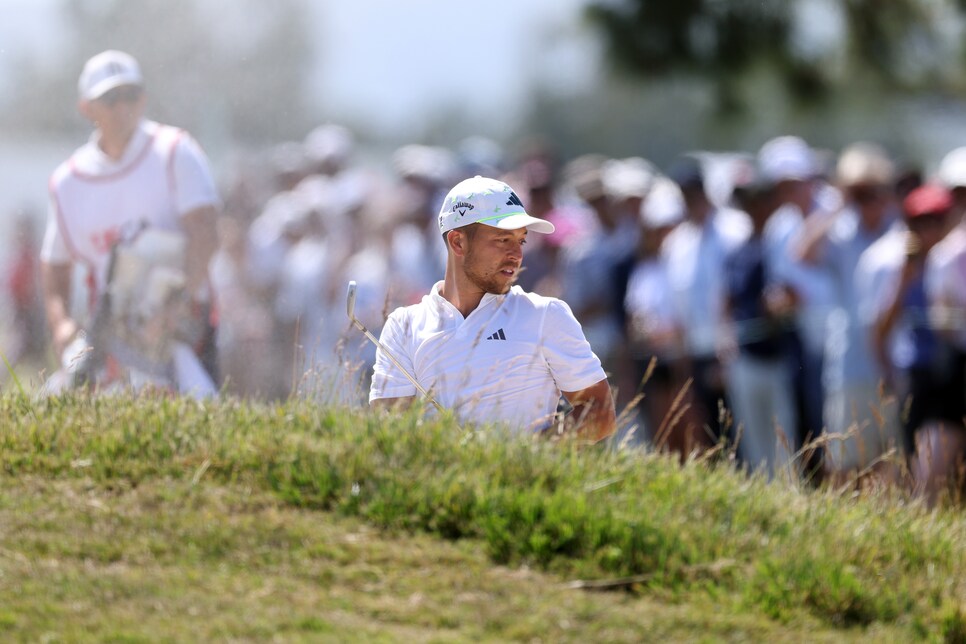 LOS ANGELES — Xander Schauffele raised his right arm to defend his eyes from an incoming sandstorm, or to possibly hide them from what sent that cyclone spiraling. He had failed to escape the fairway bunker to the left of the first hole and try No. 2 proved just as futile. Men of lesser fortitude would have snapped their iron in two, shook their opponent's hand and decided this day would be better spent at Redondo Beach. But there was no pouting from Schauffele, no "surrender Cobra," no f-bombs at himself or the bunker or the folks running this championship. There was no time for that in a round when punches—even the self-inflicted ones—were expected. Schauffele knew what he had to do, which is give his head up and his movement forward and do his best to avoid the knockout blow.
After two days of tranquility that begged the question of what major we were watching, Los Angeles Country Club and the USGA reminded the field and fans and everyone watching at home that this U.S. Open remains a U.S. Open by leaning into the combativeness and brutality inherent to the name.
"It's just diabolical," Bryson DeChambeau said Saturday evening. Added Tom Kim: "A lot firmer and a lot faster."
Early in the week USGA officials stated their intention to play the course as they found it in LACC's debut, as it was designed and sculpted to be played. That hasn't always been the case with this championship. The governing body has battled accusations for years that it protected par in artificial manners that compromised the tournament itself. Word from early scouting reports from players and caddies asserted this U.S. Open could produce lower scores than tournaments past.
Unfortunately, it's a thin line between a fair test and a test, and Thursday was not much of a test at all. The USGA played it safe with a number of pins and tee markers, which—coupled with an ever-present marine layer and a steady morning shower—created advantageous scoring conditions, LACC surrendering two U.S. Open-record 62s and a number of other sub-70 scores. While Friday was nowhere as nice, there was still plenty of red on the scoreboard. Four of the seven lowest 36-hole scores in U.S. Open history came this week, Rickie Fowler made a record 18 birdies through two days and a whopping 29 players entered Saturday under par. In a sense you had to feel for the USGA: Make things too hard and players threaten a revolt, but too easy is no good, either. U.S. Open crowds want pain.
After all, part of this championship's appeal to a certain fan is that it makes the world's best look like the rest of us. LACC was doing the opposite, reminding the gallery of the playing expanse between those inside the ropes to those out. Saturday's early-morning wave did little to signal the monster would emerge, with a number of front-nine 32s and 31s and a record-setting 29 from Kim. This wasn't Erin Hills, but it wasn't the Massace at Winged Foot, either.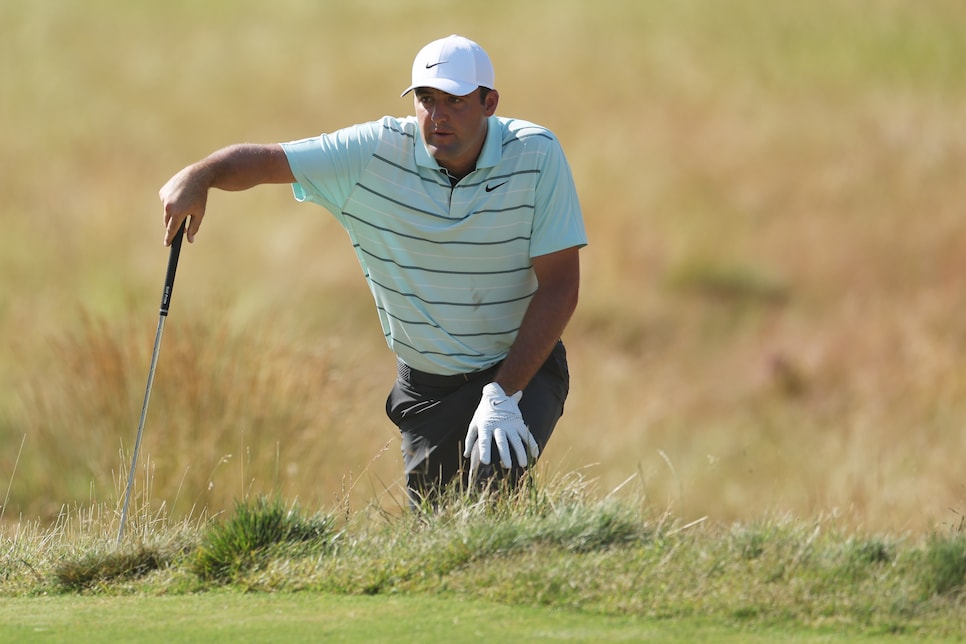 Then the darndest thing happened. See, the sun finally emerged, and in the process the course got as firm and fast and crispy and mean as it's been all week. Drives began to bounce on some fairways like they were on a trampoline while others remained soft, confounding players. Shots that were less than good found trouble. Lag putts that had settled by the hole all week were no longer providing easy tap-ins. The wind stopped by for a few hours, adding another variable to the equation. The back was especially challenging, averaging nearly two shots higher than the front, and the afternoon wave was two over for the day. Only four players broke 68 after 24 did the previous two rounds.
"Yeah, it's tough," Harris English said. "The pins were tougher today. The greens are definitely getting firmer, especially late in the day they were getting pretty chopped up and definitely tougher to make putts. But it is what it is. It's kind of what you get when you're in the last group. That's why we're here."
Schauffele bogeyed three of his first five holes and finished with a 73. In fact five of the eight final golfers off Saturday—Schauffele, Dustin Johnson, Sam Bennett, Harris English and Min Woo Lee—finished their rounds over par. That doesn't include Scottie Scheffler, who avoided that group thanks to a holed-approach for eagle at the 17th that was the shot of the week. Kim shot the round of the day with a 66 … and that was playing the final six holes three over.
And yet good approach shots held, balls were not oscillating, putts did not roll endlessly off greens. It was unrelenting and diabolical but not absurd. Players are not complaining, at least about the conditions. (The course itself is a different manner.) Pádraig Harrington called LACC's greens some of the best he's ever seen, and the guy has seen a few greens. The day threaded that sought-after but rarely-attentioned ideal this championship strives to be: Tough but fair.
"I think some of the setup stuff has been also a little bit interesting. It can be frustrating at times with how firm the greens are and how much softer the fairways are," Scheffler said. "But at the end of the day, it's golf and you get good breaks and bad breaks. I like that the golf course is challenging. I like that the greens are really firm. There can just be some frustrating aspects to it when golf courses get this challenging. It's just the nature of the game."
"Especially with the sunshine, yeah, the greens are just getting firmer and firmer," added Viktor Hovland. "Especially I think 14 is going to be very tough; 15 is going to be tough; 17 and 18 you've got some room, and 16 you've got some room, but I think 14 and 15 can get pretty dicey."
Thing is, the worst might still be to come. The USGA now has a feel for how players are attacking the course. More sun and heat Sunday will continue to firm the property, and there are a number of tough pin positions, especially on the front, that the USGA has yet to utilize. Besides, Thursday provided latitude to get biblical and get away with it.
Through three days this wasn't your father's U.S. Open. But you can give your pops good news: The U.S. Open on Father's Day promises to be exactly that.
MORE FROM GOLF DIGEST @ THE U.S. OPEN