LOS ANGELES — He had an ease you're not supposed to have at this championship, but that's what it was—ease, the best and only description for Rickie Fowler's opening round at Los Angeles Country Club, an eight-under 62. If that sounds low, well, it is, good enough for a tournament record. This championship has been contested since 1895, a year in which there were only 44 states in the union and professional football would not debut until the fall. In all that time, from then until now, there had been only six 63s in tournament history.
And in a span of 10 minutes that number was beaten twice.
Xander Schauffele also torched LACC's North Course, racking up eight birdies and boasting a clean card to match Fowler's 62. There were a bunch of 67s not far behind, and other red numbers at a competition where the board is usually colored in black … and that's just from the morning wave. By day's end, the opening round scoring average would settle to 71.39, nearly one shot lower then the previous record for Round 1 in the championship.
This U.S. Open has not looked or felt like the U.S. Open.
"It's a pretty low round at a U.S. Open," said World No. 1 Scottie Scheffler of the 62 after authoring a 67 for himself in Round 1. "I joked a bit earlier. I think the USGA will be a bit frustrated that the number was that low today."
We understand where Scheffler is coming from. This is the major that mucks up score cards and breaks psyches and causes players to hit moving balls and proclaim, "They've lost it, they lost the golf course." If you're wondering if the U.S. Open has gone soft, well, that's fair.
Except the USGA has routinely been accused of being "unfair." For years, the governing body battled accusations that its major counterparts did not, that the USGA's protection of par came at the cost of the integrity of its setups. That beget a sense of existential angst regarding what the U.S. Open aspires to be and how it should achieve this increasingly challenging standard. But since the Saturday debacle at Shinnecock Hills in 2018, the USGA has done its best to avoid repeating those mistakes, and it has: Last year's U.S. Open at The Country Club outside Boston was a brute, yet there was nothing superficial or nefarious in its punishment.
The problem is there remains a segment of fans who consider themselves U.S. Open traditionalists, who like to use the word "good bogey" and want to see the world's best look as bruised and beaten and lost as the rest of us. That crowd likely sees what has happened at Los Angeles Country Club and wonders, "What gives?"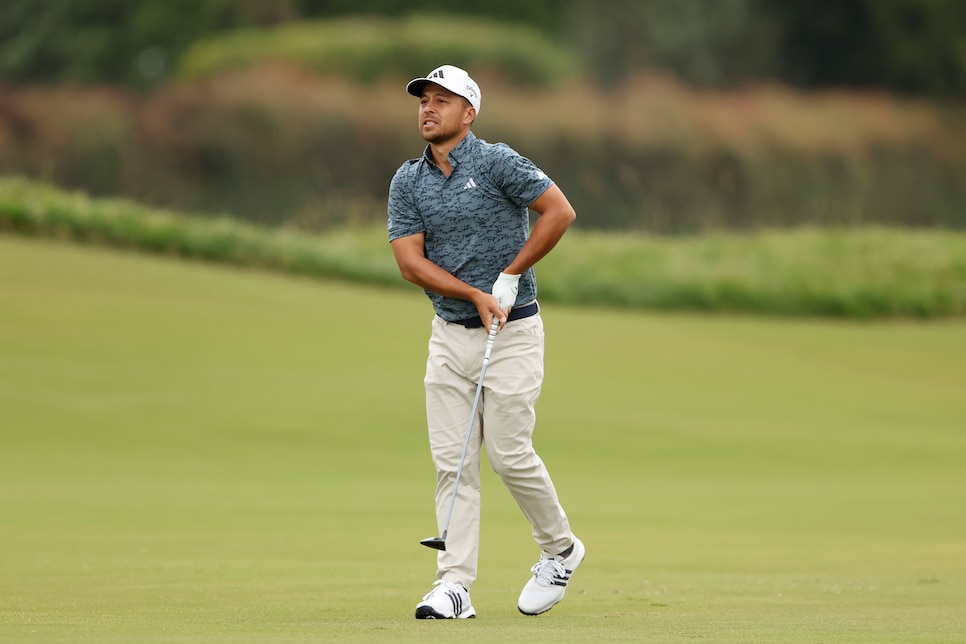 The surface answer is Mother Nature. The area remains trapped in "June Gloom," bringing colder temperatures and a wet marine layer that have also kept the property from achieving that desired firm-and-fast conditioning. It also rained early Thursday morning in Los Angeles, and though the shower was light it was steady enough to keep the course's confines from turning into a trampoline.
"When I showed up this morning and our agronomist said the mist isn't helping us and it's softer than we had planned, we knew the scores were going to be good but didn't know how good," said John Bodenhamer, USGA chief championships officer, in an interview on Golf Channel's "Live From" broadcast after the round. "And there you go."
The more substantive response to Thursday's scoring affair, however, lies in the USGA's blueprint. LACC is a unique venue, and trying to retrofit the North's singularity into the typical U.S. Open model is to wildly miss the point of playing here. That's why Bodenhamer and USGA CEO Mike Whan asserted early in the week they were going to play the course as they found it.
"As [Bodenhamer] says, when you play at the best, 80 percent of your work is done," Whan said on Wednesday. "J.B. always talks about tough but fair. Every club in their bag, every day, including the club between their ears … The thing that I think is really unique about J.B. and his team, and I think I don't want you to miss, is he really believes that when we pick a venue, we ought to have the best players in the world play that venue the way the architect envisioned that venue. These guys this week are going to play LACC. Not the USGA's version of LACC. They're going to play LACC, and I'm proud of them for that and I'm excited players get to experience that."
More so than other U.S. Open sites, LACC can facilitate fireworks. As Patrick Cantlay noted earlier in the week, "The harder holes may be harder and the easier holes may be a little bit easier than a standard U.S. Open." The North requires fortitude and strategy, sure; those tenets remain. What makes this such an exciting venue, though, is that it rewards imagination and creativity, playing off and around and sometimes through the property's undulating terrain. The type of imagination and creativity usually seen at the Open Championship.
Fowler made a U.S. Open record 10 birdies in the morning, with Schauffele going bogey-free. But those rounds were earned, not given, Fowler and Schauffele in total control of their games and themselves. Besides, there were plenty of players that walked off their final hole looking in need of a warm blanket and hot chocolate and honestly a hug. Former U.S. Open champ Justin Rose shot 76, and European Ryder Cupper Tyrrell Hatton wasn't far ahead with a 74. Justin Thomas, Jason Day and Tommy Fleetwood posted 73.
That's not to say the U.S. Open will turn into the Sony Open. Fact is, while we likely (and hopefully) won't see any Shinnecock shenanigans, the test will get tougher. There's no more rain in the forecast and temperatures are supposed to heat up. You're not going to see maintenance crews watering down greens anytime soon and the pin placements will not be as inviting. As Scheffler conceded, "I don't think you'll be seeing too much of that over the weekend."
Fowler and Schauffele struck record-breaking blows in Round 1. But the U.S. Open's record speaks for itself. Whatever ease can be found is usually fleeting.
MORE FROM GOLF DIGEST @ THE U.S. OPEN