U.S. Open 2023
U.S. Open 2023: Xander Schauffele was 'born' to excel in majors, and his first-round 62 proves it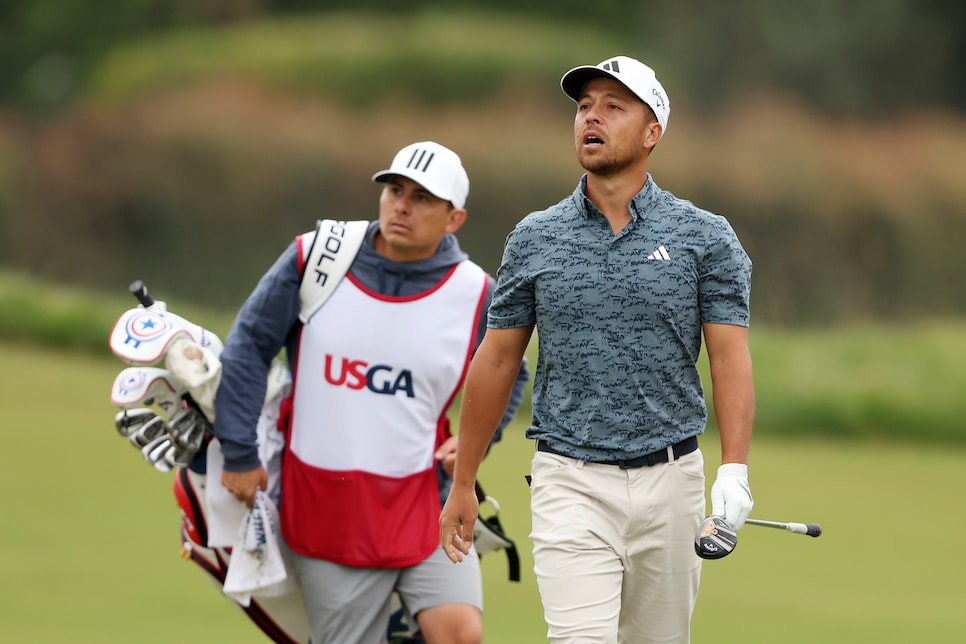 Xander Schauffele reacts to his shot on the 14th hole during the first round of the 123rd U.S. Open.
Sean M. Haffey
LOS ANGELES — After Xander Schauffele tied Rickie Fowler's minutes-old U.S. Open-record round of eight-under-par 62 at Los Angeles Country Club on Thursday, his caddie, Austin Kaiser, was being pestered by a couple of reporters. They wanted to know why Schauffele seems so well suited to consistently contend in big tournaments on the hardest courses.
"He was born that way. He was raised that way," Kaiser offered at just the moment Schauffele arrived at his bag after signing his card, and all but rolled his eyes. "It's Thursday guys," he said, actually sounding somewhat annoyed.
It was the prime example of just what Kaiser was talking about. In his psyche, Schauffele should seemingly be pounding his chest at touring LACC North with no bogeys in combining with Fowler (10 birdies, two bogeys) to tie the all-time majors record of 62 set by Branden Grace in the 2017 Open Championship and eclipse the U.S. Open record of 63, first shot by Johnny Miller 50 years ago. Playing in one of the marquee groups, Schauffele bested both World No. 1 Jon Rahm and Viktor Hovland by seven shots.
But outwardly, he could not have been more "Southern California," as his dad Stefan likes to say. Yes, Stefan was standing near the ninth green, Schauffele's last, recording his son's final putt just in case he set the all-time majors record with a 61, but there were no signs of celebration otherwise.
"It's not really what you expect playing a U.S. Open. But monkey see, monkey do," Schauffele said. "Was just chasing Rickie up the leaderboard. Glad he was just in front of me."
Schauffele and Kaiser said they had no idea that 62 was a record for the U.S. Open. The caddie did admit, "This course is hard. I didn't see an eight under. Maybe six with someone lighting it up."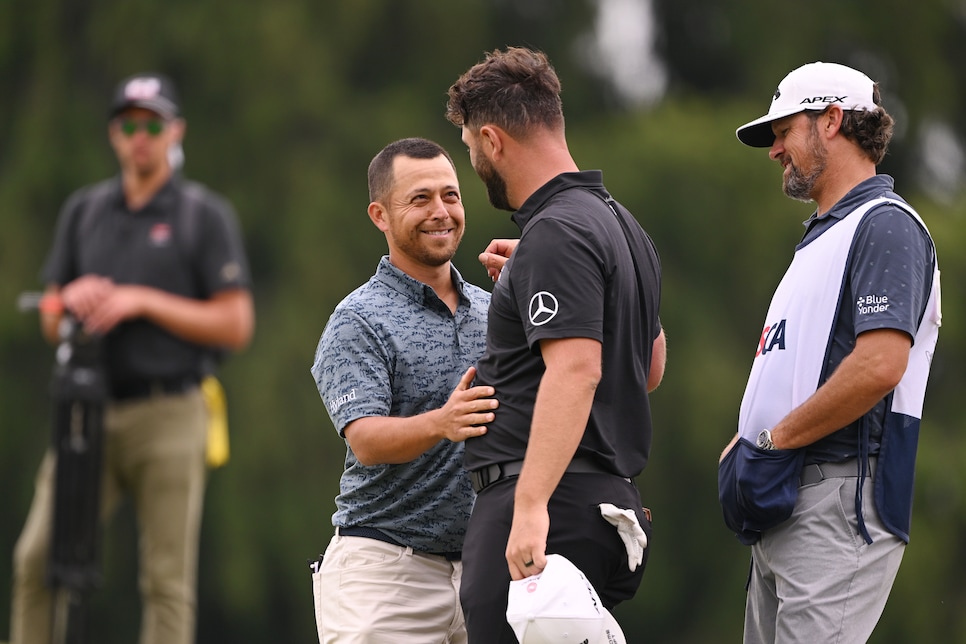 Xander Schauffele accepts congratulations on shooting 62 from playing partner Jon Rahm.
Ross Kinnaird
Schauffele acts like he's been here before, because he has. In 24 previous major starts, the San Diego native has notched 10 top-10 finishes. In the U.S. Open, the number is five, including three top-fives. He came closest to a U.S. Open win in the 2019 edition at Pebble Beach, when he finished T-3, and he was only two holes away from possibly winning the 2019 Masters captured by Tiger Woods.
With no disrespect to Fowler and his resurgence, Schauffele is on an extended run of some of the most impressive play on the PGA Tour. He currently owns the longest cuts-made streak at 26, six better than Adam Scott and Hovland, and, statistically, Schauffele approaches Rahm and Scottie Scheffler in most categories, topped by being eighth on the tour in strokes gained/tee-to-green and 12th in SG/putting.
It's no wonder he was primed to perform like this in a California U.S. Open, but was far less touted heading into the week than Los Angeles natives Max Homa and Collin Morikawa.
"He's flying under the radar," said Kaiser, and that's quite the statement about a player who ranks No. 6 in the world and reached seven tour wins at the age of 29.
Going out early on Thursday from the 10th tee, when the course was gettable due to a light drizzle softening the fairways and greens, Schauffele made three birdies on the front nine and then scorched his second nine with a five-under 30.
In one of the few spots of bother he found, Schauffele drove into the deep fescue in the face of a bunker at No. 1. But after blasting back into the fairway and hitting his approach to 17 feet, he made the putt. After a near tap-in for birdie at 2, Schauffele rolled in a 60-foot bomb from just off the green at No. 5.
At the 258-yard, par-3 seventh, Schauffele said he used a 4-iron. "Pretty much what Austin and I call a tomahawk 4-iron; that's pretty much all I have in my body," he said. The ball stopped six feet from the hole, and he made birdie. The final birdie came at the par-5 eighth, and Schauffele missed a 28-footer on the par-3 ninth in his bid for 61.
"Just an all-around performance, honestly," Schauffele said.
It wasn't obvious that Schauffele was thrilled to be so far out in front of the field in the early stages, but he's got to be happy with the conditions only figuring to get harder.
"I'm anticipating the sun to come out just as much as every West Coast person out here," he said.
"Wait until this place firms up," Schauffele later added. "It's going to be nasty."
Soft. Nasty. It all seems to be right in Schauffele's wheelhouse at this point.
MORE FROM GOLF DIGEST @ THE U.S. OPEN