U.S. Open
U.S. Open 2023: After 'so-so' warmup, Rickie Fowler scorches LACC to shoot record 62 that's matched moments later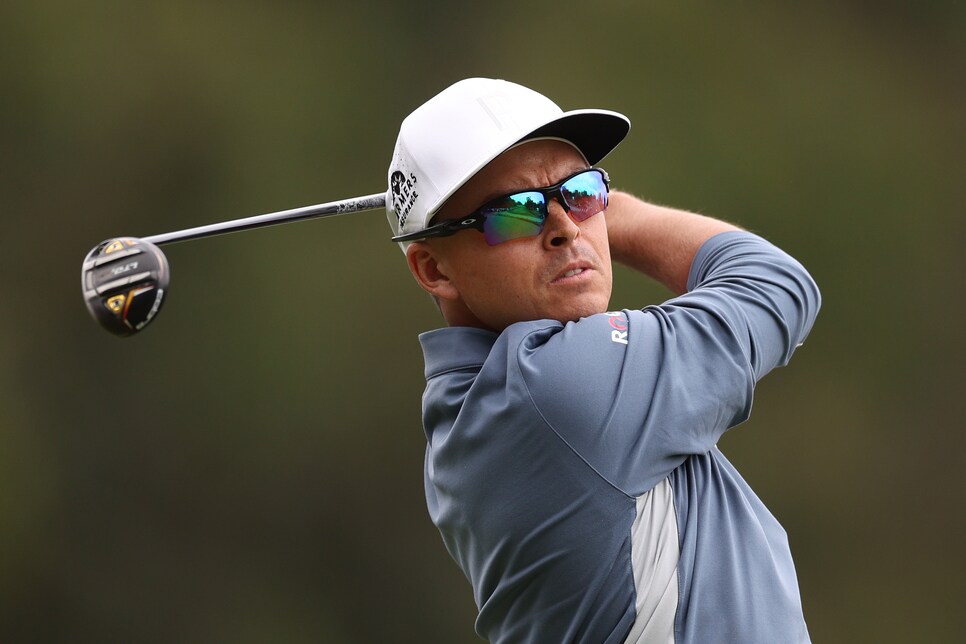 LOS ANGELES — Move over mate. Six years after Branden Grace's record-breaking 62 in the 2017 Open Championship at Royal Birkdale, the South African has company in one of golf's most elite clubs. Welcome Rickie Fowler, and only a few minutes later, Xander Schauffele, whose eight-under-par opening rounds in the 123rd U.S. Open are the lowest in the championship's history, one-shot better than the previous best set by six players between 1973 and 2018.
Fowler was first though. Less than a year after plummeting as low as 185th in the Official World Golf Ranking, the 34-year-old Californian confirmed his return to something like the form that saw him record top-five finishes in all four majors back in 2014 by making 10 birdies over the 7,423-yard Los Angeles Country Club layout.
It was, at least for those spectators closest to the action, a breathtaking performance.
"I was rooting him on," said playing partner Justin Rose, the 2013 U.S. Open champion. "When Rickie hit into trouble on No. 8 but was able to lay up into the fairway, I was saying to my caddie '4-3 finish and he can do this.' Making a birdie on the last was always going to be tricky so he needed to make that 4. Now he's made history. It was amazing to see it. He made all those birdies and it didn't look that difficult."
The other member of the 8:02 tee time off the 10th was just as impressed.
"Rickie was just cruising and kept on building momentum hole after hole," offered Jason Day. "You could see how free flowing his swing was. He clearly didn't have a lot of bad thoughts."
Indeed, Rose's further assessment that Fowler "hit all the right shots at the right times," was confirmed by the man himself, even if this momentous day began with a warm-up on the range best described as "so-so." Still, the previous signs this week had been mostly positive.
"In practice, I wasn't feeling very comfortable swinging and wasn't making many putts or hitting very good putts," Fowler said. "Finally, a couple things clicked a bit yesterday. Then it was more just go out, trust it, and let things happen. I knew there was birdies to be made, but you have to drive it well and get the ball in position first. I did that and from there just managed my way around really well."
All of which, of course, is in stark contrast to the dark days, weeks and months that have low-lighted Fowler's career since he last won on the PGA Tour at the 2019 WM Phoenix Open.
"It's definitely been long and tough," admitted the former Players champion. "A lot longer being in that situation than you'd ever want to. But it makes it so worth it having gone through that and being back where we are now. I'm starting to get maybe as close as I've ever been to where I was through kind of that 2014, 2015 area.
"I've been playing fairly consistently. But a lot of it for me is what I've been able to get out of off weeks where I'm not playing very well and still able to make the cut. I've turned those into at least top 20s or top 10s and the last few years those were missed cuts and going home."
Much of the credit for Fowler's resurgence must go to swing coach, Butch Harmon. The pair reunited late in 2022 after a couple of years apart (during which Fowler finished 134th and 129th in the FedEx Cup rankings), since when he has risen as high as 45th in the world amidst a succession of consistent performances. By way of example, he arrived in Los Angeles on the back of two successive top-10 finishes at the Charles Schwab Challenge and the Memorial Tournament.
"Butch is great, just his voice and having him in your corner," said Fowler, who has five PGA Tour wins, as well as two victories on the DP World Tour, including the 2015 Scottish Open. "He's seen a lot and been around so many great players. He's coached so many guys to reach their potential. He's a very good golf and life coach. He can be technical and mechanical if needed, but he understands the playing and the mental side. He's great at telling you something to give you a little confidence to go out there and just go play golf and keep it simple. That's been one of the big things that has got me back to playing golf."
And playing as well as ever, based on today's record-setting performance.
MORE FROM GOLF DIGEST @ THE U.S. OPEN