U.S. Open
U.S. Open 2023: Phil Mickelson takes care of heckler by doing what he does best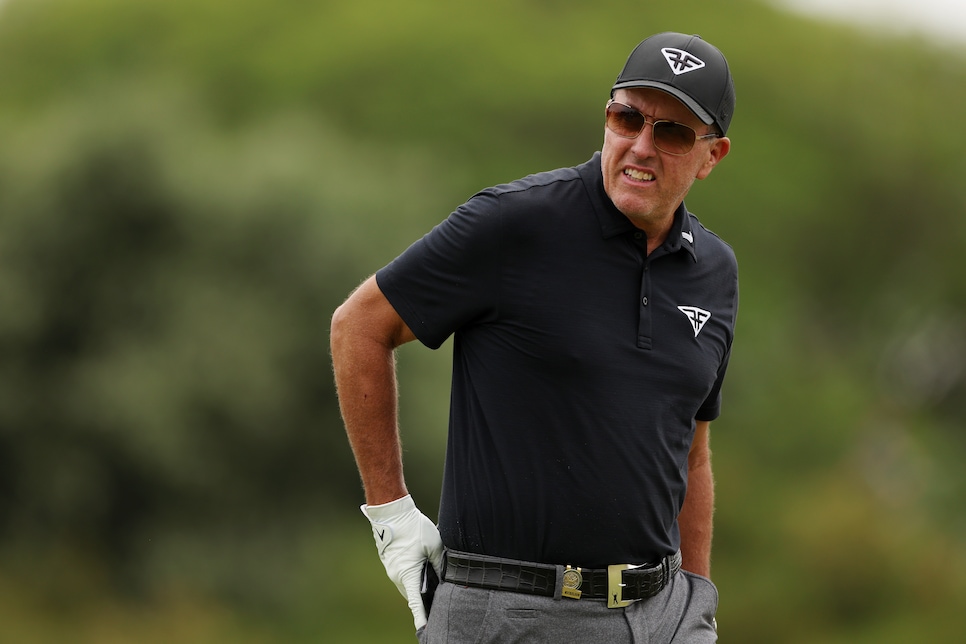 LOS ANGELES — It was just one voice, not multiple, that heckled Phil Mickelson on his final hole Thursday at the 123rd U.S. Open, but one voice can reverberate through the quiet like thunder. The voice came from a man wearing a sombrero standing in the bleachers just to the left of the ninth green, and the voice said a lot of things before security intervened and escorted him off the premises, almost all related to Mickelson's decisions and actions with LIV Golf. Mickelson heard the taunts but did what he has done for the better part of 18 months—arguably for the better part of his career—which is to wait for the thunder to roll into the distance like it never passed through.
He backed off his putt, the voice eventually stopped, a few shouts of "We love Phil!" filled the awkward void and Mickelson lagged his 30-footer to tap-in range. Respectful applause from the limited crowd, a head nod from Mickelson in return, an odd end to a good round against an interesting week in an increasingly outlandish career.
"I played OK," Mickelson said after one-under 69. "I hit a few swings coming down the stretch. I made two bad swings that cost me a few strokes, but I hit a lot of good shots today."
On a day when the field burned Los Angeles Country Club to the ground, Mickelson had a flamethrower in tow. Starting on the back he birdied the 12th and 13th holes and made the turn in 34, with birdies at the third and fourth getting him to three under and inside the top 10. For the briefest of moments, as "MICKELSON" made its way onto the leaderboard against the backdrop of two 62s, one was free to envision in this year of turbulence if the six-time major winner could incite true chaos by striking back at the championship that has tormented him so.
However, despite the competition getting their share of jabs at LACC, the course could still fight back. Mickelson had to convert a testy 15-footer to save bogey at the sixth. He did, and it could have been worse, yet Mickelson was one of just 20 players that who to record a par or better at the drivable par 4. He followed with a bogey at the par-3 seventh and made 5 at the par-5 eighth, a hole that half the field played under par. His 69 was his first under-par round at the U.S. Open since 2015 and just second overall in the last 14 years, although a score that's seven shots back of the leaders.
"You feel like you have to push it a little bit, but you can't push too hard here because it'll come back and bite you," Mickelson said. "I tried to be patient and I put myself in really good position, three under with those last five, six holes to go, and I didn't quite close the round out."
Still, in the shadow of a Sunday run at Augusta National and making the cut at Oak Hill, that Mickelson continues to be as relevant inside the ropes as he is outside them is remarkable.
Mickelson has made news this spring for an amplified amount of chirpiness on social media, particularly at critics of LIV Golf. But LIV's future is as ambiguous as ever, with the organization not mentioned in last week's announcement that the PGA Tour is teaming up with LIV's financial backer, Saudi Arabia's Public Investment Fund. Tour officials have acknowledged, should the partnership come to fruition, LIV members will be granted a chance to return. Conversely, given Mickelson funded the charter of LIV Golf, and recruited for LIV, and put his name on the antitrust lawsuit against the tour, it's reasonable to expect that Mickelson may not be as welcomed back as others. And there's a chance LIV Golf folds as part of the new alliance, raising the question of how long Mickelson will have a professional circuit to call home.
Mickelson was asked if he wanted to speak about that deal, what he thinks and where this all goes in his estimation.
"Not yet because I don't want to detract right now from this tournament and where I'm at," Mickelson replied. "I'm playing well. I want to get myself in contention. I'll talk about it maybe after."
Makes sense. That's noise, and Mickelson has no appetite for that.
MORE FROM GOLF DIGEST @ THE U.S. OPEN