Pride of the Cowboys
U.S. Open 2023: Wyndham Clark got replica of Rickie Fowler's putter, and now he may beat his idol with it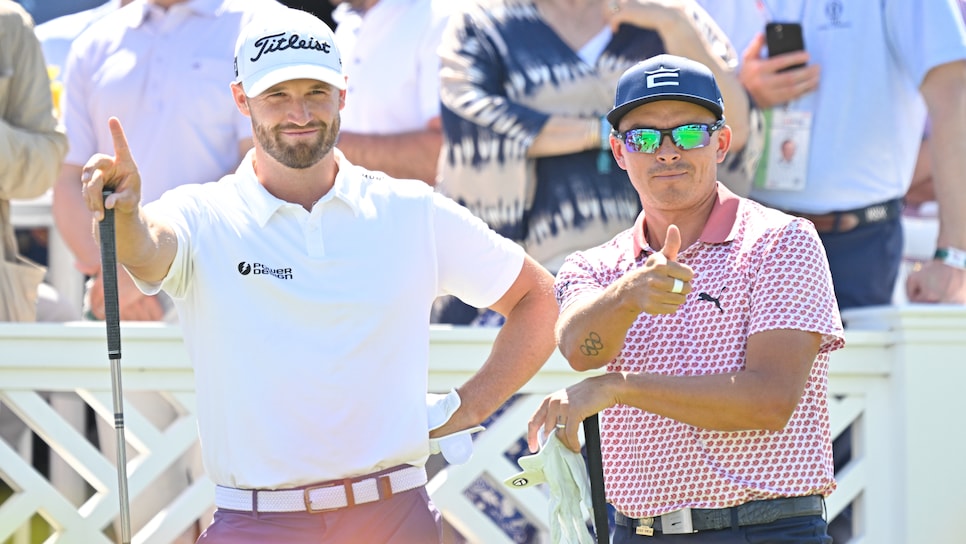 Wyndham Clark and Rickie Fowler stand together on the first tee box before the third round of the 123rd U.S. Open.
Ben Jared
LOS ANGELES – Before this week's U.S. Open at Los Angeles Country Club, Wyndham Clark's best position in a major championship through 54 holes was T-51 in the 2021 PGA Championship at Kiawah Island. On Sunday, he begins the final round of the national championship tied at the top with Rickie Fowler.
"Surreal," he said several times of playing in the final twosome for the first time in a major.
Frankly, Clark couldn't ask for a better pairing.
He should feel comfortable in the company of the popular Californian, who clearly is the people's favorite this week. They were paired together in Saturday's third round, and Clark seemed undaunted by the crowd or his more accomplished playing partner, making birdie at the last for a one-under 69 and finishing at 10-under 200 on the North Course at LACC. Fowler had a 70, marred by a three-putt in near-darkness that dropped him into a share of the lead.
The relationship between the two men—closer than most people realize—makes for an interesting dynamic that undoubtedly will be explored thoroughly during the final-round telecast on NBC. Fowler and Clark begin their final round at 2:30 p.m. PT.
Clark, 29, attended Oklahoma State for a few years and then finished his collegiate career at the University of Oregon. But before departing Stillwater, Okla., he had the opportunity to get to know Fowler, who was a standout for the Cowboys several years earlier before turning pro in 2009.
"Honestly, Rickie is I'd say one of the, if not the best Oklahoma State alum as far as he was so involved with the team," Clark said. "He always comes back. He gives his time. He talked to us multiple times when we were in college. Even when I came out here, he's always sent me notes of good playing or even some tournaments he would tell me, 'Hey, I think this is a better play to play off the tee.' Rickie is a class act … and fortunate to have him as a friend."
After practicing with Rickie Fowler earlier this year, Wyndham Clark had a replica of Rickie's Odyssey putter made with his same specs that he has had in play since March.
Harry How
They have played quite a bit of golf together, and earlier this year they engaged in a money game that has given such a boost to Clark it might just cost Fowler the U.S. Open.
Prior to the Arnold Palmer Invitational, the two were playing at Medalist Club in Jupiter, Fla., and Fowler, 34, was getting the best of his younger friend. Clark wasn't putting well at the time. Fowler, meanwhile, "made every single putt," Clark said.
Fowler was using an Odyssey Versa Jailbird putter that he put in the bag in January. After getting his wallet lightened, Clark asked Fowler if he could try it out on the practice putting green. He liked it so much that he texted Joe Toulon at Odyssey and asked for one just like it. Almost exactly like it, in fact, with the exception of the loft.
"I texted the Odyssey guy, and I said, 'Hey, can you make me Rickie's putter?' And he's like, well what specs? I said, the exact same," Clark explained. "So, literally had the exact same putter. And I joked with Rickie today, he changed the grip. He changed the grip and cut it an inch, so I was like, all right, I got to change the grip and cut it an inch."
Armed with the Fowler-inspired putter, Clark is third this week in strokes gained/putting at 2.61 shots. Fowler, meantime, has lost strokes to the field (minus 1.26).
Clark already got into his friend's pocket by winning a bet as the first to win with the Odyssey, having triumphed at the Wells Fargo Championship last month, Clark's first PGA Tour title. The victory is one of four top-six finishes for Clark since he switched after the Players.
"Honestly, one of the funniest things is just the fact that I'm using his putter," said Clark, who admits that he has idolized Fowler and calls him, "someone I aspired to be."
He might get the last laugh again today.
MORE FROM GOLF DIGEST @ THE U.S. OPEN