U.S. Open 2023
U.S. Open 2023: Co-leader Wyndham Clark criticizes late tee times, says low light led to late bogeys for him and Rickie Fowler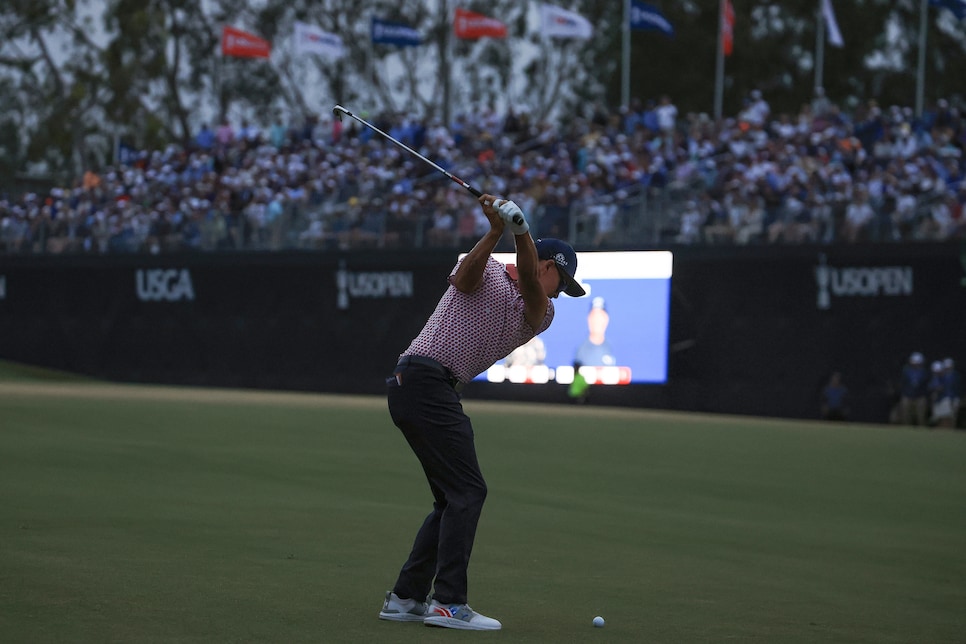 Rickie Fowler plays his second shot on the 18th hole as the light fades during the third round of the 123rd U.S. Open.
David Cannon
LOS ANGELES — The beauty of a U.S. Open being played on the West Coast is that much of the country can settle onto the couch after a busy day of club soccer games or trips to Costco to watch golf at its highest level.
But the late starts can get dicey, too, if there are delays or the light fades, and in co-leader Wyndham Clark's opinion, it crossed over the line to being unfair to the last groups on Saturday in the 123rd U.S. Open at Los Angeles Country Club. Clark said he believes his ability to read his putt on 17, where he made bogey, was affected, and he contended that playing partner Rickie Fowler probably had trouble reading his 3 1/2-foot par putt on 18 that burned the edge for a bogey.
The late bogeys gave Fowler (70) and Clark (69) a one-shot lead, standing at 10 under, over Rory McIlroy heading into Sunday's final round.
In the last twosome, Clark and Fowler started the third round at 3:40 p.m. PT—the latest non-weather-delayed tee time ever for at Saturday in a major other than the Open Championship in the British Isles. By contrast, the last group in the third round of the 2019 U.S. Open at Pebble Beach, where it stays lighter in the north, teed off at 2:45 p.m. PT. Two years ago, the U.S. Open in San Diego had a last Saturday tee time of 1:35 p.m. PT.
"It's a little ridiculous that we teed off that late," Clark said. "I would say right around hole 15 or 16 it started getting to where you couldn't see that well. I don't personally understand why we teed off … we played twilight golf.
"The last two holes, I 100 percent think my bogey on 17 was because I couldn't see, and I think Rickie's bogey on 18 was because he couldn't see.
"I'd like to see us go off an hour and a half, two hours earlier. If we had a playoff tomorrow, we wouldn't even be able to play the playoff ... because it was so dark"
For Sunday, the USGA and NBC scheduled the final group to go off at 2:30 p.m. PT. They had to leave a window for a playoff, which would be an aggregate of two holes—unless it's tied after that.
On Saturday, Fowler and Clark finished at 7:56 p.m., but a thick layer of clouds obscured the sun, which set after they were done at 8:07 p.m. On Friday, players finished at about the same time in bright light because there were no clouds.
In Clark's mind, the risk of such a situation shouldn't outweigh the way it could affect the competition.
"Yeah, it's TV—what is it, midnight (actually, 11 p.m.) on the East Coast?" he said. "Personally, I don't quite understand it. I know we're West Coast and whatnot and I know they probably have the say, but I would like to think that they would step in and be like, hey, we want to make sure it's in the light and we have time.
"That's all I have to say on that. I've never really played a final round of any tournament in the dark. I have in my first few years on tour; I'm the last tee time off, and there's many times when we're trying to finish our last hole and I have to come back the next day.
"But it is crazy to think that we almost ... honestly, we both could have called it if we wanted to on that putting green and said, 'Hey, I can't see, and we'd play tomorrow, and I think that would look pretty poorly on both sides of it."
MORE FROM GOLF DIGEST @ THE U.S. OPEN