LOS ANGELES — Los Angeles has always loved a redemption story. Only three months ago, Brendan Fraser won the Oscar for best actor in "The Whale," in which he gained considerable weight to play an obese English teacher trying to reconnect with his daughter. "The Whale" came decades after Fraser had last played a lead role in a film.
With the U.S. Open in Hollywood for the first time in 75 years, two more redemption stories await at Los Angeles Country Club: that of Rickie Fowler and Rory McIlroy.
Fowler has never captured a major, despite numerous chances in his career. McIlroy last won a major championship nine years ago at the 2014 PGA Championship. Both circumstances are considered equally as unlikely given the talent level of the wildly popular duo.
On Saturday night in L.A., Fowler and McIlroy ensured their redemption stories have a fighting chance. Fowler will play in the final group having tied for the lead with Wyndham Clark at 10 under par after shooting an even-par 70. Meanwhile, McIlroy's third-round 69 put him in solo third at nine under.
Fowler can put a complete end to the frustrating slump that has lasted the better part of four years—since his fifth and most recent PGA Tour victory at the 2019 Phoenix Open. His game bottomed out when the former No. 4 on the Official World Golf Ranking plummeted as low as 185th last fall. That was when he reached out to his old coach, Butch Harmon, and the pair began a swing revamp.
After a wild second round that featured eight birdies and six bogeys to take the 36-hole lead, Fowler played smart during Round 3. The scorecard still had three birdies and three bogeys, including a frustrating three-putt in the gloaming on the 18th, but he has his first 54-hole lead in a major. So does Clark.
Fowler said a maiden major victory, after 12 career top-10s in majors, would be satisfying coming out of a low period. But it would be even more meaningful in his native Southern California. He grew up in Murrieta, a little more than an hour from L.A.
"I mean, obviously it would be huge," Fowler said. "[I have] a lot of people, family and friends that are out here this week. We have a chance tomorrow. Going through the last few years, I'm not scared to fail. I've dealt with that. We're just going to go have fun, continue to try to execute, and leave it all out there and see where we stand on 18."
Then there's McIlroy, who ironically hails from Holywood just outside Belfast. His redemption story differs from Fowler's in that he never really lost his game. He has just failed to produce on the majors since stage his whirlwind 2014 season. That year, he won the Open at Royal Liverpool and the PGA at Valhalla, adding to his 2011 U.S. Open and 2012 PGA titles.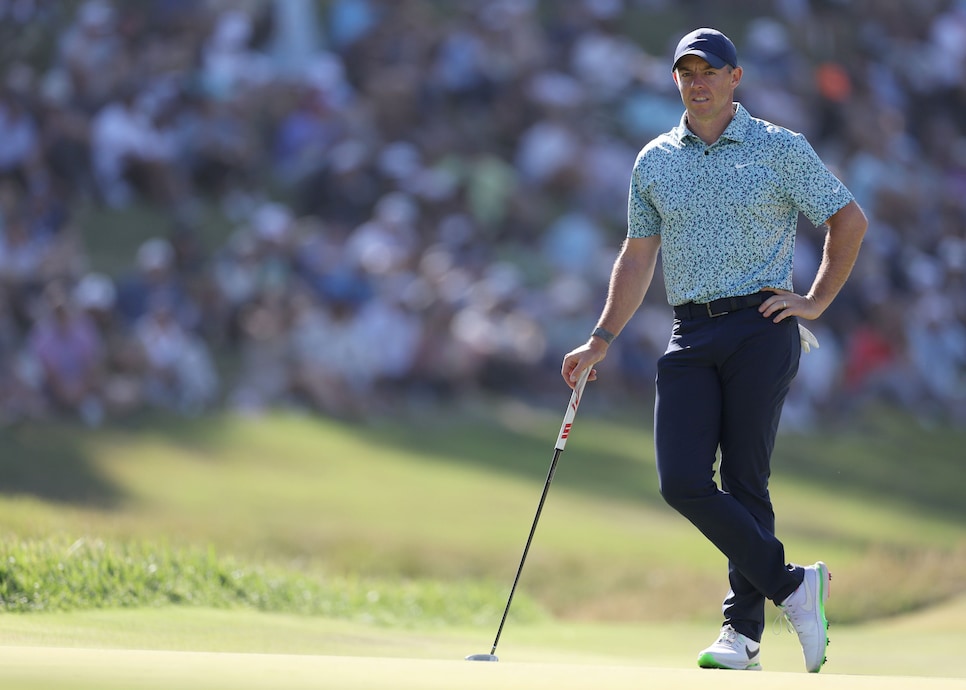 The 34-year-old has had some heartache at the majors over the past 11 months. At the Open at St. Andrews last summer, he saw his share of the 54-hole lead disappear when Cameron Smith ralleyed from four back to win. He missed the cut at this year's Masters, while last month he posted solid but hardly spectacular T-7 at the PGA at Oak Hill.
But this is McIlroy's best opportunity at the U.S. Open in four years. He was five back in 2019, six back in 2020, two back in 2021 and three back at The Country Club last year. His deficit at LACC is just one.
"It's another chance to try to do something really special in my career," he said. "This is why we put the long hours; not to necessarily win these championships but more to see if you can do it and if you've got whatever it is that you need inside of you to get the job done. I have an opportunity tomorrow and I'm excited."
Even though they won't play together, Fowler and McIlroy will no doubt check the leaderboards at LACC to spur each other on. There's the underdog story in one-time PGA Tour winner Clark, the Terminator story in 2022 Masters winner and World No.1 Scottie Scheffler lurking three back. But scan the leaderboard and most fans will tell you they want a comeback from Rickie or Rory.
"[McIlroy] has had a lot of success and he's been fun to watch," Fowler said. "He turned pro a little bit earlier than I did, but we have fun. It's been more him pushing me; he has more wins and actually has majors, versus me. I always enjoy having buddies that I can go toe to toe with."
MORE FROM GOLF DIGEST @ THE U.S. OPEN