U.S. Open
U.S. Open 2023: Late heroics make Scottie Scheffler a dangerous man searching for a second major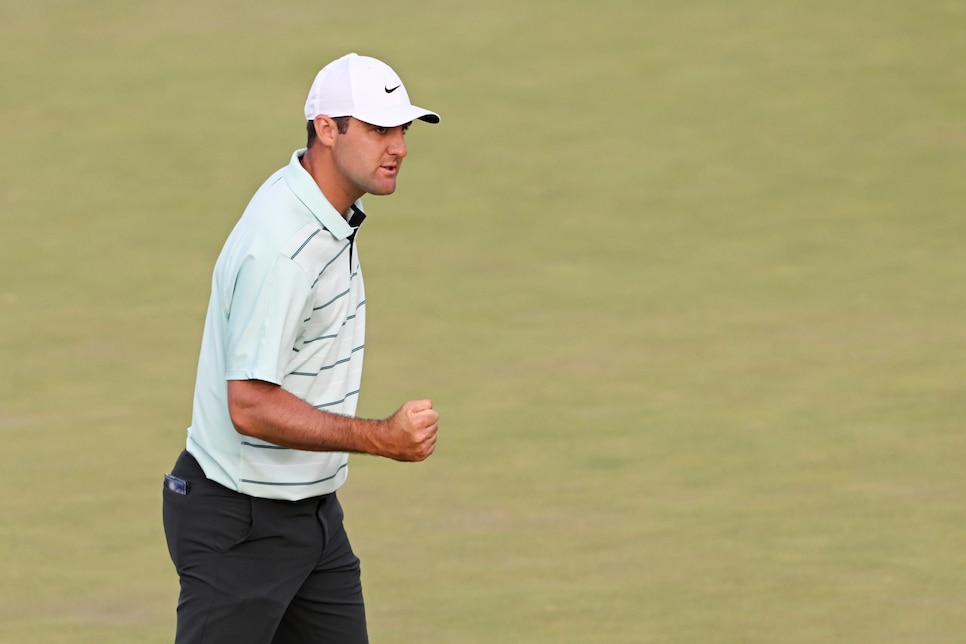 LOS ANGELES — It was quite the climax, even for a World No. 1, a recent major champion and a man who has not finished outside the top 12 in his last 16 PGA Tour events over the last seven months.
One over par for the day standing in the middle of the Los Angeles Country Club's 17th fairway, Scottie Scheffler was four under par for his first 52 holes in this 123rd U.S. Open and seven shots off the pace set by Rickie Fowler. To that point, his third round had been a frustrating business. Four bogeys scarred the Scheffler scorecard and threatened to end his chances of adding a second Grand Slam title to an already burgeoning resume.
One swing later, everything changed.
Wielding his 7-iron from 196 yards, Scheffler holed his approach on the par-4 17th and made the unlikeliest of eagles. Suddenly, he was six under par and only five shots back, a deficit he cut by one more stroke when a 20-foot putt for birdie disappeared into the cup on the closing hole.
From nowhere to somewhere in 20 minutes.
At close of play, only Fowler, Wyndham Clark and Rory McIlroy remain ahead of this menacing figure. And now only three shots separate Scheffler from the lead, an impetus building situation the former Masters champion will clearly look to further capitalize on in Round 4.
"I couldn't see the ball go in," he said in reference to his shot of the week. "But there was a nice crowd in the grandstand behind the green. I saw where it landed and thought it would funnel out onto the green and I'd have a look at birdie. Then I saw everybody start to rise and get excited. And then they erupted, which is always nice when you're standing back there in the fairway."
Scheffler was honest enough to admit his earlier struggles too. He was well aware that, had things not changed so abruptly, he was in the midst of playing his way out of contention.
"I was fighting all day today, trying to just get myself back in position after starting the day six or seven shots back or whatever it was," he said. "I was just trying to make some birdies and avoid the bogeys and wasn't doing a great job of that for most of the day. But I ground it out pretty hard. Today was one of the days where I got punished for my mistakes. Yesterday I wasn't getting punished at all. I was hitting it all over the map and getting some decent lies and figuring it out from there. But today it seemed like every time I got offline I was really fighting for par. I was so fortunate to see that shot go in on 17, then the birdie on 18 got myself back into it."
Indeed, there is no doubt that the trio looking down on Scheffler on the leaderboard will be aware of his looming presence. As his record makes clear, the soon-to-be 26-year-old—his birthday is Wednesday—has more recent experience than anyone of playing golf while feeling the pressure of contention. Just to add to the good vibes, Scheffler survived the loss of his driver on Day 2 (the face "flattened") to produce his best performance from the tee all week. In all, he hit 77 percent of the fairways he aimed at on Day 3.
Ah, but there was more to report on the equipment front. Recently bedeviled by poor putting Scheffler was wielding a new weapon on the greens.
"I switched putters to a slightly bigger one that I have used in the past," he revealed. "It's a putter similar to the one I used when I won the U.S. Junior and when I made a deep run at the U.S. Amateur. It is kind of an older look for me and something that just looked slightly different. It just looks more forgiving and I feel like I'm rolling it nice this week."
Still, one harsh fact remains. While Scheffler clearly dodged a metaphorical bullet with his spectacular finish, the fact is he's three shots back with three fine players ahead of him. Victory is far from certain, even if he will be, in the minds of many, the man to beat over the closing 18-holes.
"All of a sudden instead of seven shots back I'm only three," he said. "So definitely a huge momentum boost going into tomorrow. Hopefully I'll just keep it rolling. Now I'm just going to go home, get some sleep and get ready for tomorrow's round."
MORE FROM GOLF DIGEST @ THE U.S. OPEN