Crunching the Numbers
U.S. Open 2023: Rickie Fowler's 8 closest calls in majors and how they played out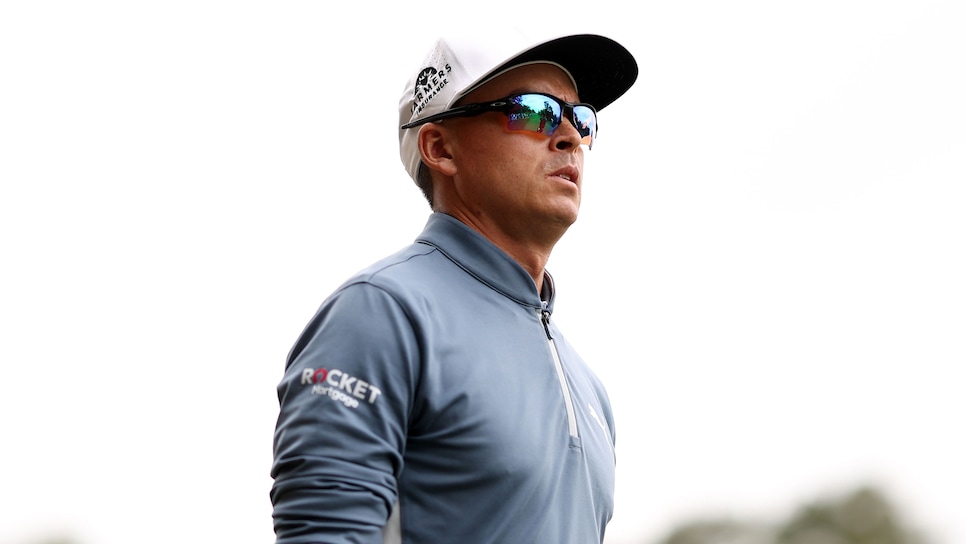 Photo By: Richard Heathcote
It's easy to forget before the long slump that saw him plummet as low as 185th in the world in just eight months ago, Rickie Fowler was in the mix at the majors often enough to be considered one of the best active players never to actually win one. Now, the 34-year-old has re-teamed with Butch Harmon, just tied the U.S. Open 36-hole scoring record, and holds a one-shot lead at Los Angeles Country Club heading into the weekend. For the moment, at least, the glory days are back.
During Friday's broadcast, NBC analyst Paul Azinger noted Fowler's close calls in 2014—when he had top-five finishes in all four majors—and made the point that he didn't exactly wilt under the pressure. "They were taken from him," Azinger said.
Fowler has posted 12 top-10s in his major career, the last at the 2021 PGA Championship, but let's drill it down further and take a close chronological look at his seven top-five performances. How close was he to actually winning any of them, and how did they slip away?
2011 Open Championship, Royal St. George's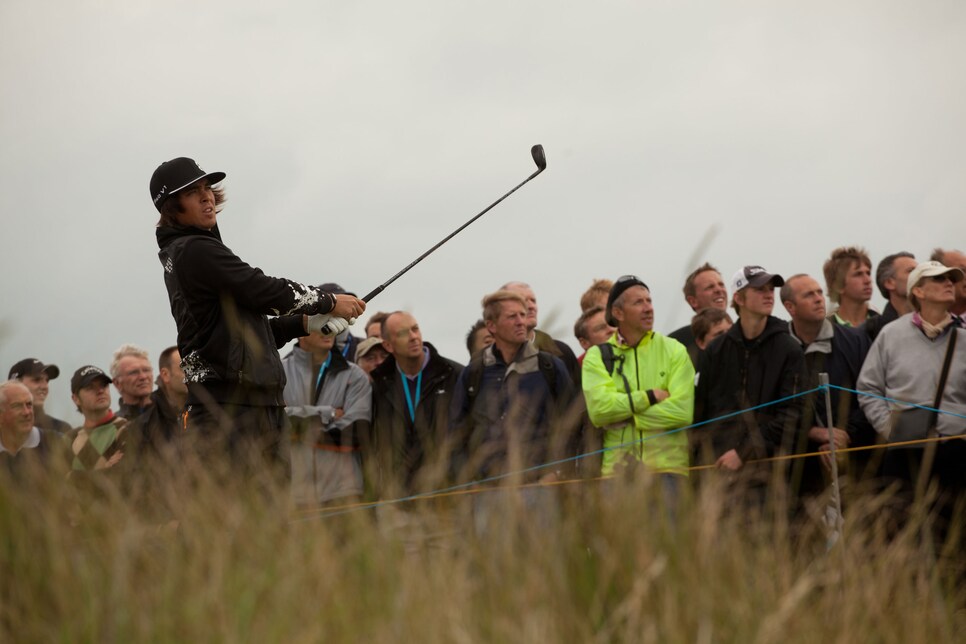 On a difficult course, Fowler made his mark with back-to-back 68s on Friday and Saturday, positioning himself in a tie for third after 54 holes. He began his final round with 13 straight pars, effectively running in place as Darren Clarke and Phil Mickelson put some distance between themselves and the rest of the field. Everyone faded at the end, Fowler included, and while Clarke held on for the win, Fowler fell back to even par with a 72 to finish T-5.
2014 Masters, Augusta National
This was the start of an exceptional year, Fowler finishing in the top five in all four majors—an underrated kind of slam that you can't really brag about, since it didn't include a win, Still, it was ridiculously impressive anyway. Fowler was very much a late bloomer in this event, with a modest 71-75 start that segued into a brilliant 67 on Saturday, leaving him only two shots behind Bubba Watson. A birdie for Fowler on the first hole Sunday was quickly erased by a bogey on 2, and from there he once again failed to mount any kind of charge, eventually shooting 73 and tying Matt Kuchar for fifth at two under while Watson out-dueled Jordan Spieth for his second green jacket.
2014 U.S. Open, Pinehurst No. 2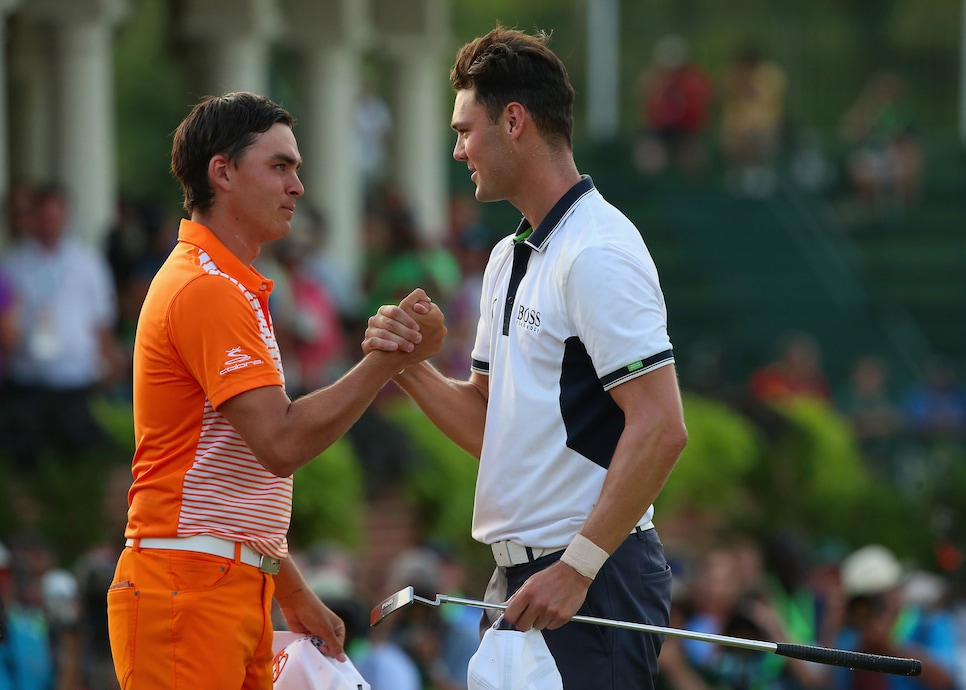 Put a big asterisk by this one—yes, Fowler had his best major finish to date, tying for second, but Martin Kaymer, whose 36-hole 130 score that week set the record that Fowler just tied at LACC, lapped the entire field and won easily. Fowler trailed Kaymer by five shots at the start of the final round, and never got closer than that en route to a 72 and a tie with Erik Compton eight shots behind the German. If there's one similarity here, it's that he didn't mount a Sunday charge, but at a course where only three players finished under par, it feels harsh to ding him for that.
2014 Open Championship, Royal Liverpool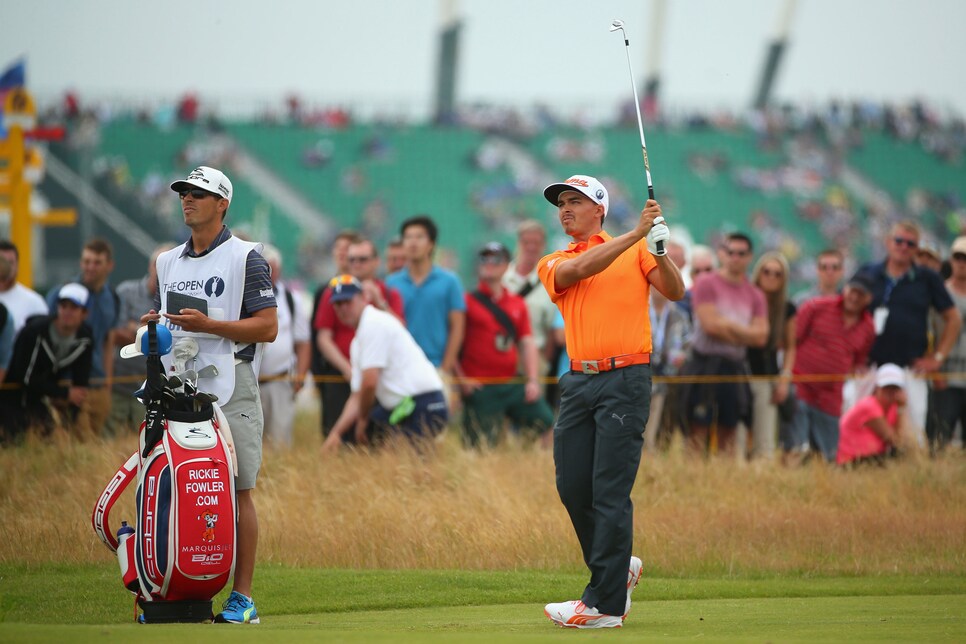 A few months after Pinehurst, a similar story played out in England, where Rory McIlroy dominated from start to finish. Again, Fowler was second after 54 holes, and again, he trailed by a huge margin, having to make up six shots on Sunday. Unlike Pinehurst, he came relatively close, turning in an exceptional final round 67 to at least scare McIlroy down the stretch. With birdies on 15, 16, and 18, Fowler surged into a tie with Sergio Garcia, finished at 15 under, and put notice on McIlroy that any mistake would be critical. This was a different McIlroy, though, and he closed admirably, winning by two strokes and relegating Fowler to his second straight major T-2.
2014 PGA Championship, Valhalla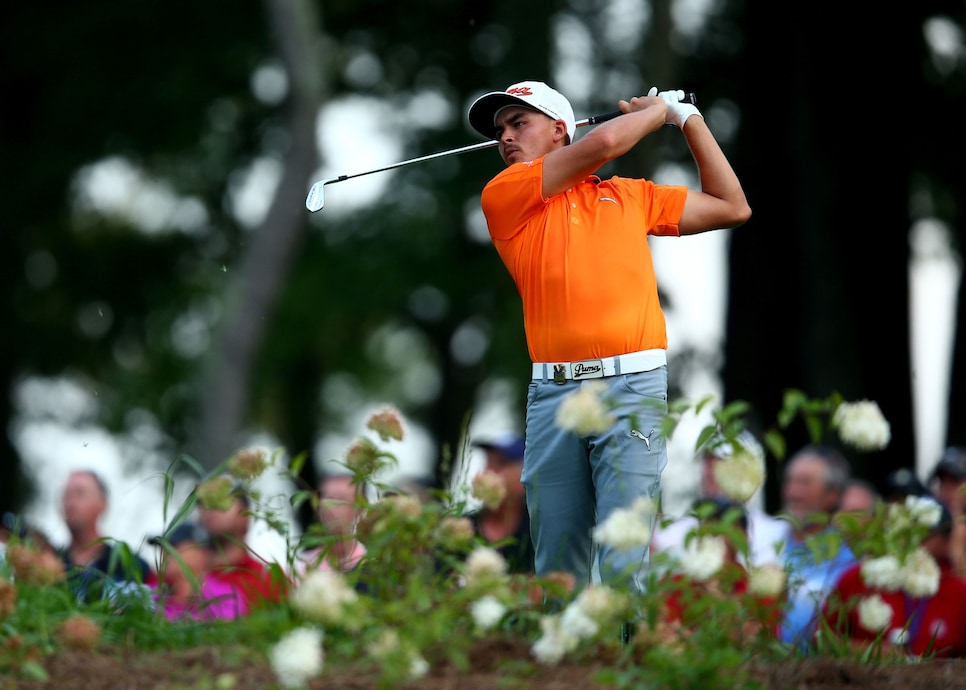 If you asked him today, it's a good bet Fowler would call this loss the most painful. A 69-66-67 start put him in the second-to-last group with Phil Mickelson on Sunday, trailing a familiar foe in McIlroy by two shots. On a miserably muggy day in Kentucky, with the pace at a crawl due to an earlier rain delay, McIlroy stumbled on the front nine, and Fowler took the first solo Sunday lead of his life at a major with back-to-back-to-back birdies on 3, 4, and 5. Two more birdies on 7 and 10 helped him hold the lead, but McIlroy began a late charge with an eagle on 10, and soon the two of them plus Mickelson were knotted at 15 under. Fowler was the first to blink, making bogey at 14, and could do no better than par the rest of the way. McIlroy made birdie at 17, and with almost no daylight left, he finished 18—much to the chagrin of Mickelson—and captured his fourth major title. After the round, Fowler disappeared for a few brief moments before facing the press, obviously gutted by not pulling it out.
2017 U.S. Open, Erin Hills
As Dan Hicks mentioned on Friday's broadcast, Fowler held the first end-of-round solo lead of his career at Erin Hills after a Thursday 67. A 73 on Friday ceded the lead to a large group that included Brooks Koepka, but he held steady, posting 68 on Saturday to remain a shot behind Koepka (as well as Justin Thomas, who lit up the course with a 63), and two off the lead held alone by Brian Harman. His final round started promisingly with a birdie, but he couldn't make any headway against the course, vacillating between 11 under and 9 under before finishing with an even par 72, tied for fifth and six shots distant of Brooks Koepka, who never looked back en route to his first of five (and counting) major wins.
2018 Masters, Augusta National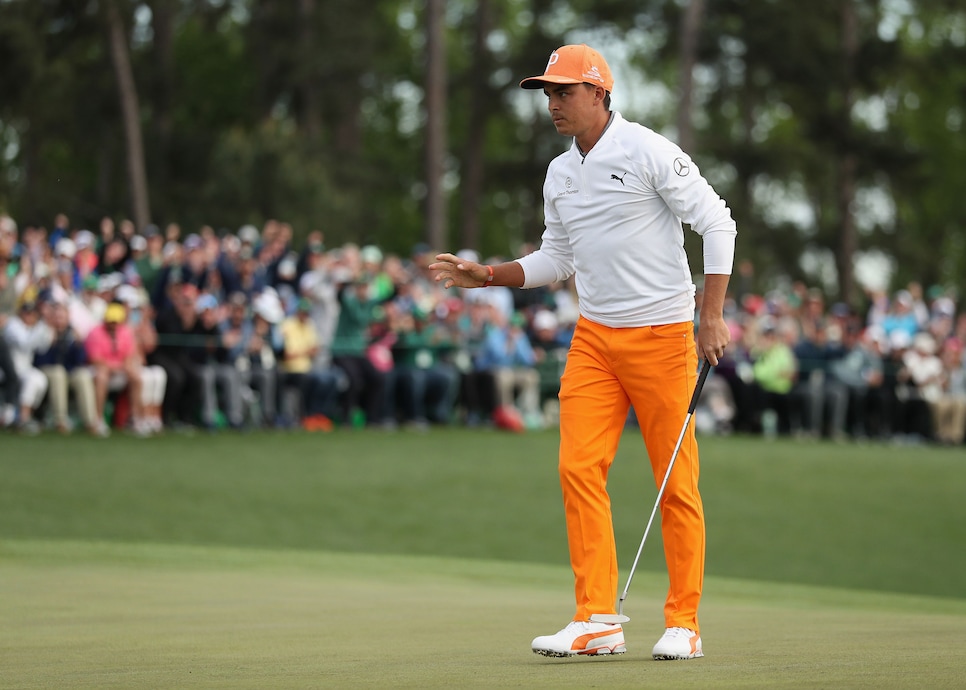 In his final top-five to date, Fowler started slow, vaguely played himself into contention with a Saturday 65, but remained five shots behind Patrick Reed and two behind his old nemesis McIlroy. This time, he'd catch Rory with ease, and with a final-round 67 he nearly reeled in Reed, too. A final birdie at 18 made him the clubhouse leader at 14 under, but Reed finished with four straight pars to hold him off by a shot. Nevertheless, it was the first solo second finish Fowler had ever posted at a major.
BONUS: 2017 Masters, Augusta National
This one is worth mentioning, because although Fowler didn't finish in the top five, he held the 36-hole lead (along with Sergio Garcia, Charley Hoffman, and Thomas Pieters), and trailed by just one after 54 holes. Unlike his other close calls, this final round represented a kind of collapse for Fowler, who made five bogeys on the back nine to slip out of contention in a tournament eventually won by Garcia in a playoff against Justin Rose.
Taken together, Fowler's major close calls present a somewhat complicated picture. His 2017 showing at Augusta represents his only true meltdown, and he's had several charges that were at least slightly reminiscent of his thrilling back nine at the 2015 Players Championship, but on many occasions he's failed to perform at his best and simply been—by his high standards—mediocre. Facing a crowded leaderboard of the game's best players at this year's U.S. Open, it won't be enough that he's recovered his top form. To emerge victorious for the first time, he'll need to find his highest gear on Sunday in a way he hasn't quite managed in all his close calls.
MORE FROM GOLF DIGEST @ THE U.S. OPEN