Live Blog
U.S. Open 2022 live updates: Adam Hadwin is solo leader, Rory McIlroy starts strong, and Phil Mickelson struggles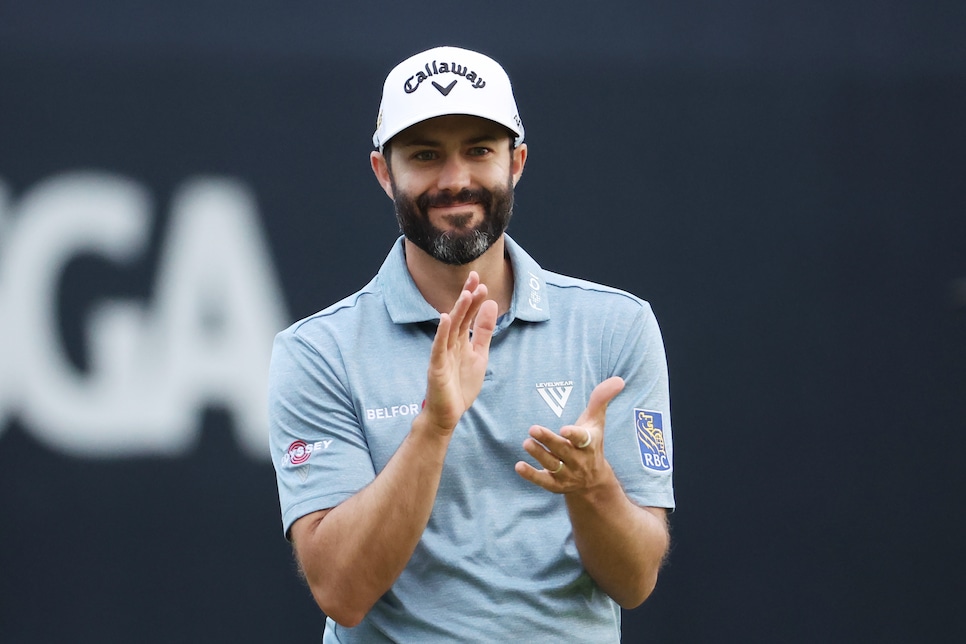 Adam Hadwin reacts on the ninth green during round one of the 122nd U.S. Open Championship.
Warren Little
It's not exactly a Murderer's Row leaderboard in the first round of the U.S. Open. Adam Hadwin, David Lingmerth, Callem Tarren, Joel Dahmen, MJ Daffue. We usually get one or two guys come from off the run of play, but this group was something of a shocker at The Country Club on Thursday. The old course is clearly playing to a variety of strengths, and it's giving us a mix of a couple of bombers to go with golfers who have reputations as solid ball strikers and putters.
(Scroll down for the latest updates)
Oh, and we should mention four-time major winner Rory McIlroy is up there, too, having managed the morning wave nicely with a three-under-par 67 that gave him a share of the early lead.
Ultimately, it was Hadwin—the Canadian who doesn't have a top-20 finish in 19 major starts—who stood atop the board late in the day by shooting four-under 66. One stroke back were McIlroy, Tarren, Lingmerth, Dahmen and Daffue.
Hadwin is in the tournament after finishing as first alternate out of his Final Qualifier. He got into the field when Paul Casey withdrew last week.
There were seven players bunched at two under, including Dustin Johnson, Justin Rose and Matt Fitzpatrick.
On the other end of the board was Phil Mickelson. In his first start in America since the Farmers Insurance Open in February, after which he stirred controversy with his comments about going to the LIV Golf enterprise, Mickelson looked beyond rusty in making two double bogeys and only one birdie in an eight-over 78. He was coming off a 10-over performance in a 48-man field last week in his first LIV appearance in London.
U.S. Open 2022 live updates (all times eastern):
7:05 p.m.: Phil Mickelson's nightmare round is over. He bogeyed the 18th hole to shoot eight-over 78. There are only five completed rounds that are worse. He made a single birdie—at the par-3 11th—and had a pair of doubles to go with five bogeys. Phil was never going to be able to contend if he didn't keep in the fairway, and he hit the short grass from the tee on only six holes.
6:42 p.m.: The World No. 1 battled hard to the end. Scottie Scheffler was stuck at two over with two to play, but he made birdies on 8 and 9 to finish at even par—only four shots off the current lead.
6:25 p.m.: As the broadcast team noted, current leader Adam Hadwin hasn't exactly been a majors monster. This is 20th start in the Big Four and he has yet to post a top-20 finiish. Record in the U.S. Open: T39-CUT-T60-CUT-54-T40.
6:18 p.m.: With tongue in cheek, the USGA grouped two LIV defectors, Kevin Na and Sergio Garcia, with one of the game's hotter-running players in Tyrrell Hatton. Result: The trio shot a combined 11 over. Na shot 75, Garcia 74 and Hatton 72.
6:12 p.m.: Bryson DeChambeau makes only his second birdie of the day at No.6 (he started on 10), and the first since his fourth hole, to get to even.
5:56 p.m.: M.J. Daffue, a 33-year-old from South Africa who plays mostly on the Korn Ferry Tour, joins the fun at the top of the leaderboard and just put the finishing touches on a three-under 67. Daffue (pronounced Duffy) is ranked No. 296 in the World Ranking but just collected third-place finishes in two of his last four KFT events.
5:51 p.m.: It's late in the afternoon at Brookline but there's still quite a bit of golf left to be played. Adam Hadwin, who is tied for the lead right now, is only playing the 13th hole. Matt Fitzpatrick, also tied at three under, still has four holes remaining in his opening round.
5:18 p.m.: Phil Mickelson is beating eight players right now. EIGHT. And two of them are amateurs. He just made double-bogey 6 on the par-4 12th hole and stands at seven over par. It was his second double bogey of the round. The first one came in the form of a four putt.
4:58 p.m.: Canadian Adam Hadwin, who has one PGA Tour victory and no career top-10 finishes in major championships, is leading the U.S. Open at four under par. He bogeyed the third hole, then rattled off five birdies in the next six holes to turn at four-under 31.
4:21 p.m.: More crowded at the top. Four players shot three-under 67 in the morning wave including Callum Tarren, David Lingmerth, Joel Dahmen and Rory McIlroy. Right now Matt Fitzpatrick, the 2013 U.S. Amateur winner from The Country Club, and Adam Hadwin are both now three under par and tied at the top.
3:48 p.m.: Justin Thomas just made the turn at one under and is two shots off the lead held by four different players, including Rory McIlroy. The PGA champion bogeyed the par-4 fourth hole and rebounded with birdies on Nos. 6 and 8.
3:31 p.m.: We're well into the middle of the afternoon, which means we're also well into the middle of the afternoon wave. Among the bigger names on the course right now who are at least two over par or higher are: Brooks Koepka (two over after 7), Louis Oosthuizen (two over after 6), Sergio Garcia (three over after 8), Phil Mickelson (five over after 6). Mickelson has 14 putts so far after six holes.
3:05 p.m.: The final group of Round 1 has teed off at The Country Club, meaning Rickie Fowler will not be playing in the 122nd version of the U.S. Open. Fowler failed to qualify via Final Qualifying two weeks ago in Florida. He was, however, the first alternate to get into the field when the last group went off.
2:45 p.m.: Koepka's difficult afternoon, with two bogeys in his first four, has a chance to turn around after he finds the green with his approach on the par-5 14th, giving himself a look at eagle from 20 feet. Koepka's putt slides by but he converts for birdie. One hole behind, Bryson DeChambeau knocks his approach tight on the par-4 13th and makes the putt to move into red numbers at one under.
2:34 p.m.: Mickelson misses his third consecutive green and falls to two over, but alas, not all of LIV Golf's finest are struggling! Kevin Na is now at three under after a birdie on the par-5 14th, one of the most interesting holes on the course, according to our Steve Hennessey.
2:17 p.m.: Mickelson's bogey on 1 almost gave way to more trouble when he missed the second green, but he saved par with a deft chip. Meanwhile, there's a new name on the leaderboard, South African M.J. Daffue, who birdies three of his first five holes to claim a share of the lead at three under.
1:48 p.m.: And here comes Phil Mickelson teeing off in his return to U.S. golf and his latest attempt at a U.S. Open title after six runner-ups. If you're not entirely sure why there's renewed attention on Mickelson this week, we recommend you set aside about six hours of your afternoon to get up to speed. In the short term, Mickelson's drive off the first is a good one, but he misses his approach badly and will need to scramble for par.
1:35 p.m.: Another marquee group featuring Brooks Koepka, Scottie Scheffler, and Cam Smith tees off on the difficult 10th, which is already giving the field fits. Koepka, who you may recall was testy with the media in his pre-tournament media session, isn't likely to see his mood improve after flaring his approach into the right rough. He and Smith both fail to get up-and-down for par. Tough start.
1:22 p.m.: McIlroy might have been disappointed with his finish, but it's likely his 67 is going to look even better as the afternoon carries on. The wind is picking up as the trio of Justin Thomas, Viktor Hovland, and Ton Finau all par the first hole.
1:08 p.m.: A club throw from Rory in the fairway as his attempt at drawing one against the wind doesn't turn and now he's shortsided himself at his home hole. He can't do much from there, leaving about 15 feet for par. That'll be his only dropped shot of the day, and the final chapter in an opening 67 for McIlroy. He finishes the day tied for the lead at three under par.
12:57 p.m.: Is that *checks notes* Will Zalatoris?! Contending in a major? How surprising. Three birdies in five holes gets the 25-year-old into red numbers. He's one of the best ball strikers on tour, he just needs the flat stick to continue to cooperate.
12:46 p.m.: Sound the alarms! Rory McIlroy has taken the solo lead at the U.S. Open at four under par. A birdie at the par-5 eighth does the trick. Rory has taken the hot putter across the border from Canada to Brookline. A scary sight for everyone else.
12:38 p.m.: After leaving the property early Wednesday, Jordan Spieth spins around in two-over 72, finishing with a bogey. Not his best, but well within shouting distance of the leaders.
Speaking of "in shouting distance," Spieth's playing partners can use their indoor voices to keep in touch with the leaders. Adam Scott and Max Homa each birdie the last to finish at one under for the day.
12:28 p.m.: Jon Rahm has life. The defending champ battled his swing all day, but swings in a long birdie look at the last to finish with a one-under 69. Rahm being in the mix without his A-game should be a bit concerning for the field.
Playing partner Collin Morikawa stumbled a bit on the inward nine, with seven pars and two bogeys, including one at the last. He falls back to one under, but as stats guru Justin Ray notes, this is the third time Morikawa has opened a major with a round in the sixties. The other two times? The 2020 PGA Championship and the 2021 Open championship. He won both of those, as you may recall.
12:18 p.m.: Well, well, well. If it isnt Rory McIlroy tied for the lead on Thursday in a major. The 2011 U.S. Open champ birdies the seventh to tie David Lingmerth at three under. He's got the par-5 eighth and par-4 ninth to finish. Of note, the last time he won a major, he won the week before. McIlroy won the Canadian Open last week ...
11:58 a.m.: It's a par at the ninth for Callum Tarren for an opening 67. Playing parter Hayden Buckley finishes right behind him posts 68. Not bad for the first group off the 10th tee, setting the pace here at The Country Club.
With respect to that duo, the biggest star of the group—at least for this week—was 57-year-old Fran Quinn. The journeyman is the most unlikely competitor in the field this week, having signed up for local qualifying on a whim. He opened with 76, which may not be in contention, but is an incredible feat nonetheless.
11:47 a.m.: During Rory's adventurous trip around the fifth hole (his 14th of the day), we had a change at the top of the leaderboard. Hagestad bogeyed the 12th and Callum Tarren, an Englishman who qualified by finishing second in Canada's Final Qualifying tournament, eagled the par-5 eighth to tie David Lingmerth at three under. Tarren has one hole to play.
11:39 a.m.: Oh no! Rory goes for the short par-4 fifth off the tee and finds a wicked lie short and right of the green. With both feet struggling to settle into the face of a bunker McIlroy is forced to take a baseball swing at waist height and it, um, does not go well. His ball settles in the greenside bunker a few yards in front of his current location and Rory takes it out on the bunker, giving the sad a couple big hacks on this way out.
His third is better, but not great. He'll have about 12 feet down the hill to save his par. Quite the bummer, really. He came to the tee with dreams of an eagle two. Now he'll count his blessings if he leaves with a par to stay within one of the lead. Aaaand he makes it! Those are the kinds of saves that can make or break rounds and tournaments, even on Thursday morning.
11:29 a.m.: David Lingmerth hath risen. Remember this guy? He dueled with Tiger at the 2013 Players and outlasted Justin Rose in a playoff at the 2015 Memorial for his one and only PGA Tour win. Anyway, seven years later, he's tied for the lead in the U.S. Open, bogey-free and three under par through 14 holes.
11:18 a.m.: Well, it is the U.S. *Open* for a reason. Two-time U.S. Mid-Amateur champion Stew Hagestad is two under through 10 with a great look for birdie on the short par-3 11th ... and he drains it. At the site of the first amateur victory in the U.S. Open, another one has a share of the lead.
After a bogey from Matthew NeSmith on 15, Hagestad leads alone at three under.
10:56 a.m.: Solid Thursday showing for defending champ Jon Rahm, who's still at a one over thru 12. The Spaniard will look not to drop a shot on 13 like his playing-partner Collin Morikawa just did. And ... that'll be a par. Survive and advance to the next hole. Rahm's clean so far on the back nine. That'll do.
10:52 a.m.: Max Homa is not happy with a bad missed par and bogey to drop to T-13. That one will hurt, as the groan from the commentator signifies.
10:47 a.m.: Hayden Buckley with a great birdie chance on the par 4 fifth. He's even so far and playing well after sinking the first birdie of the 2022 U.S. Open.
10:33 a.m.: "That's three in a row." Jon Rahm continues to hit it short and right, shocking the commentating team and (seemingly) himself. He's still at one under for the day, just two off the lead, despite the recent hitting woes.
Well, the defending U.S. Open champ follows up that shot with aplomb. What a chip by Rahm.
10:23 a.m.: Collin Morikawa and Matthew NeSmith still both lead the field so far (thru 11 and 12 respectively). Morikawa finished out the front nine with a par-4 birdie and just found the right side of the fairway on a difficult 12th hole. Looking good.
10:12 a.m.: Jordan Spieth will start the tenth in rough rough short of the green. He's still in an okay place but definitely will require some expert maneuvering. Max Homa, on the other hand, with a beautiful start to the hole and will carry it to the green easily. In a good spot.
10 a.m.: Seemingly under the weather (in one way or another), Jordan Spieth will finish his front nine with two birdies out of his last three holes. He'll improve to one over and will make the turn with quite a bit of momentum. His birdie will be promptly followed up by a bogey 5 from Homa. He'll drop to one over. His front nine is bookended by bogeys, but he's still in a good place early.
9:42 p.m.: Max Homa reads the green incorrectly on the eighth but will still find his way atop the leader board at two under. He's knotted up with Matthew NeSmith, Collin Morikawa, Jon Rahm, David Lingmerth and Sebastián Muñoz.
9:34 p.m.: Well, that'll roll. Adam Scott doesn't put enough on it and the ball will find its way to the bottom of the steep eighth incline. Jordan Spieth will join him as well, although it looked like it might hang on for a second. The two are outdone by Max Homa who gets enough on it, sticking to the green.
Scott does it again, but then at least follows that up by a beauty.
9:21 p.m.: Rory will escape the rough, get a chance for par on 15 and ... sink it. Still at even for the day, McIlroy has had a solid showing thus far.
Back-to-back birdies from Max Homa on the fifth and sixth holes are followed by a strong par on the seventh. He's one under thru seven and has pulled himself back after a bogey to start off his U.S. Open.
9:14 p.m.: Maybe not the biggest name but qualifier Harry Hall with a beautiful shot on the par 3 11th just north of the hole. That will immediately be followed up by Rory McIlroy finding the brutal rough on the 15th. It's going to be a saga just to find the ball.
9:04 a.m.: Another hole, another bogey for Jordan Spieth. That's four bogeys in six holes for Spieth. Oh man ... it's getting ugly for Jordy.
8:52 a.m.: Jordan Spieth gets one back at the short par-4 fifth hole with a nice up-and-down from the bunker. He's now 2-over through five ... and maybe that'll be a much-needed jolt of momentum.
Meanwhile Jon Rahm is on a little birdie streak—birdieing 5 and 6—to get to 1-under for the tournament. Rahm looked mighty frustrated before, but the defending champ is back and in red numbers.
8:40 a.m.: Henley has company at the top, as Collin Morikawa just rolled another nice birdie putt in at the fifth hole. That follows about a 40-footer for birdie Morikawa rolled in at the par-3 second hole. What a start for the 2020 PGA and 2021 Open champion.
8:30 a.m.: Russell Henley is the first player to 2-under, birdieing the 10th and 12th holes early in his round. The Macon, Ga., native was in the 54-hole leader at last year's U.S. Open, and he's back near the top (very) early a year later.
8:18 a.m.: Oh boy ... Jordan Spieth just missed another par putt ... this one at the third hole. He's now two-over through three. Spieth is obviously still struggling with his stomach bug.
And speaking of struggles, Hideki just double bogeyed the par-4 12th hole after that birdie at 11. Hideki's tee shot went way left off the tee, then came up short with his second, leading to the double.
8:03 a.m.: Hideki Matusyama sticks his tee shot at the par-3 11th hole, which is playing as the easiest hole on the course thus far, to grab a share of the lead. He's got a lot of company at the top now ... Hayden Buckley, Patrick Rodgers, Travis Vick, Collin Morikawa, Adam Scott and Russell Henley, who just got a crazy hop on the 10th hole to get his ball inside a foot.
7:45 a.m.: Collin Morikawa joins amateur Travis Vick at the top of the leader board with a birdie at the par-3 second hole. Again, just like Spieth, people were down on Morikawa on the eve of the U.S. Open because he admitted to some reporters he was having trouble hitting a fade. Well ... a draw is needed on the par-3 second hole and he just dialed it up perfectly.
Hopefully the Mighty Quinn's friends and family screenshotted that shot of the leaderboard while he was up there. He just bogeyed the 13th hole to fall back to even par.
7:34 a.m.: There was a lot of chatter about Jordan Spieth's physical state after he left the range on Wednesday with an apparent stomach bug. Well, he teed off in his first round ... then hit a terrific approach from the rough on his first hole of the day.
Of course ... this story doesn't end well for Spieth. His chip stopped shy by about 12 feet, then he missed his par putt. A tough early bogey from Spieth ... and just by the eye test, he doesn't look 100 percent post-stomach bug.
7:08 a.m.: Not only can friends and family grab photos of Fran Quinn being atop the leaderboard, but now he's the solo leader. The 58-year-old birdied the small par-3 11th to be the first player to red figures. What an incredible honor. The Mighty Quinn!
6:48 a.m.: The action is officially underway at The Country Club! Michael Thorbjornsen, a 20-year-old amateur from Massachusetts teeing it up at Brookline (sound familiar?) had the honor of hitting the first tee shot off the first tee. What an incredible experience for him. He found the rough with his ball, but nonetheless—he'll have that memory forever.
Off the 10th hole, Fran Quinn, whom our Dan Rapaport profiled here, hit the first tee shot of the morning off and striped it perfectly down the middle. What a great thrill for the 58-year-old.
Thorbjornsen and Quinn both make par to start their round, and their friends and family will be taking pictures of them appearing at the top of the leaderboard in their home state. That's something worth saving.
We have some late breaking news here: Abraham Ancer is a late WD from the U.S. Open. He's replaced in the field by Patton Kizzire, who was the first alternate. That also means that Rickie Fowler is now the next alternate up, in case anyone else WDs. Get those stretches in this morning, Rick!
Here are all the pin positions for Thursday at The Country Club: