Course Analysis
U.S. Open 2022: Why The Country Club's 14th hole is different than any other modern par 5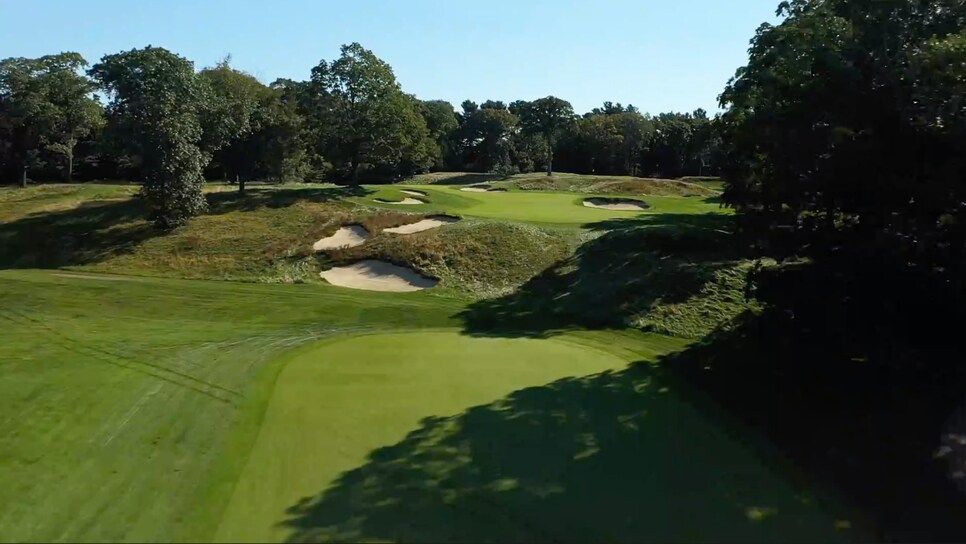 The dramatic approach to the 14th green is unlike any other par 5 in the modern game.
BROOKLINE, Mass. — Consider what you believe a par 5 to be. For tour pros, it's an automatic birdie opportunity. Make a par, and you're probably losing strokes to the field.
This week at The Country Club, however, we'll be treated to course design features not often seen on tour. Blind shots, reverse cambered fairways. And yes, challenging par 5s.
On the eve of the U.S. Open, USGA chief championships officer John Bodenheimer, who oversees the course setup, and architect Gil Hanse, whose team has led the renovation efforts at The Country Club over the past decade, were talking about the 14th—listed at 619 yards—potentially playing as the toughest hole in the U.S. Open.
That truly challenges everything we've been led to believe about how a par 5 plays these days, which is what just one thing that makes The Country Club so intriguing.
"The thing that's really interesting to me, is that you can't really make a hard par 5 for the modern player anymore," said Hanse, who made time for a handful of journalists courtesy of Rolex. "But that's going to be the case here. And for a par 5 to potentially be the toughest hole out here in this day and age, that's quite the statement."
Mind you, regular tour events are not often hosted at pre-Golden Age golf designs, where par 5s sit on topography that rises more than 30 feet in elevation from the fairway to a raised top section—separated by Roxbury puddingstone outcroppings—that were quite literally formed by glaciers.
Here's what players will face: The fairway is protected by a tree on the left side, promoting players to hit a draw to a fairway protected by heavy U.S. Open rough. Miss the fairway, and players will likely be forced to lay up—as carrying the natural landform will require a mammoth carry upwards of 200 yards up the hill (above). In his practice round, Sam Burns attempted to hit his shot from the rough to the sliver of fairway up the hill and came up about 20 yards short in the high fescue, leaving playing partners Scottie Scheffler and Justin Thomas stunned.
So expect to see a number of layups this week to the edge of the fairway, it's still 175 yards up to a heavily guarded green that's shorter than most par 5s on tour.
"When we played this in 1988, it was a darned tough par 4," said Curtis Strange, the 1988 U.S. Open champion here at Brookline. "If you missed the fairway, you were hacking it out and laying up on a par 4."
That's the kind of treat we're in store for this week. Word is that Rory McIlroy reached the green in two in an early week practice round. Not many others will be able to boast the same.
Watch our drone flyover of the 14th hole here:
It was fascinating to eavesdrop on fans watching practice on the 14th on Wednesday: "Where's the green?" "Is that fairway?" "Where are they hitting it?"
We'd venture to guess that same chatter has been going on at Brookline for the nearly 100 years that this hole has been in existence. A glorious testament to its design merits.
Watch our "Every Hole At: The Country Club" video below:
MORE U.S. OPEN COVERAGE FROM GOLF DIGEST