News
U.S. Open 2020 live updates: Rahm, Bryson, Xander continue run of low scores; field still chasing JT at five under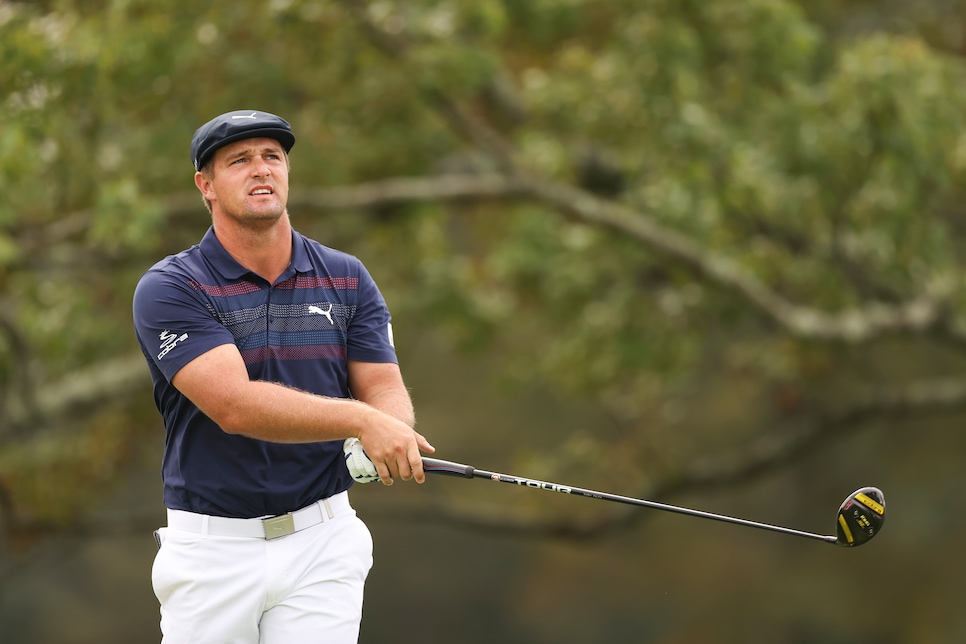 Ah, Thursday of a major. Endless possibility awaits. Before history's made, we embark on an adventure. The rush and fervor of early, superb rounds. Lesser-known players will introduce themselves to us. Perhaps a hole-in-one or some unlikely highlight. It's all possible in Round 1.
We're here to lead you through the biggest moments of Thursday at Winged Foot as the leader board begins to crystallize. Yes, we're grateful this week is here—a second major championship in two months seemed unlikely a few months ago. Now we're in the heart of a super season of golf playing the first of two U.S. Opens. How lucky are we?
6:49 p.m.: After another impressive long two-putt for par at 17, Matthew Wolff two-putts for par at the difficult 18th hole to card an opening-round 66, one shot shy of Justin Thomas' lead. As Terry Gannon points out on the telecast, 4-under would be the lowest round shot at Winged Foot in a U.S. Open before today. But JT already took that mark down in the morning.
Wolff, playing in his first U.S. Open, which is tough to believe knowing he's been on tour for a full season already, is tied with Patrick Reed and Thomas Pieters for second behind JT.
6:38 p.m.: Woof ... a long day for Phil Mickelson is finally over. Predictably back at Winged Foot, we knew it'd be an adventure for Lefty. We didn't quite know he'd shoot the third-worst round of the day ... particularly after he started his day birdie-birdie. But Phil was all over the golf course, hitting just two of 14 fairways—and with a weak putter—that ended up in a 9-over 79.
6:25 p.m.: Louis Oosthuizen seems to always show up when it's a major. And this week is no different thus far. The South African shot a 30 (!) on the front nine (his second nine) to shoot an opening round of 3-under. What a stellar start for Oostie, highlighted by this unreal hole-out for eagle from the fairway at No. 2:
6:10 p.m.: Man, Matthew Wolff ALMOST rolled in an improbable, downhill breaking 41-footer for a SIXTH birdie of the day. But it comes up just one or two rotations shy of dropping. Wolff heads to the 17th tee still one back of Justin Thomas' lead (-5).
5:58 p.m.: U.S. Open killer Xander Schauffele is continuing his sterling success in our nation's championship—he rolls in a downhill breaking birdie at the seventh hole to get to 3-under.
His success in the past three U.S. Opens is probably best summed up by this stat from Golf Digest contributor Rick Gehman: "Per my RickRunGood.com database, Schauffele has gained an average of 3.17 strokes per round at the U.S. Open in the past three years. That's by far the most of anyone in this field." Amazing indeed.
5:49 p.m.: Matthew Wolff, on the par-4 15th hole, misses a birdie chance to take a share of the lead. The broadcast then jumps to Bryson and Xander missing putts and Finau nailing his to get to 2-under. It's almost 6 p.m., but there's still a few more chances for these guys to make a few more birdies.
5:36 p.m.: Will Zalatoris' scores on the par 3s today: 1, 2, 3, 4. Not exactly sure what to make of that, but it's fun.
5:26 p.m.: Let's look at Matthew Wolff for a second, who's making quite a run. Wolff is now in second place at 4-under and playing some stellar golf. Only 13 holes in, Wolff has the best chance of catching JT, only one shot ahead.
5:07 p.m.: After a bit of finangling, we're now watching the U.S. Open on Peacock, which is a real sentence in 2020. Anyway, back to the golf...
At 3-over now, Phil Mickelson hits the lip out of the bunker on 14. Things are getting ugly now after a hot start. Lefty then chunks it from the rough and the broadcast calls this hole "a battle" for him.
Jon Rahm follows up Mickelson's wonky shot by overshooting the hole and landing at the very edge of the green. Not a great 14th hole for the two tour stars.
4:44 p.m.: After making the turn, Xander Schauffele immediately birdies the second hole and moves up the leader board to 2-under so far for the day. Xander was 15-1 heading into Winged Foot and has had great success in previous U.S. Opens. Backing up the hype on Day 1.
4:34 p.m.: After an up-and-down 12th hole, Bryson DeChambeau overshoots a chance for birdie, but looks to be in a good spot for par. He found the rough with the driver immediately, but was able to survive.
Using Bryson's putt to read the 12th green, Dustin Johnson just misses a putt. He'll stay at 2-over for now. Not a strong showing from DJ so far, but there's still plenty of time for the Player of the Year.
4:19 p.m.: Let's jump over to Zach Johnson for a second, as he hit a miraculous birdie putt that has the twists and turns of an M. Night Shyamalan film. It was just to get Johnson back to even for the day, but it's well worth a watch. What a wild shot...
4:08 p.m.: Earlier, we failed to mention that Bryson made a 32-foot BOMB at the par-3 10th. He's now at three under, with the par-5 12th coming up. So far, so good on the bomb-and-gouge experiment at Winged Foot.
Others at three under: Rickie Fowler (thru 9), Thomas Pieters (thru 14), Rory Sabbatini (thru 15), Shaun Norris (thru 15) and Joaquin Niemann (thru 12). Rory McIlroy is also at three under, and he's the only one safely in the clubhouse.
3:44 p.m.: The Phil Mickelson magic quickly wore off after those two opening birdies. He played the next five holes in four-over par, then wasted his best drive of the day at the par-5 ninth by blocking his second shot onto the first tee. He turns in two-over 37, which has him seven back.
3:31 p.m.: The birdies continue to fall at Winged Foot. Joaquin Niemann made the turn in four-under 31, and a few holes back Rickie Fowler makes birdie at the sixth to reach three under. Rory Sabbatini and Thomas Pieters, who are both well into their back nines, are also at three under.
3:10 p.m.: After a birdie at the first, Bryson DeChambeau made five consecutive pars, which is exactly what you need to do at a U.S. Open. Then, at the seventh, he added his second birdie of the day after hitting his tee shot to six feet. He's now at two under for the championship.
Up ahead, Joaquin Niemann has a very good chance to reach four under at the par-5 ninth. That would put him within one of Justin Thomas' lead with nine holes left in his first round. They are tearing this place up!
2:45 p.m.: Just your standard, birdie-birdie-bogey-bogey start for Mickelson. He's now fallen into a tie for 24th.
Two shots ahead of Mickelson are some very intriguing names, including Lee Westwood, who lives on the top of the leader board at major championships. Yet still, the 47-year-old is still stuck on 0 major victories. Could this be the week? It would be quite the story. Also at two-under is Belgium's Thomas Pieters, who the world fell in love with a few years ago. He appears to be back to his 2016-2018 form. Would not be surprised to see him in contention deep into the weekend.
And then there is Rickie Fowler, who is two under through five. He's much younger, but, like Westwood, continues to search for major victory No. 1. Both would have to shake some serious Sunday demons to pull it off this week.
2:15 p.m.: At the third, Phil Mickelson misses the green and this time doesn't get away with it. His six-foot par putt lips out and he drops back to one under. Forty-nine players are at even par or better as of this typing.

1:52 p.m.: You're supposed to be punished severely for missing the fairway this week. Well, Phil Mickelson has missed his first two fairways and he's gone birdie-birdie. Full Houdini.
Phil's not the only one having his way with Winged Foot on Thursday either. There are now 23 players under par. In the first round of the 2006 U.S. Open, one player shot an under par round, and it was Colin Montgomerie with a one-under 69. If you were tuning in for a bloodbath, you're probably a little disappointed with what you're seeing. Warm weather, no wind, and soft greens have allowed these players to get after it.
1:41 p.m.: Bang. Mickelson is one under. Hand him the trophy now!
1:36 p.m.: The afternoon wave is off and running, and among that wave is Bryson DeChambeau, who piped a drive at the first hole and wedged it on and made the putt. Easy game. Easy tournament. His playing partner, Dustin Johnson, made par.
In the group behind them, Phil Mickelson's quest for an elusive U.S. Open victory appeared to get off to an ugly start. He blocked his tee shot a mile to the left, and it found some of the thickest looking rough on the course. But it ended uo being no problem for Lefty, as he hacked one on to the green that rolled within 15 feet. Big birdie putt coming up.
1:21 p.m.: Sooner or later, missing fairways was going to catch up with Tiger Woods. it did on 18, where he found the left rough, then hit his second up near the green and completely chunked a chip. He then missed a right-to-left slider for bogey, finishing with a disastrous double to shoot 73. After all that hard work and all those birdies, that has to be so crushing.
Justin Thomas, meanwhile, made his sixth and final birdie of the day to clip Woods by eight shots. He is the solo leader at five under. What a round.
1:02 p.m.: With a par putt on the 18th hole, Patrick Reed closed out a four-under 66, the lowest first-round score in relation to par in a U.S. Open at Winged Foot. It also ties Fuzzy Zoeller for the lowest U.S. Open round at Winged Foot ever.
12:57 p.m.: The up-and-down play from Tiger Woods continues on the 17th hole. Faced with a eight-footer to save par, he slides the putt left of the hole for his sixth bogey of the day. After making a birdie bomb on 16, he just can't keep the momentum and falls back to one over.
12:48 p.m.: After Justin Thomas hits his tee shot on the 17th hole into a fairway bunker, he's just about to pull the trigger on his second shot when he holds off and grabs a rules official. There's something behind his ball. If it's a rock, Thomas knows he can remove it without a penalty. But if it's a clump of sand, he's not sure. John Mutch explains to him he can't improve his lie or learn anything about the lie by removing it. Figuring it probably is sand, Thomas plays the shot anyway … only to have his foot slip in the bunker when playing the shot and it winds up in a greenside bunker short left.
12:31 p.m.: Justin Thomas hits a phenomenal shot from the bunker on 16 for a chance to save his par and keep his share of the lead with Patrick Reed. A few moments later, Tiger hits a birdie on the same hole (just the third birdie on this hole of the day) and he gets back to even. That was about a 35-foot putt. Incredible putt there by Woods.
Davis Thompson will finish the day at one-under 69. Definitely not a bad spot to be after Day 1 for an amateur. With his dad on the bag, the UGa junior matched the lowest round ever by an amateur in a U.S. Open at Winged Foot. A great chance to make the cut.
12:21 p.m.: Patrick Reed hits a par on the 16th to ensure that he still has a share of the lead. Reed and JT are currently at 4-under. The broadcast also makes sure to point out that the wind has started to pick up at Winged Foot. Let's see how that will affect the golfers finishing up their first round.
12:13 p.m.: After a great drive on the sixth hole, Rory misses a chance for an eagle, but still has a strong chance for a birdie to take the lead. It was a giant par save on the preceding hole that allowed him to stay one shot back.
11:59 a.m.: Tiger will drop once again with his second birdie in a row, this time on the 14th hole. Woods had a 20-foot par save attempt and didn't put enough on it. He sits at one-over once again.
Jordan Spieth sinks a birdie putt on the 15th hole, trying to build up some momentum after a two-over start to his Thursday back-nine. He had three birdies in a row on holes 4 through 6, but hasn't been able to do much since then.
11:50 a.m.: "Real men carry a 7-wood." -Nick Faldo
11:41 a.m.: After a beautiful par-saving putt by Davis Thompson, Harris English follows that shot up with a birdie and jumps up to the 3-under group. English sits just one shot back of the lead now.
At essentially the same time, Rory and Tiger both miss big putts (McIlroy's for birdie, Woods' for par). Woods is now even for the day after a bogey at 13. Still...not too bad after the slow start.
11:30 a.m.: Don't want to be the bearer of bad news, but Tiger just misses his chance for a fourth birdie in a row on the 12th hole. He was walking it in and it lipped out. Rough break.
At the moment, JT still has control of the lead at 4-under with a coterie of Rory, Reed and amateur Davis Thompson just one shot behind Thomas. Todd and English sit at 2-under and Tiger leads the 1-under crew. In total, nine players are under par, which is a bit unexpected so early on in the major. I guess, that's why these guys are pros and we're watching from the couch.
11:22 a.m.: Just in case you missed it, we should mention that Matt Wallace had his caddie tend the flag from 50 yards out and then proceeded to hit a massive chunk. Very relatable shot by Wallace. The confidence on the other hand, we don't have much of that on the course.
11:17 a.m.: Patrick Reed joins the 2-under club with his third birdie of the day, this one on the par 5 12th hole. He's even at the moment with McIlroy, Todd and English. Reed stays in the mix after his earlier phenomenal ace.
And just a minute or so after Reed's putt, Harris English misses his chance for a birdie so the two will stay knotted up. Quite a few players still under par. Ridiculously impressive at this course.
11:07 a.m.: Make that THREE in a row for Tiger! Birdies at 9, 10 and 11 put Tiger Woods in red numbers for the first time during this U.S. Open. That was a beautiful 19-footer from below the hole for the 15-time major champion.
Tiger's playing partner and buddy Justin Thomas follows Tiger with three birdies in a row—JT's birdie at 11 puts him at 4-under, which is good for the solo lead now, with amateur Davis Thompson making his first blemish of the day at the 13th.
10:51 a.m.: Make that TWO in a row for Tiger! Tiger rolls another birdie in—this one from 25 feet or so here at No. 10—to get back to level par for the tournament. That was struck with the perfect pace and just rolled in on the high side.
JT also stays hot and rolls in a birdie at No. 10—rare to see TWO birdies in the same group at the 10th hole—and JT gets to 3-under, which is one back of the amateur Davis Thompson, who remains in the lead at the moment. JT has played some great golf thus far.
10:40 a.m.: Once again, Tiger Woods missed the fairway, then had to hack out at the par-5 ninth. With 80 yards left to the green, he hit a poor shot that rolled back to 30 feet. What a waste of a par 5 ... or was it?! From deep, Tiger drains the birdie putt to turn in one-over 36. Gritty.
10:33 a.m.: Looks like Davis Thompson ain't goin' NOWHERE. The amateur just flipped a 115-yard wedge to 10 feet at the par-4 11th and buried the birdie putt, which puts him at four under. He needed that to keep the solo lead, as Rory McIlroy just made the turn in three under with a birdie at the 18th.
10:23 a.m.: Remember when Jordan Spieth started bogey-double bogey and we all promptly wrote him off (don't lie, you did too)? Well, he's gone full Spieth since, making three straight birdies at four, five and six, then back-to-back pars at seven and eight. He's back to level par. Still plenty of fight in this dude.
10:20 a.m.: Tiger hit his tee shot down the left side at the eighth and it just trickled into some thick rough. From there, he chopped one out that went nowhere, finding a fairway bunker. His next was well short of the pin, and he two-putted for bogey to drop back to plus two.
10:16 a.m.: Unlike Wu, amateur Davis Thompson is not succumbing to the U.S. Open nerves. He just missed the green at the par-10th and managed to get up-and-down for par. At the 11th, he's on the green in regulation with a chance to reach four under. Quite the round... so far.
10:09 a.m.: After an incredible, two-under front nine, thinks have taken a dark turn for Brandon Wu. The Stanford product made bogey at the par-5 12th to drop to one under, than hit a shank at the par-3 13th. Oof.
10:03 a.m.: Despite hitting just two of his first seven greeans in regulation, Tiger Woods is grinding away at one-over par. He capitalized on the short par-4 sixth with a birdie, then just missed birdie at the par-3 seventh. Tough eighth hole coming up, but then he has the par-5 ninth. If he can get to even at the turn, that's a very positive start.
9:51 a.m.: Oh my GOODNESS. Immediately following a double bogey, Patrick Reed makes birdie at the short par-4 sixth and then did this at the par-3 seventh:
Unbelievable. A one-hopper. In a matter of two holes, Captain America goes from two over to one under. We doubt there will be a better two-hole stretch this week.
9:41 a.m.: Just as we all predicted, amateur Davis Thompson is the solo leader at the U.S. Open. The junior from Georgia just birdied three straight holes (six, seven and eight) to get to three under, and now has a very good chance to make it four straight at the par-5 ninth. Who said Winged Foot was hard?
9:24 a.m.: Brandon Wu falls victim to the brutish par-3 10th hole, missing the green to the right, which is a no-no. His second still came up short of the green, and he made a bogey to drop out of the lead to 1-under.
Wu's replaced by Davis Thompson, who we mentioned at the start, is an amateur from the University of Georgia. Thompson made back-to-back birdies at Nos. 6 and 7 for one of the more impressive rounds of the morning thus far. He's tied with Rory atop the leader board. Someone screen grab that leader board and send it to him—he's gonna want to keep that one.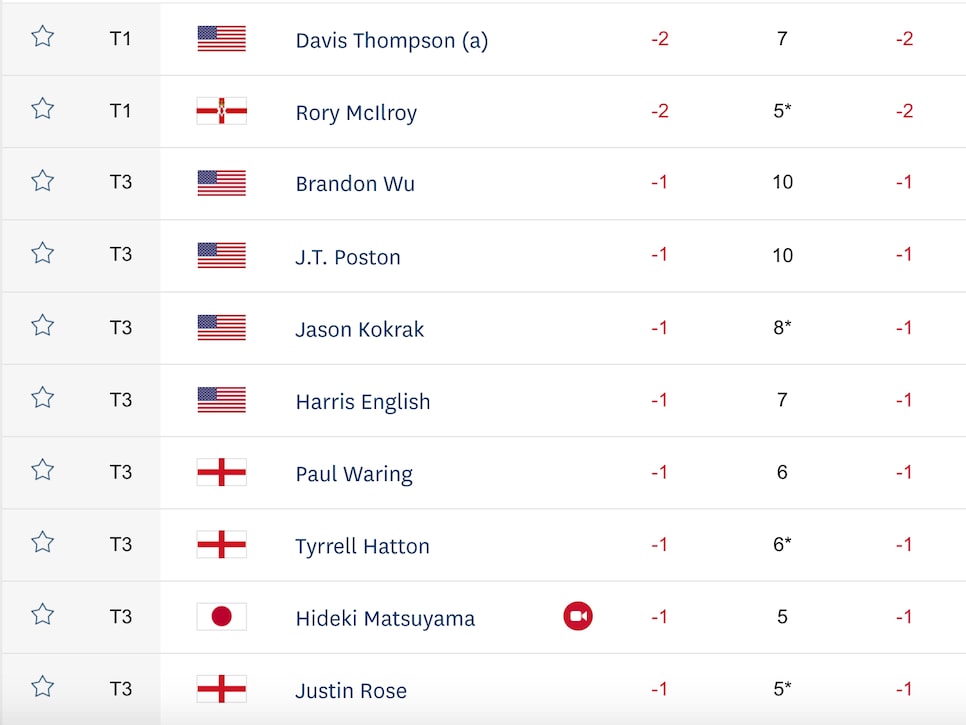 9:17 a.m.: Tiger used putter for his third shot, then a wedge for his fourth at No. 4. Never a good thing. Tiger plays a decent chip from the collar of the rough after his putter approach went off the green. But Tiger salvages the bogey putt to limit the damage. Tiger stays +1. JT meanwhile had a really nice two-putt from 62 feet above the hole. He remains at even-par.
9:12 a.m.: Oh boy ... Tiger just did what a lot of golfers did playing Winged Foot. On the front of the putting surface at the fourth hole, Tiger used putter to get his ball on the green complex ... and then it rolled off the surface. Tiger's play just had too much speed, and rolled across the green into the rough to the left. Cue all the WELCOME TO WINGED FOOT takes.
9:01 a.m.: Local guy Brandon Wu, who's made a name for himself on the Korn Ferry Tour, has the round of the morning thus far. What a thrill for the 23-yar-old ... Wu carded three birdies on the front nine, along with a bogey, and he's tied for the lead at the U.S. Open with Rory McIlroy. Rory is just through four holes right now, but he's birdied the par-3 10th and 13th holes to share the lead with Wu.
8:54 a.m.: Tiger was able to save par from the left greenside bunker at the par-3 third to save his par. JT was on a slight downslope and had a further par putt, and he could not make his putt. That moves JT back to even par, negating that stellar opening birdie.
8:36 a.m.: Justin Thomas hit an absolutely perfect tee shot at the second hole, leaving himself just 133 yards in on the 477-yard par 4. But he found a greenside bunker with his approach. Tiger is in the left greenside bunker after finding a left fairway bunker with his tee shot. Tiger was NOT happy with the approach ... swinging his club in the sand in disgust after making contact.
8:22 a.m.: Justin Thomas rolls in the 2-footer or so for his birdie ... what a start for the 2017 PGA champ. JT has commented how underwhelming he thinks his major resume is. That was the ideal start. Tiger missed the nice chance for an early birdie but he'll take the opening par.
8:15 a.m.: Rory McIlroy starts his day off with a strong birdie at the difficult par-3 10th hole, rolling a downhill 15-footer to get to 1-under. Well done by the new dad!
Meanwhile at the first hole, Tiger Woods and Justin Thomas hit stellar approaches. Particularly JT: He took the spin off his wedge perfectly, and his ball rolled within a foot of the hole. By far the best shot we've seen so far today. Perhaps the second-best shot was Tiger's approach ... which hit all the way on the back part of the putting complex and then rolled to within 12 feet or so. He'll have an uphill birdie putt to try to start his day with a rare birdie at No. 1.
8:13 a.m.: Tyrrell Hatton is the first golfer to 2-under, starting his round with back-to-back birdies to grab the early outright lead. Don't blink: We have a feeling the 2-under mark might not remain in the lead for long ...
8:09 a.m.: The marquee group of the morning is on the course! Collin Morikawa, the recent PGA champion, misses the fairway left with his tee shot on the intimidating first hole. Tough that the youngster had to tee off first among this group ... wasn't it?
Tiger Woods and Justin Thomas, who came to Winged Foot a few weeks ago together before the Northern Trust, both hit the first fairway to start their days.
Up ahead, Jordan Spieth—2015 U.S. Open champ—also hit the fairway, but hit his approach slightly off line and it spun off the front of the green. That resulted in a bogey for Spieth ... not the start he expected after the stellar tee shot, but it's the kind of result we're seeing recently from the struggling Spieth.
7:46 a.m.: Oh man, a tough result for Davis Thompson, an amateur from the University of Georgia, at the first hole. Thompson piped a drive, then hit his approach shot hole high, but it spun all the way off the front of the green. These firm-and-fast greens are not going to be forgiving at Winged Foot.
Another amateur, John Augenstein, has joined the leaders with a birdie at No. 11. So has Andy Sullivan and Tyrrell Hatton, who made a rare birdie at the 10th hole.
The highlight of the morning is still Brian Harman's bunker hole-out at the iconic par-3 10th hole:
7:30 a.m.: Brian Harman, Curtis Luck and J.C. Ritchie have the early lead at 1-under (can you believe it, people are under-par!). It's fitting that some of the first shots of the day shown on the Golf Channel are hack-outs from the rough advancing three feet (sorry, Rasmus Højgaard), missed seven-footers with about three feet of break. It's going to be that kind of day at Winged Foot.
We're here to celebrate the birdies ... but also highlight the big numbers, too. They're all important to crowning a champion this week at Winged Foot.