News
U.S. Open 2020: Phil Mickelson says it was his single greatest short-game performance and seven other revelations about the 2006 U.S. Open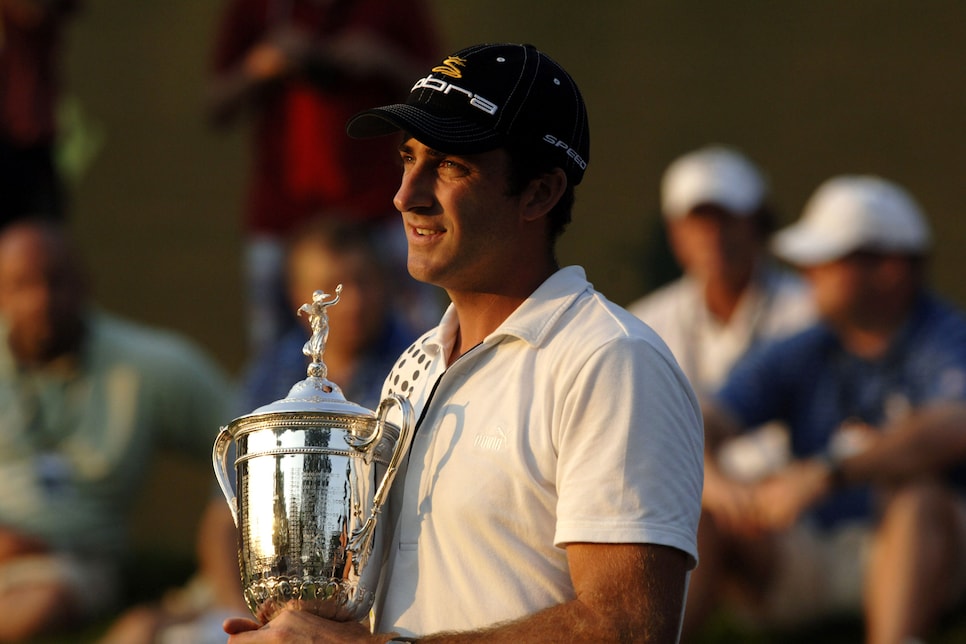 Geoff Ogilvy poses with the U.S. Open trophy after clinching his one-stroke victory at Winged Foot in 2005.
Bloomberg
What didn't happen during the final round of the 2006 U.S. Open? That's how my Golf Digest colleagues John Huggan and Dave Shedloski began their recent oral history of the last time the USGA held its marquee event at Winged Foot Golf Club. It's an appropriate sentiment when recalling the bizarre events that took place 14 years ago.
In the end, Geoff Ogilvy took the title after making pars on the final four holes for a closing 72, winning with a very Winged Foot-like five-over 285 total. Yet the championship is recalled more for the fates of the golfers who the 29-year-old Australian beat—or, in the memories of some, beat themselves.
Most notable was Phil Mickelson, trying to win a third straight major. Arguably the best opportunity to claim what has become an elusive U.S. Open title imploded on the 72nd hole through a series of bad decisions (driver off the tee) and bad shots (hitting said driver into a spectator pavilion, then hitting a tree with his overcooked recovery) that led to a double bogey when par would have secured the victory.
Amazingly, Colin Montgomerie succumbed to the same frustrating ending only a few groups earlier. Except his collapse was even more cruel; he stood in the middle of the fairway off the tee on 18 before making his double.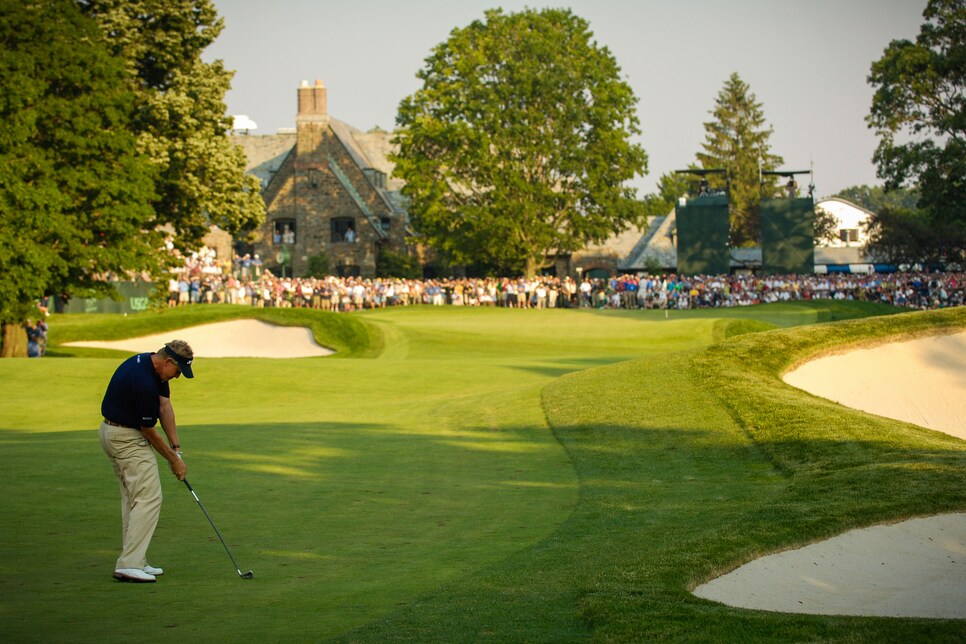 Through a series of interviews with the key individuals, the complete oral history provides a vivid look at the tournament. It's well worth reading in its entirety if only to remind yourself how much Johnny Miller could get under players' (and caddies') skin, that wearing pink on Father's Day Sunday in front of a New Yorkers might not be the play (live and learn Ian Poulter) and just how upset Monty can get on (and off) the course. Curious what else you might learn? Here is a sample of some other interesting anecdotes the story surfaces.
Ogilvy was focused before the final round. Just not on golf.
One shot back of 54-hole leaders Mickelson and Kenneth Ferrie, Ogilvy didn't let the specter of a late Sunday tee time at a major overwhelm him.
"One thing that has stuck in my head about the week is that the soccer World Cup was going on, and Australia played Brazil early on the final day of the U.S. Open," Ogilvy said. "And yes, I neglected my preround warm-up because I was too interested in the match. I watched in the fitness trailer and rushed my warm-up."
The winner thought all was lost with four holes to play.
"After I bogeyed 14," Ogilvy said, "I was two behind and experienced the moment that just about everyone experiences in any golf tournament: I realized I probably wasn't going to win. Which sucked. Sometimes that moment happens on the second hole on Thursday. Sometimes it comes along on the eighth playoff hole on Sunday. But it always happens at some point. And that was my moment."
Mickelson says Winged Foot was the "single greatest short-game performance of my career."
"Otherwise I wouldn't have been anywhere near having a chance to win the tournament," said Mickelson who was extremely candid when recalling the week (sorry, can't give away all the good stuff here). "I struck the ball terribly, and to still have a chance to win the U.S. Open is simply mind-blowing to me, even to this day."
It's hard to disagree. In the final round, Mickelson hit just two fairways yet still led on the 72nd tee. As Ogilvy, who played in the group in front of Phil on Sunday, noted: "He had been hitting it onto the greens from the trees all day. I can't recall how many times I looked back to see the spectators running into the trees to find his ball. Then, on the next tee, we'd hear the cheer when he somehow found the green with his next shot. He did it all day. Amazing."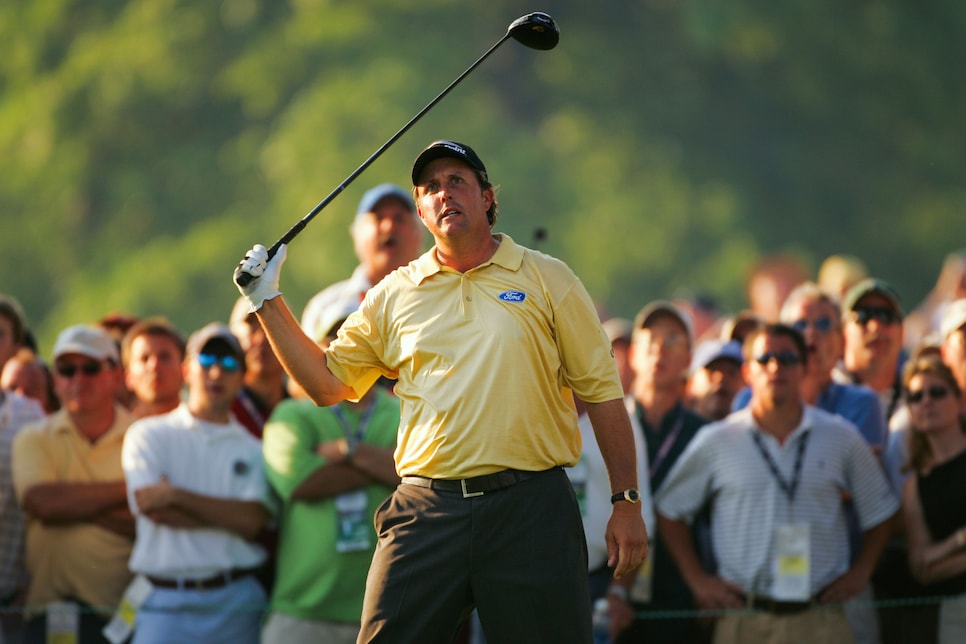 One pro who blew it on Sunday took it really well.
Mickelson and Montgomerie weren't the only players who could say that stumbles on the closing holes cost them the 2006 Open. Padraig Harrington made bogeys on the last three holes to finish two back in solo fifth. Yet the Irishman was one of the few who didn't walk away from Winged Foot suffering any mental scars, noting this exchange he had with sports psychologist Bob Rotella just off the 18th hole.
"I could tell by his face he was coming to ease my pain," Harrington said. "But I told him this wasn't a bad thing. It felt like winning was within my control. I could see the majors coming."
A year later, Harrington won the first of back-to-back Open Championships, and he added the PGA Championship in 2008.
The shot that "won" Ogilvy the Open was one he'd only recently been practicing.
Despite finding the fairway with his drive on 18, Ogilvy's ball wound up in a divot hole, giving him a tricky second shot that wound up about 30 yards from the hole. Desperately trying to save par again after holing a 25-foot chip for par on the 17th, Ogilvy knew what he needed to do: hit a wedge that would fly 15 yards, grab a bit and then roll to the hole. It was an easy shot to scuff or skull, but Ogilvy hit it near perfectly, stopping it five feet from the hole.
As it turns out, that shot was one he had been practicing in earnest for only a short while. "Two years before, he did not have that shot," said Dale Lynch, his instructor. "Not even close."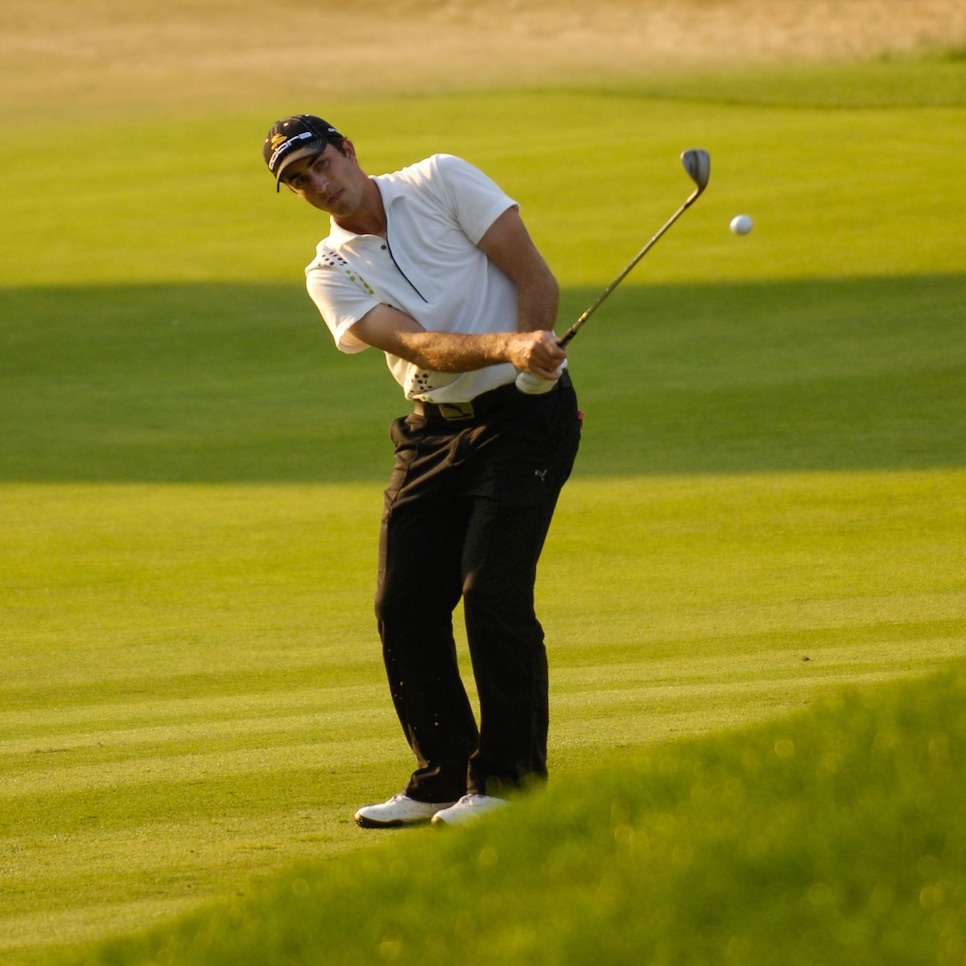 TV viewers never got to hear Phil after the round.
"I am such an idiot," Mickelson said to the media after his 18th-hole blunder, likely to the chagrin of NBC producer Tommy Roy, who had hoped to interview Mickelson immediately after the round.
When Mickelson was done playing, he went into the Winged Foot pro shop, which was being used for scoring. NBC's Roger Maltbie waited anxiously outside to speak to Phil, but Mickelson remained inside talking to his wife, Amy.
"I'm waiting, and I'm not allowed to go in there," Maltbie recalls. "And they sit, and they sit, and they sit, and Tommy said, 'We need an interview. You got to get him; you got to get him.' What can I do? I can't do a dang thing."
Eventually Mickelson got up to come out, but just after the network had started its sign off from Winged Foot.
"He just had this really dazed look on his face," Maltbie said. "It would have been a wonderful interview to get … I looked at him, and I said, 'Well, thanks for coming out, but we're going off the air. There's nothing we can do here.'"
Mickelson returned to Winged Foot Sunday night afraid he'd forgotten something.
Given the circumstances surrounding his disappointing finish, few would have blamed Mickelson for racing out of Winged Foot as quickly as he could. But he stayed to thank the club's staff members for all their help during his several visits to Winged Foot ahead of the championship, graciously giving out roughly $10,000 in tips. But as he was driving away, Mickelson turned the car around and returned, having realized he had forgotten to tip a handful of locker-room guys, and he didn't want to leave without taking care of everyone.
Ogilvy's victory party was subdued.
Ogilvy, his wife, coach and caddie celebrated the win in the lobby of their hotel. Naturally, the excitement of claiming a major championship title provided a certain level of energy, but the festivities weren't quite as rowdy as you might imagine.
"Funnily enough, the chat was quite flat," Lynch said. "Winning can be like that sometimes—the adrenaline is out of the system. What was cool was everyone coming over as they entered the hotel."