News
U.S. Open 2020: The return to Winged Foot means a return to this USGA favorite—gnarly rough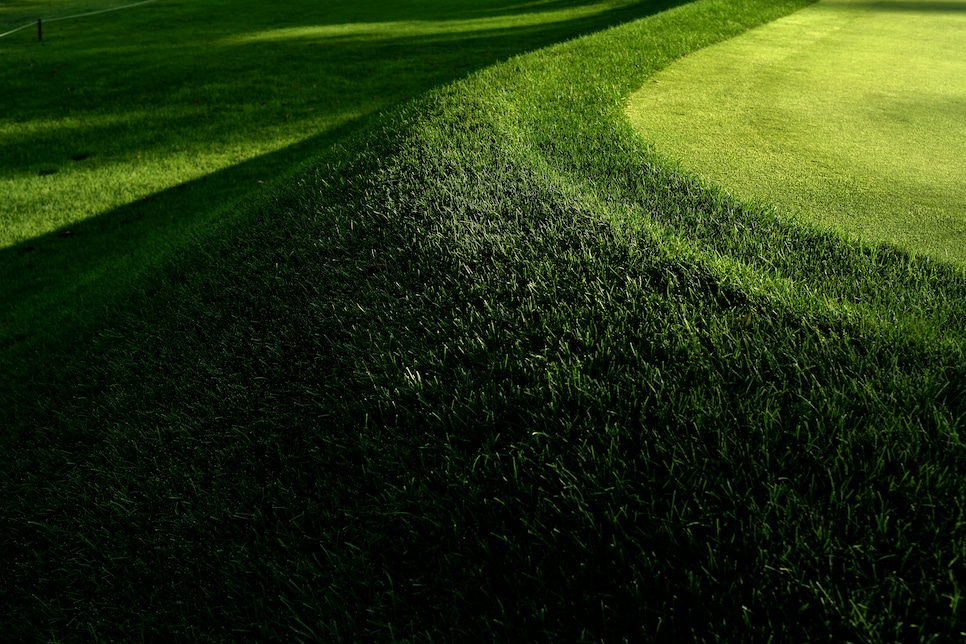 Photograph of the seventh green at Winged Foot's West Course in August 2019
Dom Furore
Winged Foot has a knack for producing memorable championship images: Phil Mickelson's sickened look on the 72nd tee at the 2006 U.S. Open; Davis Love III's rainbow at the 1997 PGA Championship; and Fuzzy Zoeller waving a white towel at the 1984 Open.
The most memorable scenes from the 1974 U.S. Open are more multiple, a running reel of professionals lashing lame-duck shots out of the rough, grass shrapnel exploding around them. (Hale Irwin won by two shots—at seven over par.) This as much as anything is the promise that accompanies a U.S. Open at Winged Foot, that punitive rough will be central to the drama.
As long as the rough is the rough we expect.
"Our goal is that by the end of September there's no difference from June," says Steve Rabideau, Winged Foot director of golf courses. "Our job agronomically got harder because we have to keep the rough healthy and thick through the summer, but now we're hosting an Open at the end of summer, so it's a lot more work. We've got to fight for the rough every day. The summer is long."
Rabideau and the club are aware that thinned out rough would be a disappointing consequence of the schedule shift. "At an old, classic-style golf course like this, rough is one of our defenses," he says. "That's what it's about here."
For viewers who require tragedy and comedy in their national-championship theater, that outlook is welcome news. Winged Foot symbolizes something of a restoration of traditional USGA values of narrow fairways and lush rough. That ideal had largely gone missing during the brief era of "open" Opens beginning in 2014 at Pinehurst No. 2, where the broad fairways were bordered by sandscapes mottled with love grass, often resulting in clean lies. Until Pebble Beach last year (with a brief pause at Oakmont in 2016), each Open venue featured fairways sometimes 40 to 60 yards wide (or in the case of Erin Hills, wider), pushing the rough largely off-stage. Winged Foot rectifies that with fairway widths 25 to 30 yards, as will Torrey Pines in 2021 and, presumably, The Country Club at Brookline in 2022.
It's no secret the U.S. Open has historically been a challenge of endurance, straight hitting and nerves. Heavy rough has typically done much of the heavy lifting to enforce that, making contestants pay felony prices for misdemeanor transgressions. Though grass does impact scoring, it's worth pausing to consider the wider role of rough on course design.
Rough has long been a useful tool for creating demanding setups and for tournaments that hope to test a certain skill set, but other appeals of the game are sacrificed when the measure of success is relegated to hitting the ball to predetermined positions.
Spaciousness and short grass, by contrast, allow golfers to navigate holes in their own manner, locate mis-hits and get on to the next shot. Hazards placed within these spaces, working in concert with interesting slopes and green movements, provide obstacles to maneuver against and chances to take on risks to secure advantages. Think of the various go/no-go decisions that Augusta National proposes, coupled with the opportunity for recovery and the great escape. That doesn't happen with tight fairways and burly rough, which turn golf into archery rather than pathfinding.
Ideally, every golf course would make mowing decisions that best accentuate the inherent design elements. Rough might be a desirable ingredient to protect design integrity, though many more courses would do well to expand short-grass areas as much as possible. Low cuts foster playability and fun, and depending on the grasses and climate, can require less water usage.
Still, the argument persists that tall grass is necessary to keep the modern professional in check. (Ernie Els recently recommended "knee-high" rough.) The U.S. Open has always been the sport's greatest laboratory for testing that thesis, and if proved correct, the lasting images of this year's tournament will again be wincing. If any course can render golf a version of "The Hunger Games," it's Winged Foot.
The only question is, will they have the rough?
"If we don't have it?" Rabideau ponders. "That's just not an option."