News
U.S. Open 2020: A super-scientific ranking of Winged Foot's 11 previous major championships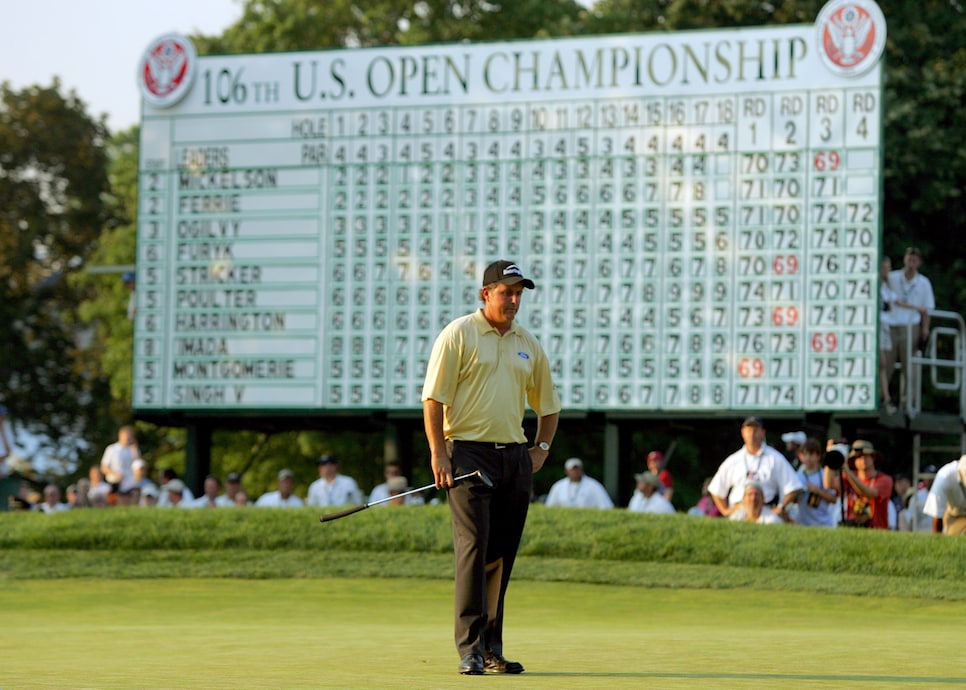 After 14 years—plus an extra three months thanks to a global pandemic—the U.S. Open returns to Winged Foot. Had golf's national championship never come back to A.W. Tillinghast's famed West Course, the 2006 edition would have been the ultimate example of going out on a high note. At least, with high scores. That year, Geoff Ogilvy survived won at five over, but more memorable (Sorry, Geoff) were the brutal finishes of several other golfers behind him. And yes, one man in particular (Sorry, Phil).
All of this is to say it will be tough for the 2020 championship to top the drama of 2006, and that it's darn near impossible to rank any of the previous majors held at the historic venue ahead of it. As someone who was standing behind the 18th green for Phil Mickelson's meltdown, I'll certainly never forget it. But since I wasn't "there" for the other 10 majors hosted by the Mamaroneck, N.Y., club, I'll try to appear somewhat objective by coming up with a more, um, scientific way to rank all 11 of these majors.
Using my patent-pending formula of star power + drama + historical significance + "lasting images," I've developed a 40-point scale (1 for the worst to 10 for the best in each of the four categories) to properly rate these 11 events. I have "lasting images" in quotes because this is the real secret sauce. It could be an actual iconic image—like Phil crouched while holding his head (see below)—or it could be a lasting moment from the event. Anything that sticks.
Yes, basically, I just made this up. And yes, it is biased toward the more recent events. It also should be noted that the two U.S. Women's Opens as well as the lone U.S. Senior Open were contested on Winged Foot's East Course, also a Tillinghast design. But they were still held at Winged Foot, and as you'll see by the scores, the East played just as difficult as its more famous sister course. Anyway, here are the results:
Historical significance: 3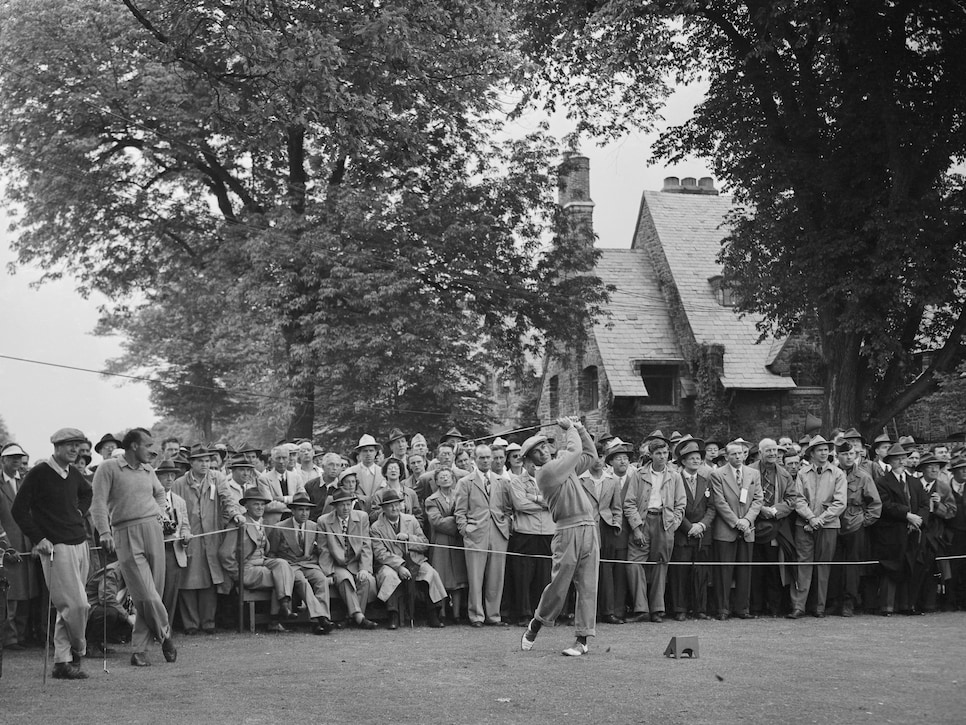 According to Dick Chapman's Wikipedia page, "Time Magazine crowned Chapman 'the Ben Hogan of amateur golf.'" So he was kind of a big deal. And he certainly played like Hogan during an 11-and-9 beatdown of W.B. McCullough Jr. in the 36-hole final. Apparently, Mr. McCullough was never crowned the Byron Nelson of amateur golf by Time Magazine, so this doesn't rank high in historical significance, and because there are no photos of the event, it was tough to find a lasting image. In fact, there are no photos at all of Dick Chapman on Getty Images, which has me questioning that Hogan comparison—and the accuracy of Wikipedia. Anyway, it explains the photo here of Hogan playing at Winged Foot instead.
Historical significance: 2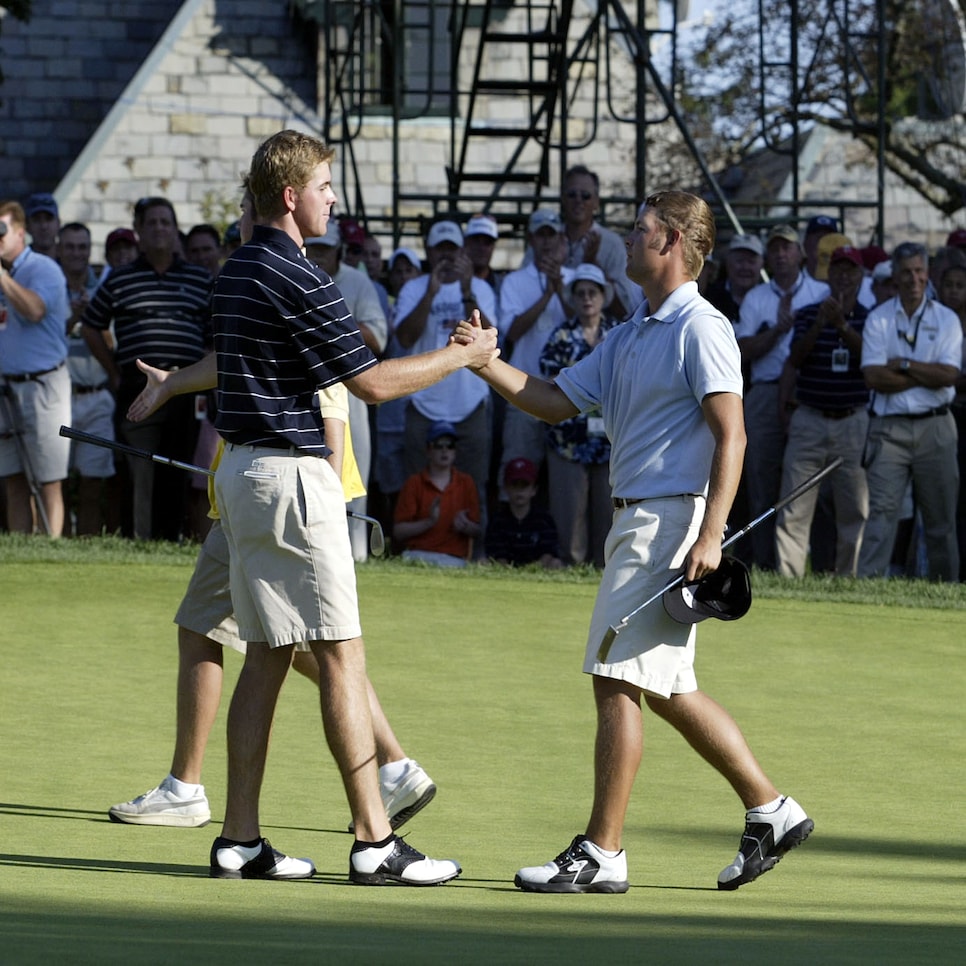 A highly touted final four of Ryan Moore, Luke List, Jeff Overton and Chris Nallen turned out to be, well, a not-so-highly touted group of semifinalists once they turned pro. Moore, considered at the time the best amateur since Tiger Woods, beat List in the final, capping an amazing summer run that included wins in the NCAA Championship, Amateur Public Links and Western Amateur. He also has had by far the best career with five PGA Tour titles, with none of the other three having won on the big tour. The rest of the field featured future winners like Webb Simpson, Kevin Kisner, Michael Thompson and … Anthony Kim! Unfortunately, AK was bounced in the Round of 32 or we'd undoubtedly remember this one a little more.

Historical significance: 4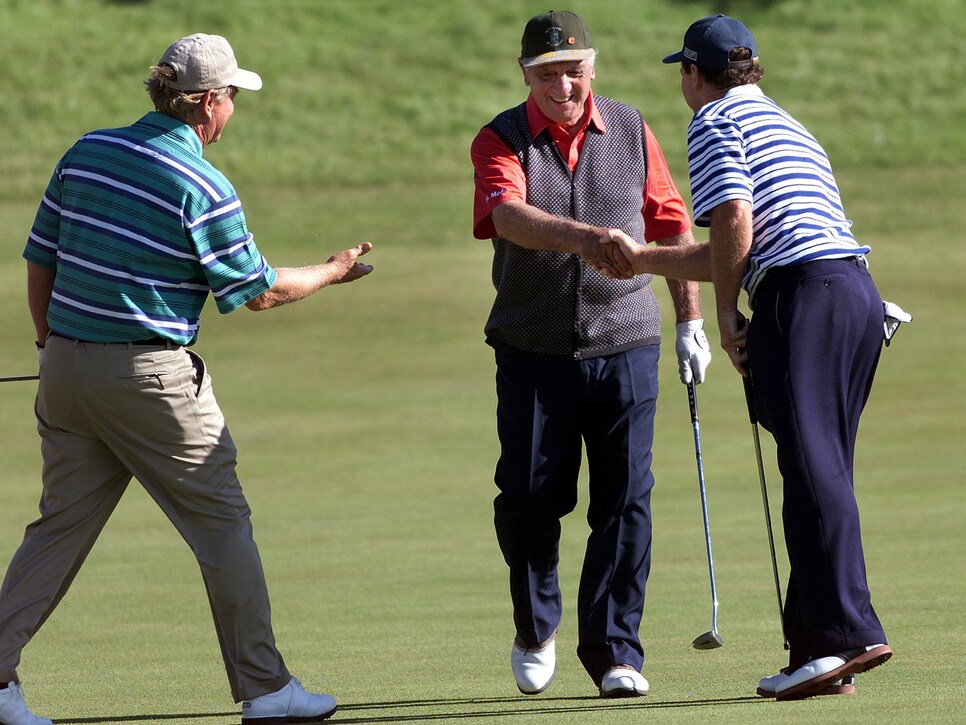 A feel-good story if there ever was one. Roberto De Vicenzo won by four shots … and actually signed a correct scorecard so it held up! Famous for that unfortunate Masters mishap in 1968, the Argentinian finally captured his first major on U.S. soil (he also won the 1967 Open Championship), albeit on the senior circuit. Also notable is that storied amateur Bill Campbell finished runner-up. But the story was De Vicenzo. And obviously, that cool photo of Jack Nicklaus and Tom Watson congratulating him isn't from that day. Otherwise, this would have rated much higher in the lasting-images category.
8. 1972 U.S. Women's Open
Historical significance: 4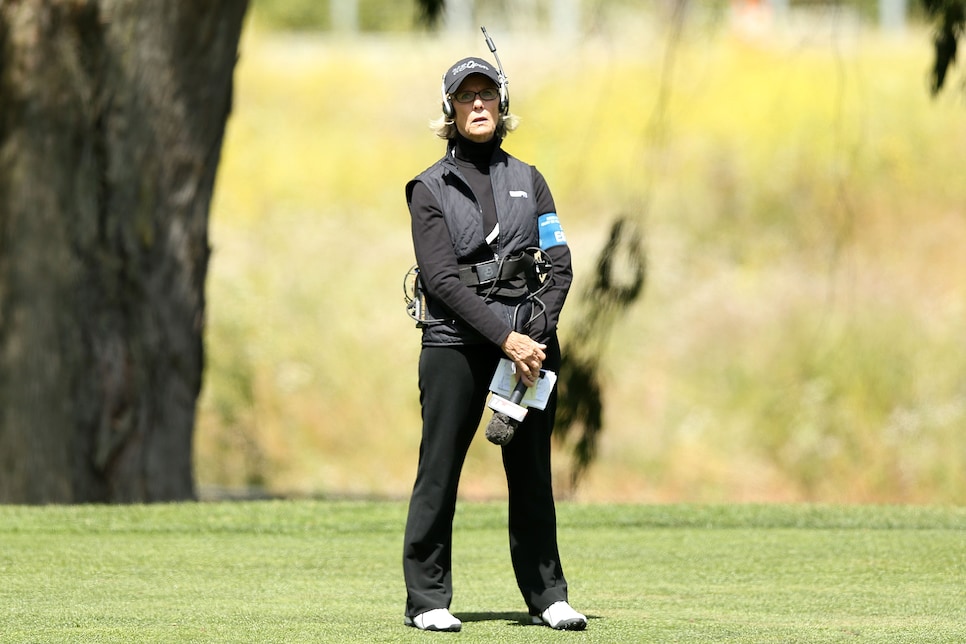 Two years before the 1974 "Massacre at Winged Foot," the USGA staged a different massacre at the club's East Course. With an 11(!)-over-par total of 299, Susie Berning beat survived Kathy Ahern, Pam Barnett and Judy Rankin (Yes, that Judy Rankin) by a single shot. Berning, a four-time major champ, will be inducted into the World Golf Hall of Fame in 2021. How about that timing? Ahern was a major champ herself, and Rankin, of course, became a golf TV star after her own Hall of Fame playing career. Sadly, despite 26 career LPGA victories, though, Rankin never won a major. After taking 300 shots over four days and still only losing by one, we're guessing the longtime analyst could easily single out a stroke or two that cost her the title that week.
7. 1957 U.S. Women's Open
Historical significance: 7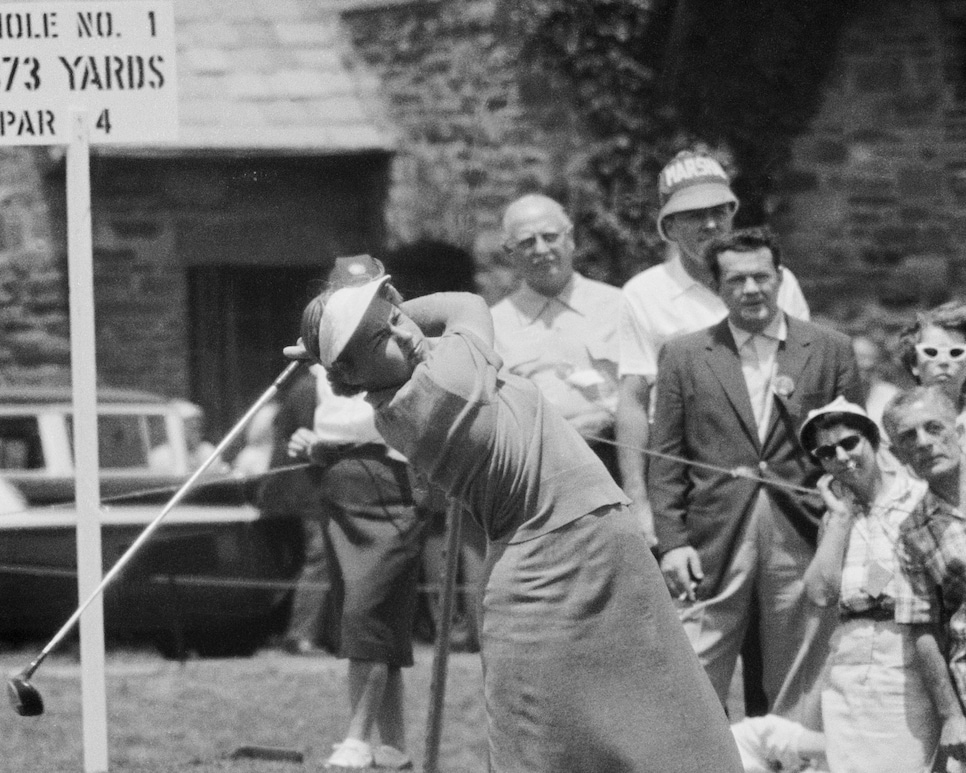 If you needed proof that Winged Foot always played tough, how about this tournament on the East in which Betsy Rawls (pictured teeing off on No. 1) finished at seven over—and won by six shots, though only because Jackie Pung signed an incorrect scorecard after the final round (a gaffe that cost Pung her best career chance to win a major). The runner-up wasn't just anyone, but 15-time major champ Patty Berg. Add in Rawls' eight majors and that's 23 between this star-studded top two. Of course, this would rank higher if the final margin had been a bit closer.
Historical significance: 6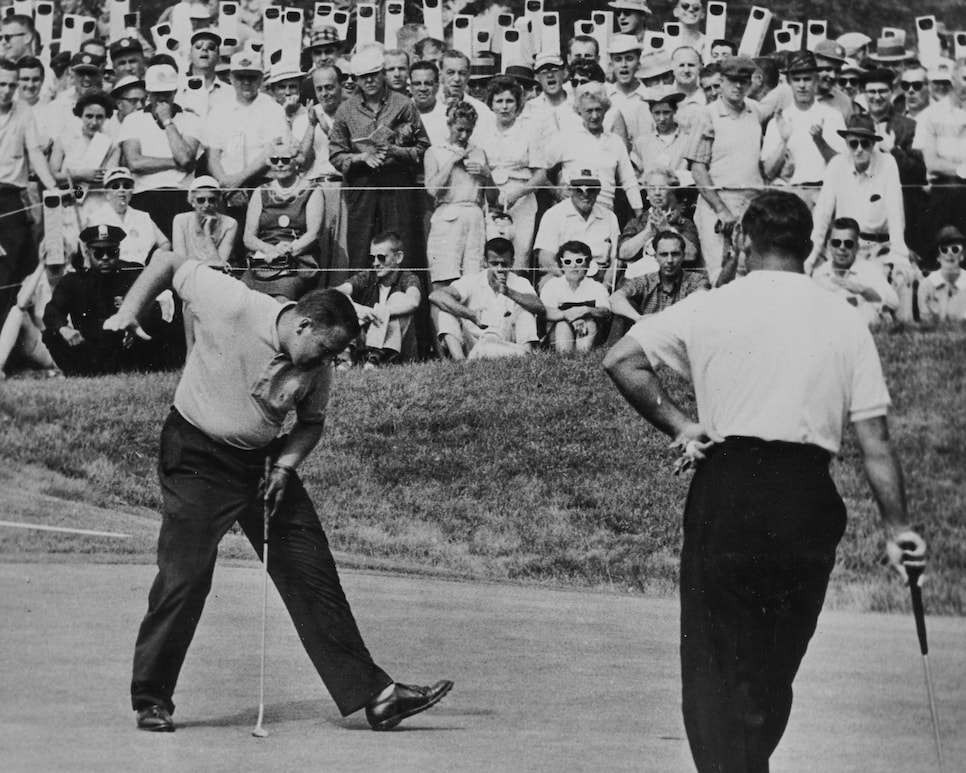 How about that black-and-white fist pump?! Billy Casper held off Bob Rosberg by one shot to claim his first major. Casper famously laid up on the par-3 third all four rounds … and made par each time. (Winged Foot! What a beast.) Rosberg, better known as "Rossie," would become better known as a longtime TV analyst for ABC. He also won his lone major a few weeks later at the PGA so, thankfully, his heartbreak didn't last too long. This was a pretty exciting finish, but oh, what could have been. Entering the final round, Ben Hogan, Arnold Palmer and Sam Snead were all within four shots of Casper's lead. All three struggled in the final round, though, because, well, again, Winged Foot.
Historical significance: 3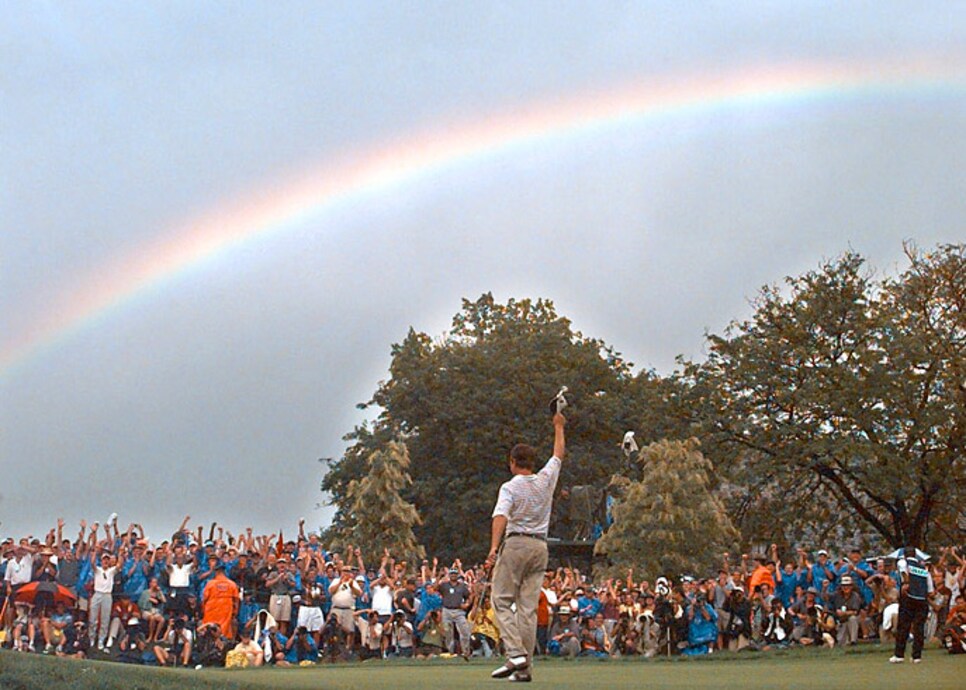 The PGA of America took the reins from the USGA for this memorable dual between a pair of American stars. Davis Love III pulled away from Justin Leonard, who was coming off his Open Championship victory a month earlier, to claim his maiden major. The two entered the final round tied, but Love won by five shots and there was only one other player, Jeff Maggert, within 10 shots of him on the final leader board as he finished a very un-Winged-Foot-like 11 under par. (Again, the PGA of America and not the USGA was setting up the golf course that week.) That Sunday also produced the most-talked-about rainbow in sports history, one that appeared on the 72nd hole and was immediately deemed a touching reminder of Love's dad, a PGA pro who had died nine years before. Now that's a lasting image. This would rank even higher, but there wasn't a ton of drama by the end and the historical significance takes a hit with neither player, surprisingly, never winning another major.
Historical significance: 7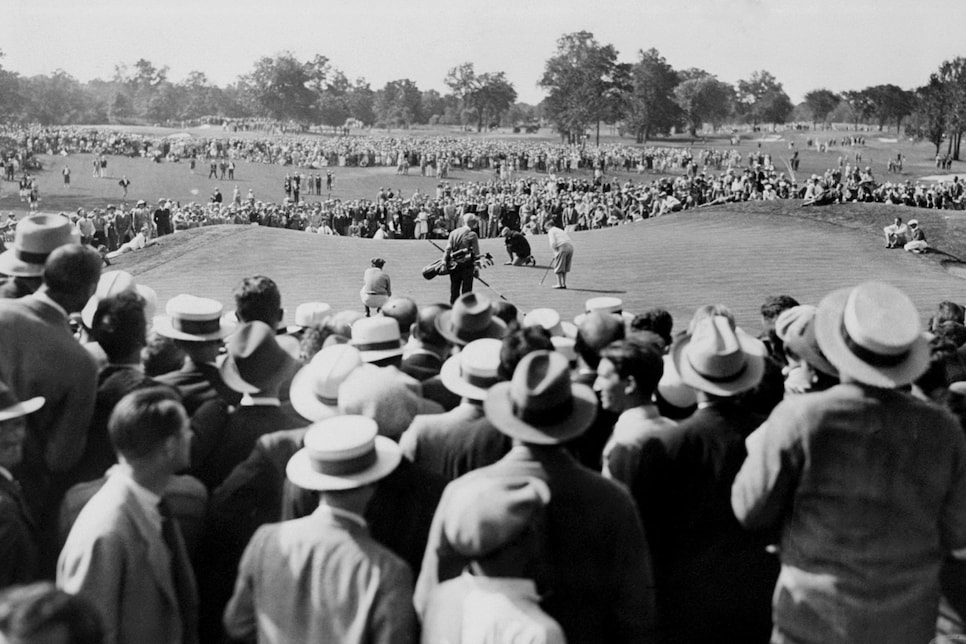 New York Daily News Archive
Leave it to Winged Foot to have the most famous putt made on its hallowed grounds be for par. Such was the case as Bobby Jones rolled in the putt of his storied career, a curling, downhill 12-footer with his famous flatstick, "Calamity Jane," to get into a playoff with Al Espinosa. Look, there's even an actual image of the crowd watching the legendary amateur putt on the 72nd hole. Jones would win the ensuing 36-hole(!) playoff by a whopping 23(!) strokes, so the "drama" gets docked a little. By the way, thank goodness the USGA ditched going to 36 extra holes and eventually got rid of the 18-hole playoff as well. Is there anything more anticlimactic? Anyway, on the bright side for Espinosa, because Jones was an amateur, he still got to take home the winner's check—for a cool grand. Hope he didn't spend it all in one place. Although, we hear that Montgomery Ward catalog was something else back in the day.
Historical significance: 9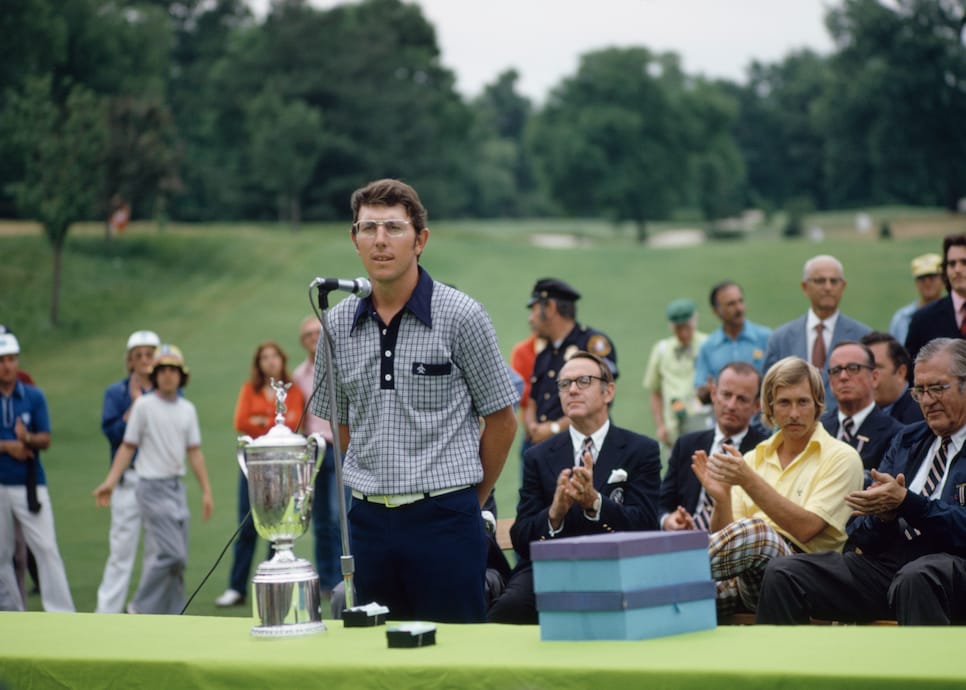 Leonard Kamsler/Popperfoto
As we've already pointed out, the "Massacre at Winged Foot" was actually not the original massacre at Winged Foot. Still, it was quite the statement from both the storied course and the USGA, a year after Johnny Miller had torched Oakmont for a final-round 63. Coincidence? Probably not. A year later, Hale Irwin's winning score on Sunday was a 73. That put him at SEVEN over for the week, good enough for a two-shot victory over Forrest Fezler, who kept his pants on for this finish. Tom Watson, yet to win any of his eight major starts at the time, was the 54-hole leader by one, but shot a final-round 79—and still finished T-5 for his first top 10 at a major. Again, the course was playing really tough that week. And that lasting nickname, THE MASSACRE, gives it a slight edge over the 1929 tournament.
Historical significance: 6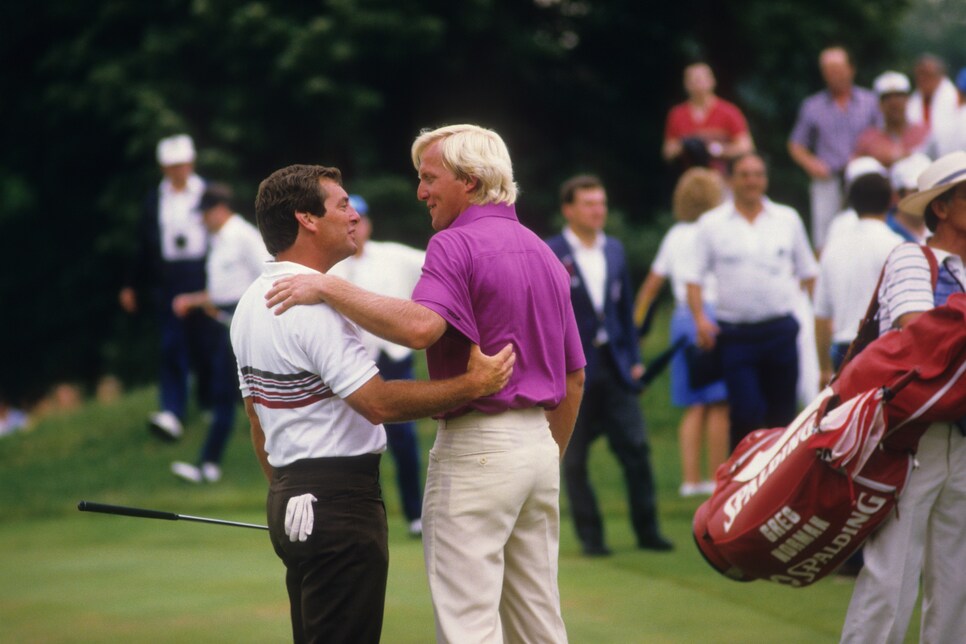 A decade after Hale Irwin's first U.S. Open victory at Winged Foot, he held the 54-hole lead again before stumbling to a Sunday 79. For the most part, however, scoring was much lower, although only two players, Fuzzy Zoeller and Greg Norman, wound up in red figures for the week. They also wound up tied for 72 holes despite Fuzzy famously waving a white towel from the 18th fairway at The Shark on Sunday. He thought Norman had just made a closing birdie to win the tournament, but of course, he hadn't because he's Greg Norman. In the end, it was Norman waving a white towel at Zoeller after losing the 18-hole playoff by eight shots. Zoeller won his second and final major, and Norman suffered his first of many major heartbreaks. But man, were his golden, flowing locks immaculate.
Historical significance: 10
Again, this was a no-brainer in the No. 1 spot—especially due to Mickelson's non-brainer on the final hole. Even Phil said, "I'm such an idiot" following his double bogey that gave the U.S. Open to Ogilvy. As a cub reporter standing behind the 18th green, I'll never forget that boisterous New York crowd going from sheer elation to total deflation. But Phil wasn't alone when it came to carnage on No. 18 that day. Colin Montgomerie's double bogey from the middle of the fairway to lose by one was even worse, Jim Furyk bogeyed 18 to lose by one, and Padraig Harrington bogeyed the final three holes to lose by two. For Ogilvy, four closing pars got the job done, including a chip-in on No. 17. I'd give this an 11 for lasting images if I could. Wait a minute, I created this ranking system, so 11 it is! Here's Phil stunned: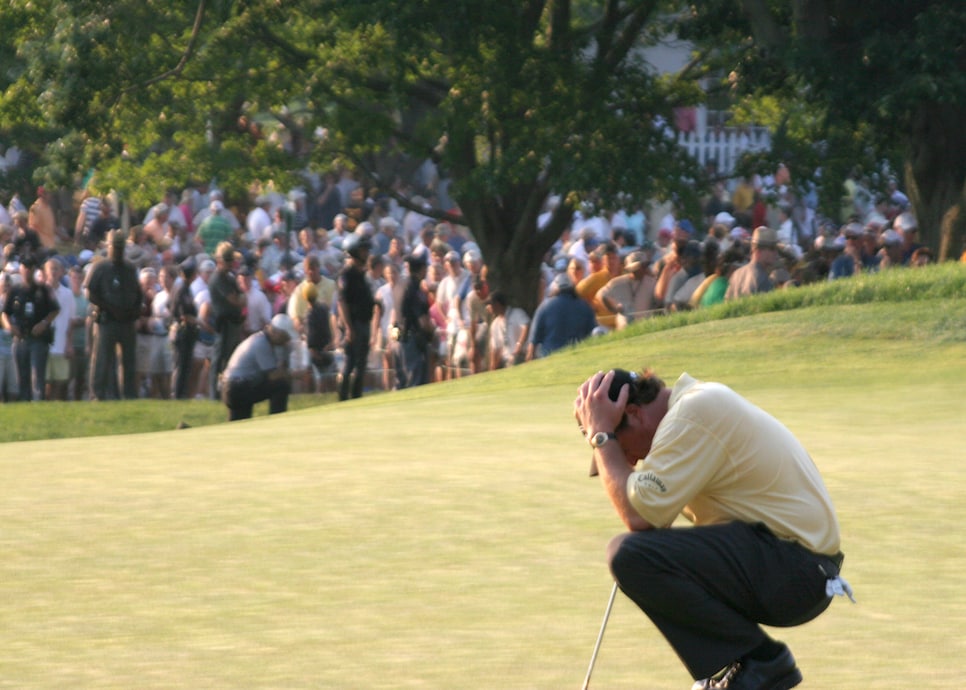 Monty kicking his putter: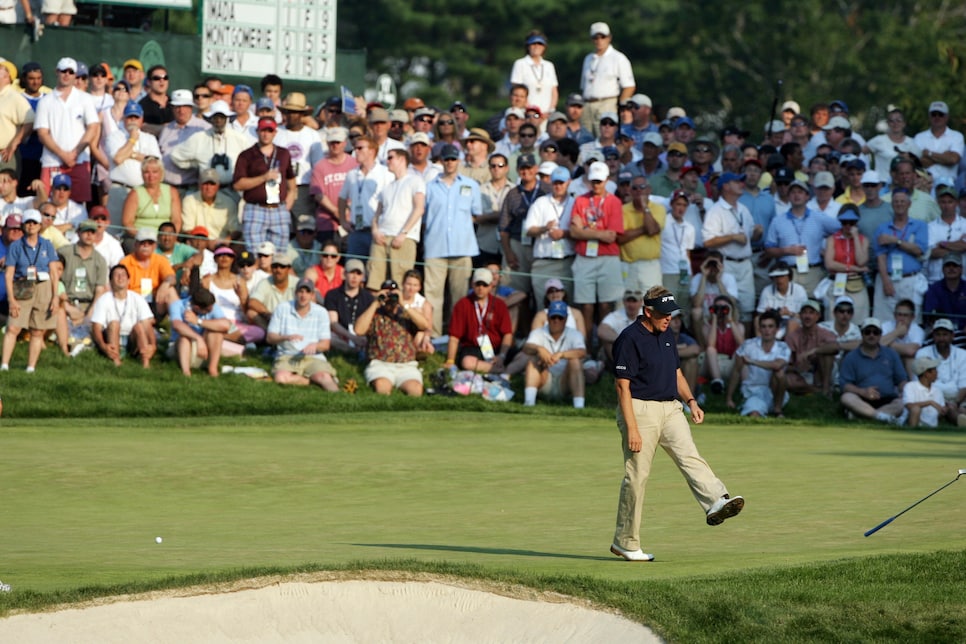 And Phil still stunned at the trophy ceremony: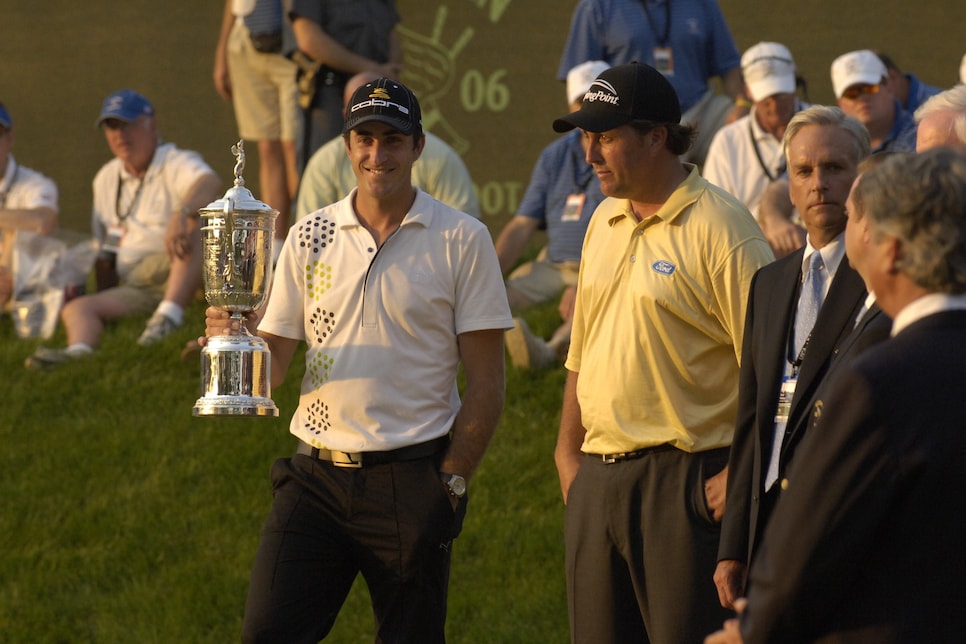 It was a tournament that checked all the boxes. The star power, drama and lasting images are obvious, but what about the historical significance? Mickelson nearly won a third consecutive major that day to move to No. 1 in the world and nearly captured a long-awaited first U.S. Open title. Fourteen years later, those still remain the only two glaring holes on his legendary resumé. And 14 years later, Mickelson and the rest of the world's best golfers will finally return to Winged Foot. If this tournament is even half as good, then golf fans are in for a treat—even if they have to watch from home.