News
U.S. Open 2020: Phil Mickelson's 2006 Winged Foot collapse is remembered for the 18th hole, but here are the other miscues that cost him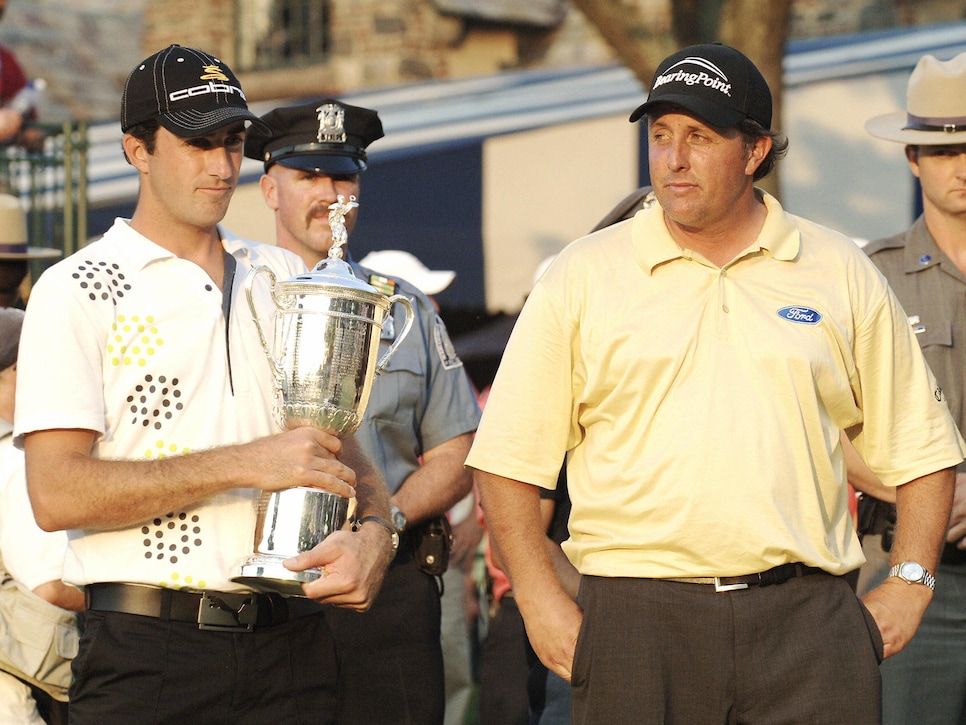 Geoff Ogilvy holds the U.S. Open trophy alongside Phil Mickelson during the post-round ceremony at Winged Foot.
STAN HONDA
Phil Mickelson made 286 strokes at the 2006 U.S. Open. Six of them came on Winged Foot's final hole when he needed four for a win and five for a playoff. How they came to pass are equal parts legend and tragedy, a story that will undoubtedly be rehashed as the tournament returns to the Mamaroneck, N.Y., course for the first time since the unbelievable occurred.
However, Mickelson carded 68 strokes on Sunday before stepping on the 18th tee box. While not as sensational or vivid, some of those strokes were just as crucial in deciding Mickelson's ultimate fate. Here are five other shots that cost Mickelson at the 2006 U.S. Open.
First hole, opening drive
We could have listed "Driving Range" but that was too abstract. Luckily, Mickelson's first shot of the day encapsulates the problem. After acknowledging the crowd and addressing his ball with four pre-shot waggles, Mickelson backed off, taking his left hand off the club and clinching it, and proceeded to another practice swing on the tee. When he finally pulled the trigger, his drive fired to the right on the dogleg-left first. It was one of those "so bad it's good" shots, as Mickelson's ball landed in the gallery, thus avoiding the thicker rough residing just off the fairway, and he was able to save par.
But the drive was foreshadowing the struggle that lay ahead. Mickelson never felt right on the tee box that Sunday afternoon, hitting just two fairways in the round, zero on the back nine.
"I just couldn't hit a fairway all day," Mickelson said afterwards.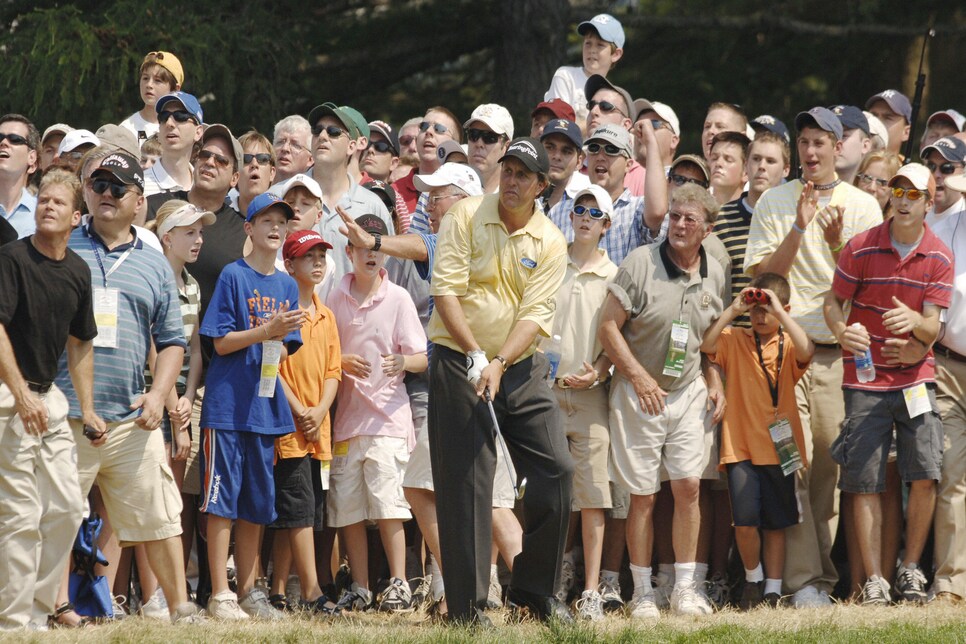 Phil Mickelson plays from the rough on the opening hole of the final round of the U.S. Open at Winged Foot.
STAN HONDA
Driving accuracy was rarely Mickelson's forte. Also worth remembering: This was a man coming off two consecutive major wins, and no one has ever accused Mickelson of being short on conviction. Yet, had he found the fairway at the first, it stands to reason Mickelson may have felt more comfortable with his driver rather than fighting like hell to keep it in the ballpark the rest of the afternoon.
A flaw of this process is distilling shots into a vacuum as golf is a linear procession. A bad shot or bad hole can veer the caravan off track, but no player reaches the 72nd hole without a few bruises. Especially at the U.S. Open, which is less a tournament and more of a heavyweight fight. It's not a matter of if you'll be upper-cutted but when, and how you will respond.
We say all that to say this: Mickelson's blunder at the fifth—the easiest hole by a mile and the only hole to play under par (-.346 scoring average) for the week—may be more unforgivable than his transgressions at the 18th.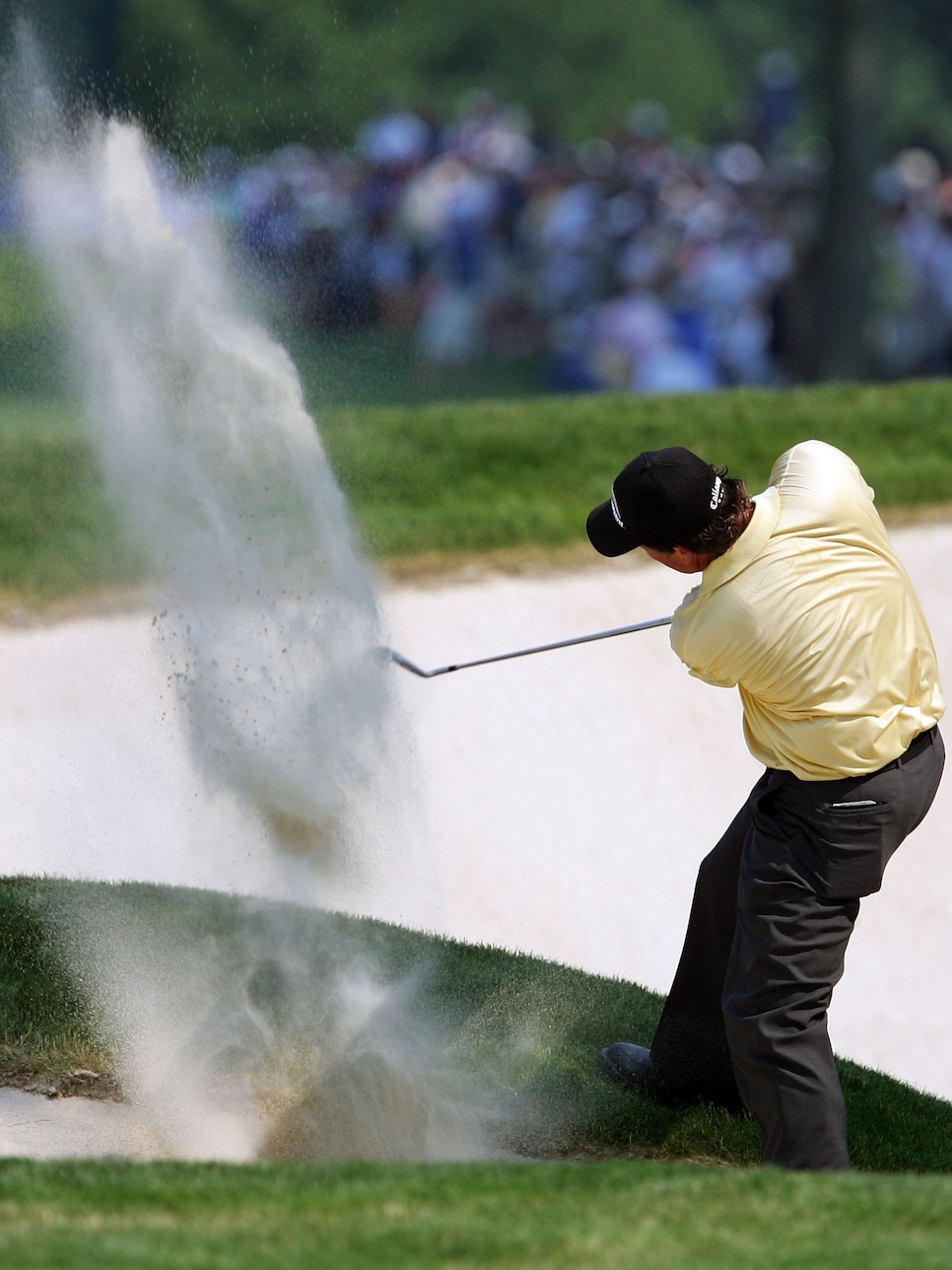 Phil Mickelson plays his second shot from a fairway bunker on the fifth hole of the final round of the U.S. Open.
Richard Heathcote
Mickelson's drive landed in a bunker right of the fairway, coming to rest just short of the lip. There was no chance to reach the green in two, but nothing to sound the alarm: Advance the ball 80 or so yards into the fairway, get a chance to save birdie. Yet Mickelson was careless, sending his shot from the beach soaring into the left rough and causing thousands of instructors to yell, "If you're going to lay up, LAY UP!" at their television screens.
To make matters worse, Mickelson wasn't ready to take his medicine …
Rather than punch out for an up-and-down par attempt, Mickelson tried to reach the green from a buried lie with a wood from only 141 yards out. In case, dear reader, you think there's a typo in the previous sentence, let us restate: Mickelson tried to reach the green from a buried lie with a wood from only 141 yards out. Mickelson nearly whiffed on it, and the ball didn't advance more than a few yards.
"Well, I hit that shot better or can get it better out of the rough than a sand wedge, and I couldn't get a sand wedge back to the fairway, it was sitting down so much," Mickelson said afterwards. "I kind of figured that might happen, but I didn't really have another shot at it."
Mickelson made a career from escaping peril; only Seve Ballesteros surpasses him when it comes to the recovery shot. And as mentioned above, the punches eventually come at the U.S. Open. In that same breath … the punches can't be self-inflicted. By taking 6, Mickelson essentially gave a stroke-and-a-half to the field (4.603 average on Sunday).
Majors are not won on the fifth hole. They most certainly can be lost.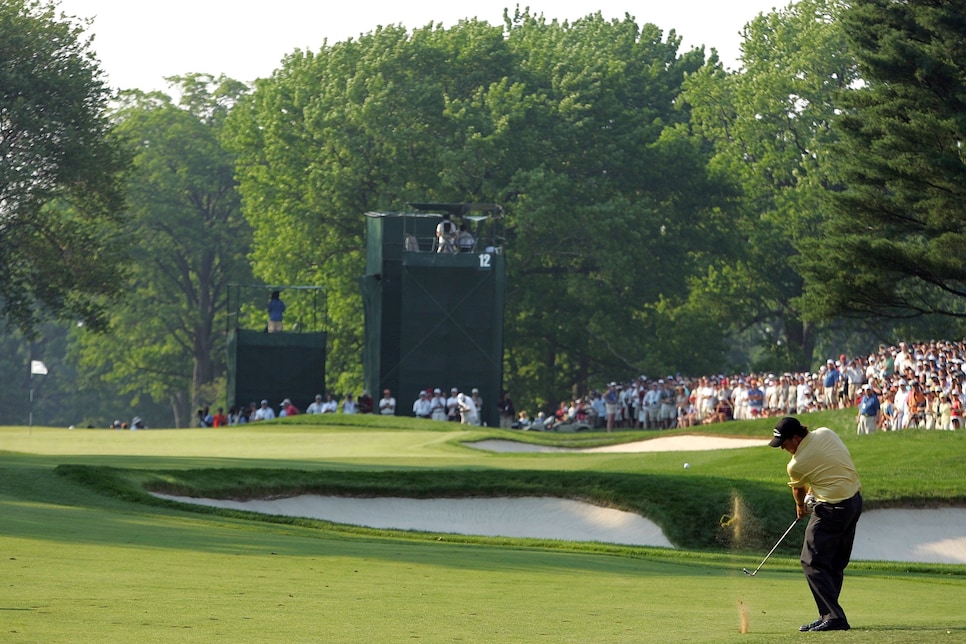 Phil Mickelson hits his approach shot on to the 12th hole in the final round of the U.S. Open.
Ezra Shaw
Let's get surgical, and maybe a tad overcritical. Because there's no blood on the scorecard pertaining to the par-5 12th, as Mickelson—who led by one at the time—walked away with par. However, it was indicative of a bigger problem for Mickelson, as he failed to birdie a par 5 all week, playing those eight holes in two over.
At the 12th on Sunday, Mickelson had 144 yards for his third shot from a prime angle to a back pin. His approach came about a yard short of reaching the upper tier, leaving 35 feet and change for birdie—a birdie try that never really scared the hole.
The 12th wasn't a gimmie birdie like most par 5s in modern times, but it was the third-easiest hole in the final round. At some juncture in the round, particularly on the back nine, a major champion has to start winning his share of toss-ups. Consider this not so much a misstep as a squandered opportunity.
The 16th was the fourth-toughest hole on Sunday. In that regard, no shame in taking a bogey. How it was made is a different tale.
Mickelson's drive drew a decent lie in the rough, leaving him 174 yards into the green. The proceeding swing was far from clean, his approach finding a greenside bunker some 15-20 yards short of the green. Worse, his ball buried in the lip. For all his short-game wizardry—Mickelson described the week as the "single greatest short-game performance of my career"—there's only so much magic that can be made with a fried egg. Mickelson got his third onto the apron and missed the remaining 20 feet to take a 5.
Granted, a "decent" lie in Winged Foot rough isn't exactly hitting off an ice-cream cone. The 16th also boasted a treacherous up-front pin; had Phil hit the green with his second shot from the high stuff, it would have been left an adventurous up-and-down. One could argue this was simply a matter of bad luck.
"It plugged in the lip on 16 … I don't know what happened in those bunkers," Mickelson said. "I've never seen so much sand all week. Where those balls were, I just had very difficult shots."
But be it misfortune or a mistake, it counts the same. In Mickelson's case, two strokes too many.