The Loop
A super-scientific top-10 ranking of Tiger Woods' all-time best celebrations
Tiger Woods is the only golfer whose reactions to great shots are arguably even more memorable than the shots themselves. It's a big part of why he's been one of sports' most electrifying athletes for the past quarter century and counting—and why you see so many weekend hackers at your local muni fist pumping on bogey saves. Hey, you take the good with the bad, right?
Anyway, with Woods returning to a muny, TPC Harding Park, that was the site of one of his most memorable post-shot poses at the 2009 Presidents Cup, we decided to put together a super-scientific ranking of his renowned reactions. To do this, we came up with a patent-pending 30-point formula involving three factors: the situation in which the reaction occurred, the uniqueness of the reaction, and something we'll just call "FEELS" in honor of Tiger.
Of course, this is actually not very scientific at all—especially the FEELS part. But there was certainly a lot of data to go through when you consider a career that includes 15 majors and 82 PGA Tour titles. And if you toss the terms "data" and "formula" around enough, the whole exercise at least sounds scientific.
To be clear, this is not a ranking of Tiger's best shots or his greatest moments. Although, obviously, there's some overlap there. In other words, you're not going to see him celebrating a par in the first round of the Farmers Insurance Open on here. But you will see plenty of memorable shots—and iconic celebrations. Enjoy.
10.) 1997 Phoenix Open: "The windmill fist pump"
Leave it to Tiger to make a hole-in-one on the rowdiest hole in golf in his first appearance in the tournament. The ace prompted an exuberant and delightful twist on his patented fist pump. Bonus points for the vicious high-fives with his group and for "raising the roof" as he walked toward the green. Hey, that used to be a cool thing to do.
9.) 2008 U.S. Open: "The sheepish laugh"
Wait, did you EXPECT ANYTHING DIFFERENT in terms of reactions from this epic major win? Don't worry, keep reading. In the meantime, Tiger's tame by comparison reaction to chipping in for birdie on 17 during Saturday's primetime finish was also pretty awesome as he limped his way into the lead. Even Tiger knew he needed a good break every once in awhile.
8.) 2008 Arnold Palmer Invitational: "The hat toss"
There was nothing unique about Woods making a walk-off birdie putt at Bay Hill considering he's done it three times, but the violent hat throw in the immediate aftermath was something else. The best part is he didn't even remember doing it. "You know, when Stevie handed me my hat, I was like, 'How in the hell did he get my hat?'" Woods said after. "Evidently, it came off. I don't know how it came off, but it came off." It sure did. And that's what fans remember. Not that he needed the putt just to take down journeyman Bart Bryant.
7.) 2006 Open Championship: "The sob"
What produces more FEELS than a superstar athlete breaking down in tears? Although we've seen this countless times across sports through the years, it was a rarity for Woods whose reaction to his first win following the death of his dad was a lot different than any of his other 14 major victories. Besides, there would be plenty of time fore fist pumps over the next few months as the win at Hoylake started an incredible streak of seven consecutive PGA Tour victories.
6.) 2009 Presidents Cup: "The twirl and hold"
What a shot. What a pose. What a strut. There should be a statue of this. Right in the middle of the 18th fairway.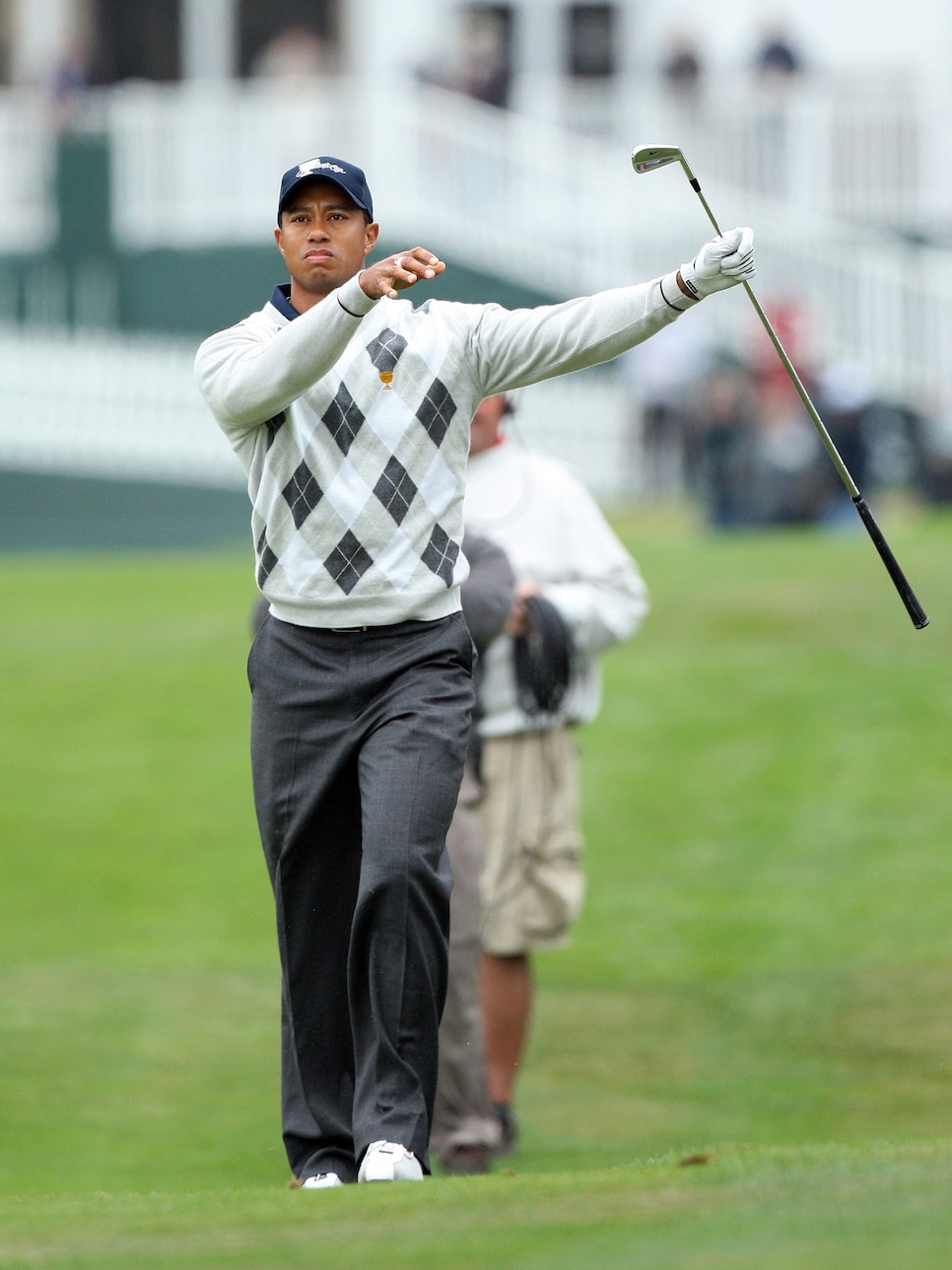 It was all part of a brilliant Presidents Cup performance in which Woods went 5-0 in leading the U.S. to victory. And more than a decade later, Tiger returns to TPC Harding Park for the 2020 PGA Championship. You can probably expect to see this shot just a few times during TV coverage.
4t.) 1997 Masters: "A fist pump for the ages"
A par putt to win by 12 shots wouldn't normally produce a thrilling reaction, but Tiger knew he had just broken the Masters scoring record—and changed golf history forever. This was basically an uppercut to the record book.
4t). 2019 Masters: "The return to glory"
We had a hard time picking between 1997 and 2009 for our ranking of defining Masters moments and it's tough to separate them here as well. Anyway, what a freaking scene. The outstretched arms to the sky. The screams. The hugs. The chants. It's tough to beat. And yet, we have three more in which Tiger's isolated reaction (Tiger's kids get a lot of credit for this moment being so special) was even more memorable. Again, don't try arguing because it's science. Sort of.
3.) 2000 PGA Championship: "The running point"
Minutes after burying a six-footer for birdie to get into a playoff with Bob May, Woods literally ran another birdie putt in to take the lead, pointing at the hole as the ball dropped. There were still two more holes to go, but everyone knew the tournament was over. Absolutely incredible.
2.) 2005 Masters: "The moving fist pump"
This often gets overlooked by Tiger's "IN YOUR LIFE!" chip-in on No. 16. While that was certainly the more spectacular shot, the reaction—in particular the botched high-five with caddie Steve Williams—was decidedly unspectacular. But Tiger's moving, and extra ferocious uppercut fist pump as the winning birdie putt dropped was perfect. Well, almost perfect according to our scoring system. Only one reaction wound up earning that distinction. . .
1.) 2008 U.S. Open: "The double fist pump"
There it is! You knew it was coming. One of the most clutch putts in golf history? Check. One of the best celebrations in sports history? Check. We've seen so many fist pumps through the years, but this double motion stands on its own—even as Tiger could barely stand on a broken leg. And as Woods made the earth shake, here's a loose transcription of what he said: "WOO! YEAH! F@*# YEAH! YEAH!!!" You get the point. He was fired up. And all these years later, we don't need any formula to know golf fans still get fired up just watching it again.
Here's to many more memorable shots and reactions by Woods—we just advise he stay away from this one. You know, because of the bad back.