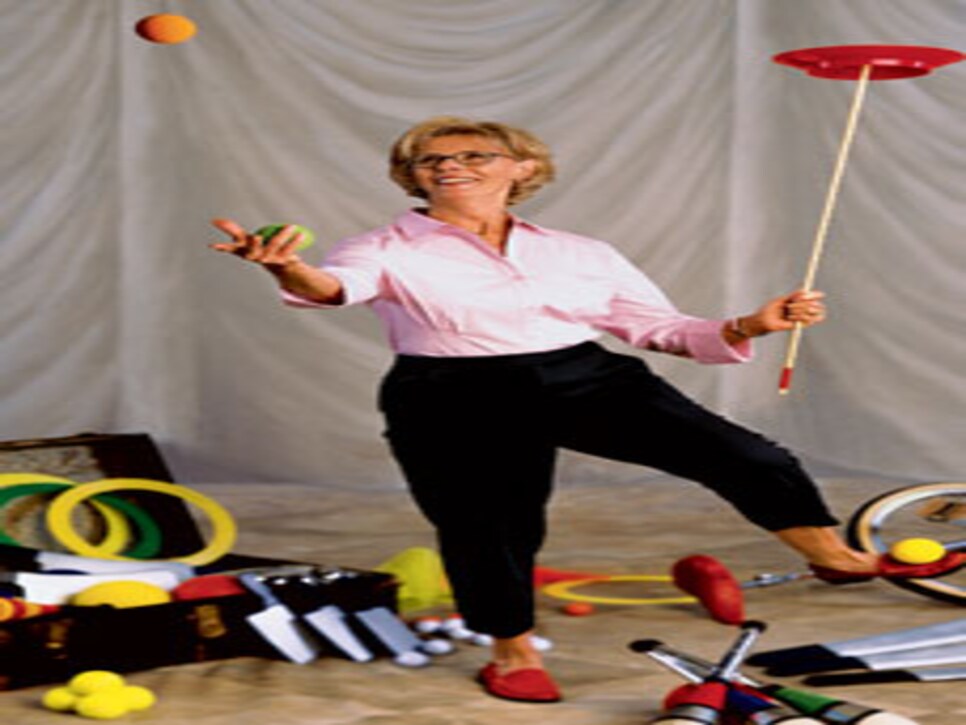 Judy Rankin, photographed June 25, 2004, in Washington, D.C.
Hall of Famer and golf commentator Age 59 Midland, Texas
It's been a good life. I've never dug a ditch—except with my pitching wedge.
I played in the 1960 U.S. Women's Open when I was 15. I couldn't have weighed more than 90 pounds, and the course was very difficult. I began to get discouraged, but my father, who followed me every step of the way, could sense I was about to pack it in mentally. He told me over and over to keep fighting. And darned if I didn't finish as low amateur—the youngest player ever to do that, a record that stood for 40 years. Every golfer is told to never give up, but it's easier said than done when the weather is bad or the course is hard. I learned to hang on relentlessly. I have great admiration for those who never give up.
As a teenage pro I played a lot of golf with Ted Williams over a couple of winters. He could hit it a mile, but he didn't know where it was going. Ted liked me and loved to bet with me, and if it was going well for him he was fine. If he was playing badly, it was another story. Ted shattered a few tee markers. Then he'd just quit at the turn. "I'll buy you lunch," he'd grumble, and that would be it for him that day.
If you can't hit a 7-iron into some par 4s, you're playing the wrong tees. When you think about it, the only one who cares that you're playing a shorter course is you.
These days the ladies' tees are referred to as the "forward" tees, I guess to encourage short-hitting men to give them a try. But it hasn't worked. I've never seen a man play the forward tees, and I doubt I ever will.
The debate about drivers hitting the ball too far doesn't apply to women at all. In fact, it doesn't apply to most men. Let's say there are 25 million golfers in America and 25 million elsewhere in the world. Of the 50 million golfers on the planet, excessive distance is an issue for maybe a thousand of them.
What's a clear sign of age? I once was the queen of multitasking. I'd have nine projects going at once and rate an "A" with all of them. Gradually I got to where I could still keep nine balls in the air, but the quality descended to a "B." So now I try to have only seven things going at once, which is plenty. Staying busy stops a person from becoming self-absorbed.
God didn't make us all beautiful. With that, we do have a responsibility to present ourselves like professionals, to dress and act the part. There are a few players on the LPGA Tour who might be mistaken for someone at the hot dog stand—players I've threatened to buy an iron for. If you had an ironing contest between the PGA Tour and LPGA Tour, right now the men would win.
I played in the old Haig Haig mixed foursome one year in La Costa with Miller Barber. We were in great shape, and one morning, over breakfast, Miller lectured me on the importance of concentration and how we had to stay focused. So we went out and boy, did I grind. Played every shot like it was my last. Then, on the 15th hole, I look over and Miller has a transistor radio hanging from the spokes of his umbrella. I ask what the heck he's doing, and he shrugs, "Arkansas's playing Texas." We didn't finish great. Great concentration, Mr. X.
It would be great if the Mercedes Championships had the men and women competing concurrently. It's done at all the major tennis events, the U.S. Open among them. But I'm not sure Tim Finchem and the PGA Tour would go for it. For the good of the game, do it.
Women are more emotional than men. Our brains are wired that way. It's what makes you love us and also makes you nuts. It really comes into play in golf. I spent my whole career steeling myself against the emotions I wanted to express. After I'd won what became the du Maurier in 1977 and pulled our car out of town, I broke down and cried for 25 minutes. They weren't tears of joy. They were tears of relief that the strain had ended.
I met Yippy Rankin at a pro-am when I was 20. We knew each other for only three weeks before we got married. I wouldn't say we eloped, but we did get married in Juarez, Mexico. If we'd gotten married in El Paso, we would have had to wait three days for the blood test to come back. That was too long for us—I was between tournaments.
They don't make burglars like they used to. In 1970, we were staying in a small motel in St. Petersburg. Yippy was in one bed, and [son] Tuey and I were in the other when a burglar came though the door in the middle of the night. The air conditioner was going, and that drowned out some of the noise. Yippy woke up when the bathroom light went on, but he thought it was me and went right back to sleep. The burglar cleaned us out and made a clean getaway. To this day, I'm thankful Yippy didn't encounter the guy when he woke up.
I always disliked match play. Whether I like you or dislike you, I don't like the prospect of beating you personally. In 1973, I went up against Laura Baugh. She was a popular attraction at the time, attractive and a good player. My friends teased me, said they were billing it as "Beauty vs. the Beast." I got very keyed up and beat Laura, 6 and 4. But the tension from that match made my back very tight, and the next day I herniated a disk. I had a few good years after that, but that injury eventually drove me from the tour.
There are tour pros who don't smile much, and the public wonders why. As one who didn't smile much, I'll tell you why: My whole life was invested in it. The people around me had everything invested in it and were depending on me. I wish I'd been different, but golf was way too important to smile about.
Mickey Wright truly was one of a kind. I admire Annika Sorenstam's ability to hit the ball solid every time, but she isn't quite in the same realm as Mickey when it comes to shotmaking. I'm talking about hitting a 2-iron off hardpan. I'm not romanticizing the past; I challenge any woman today to take one of those old-fashioned 2-irons, the head of which wasn't much bigger than the golf ball itself, and carry the ball 200 yards with a fade or draw on command. Mickey could do that consistently. I saw it, and some of it is preserved on tape.
Mickey wasn't the best player, though. That would be Kathy Whitworth. We've all heard about course management, but Kathy mastered "game management." She made the course fit the shots she liked to play. No one thing stood out. She could just play.
When I started in TV in 1984, I was quite sure I was going to be a miserable failure. I'm not a shy person, but I'm also not good at pushing my way to the forefront of a crowd. The saving grace was, I wasn't on camera. If that had been the case, I might well have frozen. By the time I got on camera several years later, I was ready for it. Even now I'm not entirely comfortable. One reason I wear glasses is, they act a bit like a barrier between me and the outside world.
I was having breakfast with Dave Marr when a friend of his stopped in for a cup of coffee. Somehow we started discussing women in the workplace, and Dave's friend said, "The trouble is, too many women try to be just like men. 'Equal' doesn't have to be 'the same.' " That really resonated with me. It relaxed me.
After we had finished a telecast one day, I walked into the production truck, and a fellow who works for ABC saw me and lit up. "Judy, you really did a great job," he said, and leaned forward to give me a hug. But halfway into that lean, he caught himself and actually backpedaled. "I am so sorry," he said. I felt so bad for him, that he had to arrest his expression of gladness and affection, for fear of sexual harassment. I'm fully aware of the other side of the coin with this issue, but it's a shame that we've had to redefine what constitutes normal behavior.
My father raised me, I got married early, and I had one son. I've been surrounded by men my entire life, so I'm comfortable with men and enjoy letting them be comfortable around me. Some things they do may horrify some women, but I pretty much take in stride. I like being one of the guys. I like to be treated well, but not special.
I don't mind the obligatory pecks on the cheek between men and women. But air kissing—pursing your lips and kissing the space next to their cheek—always strikes me as plain silly.
One shot I've seen in my TV life stands above all others. At the 1989 British Open at Troon, I watched Greg Norman birdie the first six holes. That was thrilling, but on the 16th hole, a long par 5, Greg's drive came to rest on a downslope on tight, bare turf. He pulled out a driver and I thought, "No way he can pull this off." The crack of his driver striking the ball is with me to this day. He hit it as flush as a ball can be hit, a high, towering draw, and the ball stopped 18 feet from the hole. For a second I stood there frozen. I couldn't find words to describe a shot that good.
At another British Open, Fred Couples strolled over and gave me a kiss on the cheek in the fourth fairway. It doesn't get much better than that, either.