News
Ever since he joined the PGA Tour in 1985, an interview with Davis Love III, or even a chance meeting, has invariably been a professional pleasure.
His greeting carries a calm sincerity, his smile is genial, his manner gentle. Though he doesn't completely lack the forced positivity so common--and probably necessary--to a professional golfer, within those parameters he projects candor and intimacy, and an active mind that can be alternately enlightening and hard to pin down.
On this occasion, Love, 48, is wearing shorts and a T-shirt, and sitting in an airy shop with a tropical motif and a mouthful of a name--Davis Love III's Classic Paddle & Putt--in a quaint corner of St. Simons Island, Ga., the coastal town where Love and wife Robin have lived for more than 25 years.
Though the store carries decorative golf paraphernalia, including designer putters, it primarily sells stand-up paddle boards and surf wear. Love was introduced to the pastime a couple of years ago by surfing stalwart Buzzy Kerbox, and he fell for it as avidly as he has embraced fishing, hunting, snowboarding, motorcycling and other avocations that provide periodic escapes from his profession. When locals would see him cruising atop the gentle Atlantic waves common to the Golden Isles, they began asking where they could get a board. Love says he thought, Let's open a shop, help start a new sport, provide some jobs, and maybe make a little money.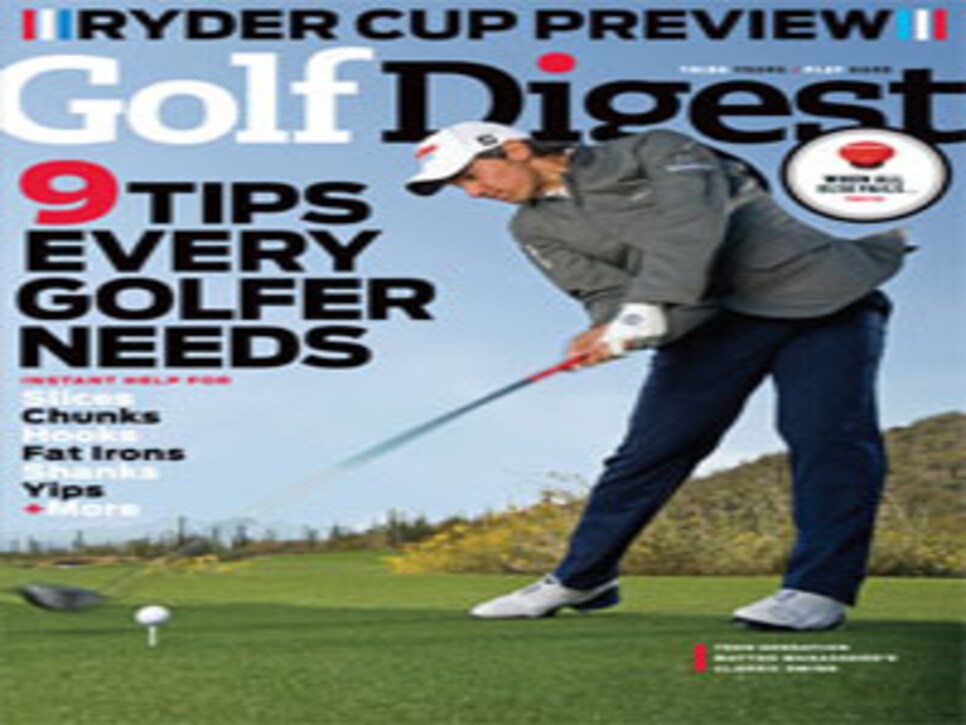 Love has a bond with the area. His father, Davis Love Jr., who died at 53 in a small-plane crash in 1988 that also took the life of his son's best friend, Jimmy Hodges, as well as John Popa and Chip Worthington, taught at the Sea Island Golf Club. Today it's where Davis and his teenage son, Dru, often practice and play, and where Love helps host the PGA Tour's McGladrey Classic. He uses an office in town as headquarters for his youth foundation and golf-design business. In appreciation of such community involvement, in 1998 the state of Georgia named a section of I-95 the Davis Love III Freeway, the resolution reading, in part, "Whereas he is a true Southern gentleman and family man..."
Visitors to the shop clearly recognize Love, but in a switch it is the celebrity who initiates conversation. For all of Love's accomplishments--being one of history's transformatively powerful hitters; winning 20 PGA Tour events, including one rainbow-ribboned major at the 1997 PGA and two Players Championships; teaming with Fred Couples to win four consecutive World Cups by an aggregate of 34 strokes; and, most recently, being chosen U.S. captain for the Ryder Cup matches Sept. 28-30--he might ultimately be remembered as his era's least-selfish star.
That quality comes through everywhere Love goes. A few days before, in Manhattan, at the Fifth Avenue boutique of a watch company Love represents, he donned a white lab coat and a magnifying loupe for a publicity shot. But rather than just pose, Love painstakingly tried to adjust the bracelet of his new timepiece under the direction of watchmaker Caitlin Andrews. As he gave the small muscles that sometimes betray him on and around the greens a workout, he engaged Andrews about her job. As Love left, she reflexively said, "Sweet guy."
Observing love in such settings, the word that unavoidably comes to mind is "soft." It's a mostly wonderful quality to have in life, but maybe not so helpful in competitive golf. Even when he has blitzed the field, Love has never come off as a killer, and his record supports the impression. The 26 times he has held a lead entering the final round, he has gone on to win only 11 times. He is 2-7 lifetime in playoffs, and 9-12-5 in six Ryder Cups. It seems he should have gotten higher than a best of second in the World Golf Ranking, and he should have won more than one major. By the coldly subjective standards used to measure the supremely gifted, he has been an underachiever.
"All I've ever heard from other players about Davis is 'the talent, the talent, the talent,' " says Gio Valiante, a sport psychologist who has worked with Love. "But as a golfer, his innate kindness doesn't really fuel a lot of winning. Davis reminds me of what Voltaire said about a gifted artist named Beaumarchais: 'He'll never be Molière because he prefers his life to his work.' "
Love's longtime manager, Mac Barnhardt, who before their professional relationship met Love in college, puts it another way. "If Davis had been self-centered, Tiger Woods would not have been such a big deal."
On the other hand, among the bunch of alpha males who will make up the U.S. team, Love's brand of softness might be the right complement. His favorite part of being one of Corey Pavin's assistants in 2010 was simple service.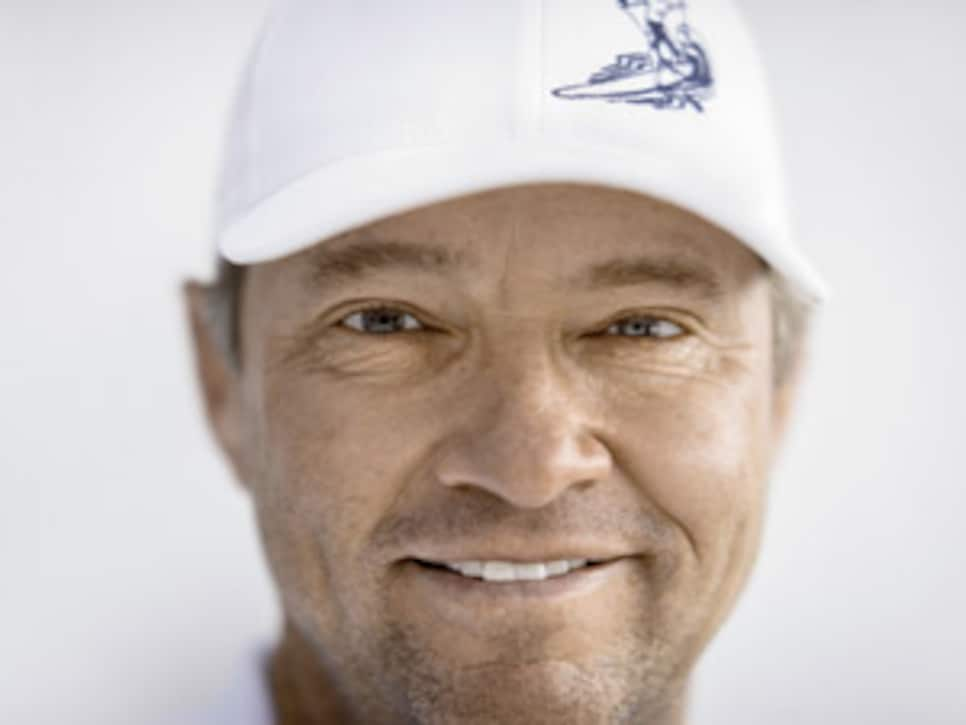 "At Wales," Love says, "I told the PGA, 'Look, I don't ever have to be captain. I'll come every year, just be a guy behind the scenes, getting the towels, getting the yardage books. I love that stuff.' "
Spoken like a man who has grinded out four terms as a player director on the PGA Tour's Policy Board, a post often referred to by those who have done it only once as a thankless job.
"Davis enjoys making people happy, and he'll sacrifice to do it," says PGA Tour commissioner Tim Finchem. "At the same time, he's a natural-born leader. He's balanced, he's smart, he doesn't overreact. He can see the key points in complex subjects, and he thinks things through before he talks. You add those things together, and that's why people pay attention when he says something."
As U.S. captain, his players are sure to listen to Love push a perspective that comes from an issue he has long addressed with sport psychologists: getting in his own way.
"I didn't do a very good job of relaxing and letting myself play my best at Ryder Cups," he says. "There were teams I missed because I tried too hard, and teams that I made but didn't play well because I tried too hard. I don't want my guys doing that. We need to go in there and play golf, not try to win. Hopefully that win will come, but first we need to relax and play."
It's not what you would hear from grittier old-school captains like Dave Stockton or Lanny Wadkins, but Love has some history as a golf whisperer. He seems to know the mysterious combination that brings out the best in his longtime friend and current assistant captain, the enigmatic Couples. And during the 1999 Ryder Cup at Brookline, it was Love, after winning his singles match against Jean Van de Velde, 6 and 5, who decided to hoof it out to the 12th hole to root home Justin Leonard, even though Leonard was 4 down to Jose Maria Olazabal. When a despondent Leonard suggested that Love should have chosen a closer match, Love responded with the prophetic words, "I think you're going to do something special."
Love knows there are times the job will call on him to harden. "Calling four or five of my friends and telling them they aren't going to be on the team is something I dread," he said of making his captain's picks. "Making speeches is not my favorite thing, but I'll have to make several of those. I guess I'll go for short and sweet, try to channel Byron Nelson or Harvey Penick or my dad, but I won't be comfortable."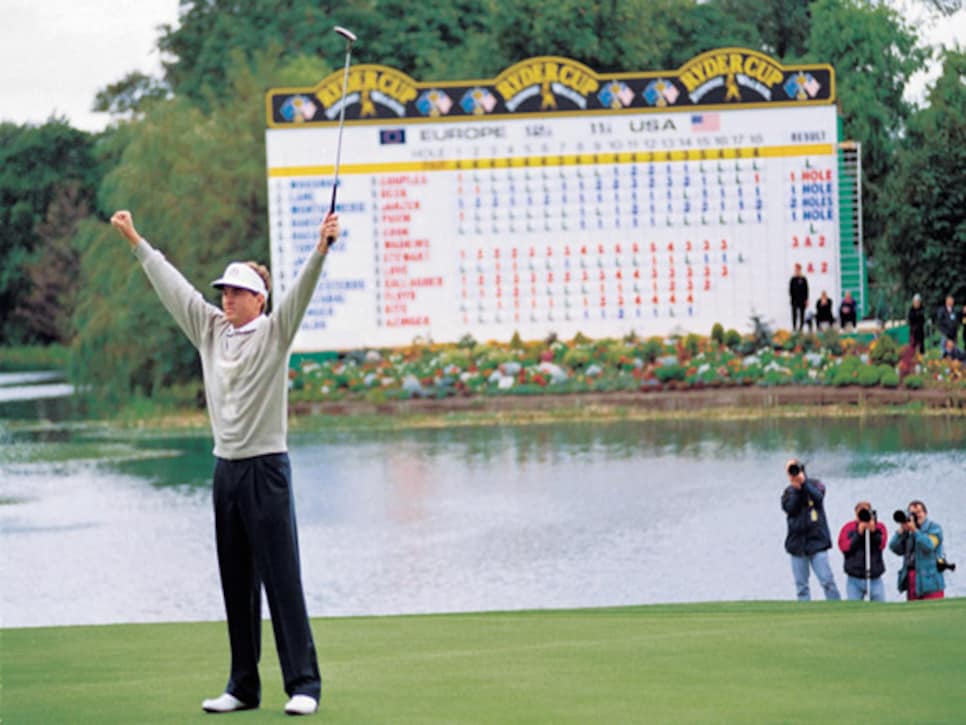 Photo: Stephen Munday/Getty Images
He's also preparing himself for a daily media grilling. At a Ryder Cup-themed press conference at the British Open, one of Barnhardt's associates, Jeremy Elliott, noted with a smile that Love was trying out "his mean look" to discourage the British press. "It's just a more serious expression," Elliott said. "It's not scary or anything."
Fans of Love the player know the look: the one that makes him appear to be fighting a sour stomach but is actually his attempt to block out distraction and find focus. It's far from intimidating, but Love's full shots, when he is on, have been and still can be scary good, evidenced by his tie for third earlier this year at Memphis.
Time has proved Love has one of the best swings in golf, a wonder of biomechanical efficiency in the tradition of Sam Snead, Al Geiberger and Steve Elkington. In terms of his legacy, his action is a significant supplement to his playing record, the extra credit that guarantees his eventual induction into the World Golf Hall of Fame. "It's basically a classic swing," says Jack Lumpkin, a noted instructor who was best friends with Love's father and has overseen Davis' game since the late '80s. "It has the stuff that all the great players did in the past: grace, power, speed, stability, repeatability. The difference is that Davis is 6-3, with long levers, so the scale is bigger. I think the best word to describe that swing is still 'majestic.' "
Under Lumpkin and other instructors, including Butch Harmon and Todd Anderson, Love has lowered his swing plane over the years, in the process turning his middle and short irons from a weakness to a strength without losing length. Love's A-game has long been awesome, as it was in his closing 66s at Winged Foot in winning the 1997 PGA, and in his Sunday 64 at Sawgrass in 2003 to win his second Players Championship. And Love's displays of freewheeling power golf at the World Cups with Couples as his wingman are almost surely the most awesome ever unleashed in big-time competition with a wood driver.
But overall, Love couldn't sustain greatness. In simple terms, he didn't putt consistently enough or have the short game to save enough shots, especially at major-championship venues, although he was close many times, compiling 21 top-10 finishes in majors since 1995. He admits that the words "U.S. Open" always take his mind back to the 72nd hole at Oakland Hills in 1996, when three putts from 20 feet kept him from forcing a playoff.
Love also seemed to lack enough focus in the clutch. More than his share of late failures earned him the "soft" label in the locker room, but Love doesn't consider his erratic record as a closer to be because of nerves.
"I loved the feeling of coming down the stretch in contention, and still love it," he says. "The best part of golf is playing the last nine holes with a chance to win."
He also counters the perception that he and Couples seemed to retreat from stardom and the attendant responsibility and scrutiny after their sudden ascension to the top of the game in early 1992, when Love won three tournaments in four weeks and Couples reached No. 1 and won the Masters. "I don't think we stepped away from it," Love says. "Yes, it was pressure staying up there. But I think more than being uncomfortable, it just all came to distraction, something neither one of us is great at dealing with. It doesn't matter if you're trying to keep your card or trying to be No. 1--if that's what you're thinking about, or if that's what people are asking you about, it becomes a distraction from what you're supposed to be doing, which is one target at a time."
Love considers distractibility his biggest weakness. It's why--especially in his work with sport psychologist Bob Rotella--he sought refuge in routine, and why one of the fondest moments of his career was his first Ryder Cup, in 1993 at The Belfry, when it all came down to his singles match against Costantino Rocca and a six-footer for the Cup.
"On the 18th tee, a bunch of our players showed up looking tense," Love says. "Tom Watson was the captain, the toughest guy ever, and he was really nervous. I tried to calm him down just to help myself calm down. On the green, I was looking at that last putt, and I saw Lanny [Wadkins] sitting there all intense, and I knew how much he wanted to win, and then all the wives, and how they were so worried, and all the pressure really hit me. I got over the putt, and I was shaking so bad, I realized the only way I'm going to make this is if I back off and get back into my routine and into the process. My brother, Mark, was watching at home, and he told me that when I did that everybody in the room started saying 'Oh, no!' But he knew me and what I was thinking, and that backing off at that moment was good. And then I did one of the best routines that I ever did. When I looked up, the ball went into the hole."
That sequence didn't happen quite enough. "In my career, I think I was good down the stretch about half the time, and when I was, it was mostly about staying in my routine," Love says. "That's when I would putt well, when I was really into just the process and not really caring if they went in or not. But even though I understood what I had to do, that was a hard place for me to get to consistently. I'm not wired quite like Tiger Woods or Jack Nicklaus. There's something about Tiger Woods that made him wake up every day and take pride in that discipline and repetition. Whether it's ADD or something else, I'm just not quite as committed. There are a lot of things I wish I could go back and do different, but it wouldn't be swinging different or using a different coach or things like that. It would be about organization and commitment. But could I have been different? I'm not sure. My record shows I did do it better than 90 percent of people. But maybe I didn't do it good enough to get everything out of me."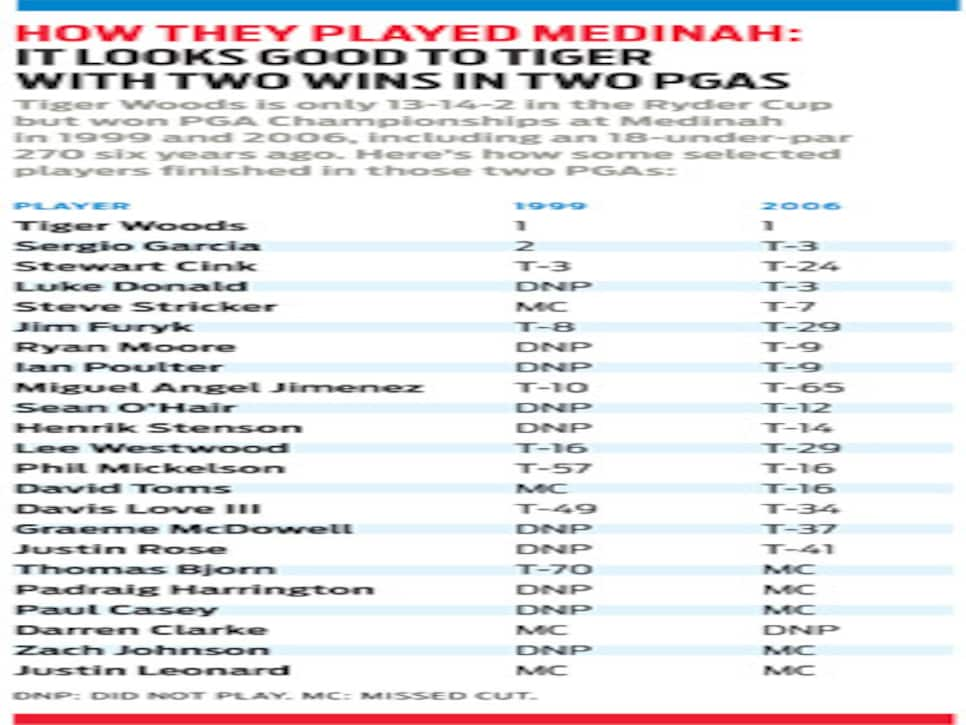 That was the issue that required constant attention from all the various sport psychologists Love consulted. "I felt like Davis always needed to be actively coached," Valiante says. "Without a team directing his talent, it would become directionless."
Love's mother, Penta, suspects the source of the problem is deeply emotional. "Davis and his father shared the game through his instruction," she says. "It gave him this wonderful foundation that probably doesn't really require all that much more coaching. But without his dad to share it with him, he might not have pursued it as diligently as he would have."
There was another element to what some consider Love's unfulfilled destiny. Just as he was reaching his peak as a player in the mid-'90s, he had to contend with Woods. Indeed, it was in a playoff with Love at Las Vegas in 1996 that Woods got his first pro victory.
"Tiger basically won one out of three events he played in, which is incredible production, especially against the fields he played against," Love says. "Without him, there would have been 75 more wins to be divvied up. Think of where that would have left Mickelson, Els, Love, etc."
At the same time, Love doesn't disagree with Valiante's idea that he, more than others with similar ability, simply chose life over golf.
"I would say to a small extent, yes," he says. "But let's say I'd decided not to get married until I was 35, with no outside interests, and focused on nothing but golf. Would that have made me Tiger Woods? No. It would have gotten me a few more wins, or two majors versus one, or seven Ryder Cups instead of six, or maybe to No. 1. It wouldn't have been a huge, drastic thing. But even if it got me 40 wins instead of 20, it wouldn't have made me happier.
"I wanted to win, but maybe not as bad as some. I always looked at someone like Nick Price, who among all the dominant players was always the nicest guy out there, as who I wanted to be like. And friends like Joey Sindelar and Scott Simpson and Larry Mize. They put their family first, friends second, golf game after that. Golf was their job. And that's the way I always looked at it."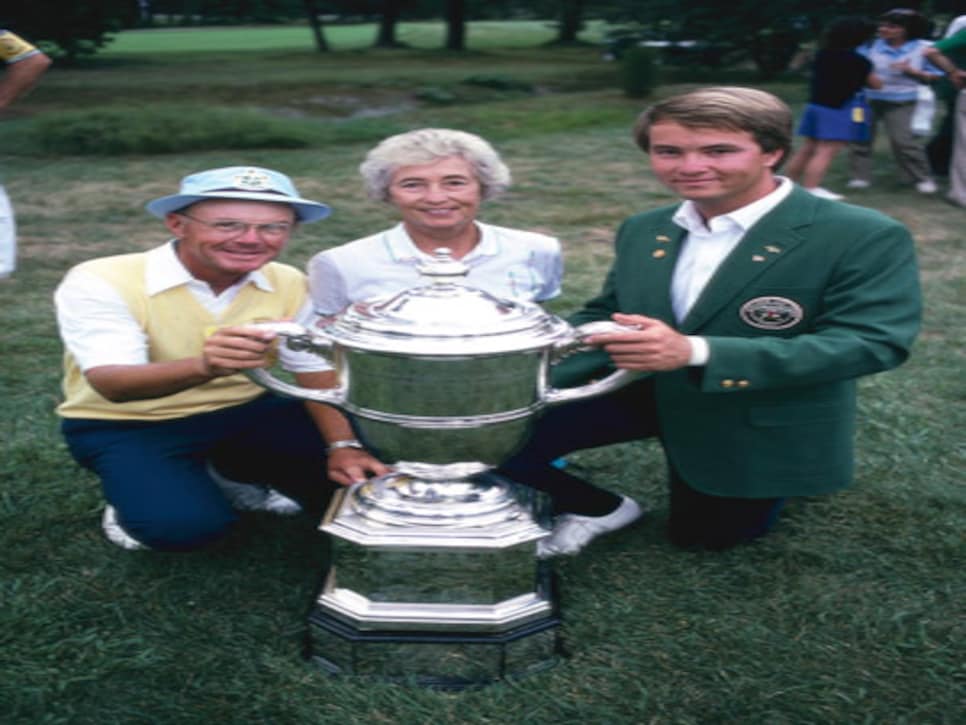 the 1985 Walker Cup matches at Pine Valley before losing
his dad in a 1988 plane crash.
Photo: Golf Digest Resource Center
As his mother intimated, golf probably became more of a job after the death of his father. And more joy was lost when, during his most successful year, winning four tournaments in 2003, he was rocked by his brother-in-law, a trusted family employee, embezzling as much as $1 million from him and confessing before committing suicide.
Whatever the toll, Love has responded by becoming more noticeably concerned with others.
"When Davis was really at his peak, I could tell the difference in his focus from his walk and from his eyes," Penta says. "But as he's gotten older, things start to interfere with that. I'm sure he realizes it, but Davis can't shut people out. If he did that, it wouldn't be him."
Says Valiante: "Davis doesn't attach to suffering. Some players let the game or life become a weight. Davis has taken some real body blows, but he still has that lightness and graciousness. That's what makes him special."
For Love, it's not complicated.
"I never sit there and say, 'God, what a bad break I got' on this or that. I'm in a great place in my life. My family's happy, I've gotten to do what I've wanted to do for 30 years. I thank the Lord every day for what I've been given."
At the Ryder Cup, he'll give in return. Soft or not, he'll be a rock.