News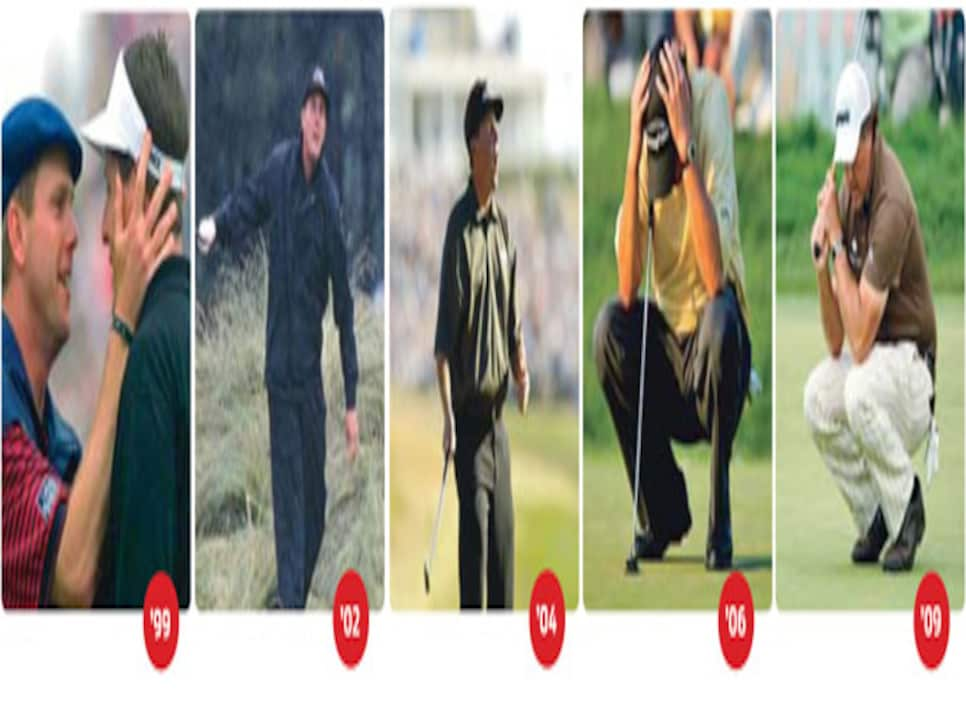 Phil Mickelson has finished second in the U.S. Open a record five times. Those are more runner-ups in one major championship than anyone in golf history save for Jack Nicklaus' seven at the British Open. Of course, Nicklaus won three claret jugs. Mickelson has never won the U.S. Open.
He has had to be unlucky and good. No one would deny that Mickelson has suffered three legitimate heartbreakers--Pinehurst in 1999, Shinnecock Hills in 2004 and Winged Foot in 2006--with two near misses at Bethpage in 2002 and 2009. Still, their sum doesn't make Mickelson the U.S. Open's most tragic figure.
Why? Well, it doesn't help that he's usually all happy, but mainly it's because Mickelson doesn't play golf the classic U.S. Open way. Partly by style, but mostly because of flawed technique, he hasn't been about fairways and greens and tap-in pars.
The greatest U.S. Open players always have been. Their answer to the ultimate examination has been one cautiously conceived and well-struck shot after another for 72 holes, a 1,000-mile journey of ball control and restraint and delayed gratification. It's the high church of golf, its flock the championship's most frequent winners and most poignant losers.
With the exception of the first hole at Cherry Hills, Arnold Palmer tempered his swashbuckling ways in the national championship. He seemed grimmer and more rigorous on an Open track, which only intensified the historical hurt from his three losses in 18-hole playoffs. Sam Snead's shotmaking artistry had a perfect canvas at the Open, and at least one of his portraits should have been rewarded with the trophy. Nicklaus was an Open ascetic, so when Tom Watson's Hail Mary chip-in at Pebble Beach in 1982 ripped away his record fifth trophy in the championship, it seemed like the violation of a sacred code.
Ben Hogan invented the Open template by finishing in the top 10 of every Open he played in from 1940 to 1960. He followed it perfectly in a twilight mission for his fifth Open, at Olympic in 1955. But when he was somehow caught by Jack Fleck, it became and remains the saddest Open loss.
Mickelson, for all his Dave Pelz-led reconnaissance, has always been more mercurial than methodical, and thus slightly less worthy. Where Hogan built his Open victories from an assembly line of easy pars, Mickelson has to fashion too many hard ones. That difference matters at the end of a U.S. Open, when what had been easy remains manageable, and what had been hard does not. Six times in the national championship Mickelson has come to the final nine within four shots of the lead, and he has always shot over par. More tellingly, he has had at least a share of the lead with three holes to go four times but has never gotten to a playoff.
Such numbers suggest that Mickelson lacks the necessary fortitude, but it's more the opposite. Consider that in 16 career appearances at the British Open, where the heavy seaside wind exposes anything less than pure full-shot contact, he has exactly one top 10. Very simply, ball-striking has been his weakness. But at the U.S. Open in particular, desire and resolve and short game have been his strengths, allowing Mickelson to overachieve even as he has fallen short.
Despite Mickelson's infamous double bogey, such was the case at Winged Foot. After scrambling all week, Mickelson felt so insecure with his swing just minutes before heading to the first tee on Sunday that he began hitting full drives from the edge of the practice putting green in desperate search for a key. Then, after missing 11 of 13 fairways, he somehow reached the 72nd tee with a one-stroke lead. The wonder wouldn't be the utter collapse of his mechanics, but that he had held it off for so long.
That realization took awhile to sink in, but now even the most sentimental among his legions are less focused on what could have been than what still could be. So is Mickelson, who will turn 40 the day before the first round at Pebble Beach, and whose work with Butch Harmon and Dave Stockton is about obtaining the tools to handle the most unforgiving major of all.
In the end, the record will speak the loudest. Mickelson might never please Hoganphiles with the caliber of his play, but even they can't dispute that his finishes make him one of the most consistent performers in U.S. Open history. If he wins at Pebble Beach, he jumps to being one of the best. And if he finishes second again, he'll be closing in on tragic.
Photos: 1999: Steve Schaefer/AFP/Getty Images / 2002: Rusty Jarrett /2004: J.D. Cuban /2006: Jamie Squire/Getty Images/2009: Darren Carroll