News
U.S. Open 2020: At Winged Foot, a pandemic stirs memories of the last time the world stopped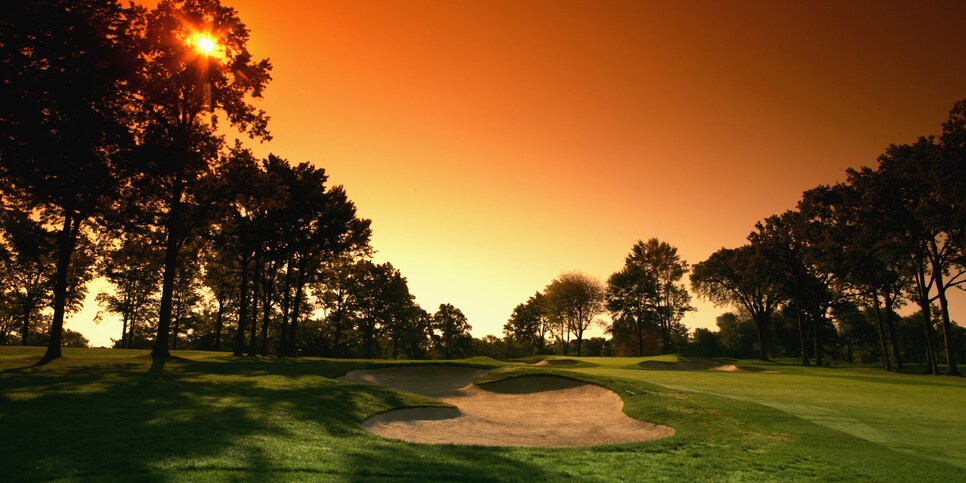 "It was a somber time. But golf was there."
Perhaps this is how you'd describe life the past six months. You stayed home. You glued yourself to the news. Amid weighty concerns of safety and a plummeting economy, you sought normalcy by way of a stretch of grass and numbers on a scorecard.
Next week at Winged Foot Golf Club in Mamaroneck, N.Y., they will play the U.S. Open, a Father's Day tradition pushed into the final days of summer because of a global pandemic that has uprooted our lives. In many ways, it's an experience without precedent. In others, particularly at a place like Winged Foot, it feels familiar.
Nineteen years before COVID-19, there was 9/11, which Winged Foot will commemorate on Friday at 8:46 a.m. with prayers and bagpipers around a flagpole that bears the names of the four members who perished at the World Trade Center. Winged Foot, it should be noted, is not unique in that regard. Rare is the golf club in the New York metropolitan area that didn't mourn the death of at least one member, many still hosting ceremonies in their honor every September. But it is the timing of Winged Foot's sixth U.S. Open that underscores the connection between the two crises—and the role golf played in both.
"I guess when you think of the impact of 9/11 there was a fear that hung over everything, and with COVID there is certainly fear and it's changed so much of our lives," said Brian Devaney, a longtime Winged Foot member who is the chairman of this year's U.S. Open Scoring Committee. "So in golf with both, there was the sheer joy of being able to do something that's as close to normal as anything we could be doing."
For 13 years, Devaney's normal was a drive to work alongside his best friend Joe Shea. The two men had grown up on Long Island together, starting from grade school, onto the same summer job at Plandome Country Club, straight through to Georgetown. On the clear Tuesday morning of Sept. 11, 2001, they parked Shea's car in the garage under the World Trade Center, made plans to cut out of work early to hit balls, then said goodbye. Devaney walked across the street to his office at Merrill Lynch at 1 World Financial Center. Shea headed upstairs to the 104th Floor of Tower 1, where a hijacked plane would strike an hour later.
Only later did Devaney recognize he experienced his own type of PTSD as a result of that day. Losing Shea was like losing a brother. There were arrangements to be made, and then a parade of funerals: for Shea, who played at nearby Pelham Country Club, and the four Winged Foot members who died—Billy Minardi, Justin McCarthy, Michael Berkeley and Tom Galvin. Against this backdrop, golf hardly seemed a priority. But a fellow Winged Foot member, Buddy Stuart, kept pestering Devaney to play, somehow recognizing the game as more than an indulgence, but a source of sustenance.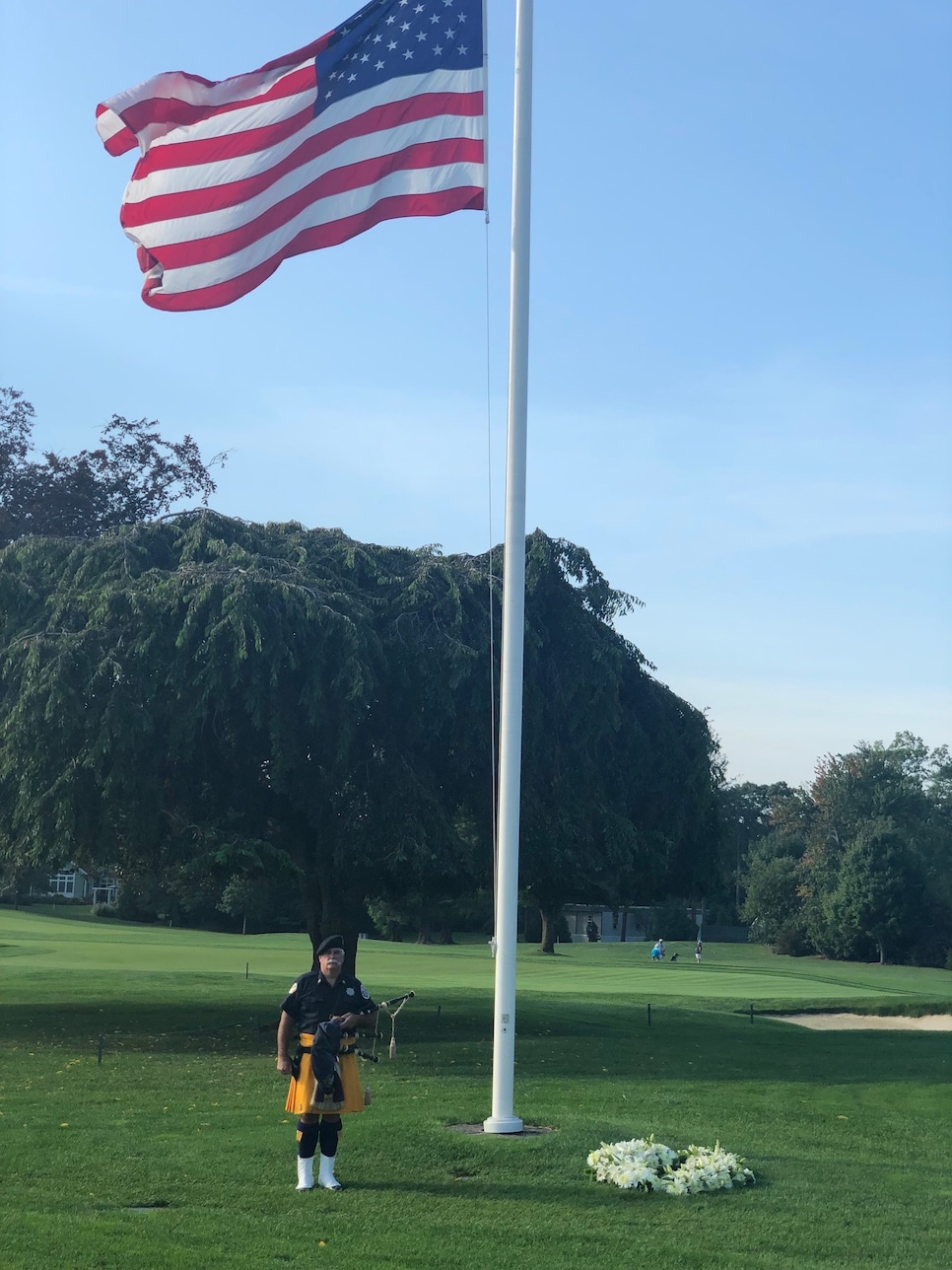 Winged Foot has an annual ceremony at a flagpole dedicated to the four members who died on Sept. 11, 2001. Photo courtesy of Winged Foot Golf Club.
"My wife credits him for getting me out there and forcing me to concentrate on something else," Devaney said. "It was much more somber than normal. Everybody felt relieved to be playing and being with their friends, but there was that knowledge in the back of their minds because everybody knew someone who had died. There was a real sense of loss."
The morning of 9/11, Mike Durkin, Winged Foot's tournament director and assistant golf professional, had the TV on in the background of the golf shop and heard reports of a plane that had flown into the World Trade Center. He figured it was "some knucklehead," nothing more, and hurried off to meet with a clothing vendor. He and the late Winged Foot golf pro Tom Nieporte spent two hours looking over designs for a spring line in the vendor's van.
"And when we walked out of the van, it was like the world changed," Durkin said. "People were running to their cars."
There was confusion, followed by the slow spread of unfathomable news. After a day or two came the migration of members back to the club. If nothing else there was time—too much of it, even. With the stock market shut down that first week, with many office workers displaced because of the destruction to Lower Manhattan, golf helped fill the void, especially because, incongruously, the sun shined for days.
"All of a sudden we were swamped because people didn't have to go to the city, and the weather was perfect," Durkin said. "At the same time at Winged Foot we lost four members. There were a lot of funerals. It was a somber time. But golf was there. It was just like COVID—there was nothing else."
Some two decades later, the pandemic has brought with it similar feelings of uncertainty, along with the pervasive sense that whatever was so important yesterday doesn't seem so important now. Another common thread is golf. In 2001, as rescue workers sifted through the wreckage and New York worried about a potential next attack, the game was a distraction and a source of kinship amidst so much darkness. This spring it brought golfers together again—albeit at a respectful distance.
"Normal and safe," is how Devaney described it. "It was such a pleasure to be able to do something like that. It was literally the only game in town."
As golfers turned up at Winged Foot this spring, the club recognized a demand it had never experienced. Men, women, families—all with more time on their hands and a dearth of options—showed up to play, to the point that Winged Foot went somewhere it had long resisted by implementing tee times.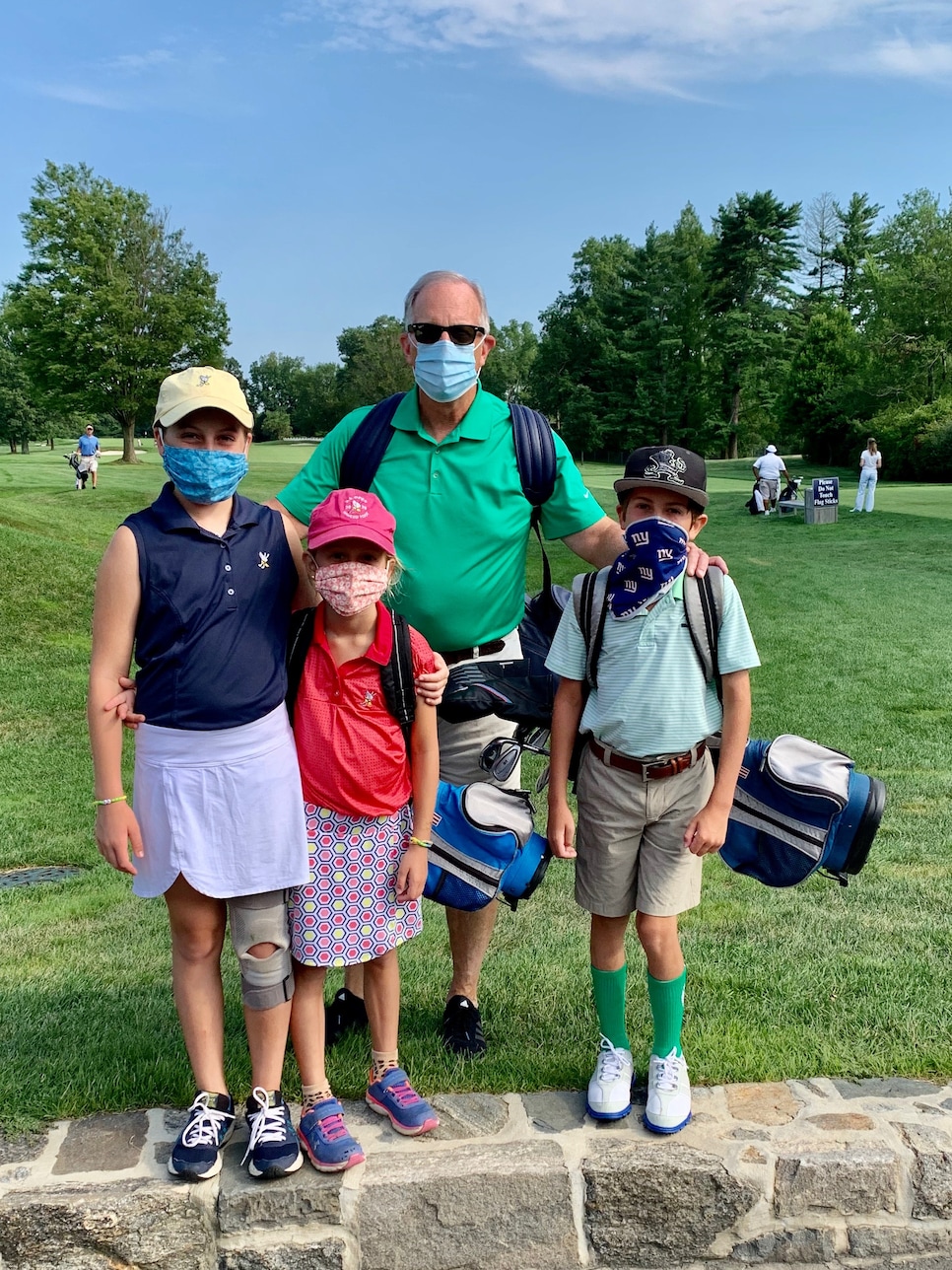 Brian Devaney, longtime Winged Foot member, enjoying the 2020 version of golf with his grandchildren. Photo courtesy of Brian Devaney.
"If we had proposed this a year ago a good portion of the members would have objected," Devaney said. "But the first few Saturdays the one thing you couldn't have was a big group of people hanging around the first tee waiting to go off. So that managed the flow of people extremely well."
Where this year was most different, though, was with the crisis unfolding as the club prepared for a U.S. Open. In early March, shortly after the Players Championship was canceled and the Masters was postponed, Winged Foot halted construction on its Open build-out and faced the prospect of eight years of preparation being lost with one bureaucratic keystroke.
"We went into this deep trough. We worked on this for eight years, and it was like, 'This can't be happening,'" Colin Burns, Winged Foot's longtime general manager said. "But just like 9/11, these events really bring you back into the perspective of life. It was like, 'People are dying, so let's not overdramatize this.'"
In April, as sports leagues across the country waded through the uncertainty of the pandemic, golf's governing bodies scratched out a plan. The PGA Tour would return in June. The Masters would be played in November. And the U.S. Open would move to mid-September. There would be less daylight, yes, but anyone who recalls the Indian Summer after 9/11 knows it can also be New York weather at its best. When the inevitable decision came that the championship would be played without fans, it could have been cause for disappointment. But here, just like 19 years earlier, perspective prevailed.
"We're pretty excited. It will be special," Burns said. "Someone asked whether there will be an asterisk next to this U.S. Open. I said 'No, there will be an exclamation point. Because we pulled it off.'"