News
U.S. Open 2020: Four things to know about amateur Davis Thompson, the most unlikely name on the Winged Foot leader board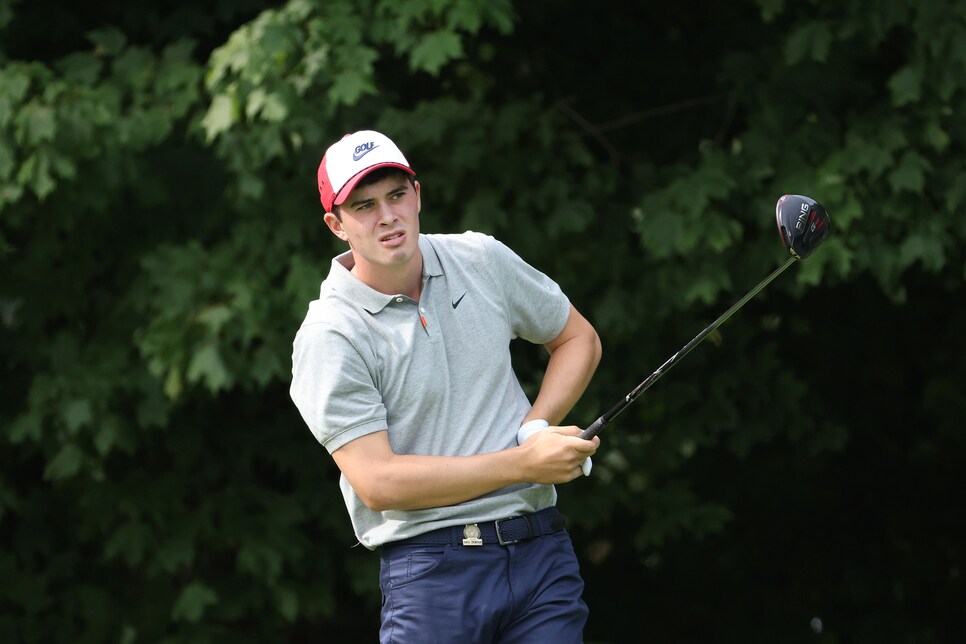 Amateur Davis Thompson plays his shot from the 12th tee during the first round of the 120th U.S. Open.
Jamie Squire
So you're checking in on the leader board in the first round of the U.S. Open and Davis Thompson is at the top. You see the little "a" next to his name, designating him an amateur, and you say to yourself, "OK, let's wait 15 minutes and see if he's still there."
An hour later, he's still there. After 12 holes, the 21-year-old from St. Simons Island, Ga., was at four under par—with three straight birdies on Nos. 6-8—and leading by one stroke. A bogey on the 13th dropped him off the lead, but heck he's still in the thick of it at the U.S. OPEN.
Now you're saying something else to yourself: It's time to figure out who Davis Thompson is. Well, let us try to help. Here are four things you should know about the unlikely man on the leader board.
He's a University of Georgia undergrad.
The Bulldogs haven't played yet this fall, but they'll be looking to Thompson, the team captain, as an anchor on the 2020-'21 team. As a junior, Thompson earned first-team All-American honors after finishing the coronavirus-shortened 2020 season with a 69.95 average, second lowest in UGa history, with a win and four more top-10 finishes.
An interesting aside, his father, Todd, who is caddieing for him this week at Winged Foot, played for the UGa golf team as well, also serving as team captain in 1987 and 1988. Todd Thompson is the tournament director at the PGA Tour's RSM Classic.
It's his first major championship.
Thompson qualified for the U.S. Open thanks to being ranked No. 3 in the World Amateur Golf Ranking. The USGA invited the top seven players off the WAGR into the field this year after being forced to cancel local and sectional qualifying due to the COVID-19 pandemic.
It's his first major championship but not his first pro start.
Thompson played in the PGA Tour's RSM Classic in Sea Island, Ga., last fall and finished an impressive T-23 after shooting a final-round 66. And when he won the Jones Cup, a prestigious amateur event held at Ocean Forest Golf Club on St. Simons Island, earlier in 2020, he earned a spot into this year's RSM field, too. He also played in the Puerto Rico Open in February and missed the cut.
He didn't seem super optimistic about his chances this week.
In talking with The Red and Black, UGa's student newspaper, Thompson seemed reserved with his goals at Winged Foot. He said he was really only going to focus on getting through the first 36 holes, where conveniently he was paired with two other former Georgia golfers Brendon Todd and Harris English.
Thompson also leaned on another golf friend to help him get a sense of how to play Winged Foot, reaching out to Davis Love III, who won the 1997 PGA Championship there.
"If I make the cut, great … but if not, I know I can't hang my hat because I practiced the best I could this summer," Thompson said.
Turns out, that practice seems to have paid off. While making two more bogeys coming in, Thompson still finished with a one-under 69, matching Bobby Jones and Jay Sigel for the lowest score ever posted by an amateur in a U.S. Open round at Winged Foot.
After the round, the competitor in Thompson emerged. "I came here to compete," he said. "I didn't really come here to be a tourist."