Features
The top 100 players on the PGA Tour, ranked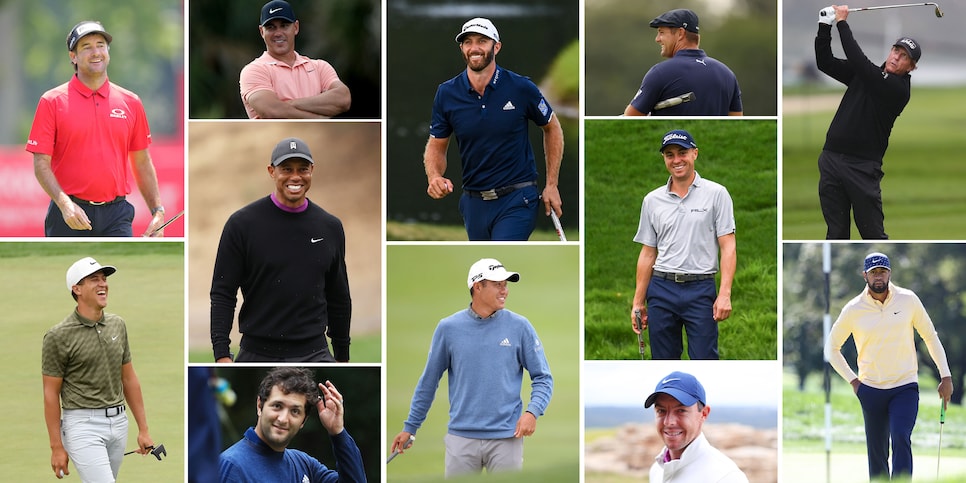 The PGA Tour's "super season" resumes this week in Maui, a celebration that calls for a super list. Over the holidays the Golf Digest staff batted around the question, "Who are the top 100 players on the PGA Tour?" It is a question judged by what we expect from players in 2021 while acknowledging their form and feats from the recent past. Below is our collective answer.
For clarification, this list is specific to those who play on the PGA Tour. This is why you won't see players like Victor Perez or Christiaan Bezuidenhout, both fine talents that spend most of their time on the the European Tour. Obviously a handful of players make their bones on multiple circuits; we judged these jump balls as best we could.
Here are the top 100 players on the PGA Tour, from No. 100 to the top spot.
No. 100: Richy Werenski
Age: 29 / OWGR: 150 / '21 FedEx Cup ranking (entering January): 174th
The Georgia Tech grad had the best season of his young career last year thanks to a torrid two-week stretch, finishing T-3 at the 3M Open then winning the next week's Barracuda Championship. Ranked 115th in strokes gained/tee-to-green last year, but covered up some of the ball-striking woes with his work on the greens (41st in SG/putting). Shot 61 at the Zozo Championship but is otherwise off to a slow start to the 2020-'21 campaign, ranking near dead-last in SG/off-the-tee and having no finishes better than T-28 in six starts. —Daniel Rapaport
No. 99: Emiliano Grillo
Age: 28 / OWGR: 156 / '21 FedEx Cup: 47th
Grillo began the new season strong, finishing T-35 or better in eight starts to end the 2020 calendar year including a T-8 at the Mayakoba. The Argentinian is ranked sixth in SG/approach so far in the 2020-'21 season, per Fantasy National. He had three top-10s in the 2019-'20 season, including T-3 finishes at the 3M Open and the Puerto Rico Open. —Stephen Hennessey
No. 98: Peter Malnati
Age: 33 / OWGR: 168 / '21 FedEx Cup: 17th
The Missouri grad has just six top-10 finishes in 162 career PGA Tour starts. However, two of them came in his final five appearances in 2020, which is why 2021 feels like the year he cracks the top 125 on the FedEx Cup points list for the first time since 2016. Malnati has already made $1.05 million this season (in 24 rounds), when his previous season best was $1.298 million (in 85 rounds). —Ryan Herrington
No. 97: Harold Varner III
Age: 30 / OWGR: 130th / '21 FedEx Cup: 93rd
Ranked top 20 in SG/tee-to-green and SG/off-the-tee last season, but had just one top-10 finish. A balky putter (141st in SG/putting) and poor Fridays and Saturdays (68th in Round 2 scoring; 91st in Round 3) plagued the North Carolina native. Building on those rounds and improving on the greens could lead to win No. 1 for HV3 in 2021. —Christopher Powers
No. 96: Wyndham Clark
Age: 27 / OWGR: 147 / '21 FedEx Cup: 24th
One top-10 and more missed cuts (12) than made (10) in 2019-'20 didn't indicate anything special coming from the Oregon grad. But a 65 in the final round of November's Bermuda Championship pushed Clark into a playoff he lost to Brian Gay, and the $436,000 payday surpassed more than half his earnings from 2019-'20. He's often wild off the tee and it shows in his SG/approach the green (185th last season). —Tod Leonard
No. 95: Lucas Glover
Age: 41 / OWGR: 110 / '21 FedEx Cup: 63rd
After a career renaissance in 2018-'19 (seven top-10s, a spot in the Tour Championship), Glover's short game struggles—177th in SG/around-the-green, 163rd in SG/putting—kept him outside the FedEx Cup top 100 last season. While the putting didn't improve in seven fall starts, a handful of top-25s and a T-5 at the year-ending Mayakoba Classic give hope that a bounce-back campaign is on the horizon for the 2009 U.S. Open champ. —Joel Beall
No. 94: Charles Howelll III
Age: 41 / OWGR: 111 / '21 FedEx Cup: 99th
Not Hall of Fame bound, but he's been the face of consistency on the PGA Tour, having kept his card for 20(!) straight seasons despite winning just three times. Last season was exactly what you've come to expect from Chucky Three Sticks: 20 starts, 14 made cuts, six top-25s, three top-10s and one top-five. Solid, if unspectacular. As he's aged, he's relied more on his short game (11th in SG/around-the-green last season) and putting than his once-elite ball-striking, but still has plenty of firepower to keep up with the kids. —DR
No. 92: Jim Herman
Age: 43 / OWGR: 96 / '21 FedEx Cup: 173rd
Thanks to his Wyndham Championship victory in August, Herman has his tour card locked up until the end of the 2022-'23 season. Essentially, then, he's playing with house money, which showed in the fall with two missed cuts in five starts and no finish better than T-50. Herman's strokes gained rankings have always been frighteningly bad, but his accuracy off the tee (ranked top 15 on tour the last three years) saves him. So far in 2020-'21, he ranks 138th. Announced he tested positive for COVID, so he's missing Maui this week. Here's hoping he gets healthy so that he can begin a bounce back in 2021. —RH
No. 91: Sung Kang
Age: 33 / OWGR: 86th / '21 FedEx Cup: 143rd
Prior to the lockdown, Kang had gone T-2 at Riviera and T-9 at Bay Hill, with a 71st at WGC-Mexico sandwiched between. He's been quiet since, missing nine of 17 cuts with a high finish of T-29 at the Masters. He'll look to find some of the consistency he flashed in 2019, a year he earned his only win at the Byron Nelson and collected four other top-10s, including a seventh at the PGA Championship. —CP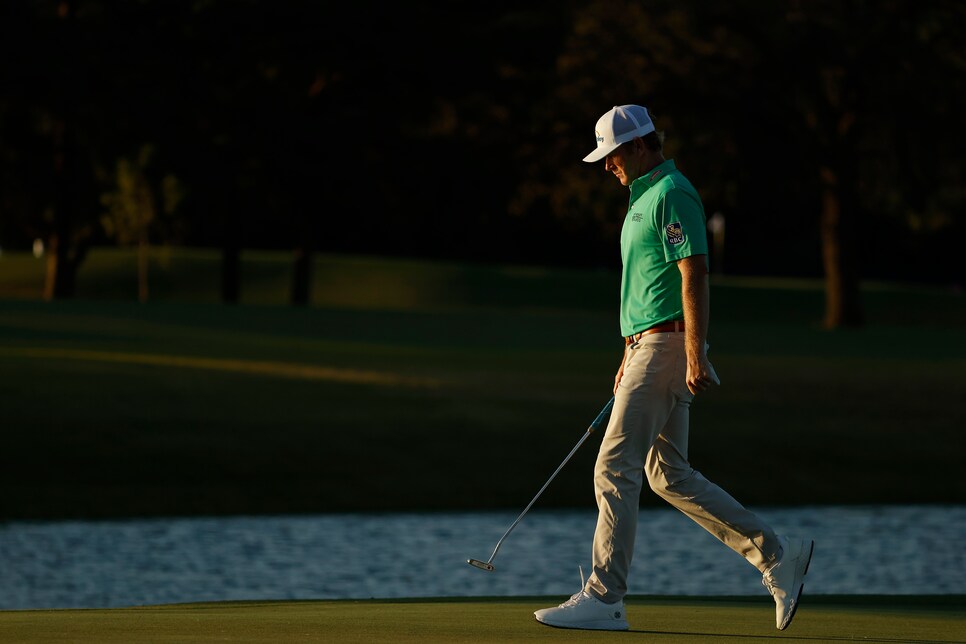 No. 90: Brandt Snedeker
Age: 40 / OWGR: 98 / '21 FedEx Cup: 128th
The good: Snedeker made the playoffs to be one of only nine players to have done so in every season of the 14-year history of the FedEx Cup. The bad: He didn't finish inside the top 100 for the first time in his career, mostly because he had only one top-10 (T-3, Torrey Pines). The nine-time tour winner starts slowly (174th in Round 1 scoring average last season), and it's tough to make that up with poor iron play (156th, SG/approach the green). —TL
No. 89: Zach Johnson
Age: 44 / OWGR: 97 / '21 FedEx Cup: 45th
Johnson hasn't won since his Open triumph at St. Andrews in 2015. However, after back-to-back years that signaled he was running out of gas (154th in FEC in '19, 105th in '20), the two-time major champ made the cut in each of his six starts this fall, highlighted by a T-8 at the U.S. Open and T-6 as the RSM Classic. His continued lack of pop (189th in SG/off-the-tee) does him no favors yet Johnson's short game (15th SG/putting) and ability to dodge a big number (15th in bogey avoidance last season) will keep him formidable despite turning 45 in February. —JB
No. 88: Cameron Tringale
Age: 33 / OWGR: 103 / '21 FedEx Cup: 39th
Had just one top-10 last year but kept his card comfortably thanks to 14 made cuts in 17 starts. Finished third in his last start of 2020 at the RSM Classic off a final-round 62. Terrific iron player, he ranked an ultra-impressive eighth in SG/approach last year and has finished inside the top 50 each of the past three seasons. Has added some impressive pop over the past couple years—he averaged 280.3 yards off the tee in 2016-'17 but is currently averaging 303.7 during this young season. —DR
No. 87: Phil Mickelson
Age: 50 / OWGR: 66 / '21 FedEx Cup: 187th
There were some highlights for Mickelson in 2020—just fewer than the five-time major champion is used to. Lefty's best finish came at the WGC-FedEx St. Jude (T-2 and three back of winner Justin Thomas). Phil also played in the final group at Pebble Beach, watching Nick Taylor find the winner's circle. It was the 30th straight season in which Mickelson had a top-10 finish—joining Raymond Floyd and Sam Snead as the only players to accomplish the feat. The 44-time PGA Tour winner did win twice in his first two appearances on the PGA Tour Champions, but he had just three top-25 finishes on the PGA Tour—his fewest since his first full season on tour (1992). —SH
No. 86: Brendan Steele
Age: 37 / OWGR: 122 / '21 FedEx Cup: 177th
Like a baseball player in the last year of his contract, the three-time tour winner whose status runs out this season needs to prove himself in 2021. Steele struggled in the fall, ranking outside the top 110 in all five major strokes-gained metrics. If he sees improvement in SG/off-the-tee (he is -.130 in a stat so far this season after posting a plus number every year since joining the tour in 2011), there's reason to believe he's turning things back around. —RH
No. 85: Sepp Straka
Age: 27 / OWGR: 142nd / '21 FedEx Cup: 48th
In his first two years on tour, Straka made the FedEx Cup Playoffs, this despite missing 27 of 50 cuts. He's looking to make a deeper run in the postseason this year, and seven of eight cuts—with three top-25s and a top-10—so far in 2021, will go a long way in helping him do just that. If he can fix his SG/around-the-green play (155th in 2019, 178th in 2020), the rest of his game is good enough to get him to East Lake. —CP
No. 84: Keegan Bradley
Age: 34 / OWGR: 31 / '21 FedEx Cup: 55th
Webb Simpson is the poster boy for success after the ban of the anchored putting stroke in 2016. Bradley is the nightmare. In the last five seasons, the former Ryder Cupper has been no better than 149th in SG/putting. (He's 204th in eight starts in the new season.) The result: A horrible dry spell of one victory in the last eight years (2018 BMW Championship). A T-4 in October's Sanderson Farms is somewhat encouraging, since it was Bradley's first top-10 since June 2019. —TL
No. 83: Mark Hubbard
Age: 31 / OWGR: 139 / '21 FedEx Cup: 129th
Owns one of the best Twitter handles (@HomelessHubbs) in the sport and also one of its best short games, ranking 12th in total putting and 20th in three-putt avoidance last season. Was also lights-out on Thursdays (14th in Round 1 scoring) and Saturdays (seventh). But to earn his first career tour win Hubbard needs to break his Sunday curse, ranking 148th in final-round scoring last season. —JB
No. 82: Stewart Cink
Age: 47 / OWGR: 138 / '21 FedEx Cup: 4th
Ended an 11-year winless drought with his victory at the Safeway Open in September, which guarantees PGA Tour status until he becomes PGA Tour Champions-eligible in May 2023. How's that for a career? Finished T-12 in his next start after Safeway at the Sanderson Farms Classic and T-4 at the Bermuda Championship, so he's in great shape to get back to the Tour Championship for the first time since 2009. Recently split with caddie Kip Henley and will have his son, Reagan, on the bag in 2021. —DR
No. 81: Aaron Wise
Age: 24 / OWGR: 125 / '21 FedEx Cup: 19th
A final-round 63 at Mayakoba, powered by six birdies and an eagle, gave Wise a chance at his second PGA Tour title until Viktor Hovland edged him out by one. The 24-year-old also added a T-11 at the Vivint Houston Open and a T-17 Sanderson Farms Championship to start the season off strong. A T-3 at the 2020 Bermuda Championship was the highest finish for the former NCAA champion since his 2018 AT&T Byron Nelson victory. —SH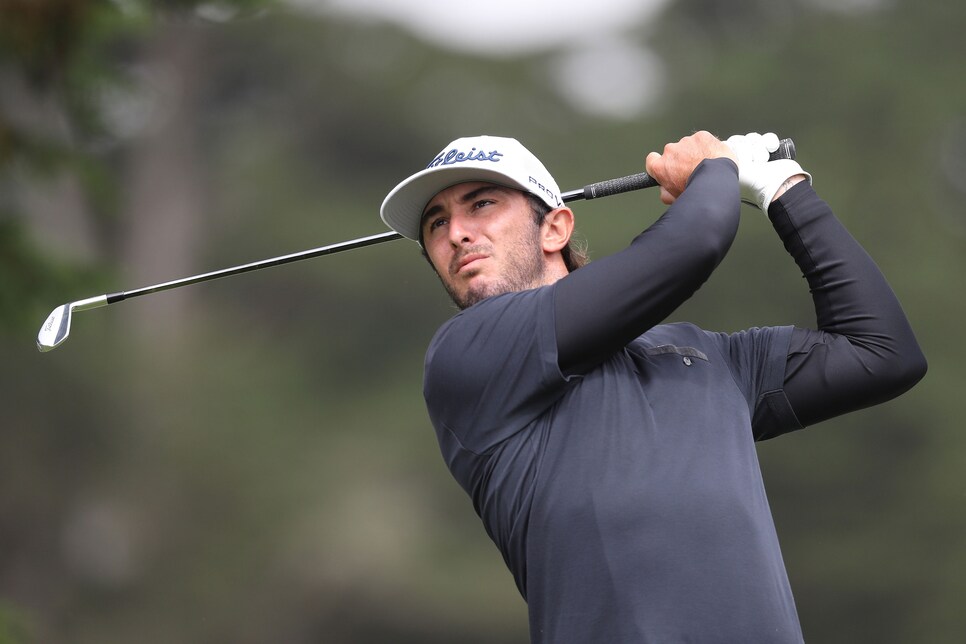 No. 80: Max Homa
Age: 30 / OWGR: 100 / '21 FedEx Cup: 117th
The Twitter darling had built some momentum in 2020, with finishes of T-9/T-6/T-14/T-5/T-24 in five straight starts before COVID-19 hit. Upon returning from the three-month layoff, Homa played 16 events and missed the cut in nine, although did post a T-3 at the 3M Open. His final three rounds of 2020 were impressive (67-65-65 for a T-12 finish at Mayakoba). Question is will the latest break derail him once more. —RH
No. 79: Charley Hoffman
Age: 44 / OWGR: 144th / '21 FedEx Cup: 54th
Between 2016 and 2017, Hoffman was much more than "first-round leader at the Masters." He ranked as high as 20th in the world, made a Presidents Cup team and amassed a career-high $4.1 million in earnings in '17 (without a win). It's been a somewhat lean three years since for the four-time winner, but he's shown signs of his 2017 self since the restart in June (four finishes of T-14 or better). —CP
No. 78: Robert Streb
Age: 33 / OWGR: 115 / '21 FedEx Cup: 11th
Can you be an honorary member of the Sea Island Mafia? Schedule Streb for the high-society hazing after his second win at the RSM Classic in November, following his only other career tour win—at Sea Island in 2015. Streb keeps his card and will play in the Masters again despite a pretty awful 2019-'20 campaign in which he made two cuts in a 10-month span and was outside the top 130 in every important strokes-gained category. —TL
No. 77: Tom Hoge
Age: 31 / OWGR: 106 / '21 FedEx Cup: 38th
Proof that one doesn't necessarily have to be consistently good to make it on tour, just really, really good in a handful of appearances: Hoge finished runner-up at the season-opening Greenbrier event in 2019-'20, followed with a T-12 at the Sony Open, T-6 at the American Express and a fifth-place finish at the WMPO … and posted just one more top-20 from February to November. Still, Hoge ended the regular season in the FEC top 40 and starts 2021 in solid position thanks to a T-3 at Mayakoba. —JB
No. 76: Danny Willett
Age: 33 / OWGR: 67 / '21 FedEx Cup: 162nd
Missed the playoffs last season as he struggled to find fairways (162nd in driving accuracy) and greens (189th in greens in regulation). Still has status thanks to his 2016 Masters victory, and has had some really nice results in Europe, but hasn't managed to bring the form stateside—ranking outside the top 150 in scoring average for all four rounds, as well as par-3, par-4 and par-5 scoring average. —DR
No. 75: Martin Laird
Age: 38 / OWGR: 85 / '21 FedEx Cup: 12th
The Scot earned his first PGA Tour title since 2013, winning the Shriners Hospitals for Children Open in a playoff over Matthew Wolff and Austin Cook in October. It was Laird's fourth tour victory and his second at TPC Summerlin. Laird, playing on a sponsor's exemption that week after knee surgery, entered the week ranked 358th in the world and had not had a top-10 on tour in 30 months. —SH
No. 74: Henrik Stenson
Age: 44 / OWGR: 65 / '21 FedEx Cup: 131st
If you have inside knowledge of Stenson's "give-a-damn" meter, you could make a pretty handsome reward or you'll know to stay away from the Swede. If Stenson is committed to life on the PGA Tour in 2021, he's still got the game to win/contend. But there's a perceived contentment, having gotten his major in 2016, that suggests he might be going through the motions. Only catch would be if making an eighth European Ryder Cup team gets the old motivator revving again. —RH
No. 73: Andrew Landry
Age: 33 / OWGR: 105th / '21 FedEx Cup: 78th
To steal a fantasy football term, Landry is boom-or-bust. The Texan missed four of five cuts prior to his first win at the 2018 Valero Texas Open, and missed half of his cuts in 2020 while also picking up win No. 2 at the AMEX. Not elite in any area, but can be on any given week. When that happens, he's twice proven he can close the deal, giving him as many tour victories as Tony Finau, Scottie Scheffler, Tommy Fleetwood, Louis Oosthuizen and Abraham Ancer, combined. —CP
No. 72: Matt Wallace
Age: 30 / OWGR: 50 / '21 FedEx Cup: NA
The Englishman who played at Jacksonville State has been a quick learner. He won three times in his European Tour rookie season of 2018 and tied for third in his first PGA Championship start in '19. But Wallace stepped up in class this year, splitting time between the PGA and European tours, and a T-4 at the Memorial was the lone standout finish in the States. Clearly, he's much more comfortable elsewhere, with two runners-up over the last three months (in Scotland and Dubai) on the Euro Tour. —TL
No. 71: Francesco Molinari
Age: 38 / OWGR: 112 / '21 FedEx Cup: 152nd
Over the past 12 months, Molinari has dropped nearly 100 spots in the rankings, a fall spurred by his decision to sit out most of 2020 due to family reasons. Still, with a promising T-15 at the Houston Open in the fall, there's reason to believe the 2018 Open champion can revive the form that made him one of the preeminent ball-strikers (third in SG/approach in '17, 10th in SG/approach in '18) not long ago. —JB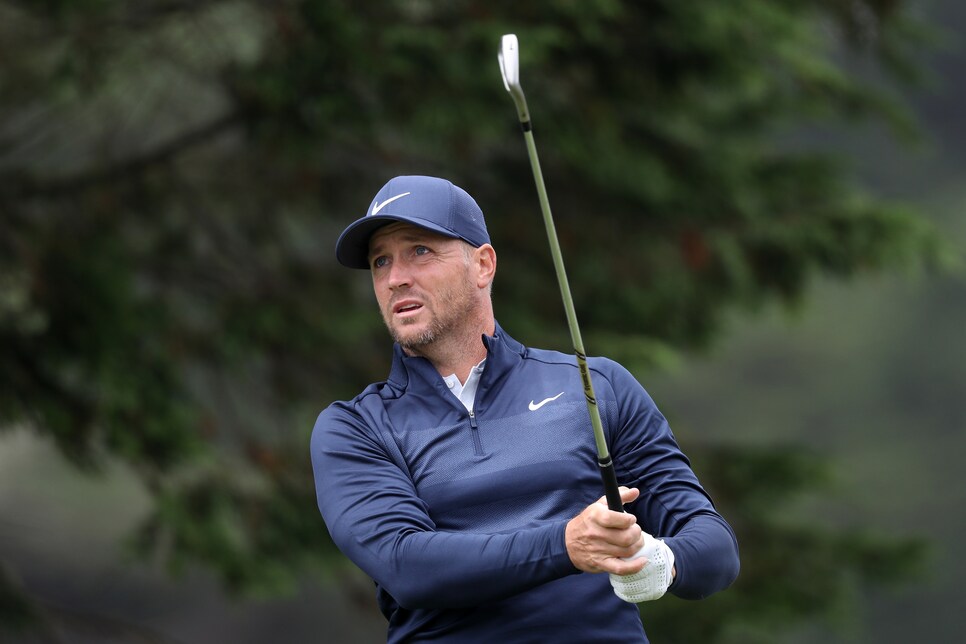 No. 70: Alex Noren
Age: 38 / OWGR: 94 / '21 FedEx Cup: 88th
Found form toward the tail end of last season, posting three top-10s in his last five starts to finish 52nd in the FedEx Cup. Still a long ways off his form of 2016, when he won four times in Europe and reached as high as World No. 8. Fell off considerably in 2019 as he tried to add a right-to-left shot to his arsenal, but has since returned to playing almost exclusively cuts. Works tirelessly on his swing—his exaggerated pre-shot routine is a fan-favorite—but currently ranks outside the top 200 in SG/off-the-tee, SG/approach and SG/putting in his six starts this season. —DR
No. 69: Si-Woo Kim
Age: 25 / OWGR: 95 / '21 FedEx Cup: 72nd
The 2017 Players champion tied his best career major finish with a T-13 at the 2020 PGA Championship (matching his T-13 at the '17 U.S. Open), as he sat just four back of the lead heading into the final round at TPC Harding Park. The South Korean held a two-shot lead after 54 holes at the 2020 Wyndham Championship after opening 65-65-62, but Jim Herman edged him with his final-round 63. —SH
No. 68: Shane Lowry
Age: 33 / OWGR: 33 / '21 FedEx Cup: 86th
Just how much will the (still) reigning Open champion play in the U.S. in 2021? That will ultimately determine whether he factors in the FedEx Cup race or not. The Irishman played a lot (for him) in America in 2020 (17 starts) but mostly out of convenience after deciding to come over for the COVID restart. Chances are he'll do so again in the run-up to the Masters, then circle back to Europe for the summer to make sure he grabs a Ryder Cup spot. —RH
No. 67: Talor Gooch
Age: 29 / OWGR: 81st / '21 FedEx Cup: 36th
After collecting just two top-10s in 24 starts in 2019-'20, Gooch has already had two since October (fifth at Shadow Creek, fourth at Houston). Improvement in SG/around-the-green has helped (ranked 133rd in 2019, currently ranks 34th), but to creep into the OWGR top 50, the former Oklahoma State Cowboy will need to make his iron play great again. He finished 15th in SG/approach in 2019 and has fallen off in that area since (86th in 2020, currently 115th). —CP
No. 66: Jordan Spieth
Age: 27 / OWGR: 82 / '21 FedEx Cup: 166th
We used to debate when Spieth would win his fourth major. Now it's IF he'll win another tour event. Harsh? No one has fallen farther faster than the guy who won 11 times in his first four years and has hardly come close to raising a trophy since hoisting the claret jug in '17. An 81 on Friday in this year's U.S. Open was a low point among many. What do we harp on? Just about everything, starting with awful driving and iron play (90th, SG/tee-to-green), but emphatically ending with the putter. Spieth went from No. 2 in SG/putting in 2019 to 105th in '20. (It's not getting better; he's 126th in the current season.) —TL
No. 65: Adam Hadwin
Age: 33 / OWGR: 78 / '21 FedEx Cup: 151st
Has quietly become a consistently solid tour pro, finishing 54th or better in the FEC four consecutive seasons. Not the flashiest of players, though doesn't have any glaring weaknesses, either. However, to earn his second career tour win, Hadwin needs to clean up his Saturdays, which have been bugaboos (127th in Round 3 scoring in '18, 99th in '19, 135th in '20) the past few seasons. —JB
No. 64: Matt Kuchar
Age: 42 / OWGR: 37 / '21 FedEx Cup: 161st
Missed the Tour Championship for the second time in three years last season after making it to East Lake eight straight times. Between those relatively down years, though, was a two-win 2018-'19 campaign, so we're less inclined to attribute the downturn to age than to a simple rut in ball-striking—he finished outside the top 100 in both SG/off-the-tee and SG/approach. No lack of motivation here, even as he moves into the fat part of his 40s, and he did win the QBE Shootout exhibition alongside Harris English in December—read into that as you will. —DR
No. 63: Brian Harman
Age: 33 / OWGR: 91 / '21 FedEx Cup: 57th
Though it was another consistent season for Harman (making 17 of 22 cuts), the diminutive lefty had only one top-10 finish, his fewest since his rookie season in 2012. The former Georgia Bulldog had top-15 finishes at The Northern Trust and BMW Championship, but he failed to make the Tour Championship. Harman held the 36-hole lead at the Shriners but stumbled in the final round, which he's done so far in the new season, ranking 156th in final-round scoring through eight events. —SH
No. 62: J.T. Poston
Age: 27 / OWGR: 72 / '21 FedEx Cup: 44th
Poston is another pro who's playing for his livelihood in 2021, his exemption for winning the 2019 Wyndham running out in August. How does he respond with that kind of pressure? If he reverts to his historic form, he'll be fine. In his four seasons on tour, he's averaged a little more than six top-25 finishes. He already has one top-10 this season (third at Sanderson Farms), so a second one would likely lock-up top 125 on the FEC points list. —RH
No. 61: Dylan Frittelli
Age: 30 / OWGR: 68th / '21 FedEx Cup: 59th
Between July and September 2019, the South African earned his first win (John Deere Classic) and finished in the top 10 twice more (Sanderson, Safeway). Has since had four finishes of T-11 or better on tour, including a T-5 at November's Masters. Added length (Frittelli has gone from 146th in driving distance to 22nd) and improved iron play and putting could make him a consistent contender in '21. —CP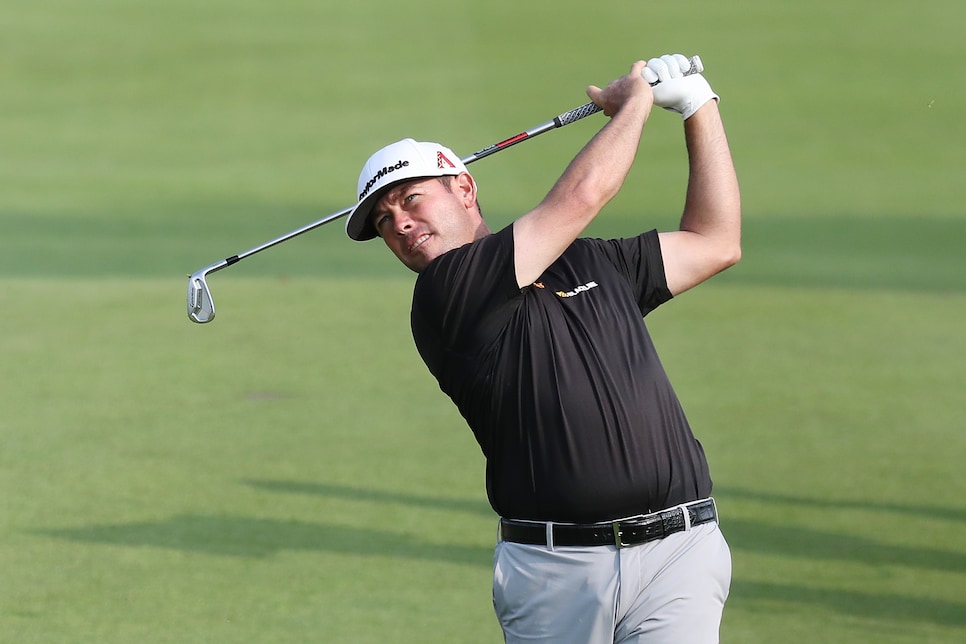 No. 60: Chez Reavie
Age: 39 / OWGR: 56 / '21 FedEx Cup: 70th
We can count on Reavie to show up on a leader board every few months and in the winner's circle once about every decade. He won for the first time in 11 years in 2019 (Travelers), and in 2020 he was T-10 in the Genesis Invitational (February), T-6 in WGC-FedEx St. Jude (August) and T-3 in the Safeway Open (September). A fine ball-striker (29th, SG/approach the green in 2019-'20), Reavie's previously decent putter failed him last season (152nd, SG/putting). —TL
No. 59: Byeong Hun An
Age: 29 / OWGR: 75 / '21 FedEx Cup: 178th
Appeared to be on the precipice of a breakthrough, boasting six top-10s from 2019 Wyndham to 2020 Players along with a commendable performance at the Presidents Cup. But struggled in the restart, missing the Tour Championship, and labored in the fall with five MCs in seven starts. Still, just a year removed from ranking seventh on tour in SG/tee-to-green. —JB
No. 58: Ian Poulter
Age: 44 / OWGR: 48 / '21 FedEx Cup: 107th
For as visible as he's been in world golf over the last decade-plus, would you believe he's won just one golf tournament in the last eight years? Turns 45 on Jan. 10 and is up against it distance-wise, his 286.8-yard average giving up a good 25 yards to most of the world's best. But he remains an elite wedge player, finishing second in approaches from 50-125 yards last year. And, we're obliged to point out, it is a Ryder Cup year, so there will absolutely be extra motivation for a guy who loves that event more than any other and knows this is likely his last legitimate chance to make the team. —DR
No. 57: Rickie Fowler
Age: 32 / OWGR: 53 / '21 FedEx Cup: 135th
For the first time since 2014, Fowler fell out of the top 50 in the world to end 2020, meaning an 11th straight appearance at Augusta National is in jeopardy. He needs a victory or to be ranked inside the top 50 in the world in the week before the Masters to earn an invitation. The five-time PGA Tour winner had just two top-10 finishes in 2020, both of which came in January. Last season also marked the first time Fowler failed to qualify for the BMW Championship in his career—his season ended after the first playoff event. —SH
No. 56: Kevin Streelman
Age: 42 / OWGR: 52 / '21 FedEx Cup: 50
The World Golf Hall of Fame is not in Streelman's future, but the former Duke grad's career is likely the envy of most of his peers. Since his rookie season in 2008, he's finished outside the top 100 in the FedEx Cup just once. He has just two wins, but has made $21 million, banking at least $1 million every season but one. And age isn't slowing him down yet; he made $2.5 million in 2019-'20, his second largest single-season payday. —RH
No. 55: Bubba Watson
Age: 42 / OWGR: 44th / '21 FedEx Cup: 49th
A three-time winner in 2018, Watson has yet to win since, but seems to be closing in on No. 15 as of late, having finished T-7 or better five times in his last 21 starts. The putter could be beyond saving (Watson has finished outside the top 100 of SG/putting in nine of the last 11 seasons), but his elite off-the-tee and tee-to-green play (currently ranked seventh and fourth, respectively) always have him one hot putting week away from another win. —CP
No. 54: Gary Woodland
Age: 36 / OWGR: 39 / '21 FedEx Cup: 223rd
There is clearly something not right with Woodland these days. Always one of the tour's bombers, he's only averaging 297.2 yards in the new season (ranked 125th), signaling he's likely still suffering from the back problems that forced him to withdraw from the Zozo Championship in October. (Since then, he's missed two cuts.) It's unfortunate for the 2019 U.S. Open champion, who's had a respectable six top-10s, though no wins, since his major breakthrough at Pebble Beach. —TL
No. 53: Doc Redman
Age: 23 / OWGR: 89 / '21 FedEx Cup: 41st
Doesn't get the love as other rising talents, but the just-turned 23-year-old was terrific in his first full season on tour with seven top-25s and already has two top-fives in 2020-'21. While others get in done with power, Redman opts for precision, ranking 13th in driving accuracy and 12th in greens in regulation. If he can get right with his short game (183rd in SG/around-the-green last year, 250th in the category in 2020-'21) Redman could be in for big things. —JB
No. 52: Erik van Rooyen
Age: 30 / OWGR: 51 / '21 FedEx Cup: 122nd
The South African is playing his first season as a PGA Tour member after securing his card through non-member points. Had to withdraw from his first Masters with a bad back, and finished the year at No. 51, one spot out of getting a Masters invite for April. Tough breaks. Very good ball-striker would have ranked 32nd in SG/off the tee and 51st in SG/approach had he played enough rounds to qualify for official stats last season. Figures to play both the PGA and European tours, but lives in Florida and played collegiately at the University of Minnesota, so the PGA Tour will be the top priority. —DR
No. 51: Lee Westwood
Age: 47 / OWGR: 36 / '21 FedEx Cup: 123rd
Westwood added his 25th European Tour victory in January and a runner-up at the DP World Tour Championship was enough to give him his third Race to Dubai title in 2020, 20 years after his first. The Englishman played mostly on the Euro Tour in 2020 but had a T-4 at the Honda Classic before quarantine and added a T-13 at the U.S. Open at Winged Foot. —SH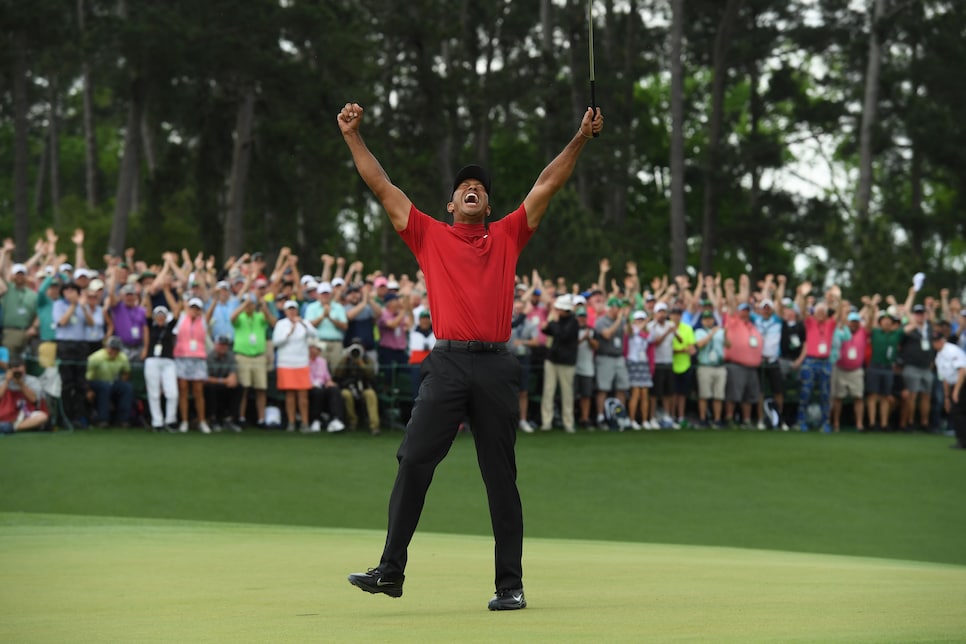 No. 50: Tiger Woods
Age: 45 / OWGR: 41 / '21 FedEx Cup: 189th
The first rule when forecasting Tiger's future is never underestimate Tiger. So we're not saying he won't win again, be a factor in majors or dominate headlines throughout 2021. Howevahhh … it would appear a confluence of events, some out of his control (weather, how he slept the previous night, etc.), must occur for Woods to be at peak form for any given round, let alone four straight. Woods has the luxury of limiting his schedule to best allow this confluence to occur, but even then, luck and randomness are real hurdles, especially when you stop to realize Tiger has broken 70 just twice in his last 14 rounds, the worst stretch since early 2015. —RH
No. 49: Harry Higgs
Age: 29 / OWGR: 121st / '21 FedEx Cup: 29th
Golf Twitter's new favorite player already has a pair of runner-ups in 31 career PGA Tour starts, in addition to seven other top-25s. The SMU alum makes plenty of birdies and eagles, but the approach play will have to get better if he wants to get back inside the OWGR top 100 (ranked 161st in SG/approach last year). —CP
No. 48: Joel Dahmen
Age: 33 / OWGR: 64 / '21 FedEx Cup: 79th
If you think a guy with a wide-brimmed bucket hat is a bore, you need to check out this guy's social media—the highlight of 2020 being his scripted outfit for the U.S. Open with his head imposed on a "Borat" character wearing a "mankini" and Chevy Chase's Ty Webb in "Caddyshack." The golf? It was OK before the pandemic halt (four top-10s) but not so much after, though there was a T-10 in the PGA Championship. —TL
No. 47: Kevin Na
Age: 37 / OWGR: 38 / '21 FedEx Cup: 103rd
Probably doesn't come to mind when thinking of the top 30 or so players on tour, yet reached the Tour Championship for the fifth time in the past seven seasons. Perennially overlooked as a Ryder and Presidents Cup candidate, where his lights-out short game is desperately needed for the American squad. Can improve his case for U.S. selection at Whistling Straits by becoming a presence at majors (just two top-10s in the last decade). A T-13 at the 2020 Masters is a good start. —JB
No. 46: Corey Conners
Age: 28 / OWGR: 54 / '21 FedEx Cup: 27th
Sweet-swinger has blossomed into one of the better ball-strikers on the PGA Tour—last season, he finished 13th in SG/off-the-tee, 12th in SG/approach and sixth in greens in regulation. Has already played nine times this season and finished the year with five straight top-25 finishes, highlighted by a top-10 at the Masters. One of those players who tends to find himself with a chance when has a good putting week, but those were few and far between in 2019-'20. Canadian should factor in the Presidents Cup picture for years to come. —DR
No. 45: Russell Henley
Age: 31 / OWGR: 57 / '21 FedEx Cup: 28th
Henley came close to earning a victory in 2020 with back-to-back top-five finishes at the CJ Cup and the Zozo in October, and he had six top-10 finishes in the calendar year. The three-time PGA Tour winner finished last season ranked third in SG/approach, and over the past 50 rounds, he's first in that category, per FantasyNational.com. —SH
No. 44: Jason Day
Age: 33 / OWGR: 43 / '21 FedEx Cup: 76th
For a stretch just after the tour resumed play in June, the Aussie showed signs his old game was returning, with four straight top-10s including a T-4 at the PGA. Sadly, though, it appeared to be another J-Day tease as he flamed out in the FedEx Cup playoffs, finished T-38 at the U.S. Open and missed the cut at the Masters. Few think the talent has disappeared to keep him from becoming his once-dominant self. But nagging injuries make it hard to trust that it can happen. —RH
No. 43: Billy Horschel
Age: 34 / OWGR: 42nd / '21 FedEx Cup: 77th
The proud Florida Gator rode the hot hand J.R. Smith-style between 2014 and 2018, but has since become a much more consistent player, making 46 of his last 53 cuts on tour. It hasn't resulted in any victories since his team win with Scott Piercy at the 2018 Zurich, but with five finishes of T-9 or better since last February, he could be gator-chomping on the 72nd green again soon. —CP
No. 42: Will Zalatoris
Age: 24 / OWGR: 59 / '21 FedEx Cup: NA
Forget Dustin Johnson and Justin Thomas. Pound for pound, this was the hottest golfer on the planet in 2020. In 16 starts on the Korn Ferry Tour, Zalatoris posted 10 top-10s and won in Colorado, and though he leads the standings in the circuit's marathon season, Zalatoris may never look back. He gained Special Temporary Membership on the PGA Tour for 2020-'21 after earning three top-10s in his first four starts of the new campaign, including a T-6 in the U.S. Open. He's surged on the strength of stellar iron play (10th, SG/approach to green in new season), and one can only imagine his success if the putter wasn't so balky (143rd, SG/putting). —TL
No. 41: Sergio Garcia
Age: 40 / OWGR: 46 / '21 FedEx Cup: 10th
Was his win in October at the Sanderson Farms Championship—his first on tour since the 2017 Masters—a one-off or sign that Garcia is capable of a late career rejuvenation? Harsh as that sounds, the Spaniard has missed the playoffs in two of the three seasons since his Augusta triumph, and hasn't made the weekend in nine of his past 11 major starts (Garcia skipped the 2020 Masters due to a positive COVID-19 test). Sergio turns 41 in early January yet remains one of the tour's best drivers, ranking third in SG/off-the-tee in '19-20 and sixth in the category this season. —JB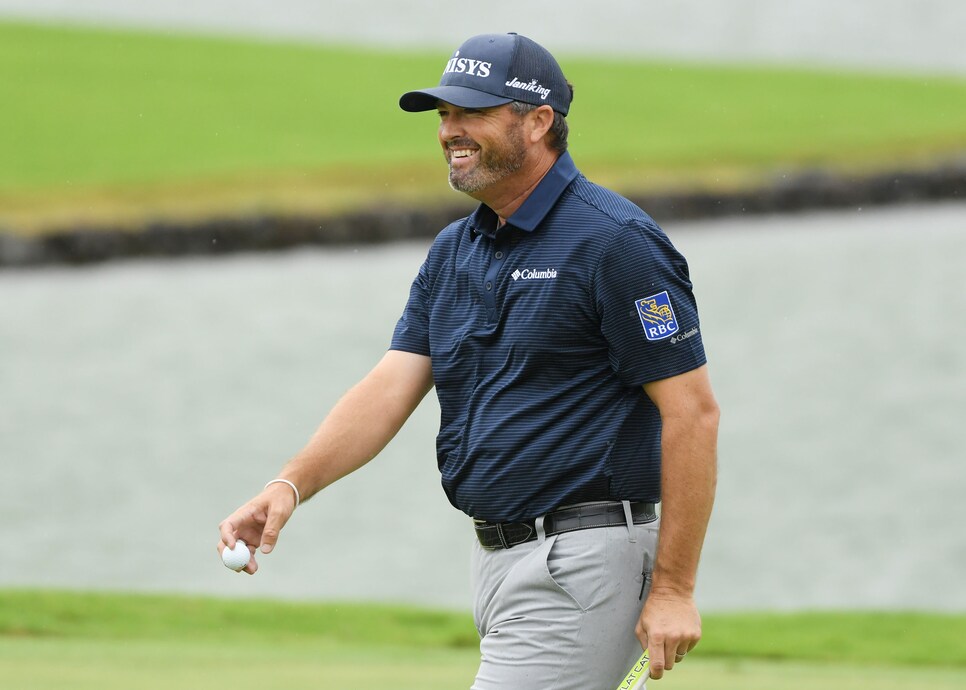 No. 40: Ryan Palmer
Age: 44 / OWGR: 30 / '21 FedEx Cup: 71st
This was one of the best years of his career, no small feat for a 44-year-old. Didn't win but a solo second at Memorial highlighted a five top-10 season, and he reached the Tour Championship for the first time since 2014. Nothing jumps off the page statistically—he's just a well-rounded player who knows his game, trusts his fade and plays within himself. Missed the cut in the U.S. Open but rebounded strongly, finishing the year with a T-34, T-17 and a T-4 at the Zozo Championship. Took November off and only played the QBE Shootout in December, so he'll be rearing to start his season at the Sony Open in Hawaii, site of one of his four PGA Tour victories. —DR
No. 39: Mackenzie Hughes
Age: 30 / OWGR: 49 / '21 FedEx Cup: 34th
A solo third in Puntacana in the fall catapulted Hughes into the top 50 in the world for the first time in his career following a stellar 2019-'20 season. The Canadian qualified for the Tour Championship for a first time in 2020 following a runner-up at the Honda Classic and four top-10s, including a T-10 at the BMW Championship. He made a clutch par on the final hole to secure a spot at East Lake, locking up a second consecutive appearance at Augusta. —SH
No. 38: Jason Kokrak
Age: 35 / OWGR: 26 / '21 FedEx Cup: 7th
In his 10th season on tour, Kokrak finally got his first win in October (CJ Cup). His reputation as a bomber proceeds him. Less well known is how steady a performer he is; the former Xavier college star has never earned less than $1 million in any year on tour since 2013. If he keeps up the putting he displayed in the fall, a multiple-win season is no long shot. —RH
No. 37: Marc Leishman
Age: 37 / OWGR: 29th / '21 FedEx Cup: 130th
Outside of Hideki Matsuyama, no player was hurt more by the lockdown than the Big Aussie. He'd finished third at Safeway the previous fall, first at Torrey and third at Bay Hill. Post restart, he was downright awful, missing five of 12 cuts with a high finish of T-40 prior to his T-13 at Augusta National. While that seemed to be a good sign, he missed the cut in his next start at Mayakoba. It's hard to imagine this continuing for a player of his caliber. Expect pre-COVID Leishman to show up in 2021, and not this post-COVID impostor. —CP
No. 36: Lanto Griffin
Age: 32 / OWGR: 63 / '21 FedEx Cup: 74th
Griffin is one of those guys who every struggling 30-something pro points to and says, "If he can do, so can I." In his years struggling in golf's minors, the Virginian admitted being close to giving up "20 to 30 times," but then he went from broke to bona-fide when he won the 2019 Houston Open, setting himself up for a T-18 in the 2019-'20 FedEx Cup standings. Griffin makes a ton of birdies (356 to rank third last season) and has proven he belongs by making 25 checks in his last 33 starts. —TL
No. 35: Cameron Champ
Age: 25 / OWGR: 71 / '21 FedEx Cup: 89th
The knock on Champ is that he's a one-trick pony, a player with unlimited power who is limited by everything else. Last year's stats don't dispute that notion: second in SG/off-the-tee, 131st in SG/approach, 179th in SG/around-the-green, 136th in SG/putting. However, Champ is not so much limited as he is raw, only 25 with just two full tour seasons under his belt. And contending at last year's PGA Championship coupled with a T-19 at his Masters debut show Champ is more than just muscle. Has been better through five fall starts with his irons (58th in SG/approach), yet desperately needs to figure out his flat stack, which is costing him over a stroke to the field per round (259th in SG/putting). —JB
No. 34: Adam Long
Age: 33 / OWGR: 62 / '21 FedEx Cup: 21st
Not exactly a superstar, but the results speak for themselves. Was an all-time unlikely winner when he beat Phil Mickelson at the 2019 Desert Classic, and while he struggled mightily the rest of that year, showed nicely last season with two runner-up finishes to finish one spot outside the Tour Championship. Already has four top-25 finishes and two top-10s in 2020-'21, including a T-3 in his last start of the year in Mexico, and 12 of his last 14 competitive rounds have been in the 60s. Ironically, the Duke graduate is not a very long hitter, finishing 142nd in driving distance last season. —DR
No. 33: Sebastian Muñoz
Age: 28 / OWGR: 60 / '21 FedEx Cup: 46th
Muñoz defeated Sungjae Im in a playoff at the 2019 Sanderson Farms Championship and added three other top-10s and eight top-25s in the 2019-'20 season to earn a spot in his first Tour Championship. In just his fifth appearance in a major and his first at the Masters, the Colombian carded three under-par rounds to finish T-19 in November at Augusta National. —SH
No. 32: Carlos Ortiz
Age: 29 / OWGR: 61 / '21 FedEx Cup: 6th
Ortiz's maiden tour win at November's Vivint Houston Open was one of the feel-good stories from the fall. It also wasn't a fluke. The Mexican golfer has seen his game steadily improve since getting back on tour in 2018. In his last 28 starts, he's had five top-10s. And his SG/total and SG/tee-to-green are career bests .812 (ranking 66th on tour) and .840 (T-51) through the fall. —RH
No. 31: Justin Rose
Age: 40 / OWGR: 35th / '21 FedEx Cup: 113th
A pair of career years in 2017 and 2018 saw the Englishman grab the No. 1 World Ranking, but it was short-lived. Rose (now infamously) signed an equipment deal with Honma in January 2019, and it went so poorly that he split with the Japanese club manufacturer this past May. Getting out of the deal seems to have paid off, so far, with Rose tying for third at Colonial and finishing ninth at the PGA. A repeat of 2018 will be difficult (Rose ranked 21st or better in every major SG category that year), but going back to his TaylorMade clubs helped him close the gap in the latter half of 2020. —CP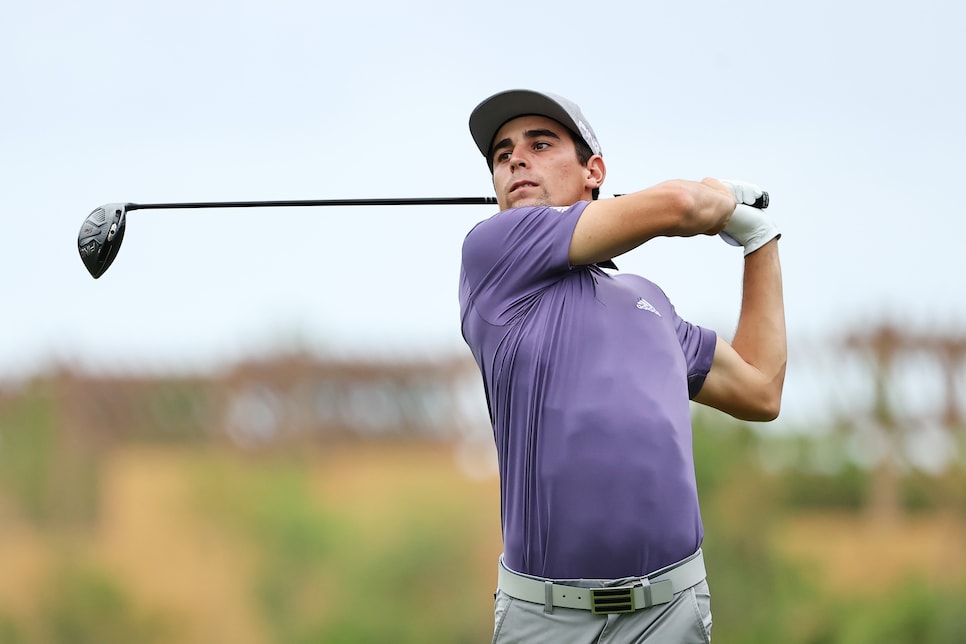 No. 30: Joaquin Niemann
Age: 22 / OWGR: 45 / '21 FedEx Cup: 35th
Clearly due for a win after two impressive years on the PGA Tour, the intense young Chilean eliminated any question for 2019-'20 when he won his season opener at The Greenbrier with a 21-under total. Three notable top-five finishes would follow, including a T-3 in the FedEx Cup Playoffs' BMW Championship. He's an upper-echelon ball-striker and would clearly win more if not for his struggles on the greens (146th, SG-putting last season). —TL
No. 29: Paul Casey
Age: 43 / OWGR: 24 / '21 FedEx Cup: 114th
Casey was transparent that his golf priorities went "out the window" after the tour suspended operations due to COVID, and that he wasn't 100 percent comfortable when he returned following the restart. That Casey still nearly won the PGA Championship (T-2, two behind Collin Morikawa) in spite of those reservations is a testament to how much game he possesses. He turns 44 in July, so it's fair to wonder how much Casey—who averaged seven top-10 finishes per season from 2015 to 2019—has left. Yet with the Ryder Cup serving as a proper carrot envision another strong campaign from the Englishman in 2021. —JB
No. 28: Adam Scott
Age: 40 / OWGR: 21 / '21 FedEx Cup: 142nd
Now north of 40, Scott got all the way back to World No. 6 in February after winning the Genesis Invitational at Riviera. He's tumbled down the rankings since, but that's due more to inactivity than poor play—he played just nine times in 2020, as he chose to remain in Australia for a while right when the PGA Tour resumed play. Still drives it plenty long enough (he ranked 19th in driving distance last season) and is putting it beautifully with the broomstick he's had in the bag for years. Would likely be much higher on this list if he simply played more golf. With 14 PGA Tour wins, a major and a Players Championship, he's fringe Hall-of-Fame status already, and he's not close to finished yet. —DR
No. 27: Brendon Todd
Age: 35 / OWGR: 47 / '21 FedEx Cup: 85th
It'd be tough for any player to replicate Todd's incredible stretch of success in Fall 2019, winning two straight events then bringing the 54-hole lead into a third—made even more remarkable after he considered quitting the game. The 35-year-old nearly backed it up with wins in 2020 but couldn't convert on 54-hole leads at the Travelers Championship and the WGC-FedEx St. Jude. He also held the first-round lead at the 2020 PGA Championship. Todd's inconsistent Fall 2020 can be partly attributed to a weight-room accident in which he fractured a toe. We expect him to be back contending for titles in 2021. —SH
No. 26: Louis Oosthuizen
Age: 38 / OWGR: 22 / '21 FedEx Cup: 32nd
Still seeking his first win on the PGA Tour outside his 2010 Open title, the South African has always had a game predicated on the whole being greater than the sum of the parts. This fall, his approach-the-green numbers are dreadful (ranks outside the top 150 from every distance from 50 to 200 yards) but he still ranked 32nd on the FedEx Cup points list (a third at the U.S. Open helps). Is this the year he finally wins in the U.S.? Feels like "why not" is a more accurate answer than "no." —RH
No. 25: Abraham Ancer
Age: 29 / OWGR: 23rd / '21 FedEx Cup: 31st
Inspired by countryman Carlos Ortiz's Houston Open win, Ancer got into the final group at the Masters. He did not win, and hasn't yet won on tour, but it was his eighth finish of T-16 or better in a major, WGC, Players Championship or FedEx Cup Playoff event. Doesn't wow you in any one area, but consistency throughout the bag (33rd in SG/off-the-tee in '19; 41st in putting; 42nd in tee-to-green; 45th in approach) is what earned him a second straight trip to the Tour Championship at East Lake. —CP
No. 24: Cameron Smith
Age: 27 / OWGR: 27 / '21 FedEx Cup: 15th
Admit it. Is there anybody in our top 25 whom you know less about than this Aussie? Unless you favor Vegemite, you probably don't remember that Smith tied Sungjae Im for second in November's Masters, or that he won the 2020 Sony Open in Hawaii, which seems like eons ago now. Like his name, his game is rather vanilla (though his putting is well above average), but Smith racks up top-25s at an impressive clip (four out of five starts in the new season), and if that doesn't put him on your radar, his accountant is still very happy. —TL
No. 23: Tommy Fleetwood
Age: 29 / OWGR: 17 / '21 FedEx Cup: 125th
Had a promising start to last season with three top-20s, highlighted by a third-place finish at the Honda Classic that nearly reignited the American Revolution. Alas, struggled in a delayed return to the tour's restart, his best finish a T-29 at TPC Harding Park, and didn't play much better in the fall, finishing T-37 or worse (including a missed cut at the U.S. Open) in four of five starts. Oddly, the iron game, one of Fleetwood's assets, did him in, ranking 165th in SG/approach in 2019-'20 and 186th thus far in 2020-'21. Still, as Fleetwood is turning 30 in January, there is plenty of time to become the megastar his performances at Erin Hills and Shinnecock prophesied. —JB
No. 22: Hideki Matsuyama
Age: 28 / OWGR: 20 / '21 FedEx Cup: 23rd
No longer a youngin', at least by today's standards, the story remains the same on Hideki: World-class ball-striker who is held back by his putter. And this isn't just a lazy narrative; the stats back it up, too. Last season, he was second in SG/tee-to-green and 170th in SG/putting. Hard to believe he hasn't won in more than four years, given how well he hits it. Had a great chance to end that drought at November's Vivint Houston Open (finishing T-2) then took T-13 the next week at Augusta. Hardly ever misses a cut thanks to his ball-striking, and at 28, he's firmly in the prime of his career. If he ever figures out the putting—and it's a huge if—no reason he can't cash in on his talent by winning multiple majors. —DR
No. 21: Kevin Kisner
Age: 36 / OWGR: 25 / '21 FedEx Cup: 26th
The hot-putting South Carolina native had a hot finish to 2020 but couldn't convert any of his close calls to victories, including a playoff defeat to Robert Streb at Sea Island, a T-4 at The Northern Trust as Dustin Johnson recorded a PGA Tour record score and a T-3 at the Wyndham as Jim Herman carded a final-round 63. —SH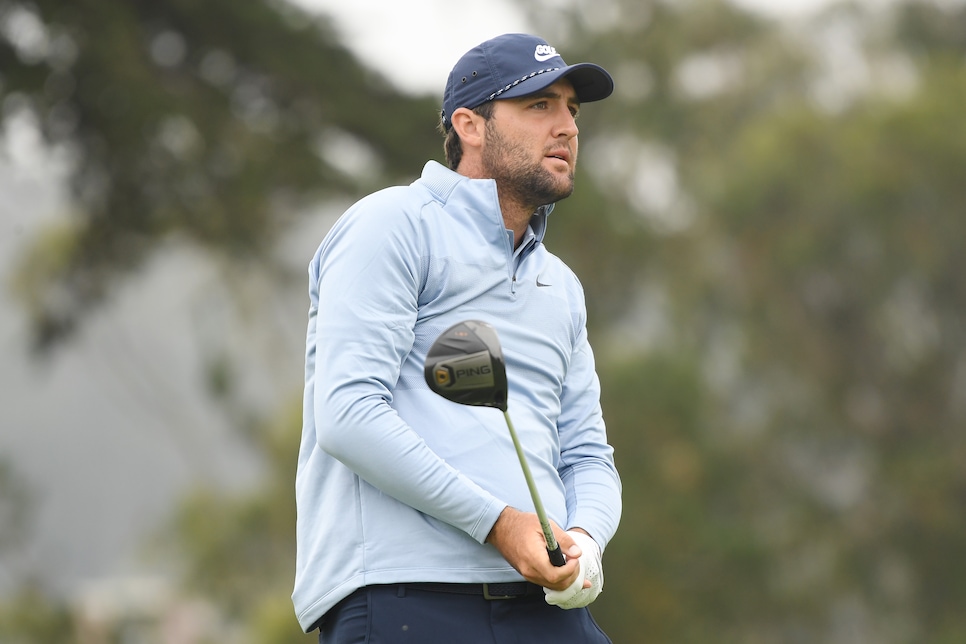 No. 20: Scottie Scheffler
Age: 24 / OWGR: 31 / '21 FedEx Cup: 92nd
You sound hip when you say Scheffler is poised to be among the next breakout stars because, well, he is. The University of Texas grad has a game built for today's tour: long and plenty straight enough off the tee, impressive with his irons and raw but reasonable around the greens. He's had seven top-10s in 29 starts on tour since becoming a full-time member. The only hitch: There's no W among them, unlike some of his fellow young guns (Morikawa, Wolff, Hovland). If that doesn't change in 2021, the tone of the conversation will slide from "give him time" to "what's taking so long?" and how he handles that will be his biggest challenge. —RH
No. 19: Tony Finau
Age: 31 / OWGR: 19th / '21 FedEx Cup: 40th
Is No. 19 too high, too low or just right for Big 'Tone? Considering his immense talent but lack of victories, it seems just right. Remarkably, the Utah native has 32 top-10 finishes on tour since his 2016 Puerto Rico Open win, but none of them are a second victory. "Just a matter of time" is not only a cliche, it's the understatement of the century for Finau. He hits it too far (Cameron Champ calls Finau the longest player on tour) and is too good tee-to-green to not finally snap a five-year win drought in '21. —CP
No. 18: Matthew Fitzpatrick
Age: 26 / OWGR: 16 / '21 FedEx Cup: 108th
The biggest win of his life didn't come on these shores in 2020, but it was enormous nonetheless, with the Englishman seizing the European Tour's season-ending DP World Tour Championship in Dubai—overshadowed only because 47-year-old Lee Westwood took the Race to Dubai title on the same afternoon. Already a six-time winner on the Old World circuit, Fitzpatrick's upside is undeniable, but he's still seeking that maiden triumph in America after five full years here. With three top-10s in 2020, he's getting closer. Fitzpatrick was fantastic with the flatstick in 2019-'20 (second, SG/putting), but not so much in five starts of the new season (171st, SG/putting). —TL
No. 17: Harris English
Age: 31 / OWGR: 28 / '21 FedEx Cup: 18th
Began the 2019-'20 season ranked 369th in the OWGR. In 26 starts since, English has posted 10 top-10s and 18 top-25s—highlighted by a fourth-place finish at the U.S. Open—to now be knocking on the world's top 20. There was no weak part of English's game last season, ranking 18th in SG/tee-to-green and SG/putting, and though the numbers aren't as dazzling in six starts this campaign, four top-10s over that stretch speak louder than stats. Should he find the winner's circle for the first time since 2013, there's a good chance English will be representing the red, white and blue at Whistling Straits. Not bad for a guy who had conditional tour status last year. —JB
No. 16: Daniel Berger
Age: 27 / OWGR: 13 / '21 FedEx Cup: 96th
Seems to be golf's forgotten man—doesn't get the same press as some of his peers who were also born in 1993 (Justin Thomas, Jordan Spieth, Xander Schauffele or Bryson DeChambeau) and missed out on November's Masters despite ranking inside the top 15 in the world the week of. Fell outside the top 150 in 2019 as he struggled with a wrist injury, but bounced back to put together an extremely impressive 2020: A win over a major-caliber field at Colonial, a runner-up at the WGC in Memphis and two third-place finishes. You won't find his swing in any instructional manual, but he's an extremely well-rounded player who finished inside the top 35 in all major strokes gained categories in 2020-'21. Absolutely a contender to make this year's Ryder Cup team. —DR
No. 15: Sungjae Im
Age: 22 / OWGR: 18 / '21 FedEx Cup: 20th
The Masters first-timer impressed in November, finishing runner-up and carding a tournament-high 24 birdies, tied for the fourth-most in Masters history. The 2019 PGA Tour Rookie of the Year starred at the Presidents Cup and earned his first victory at the 2020 Honda Classic. The South Korean star led the tour in birdies made (390) and under-par rounds (64) in the 2019-'20 season, making the cut in 21 of 26 starts. —SH
No. 14: Patrick Reed
Age: 30 / OWGR: 11 / '21 FedEx Cup: 60th
No elite golfer has a bigger discrepancy in terms of subjective opinions about themselves and objective data about their game. With eight tour wins, including a major, two WGCs and two FedEx Cup Playoff events, and only 30 years old, Reed is on a path toward the World Golf Hall of Fame. He isn't as long as other top players (he has never averaged more than 300 yards off the tee in any full season on tour), but his performance around the green (never ranking outside the top 25 on tour) means he's got a chance to contend any week he tees it up. So long as the last pieces of a swing change stick, prepare to see more of the game's favorite black hat. —RH
No. 13: Tyrrell Hatton
Age: 29 / OWGR: 10th / '21 FedEx Cup: 30th
The Englishman truly exploded in 2020, but he'd been boiling in 2018 and 2019. Across the world he'd had four top-six finishes in 2018, including one at the U.S. Open, and he had three more in 2019, including a win at the Turkish Airlines Open. Wins at Bay Hill and Wentworth highlighted 2020, but he also impressed with top-fives at Harbour Town, the Rocket Mortgage Classic, the Tour Championship and the CJ Cup this past fall. Simply put, he's solidified himself as a top-10 player, and his elite approach play (fourth on tour last year, currently 26th) and solid putting should keep him in or around that OWGR top 10 for a long time. —CP
No. 12 Matthew Wolff
Age: 21 / OWGR: 15 / '21 FedEx Cup: 9th
If Wolff made an emphatic statement about his talent when he won in his fourth career PGA Tour start in 2019, to the general sporting public he was still something of an unknown when he was "that guy with the weird swing playing with Rickie Fowler" in the COVID-19 charity match that brought golf back to TV in May. That show was Wolff's true theatrical bow, and he backed it up with a string of performances that rocketed him up 112 spots in the Official World Ranking. The closing 65 for a T-4 in the PGA Championship was impressive but heading into Sunday with a chance to be the youngest player since Francis Ouimet to capture the U.S. Open—that's precocious stuff. A solo second in Bryson DeChambeau's bruising victory at Winged Foot was fine consolation, and the fact that a month later, Wolff went T-2 with a 61 in Las Vegas showed he wasn't suffering a bubbly hangover. The expectations are high, but so is the belief that a validating second win may be just around the corner. - TL
No. 11: Viktor Hovland
Age: 23 / OWGR: 14 / '21 FedEx Cup: 3rd
One could argue this is not enough respect for King Viktor. Notched a victory and nine top-25s in his first full season on tour, then doused any worries of a sophomore slump with four top-15s in five fall starts highlighted by winning the Mayakoba Classic. His strengths are impressive (18th in SG/off-the-tee, seventh in SG/approach, 22nd in scoring last season) and his weaknesses seem less like liabilities as they are works in progress (168th in SG/around-the-green, 79th in final-round scoring). That both of his wins came off 72nd-hole birdies is more than serendipity. Former OSU teammate Wolff received more hype coming out of Stillwater, and Collin Morikawa already has a major, yet it's Hovland that may have the highest ceiling out of the trio. After all, the Puerto Rico Open Curse has plagued tour players for 13 years … and it took Hovland just 19 starts to break it. —JB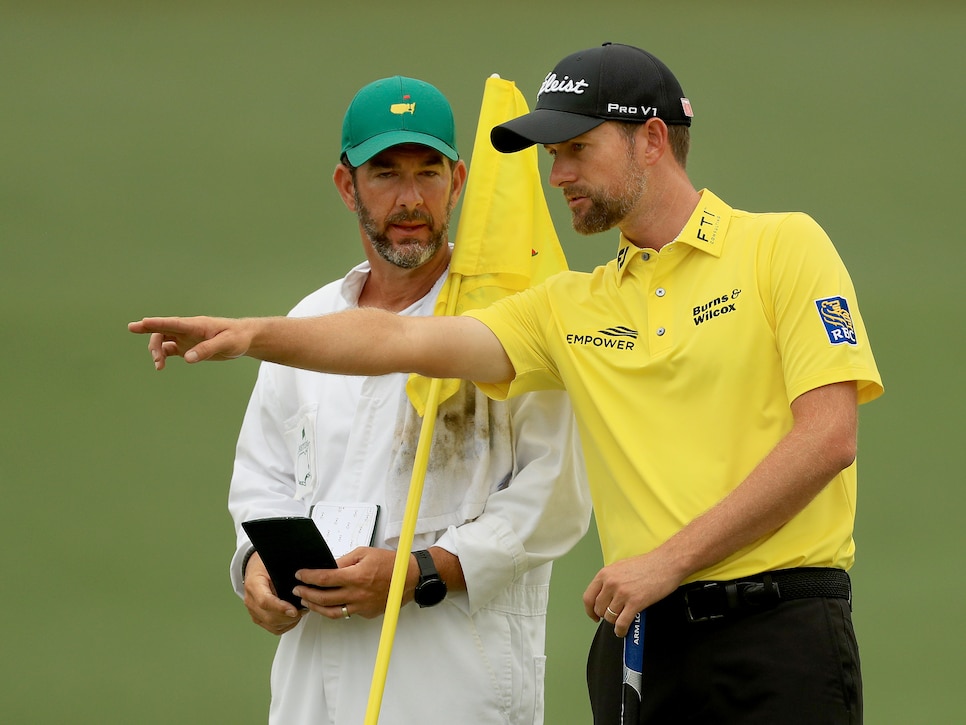 No. 10: Webb Simpson
Age: 35 / OWGR: 6 / '21 FedEx Cup: 42nd
The most dangerous man in the world … with a hybrid in his hand. Simpson squeezes more out of his game than perhaps anyone else on tour and is remarkably consistent, having missed just three cuts since June 2018. Ranked sixth in SG/approach last year, 13th in SG/putting and fourth in SG/overall, and led the tour in both birdie average and scoring average. Won twice in 2020, at the Waste Management Phoenix Open and the RBC Heritage, and nabbed top-10s in two of the three majors. Doed not have the sexiest game around, but he's been a cash machine the last couple years, and you semi-expect him to pluck off a second major soon. —DR
No. 9: Patrick Cantlay
Age: 28 / OWGR: 9 / '21 FedEx Cup: 5th
The former top-ranked amateur in the world edged Justin Thomas and Jon Rahm at the relocated Zozo Championship at Sherwood Country Club in late October, earning his third career tour win. Finished 10th in SG/total and 12th in SG/tee-to-green last season, and will likely represent the U.S. at the Ryder Cup come fall. Only nit to pick: He was a bit of a no-show in the 2020 majors, finishing T-17 at the Masters and T-43 at the U.S. Open and PGA Championship. —SH
No. 8: Collin Morikawa
Age: 23 / OWGR: 7 / '21 FedEx Cup: 124th
The Cal-Berkley All-American shouldered big expectations when he turned pro in 2019, but three tour wins, including a major, and 10 top-10s in his first 35 career starts exceeded them. In turn, Morikawa now must adjust to the new orbit he inhabits, and the even greater expectations it comes with. A missed cut at the U.S. Open and T-44 at the Masters get graded more harshly. What Morikawa has going for him is smarts, confidence and amazing ball-striking skills; even as he's "struggled" this fall, he's still 1.334 in SG/tee-to-green, which is better than last year's number that ranked fifth on tour a season's end. An off-season to absorb his upgraded golf status is likely all that's needed to get him hungry for more. —RH
No. 7: Xander Schauffele
Age: 27 / OWGR: 8th / '21 FedEx Cup: 13th
On odds boards, the X-man is often priced among the game's elite. His record (four wins) and statistics (seventh in SG/tee-to-green in '19, eighth in off-the-tee) back that up, but Schauffele has his eye on something bigger in '21: a major win. He's come as close as anyone since 2017, with seven top-10s in just 14 major starts. Now it's time to cross the finish line. —CP
No. 6: Brooks Koepka
Age: 30 / OWGR: 12 / '21 FedEx Cup: 12th
It says a lot that Koepka had a better year throwing shade on Bryson DeChambeau than anything he did with a golf club. Remember the Kenny Powers steroid GIF? Or the mocking ant-sighting in Memphis? Pointed and hilarious. The snipes, though, couldn't hide the realities of an injury-plagued campaign with only two top-10s and having to watch DeChambeau destroy Winged Foot to win the U.S. Open while Brooks was an invalid on the couch. "Pretty bad," said Koepka, summing up the season before he missed the cut in his calendar-year closer in Mexico. Koepka created otherworldly expectations when he won four majors in fewer than two years, but he could only do what his body allowed this year while fighting hip and knee injuries that forced him to rest for two months. The concern is that the ailments could hamper him long-term, but November's form suggests otherwise: T-5 in Houston, T-7 in Masters. The tour is far more interesting with Koepka in the mix, and all the better if it happens to be DeChambeau with whom he's tussling. —TL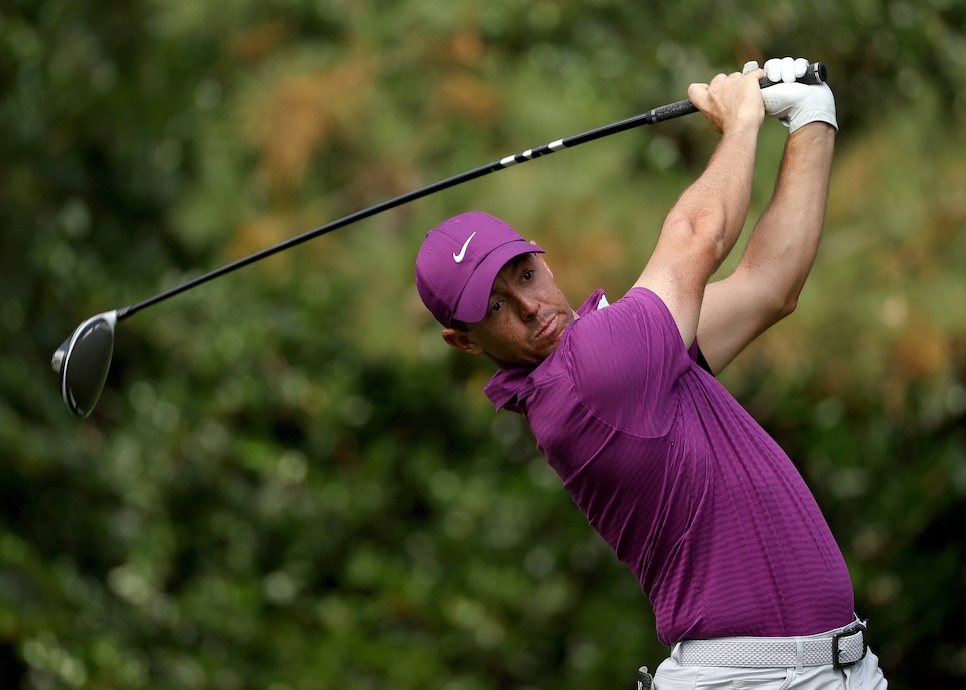 No. 5: Rory McIlroy
Age: 31 / OWGR: 4 / '21 FedEx Cup: 37th
Would have been fighting Koepka for the top spot on this list last January, and worth remembering the Ulsterman began the 2019-'20 season with six consecutive top-five finishes. While that type of heater is unsustainable over an entire year, McIlroy simply wasn't the same after the tour's restart, his lone top-10 in the second half of the 2019-'20 season (nine starts) coming at the 30-man Tour Championship. He responded with vigor in the fall with a T-8 at the U.S. Open and a T-5 at the Masters; in that same breath, he finished 12 shots back of DeChambeau at Winged Foot and eight behind Dustin Johnson at Augusta National. Besides, fair or not, McIlroy is the rare talent who is judged by trophies alone at majors, with his major drought now stretching into its seventh year. Disconcerting as that may be, McIlroy remains as formidable as ever; only a fool would bet against a bounce-back performance in 2021. —JB
No. 4: Bryson DeChambeau
Age: 27 / OWGR: 5 / '21 FedEx Cup: 2nd
Where to begin? With the driver, of course. DeChambeau's body transformation and the accompanying distance gains dominated headlines in 2020. Simply put, he turned himself from a decent hitter to the longest on the PGA Tour—he led in driving distance in 2019-'20 at 322.1 yards and he's a clear No. 1 so far this season at 337.8. It hasn't just been the driving, though—he had an underratedly great putting season, ranking 10th in strokes gained and first in putting inside 10 feet. That lethal combo saw him win the U.S. Open in dominating fashion, which prompted debates over the future of the game as well as fears that he had cracked the code to golf. Some air left the balloon at Augusta, where he made the cut on the number and never factored. As he'd be the first to tell you: Still gotta chip and putt. His gains have sparked a ball-speed chase that is sweeping golf, and all eyes will remain fixated upon his hulking body in 2021. —DR
No. 3: Jon Rahm
Age: 26 / OWGR: 2 / '21 FedEx Cup: 22nd
The only thing missing from Rahm's 2020 campaign was a major. The Spaniard was ranked inside the top three in the world for the entirety of 2020 and held the No. 1 spot for two weeks with victories at Memorial in July and the BMW Championship in August. Rahm was a 36-hole leader at Augusta National in November until a double bogey at the par-5 eighth hole derailed his chances. The five-time PGA Tour winner is currently one of the top three favorites in all four majors in 2021—watch out for him at Torrey Pines at this year's U.S. Open. —SH
No. 2: Justin Thomas
Age: 27 / OWGR: 3 / '21 FedEx Cup: 8th
There is a consistency with which Thomas plays tour events that's both impressive and underappreciated. Since the beginning of the 2017-'18 season, the Kentucky native has made 66 starts. In that time, he's missed just seven cuts (10.6 percent), which is the same number of tournaments that he's won. He's had 30 top-10 finishes (45.45 percent) and 52 top-25s (78.78 percent). If not for a few surprising Sunday slides in the last three tournaments that he's held a 54-hole lead, he would be the "it" golfer we're all talking about, rather than Johnson or DeChambeau. That's something JT can fix as a potentially monster year in 2021 awaits. —RH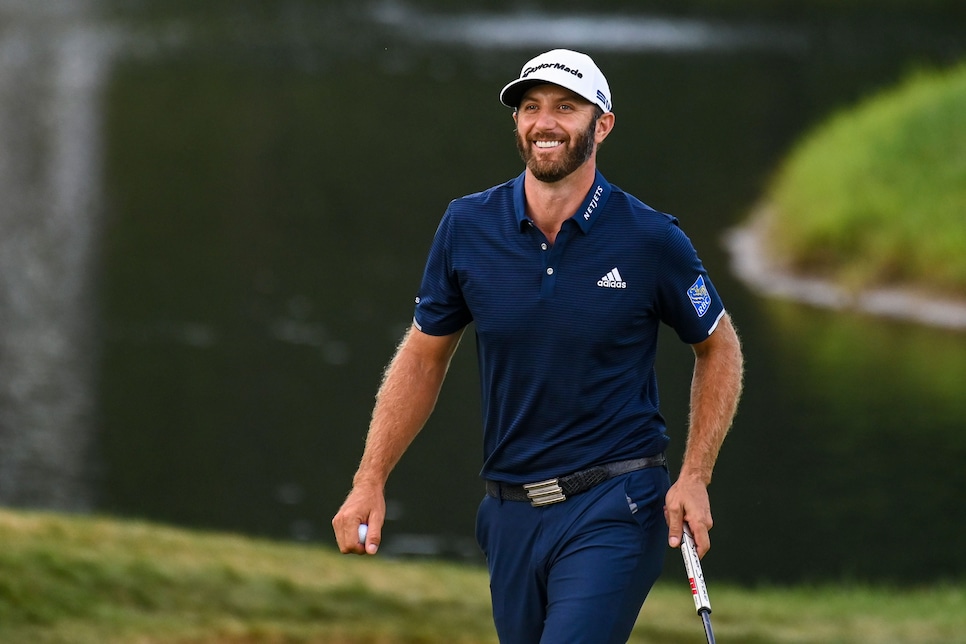 No. 1: Dustin Johnson
Age: 36 / OWGR: 1 / '21 FedEx Cup: 1st
The Masters victory helped, but he didn't even need it to establish himself as the clear-cut No. 1 player in the world. DJ had a peak-Tiger-like season in 2019-'20: Four wins (all coming after the restart), three runner-ups (including PGA), plus the FedEx Cup crown. There are few better off-the-tee and tee-to-green, and now that he's combined that with a steady putter and elite wedge play, it's almost unfair when he's on. "See ball, hit ball, see putt, hole putt, go to the next … He makes it look so simple," said McIlroy when describing Johnson's game at the Masters. Reminder: It's not that simple, as Johnson found out when he consecutively shot rounds of 80, 80 and 78 during a poor stretch in July. Of course, he proceeded to go T-12/T-2/1/2/1/T-6/T-2/1 in his next eight starts. For DJ, maybe it really is that simple. —CP