Cover Story
Patrick Reed confronts his image and his critics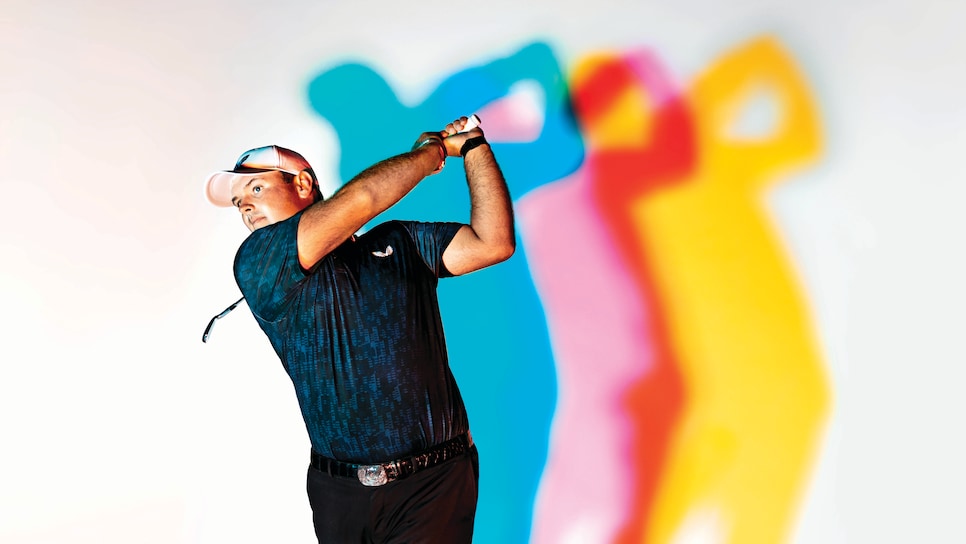 Patrick Reed has a beautiful young family, a green jacket, nine wins and has represented the United States seven times at the Ryder Cup, Presidents Cup and Olympics. At age 30, it's the foundation of what could become a Hall of Fame career. But how brightly these accomplishments would otherwise shine has been dimmed by various incidents. At this point, Reed has said all he cares to about allegations from his college days. His estrangement from his parents—who live in Augusta, Ga., of all places—has been reported. The same nosiness that draws people to tabloids might cause musings, but the only clear fact is that real pain exists, which Reed isn't ready to talk about publicly. The other real pain belongs to his wife, Justine, who has "cried so many times behind my sunglasses" hearing spectators shout invectives toward her husband. Golf Digest visited with the Reeds at Coral Creek Club in Placida, Fla., where they were recently invited to join and paid the full initiation fee. "We've found a lot of happiness and solace here," Justine says of their family, which includes daughter, Windsor-Wells, 6, and son, Barrett, 3. (The members and staff had nothing but good things to say about the Reeds.) This was our conversation with Patrick, edited for concision and clarity.
Your ability on the course is plain to see, but the golf world wants to know the man. Where should we start?
There are three types of players on tour. The chatty guy who's always smiling and waving because that's how he plays his best. There's the guy who wears emotion on his sleeve, lets everyone know when he's playing well and throws clubs when he's not. The third guy has tunnel vision and blocks out everything around him. That's how I've tried to be, and this ability to flip the switch and focus is why I've been successful. But it's led to this false narrative that I don't interact with other players. When I go to the range, it's not to socialize. I'd rather get my work done, so I can get home to my family and relax. When people meet me away from the golf course, they see I'm actually nice and pretty funny, carefree, always up for hanging out and joking around.
Cover Story
Who is the real Patrick Reed?
Patrick Reed discusses his image and his critics in sit-down interview.
When you sank the putt to win the Masters, surely you felt a flood of emotions. How did this compare to hours later and the next day when the news was less about your victory and more about your family history?
When I made that three-footer, it was like a weight had been lifted. I'd always wanted to win a major, win at Augusta. It was just like, I did it. I did it. I walked off the green and got a kiss from my wife. Then I went through the scorer's tent and the awards ceremony, but the moment I'll never forget was then swinging by Butler Cabin. I didn't know they'd brought Windsor-Wells there. My little baby girl ran and hugged me and said, "I love you, Daddy. You did it," and I just melted. When your child looks to you as a hero, after all you do to raise them right to respect people and be happy, those are the moments you live for. Suddenly everything else didn't matter. So honestly, all that went on with the media later, I wasn't too concerned.
Sports fans can be brutal. Do you feel comfortable bringing your children out on tour?
Depends on the event. Some places get worse than others, though I do feel it's getting better overall. It's one of the big differences between amateur and professional golf—learning how to block out the crowds, especially the people trying to be negative and nasty. As far as travel logistics, I know it's harder for our team to bring the kids, to pack up the village, but it's such a treat for me. Whether I play good or bad, I can go to our rental house and not dwell on the round like I might if I were alone in a hotel. I sit there and play with my little ones, and all is right in the world.
Some people say you thrive off negative energy, even need it to play well. Any truth to that?
None whatsoever. I don't think there's a human being alive who thrives off negative energy. You have to compartmentalize the noise and throw it away rather than allow it to be distractive. It can be a challenge to maintain your mental and physical health listening to hateful things, but that can happen no matter who you are or what job you're in. There'll always be those people who don't like you even if they don't know you, and you just need to be mentally strong enough to ignore them.
Do you wish to connect with fans differently in the future?
I'm going to keep doing what I've been doing. Just by coming out to watch, each fan is making a sacrifice of their time, money. They're coming out to support our tour, so we should treat them with respect even if they decide not to treat us with respect. I just wish there was greater awareness that by shouting something derogatory at one golfer, a fan is actually disrespecting and distracting every golfer in the group. But it'd never be the right thing to go snap at a fan because two wrongs don't make a right.
Do you feel like the media has treated you unfairly?
I do. I think a lot has been misconstrued, unwarranted.
Being called a cheater. That's so far from the truth. No athlete, no golfer who works to make it to the highest level is a cheater. If you take what you think is a correct drop, and it turns out to be an incorrect drop, that's a rules infraction, and there's a penalty. Happens all the time. Cheating is intentionally trying to gain something on the field. I'd rather play as hard as I can and lose a golf tournament than cheat and win. You can ask every golfer on the PGA Tour, and they'll all say the same. When that word gets thrown around, whether it's about you or someone else, that's wrong, and it's false. We're out there, with blood, sweat and tears, trying to be the best we can and be role models. I've had conversations with famous athletes and successful CEOs, and the lesson they all preach is, focus on what you can control. You can't please everybody. The media will turn around at some point, hopefully, but for now I'm not the one typing on a keyboard.
Does the approval of your peers matter to you?
It's very important, especially the guys who know me and have spent time with me away from the course. When guys who've reached the highest levels of the game, former world No. 1s, have your back, that's huge. It tells me I'm doing things the right way.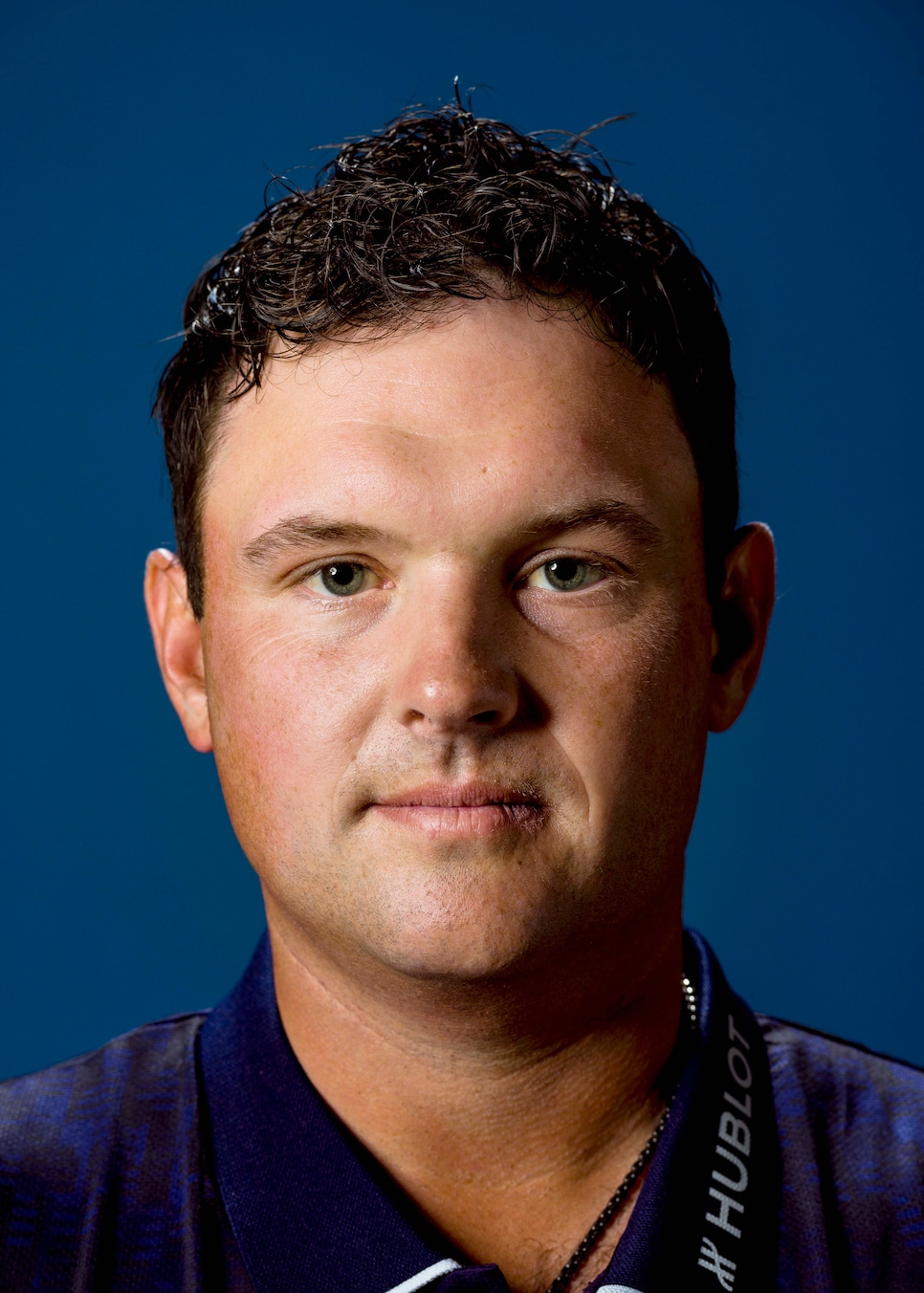 Who are your best friends on tour?
I talk to Webber [Webb Simpson] a lot, talk to Tiger quite a bit; Bubba and I are really close; D.J. and I talk when we're at events. The list goes on and on. Funny thing is, the personalities of some of these guys couldn't be more different— Tiger and D.J. are at two ends of the spectrum. But after golf, we can all hang out and treat each other as if we're normal people, which is something most athletes wish was more widely known. Just because a person happens to be really good at a sport or craft, they're probably still a normal human being who just wants to hang out and chill.
Will you do anything differently to avoid future predicaments?
I'm always going to call a rules official. Thursday of the Players I'm paired with Jordan Spieth and Jon Rahm. On the second hole I need to take a drop from a drain. I show Jordan and tell him I'm calling an official. He's like, "Dude, for a drain?" Then Jon calls over, and I reiterate what I'm doing. Even though we all know the rules as professionals, especially the straightforward ones, it's one of those things I'll have to do. It's unfortunate because it can disrupt pace of play, potentially throw off the rhythm of other players. But you never know if a fan is filming with a phone and the angle might be off, and it could make something look weird. Technology can both be a savior and wreak havoc. There are times we use high-definition video to see exactly where a ball crossed into a penalty area or where it bounced when the group couldn't tell. Back in the day, it was always the group and the official coming together to make the best decision about how to proceed. At times that ruling could be wrong, but it was arrived at collectively, and it was final. Sometimes technology just adds confusion.
Have you ever had a conversation with PGA Tour officials about correcting the public's perception of you?
No, because every time I've talked to rules officials it's been fine. When I talked to Slugger [White] at the Bahamas, the officials had already agreed there'd been nothing intentional. If it had, it would've been disqualification. I saw the video, saw sand move and asked what the penalty was. Slugger said, "You're not going to fight it?" and I said no. Same thing when I finished my round at Torrey Pines. Head rules official is standing there to show us the video and says, "I just want you to know you did everything exactly how you're supposed to."
What was your reaction when you heard prominent voices, like Brooks Koepka or Peter Kostis, speak out against you?
Look, B.K. and I have a pretty good friendship, and we play a lot of golf together. I'm never worried about B.K. We're good. All I can control is what I say and do; I can't control what other people say. This might seem like a tangent, but the only thing that matters to me is that I'm showing my children the path to be successful, how it takes work ethic to pursue lofty dreams and enjoy the things we have. There are no shortcuts. Once I realized that I could compete for something bigger than myself, like my family and my country, my motivation multiplied by a hundred. When your work becomes that meaningful, makes it easy to dismiss lax remarks by others.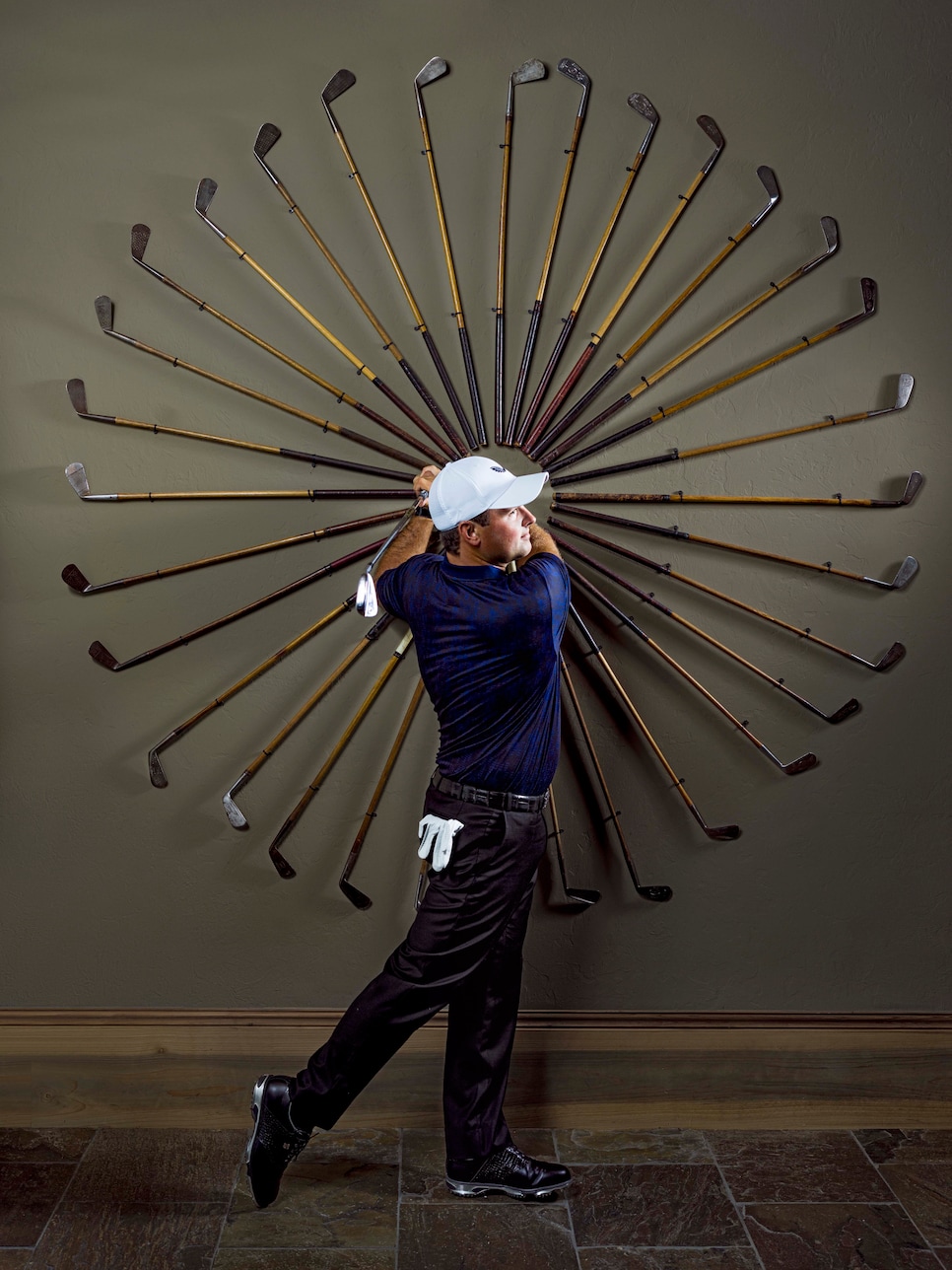 All right, let's talk about fun stuff. I'm told you like movies. Who would play you in the movie of your life?
Jack Nicholson, for sure. He's so witty. With a lot of his characters, the first impression is uncertain. He looks serious, but then he starts cracking his smile and popping jokes left and right. "Something's Gotta Give" is one of my favorites.
Sweatpants, hoodie, chasing kids around the house, probably driving my wife nuts for how loud I'm being with them. Then I cook something. Grilling is one of my greatest passions.
OK, if I'm coming over for a steak, how are you cooking it?
Ooh, depends on the cut. If we're doing filet, I just learned how to cook the perfect medium rare. Sear it on both sides in a cast-iron skillet and pop the skillet in the oven at 400 degrees. If we're going bone-in rib-eye, I'll marinate it overnight in olive oil, salt, pepper, garlic powder, crystal steak seasoning— though got to watch that, has a ton of sodium—pull it out of the fridge to get to room temperature, then crank the grill as hot as it can get. Be sure to let it rest 12 minutes before serving. For prime rib, I'll use the smoker at 200 degrees. A three-bone is going to take six to eight hours for a nice medium rare. Take it out 10 degrees before it's done, and give it a sear for a little crust.
You've given to charities with the express desire of not being found out. I'll put you on the spot to tell us what causes and why?
If I'm going to help a person but broadcast it over social media, it looks like you're trying to get a gain out of it. Junior golf, homeless shelters, disaster relief funds, Ronald McDonald, cancer centers, veterans, the list goes on. These are people who might be feeling hopeless. If you've ever gone to a hospital and visited a sick kid and told them it's going to be OK, you're in good hands, they go from looking like they're watching the clock waiting for the day they're going to die to looking like they have hope. Whether that feeling lasts a couple of hours or months, it's priceless. A lot of us are going to bed at night easy, waking up to play golf, travel. I'm so grateful that I want to give other people a push who need it. But if you broadcast it, it takes away.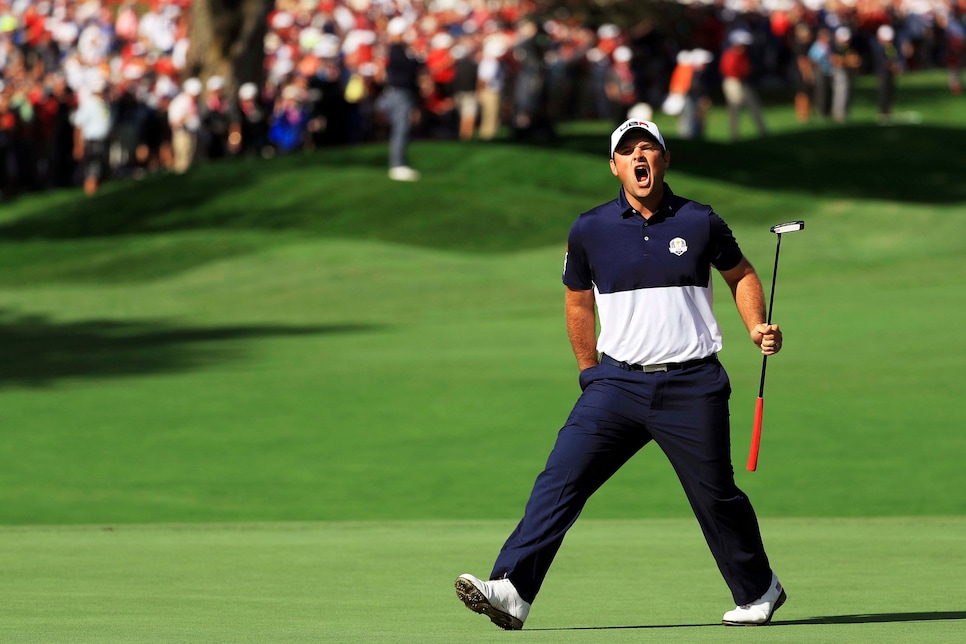 TOUGH MATCHUP Reed is 7-4-1 in the Ryder Cup, including a memorable 1-up victory over Rory McIlroy in 2016.
Mike Ehrmann
First memory holding a golf club
A little plastic club. I was in the yard swinging, and we had this little white dog. I hit the dog by accident, she flipped over, and I ran into the house freaking out thinking I'd killed the dog. Then a few minutes later, I see her at the door, ball in its mouth wanting to play, with a look like, That's all you got?
What did the game mean to you growing up?
It was my escape, the thing I loved most. Put on my headphones, practice and get into my own world. The game seemed easy to me until I started playing up in age groups when I was 10. Playing against 17-year-olds in AJGA when I was 13, getting beaten up and outdriven by 50 to 60 yards, it forced me to look for nuances to keep up, and that's why my short game and shot-shaping became what they are. I moved around a lot when I was a teenager, and golf was what was constant.
How did you and Justine meet?
I was a freshman at the University of Georgia, and her younger sister, Kris, was at LSU. Kris came to visit, and we went on one date, and I texted her to confirm she'd made it back home safe. No response. So I reached out to Justine on Facebook, who confirmed her sister was back and got frank with me about why it was probably not going to work out. So I start talking with Justine, who I discovered is this incredibly driven person who was pursuing dual degrees while working to become a nurse. We kept talking as a couple of years went by; then we started dating. Best decision of my life.
You left home at 21 to be with her. Tell me about those early days together.
They were rough. We were road warriors, driving Justine's Lexus IS 250 sedan, chasing Monday qualifiers around the country just like they did in the old days. I had extra clubs and clothes. She had a full bag of makeup, full bag of hair products, 50 pairs of shoes . . . pretty hilarious just trying to tilt down the seat to catch some sleep as she's driving through the night so that I could make a tee time. With her caddieing, we went six for eight in PGA Tour Mondays that year. For her to put her dreams aside to support me, I'll never forget that. Someday I hope to be half the person she is.
Her brother, Kessler, has been on the bag for eight of your nine wins, so his competence is unquestioned. But how was Justine?
I had my doubts at the beginning. First, her nursing job was our only stable income, and second, I didn't know if she could keep up toting a bag bigger than she is. But as a former athlete—she swam and played soccer in college—she gets the psychology aspect of when to press and when not to. I'll never forget Q school in 2012. After two rounds, we were in 100-something place. I'd shot myself out of it on a few holes, and I said, "Let's pack up." We were getting married in two weeks, and there was no sense burning through more money on a hotel. It was truly the first time in my life I was defeated by golf. There were too many good players, and I had dug myself too deep a hole. She said, "Give me one more day; if you play bad, we'll go home, but you have to treat it like a Monday." We argued and must've gone back and forth 20 times, but finally I relented. Long story short, I keep climbing the board, and four rounds later I get my card on the number. I'd never had anyone believe in me like that. I'm glad it happened that way. When you find the right person to support you, the sky's the limit.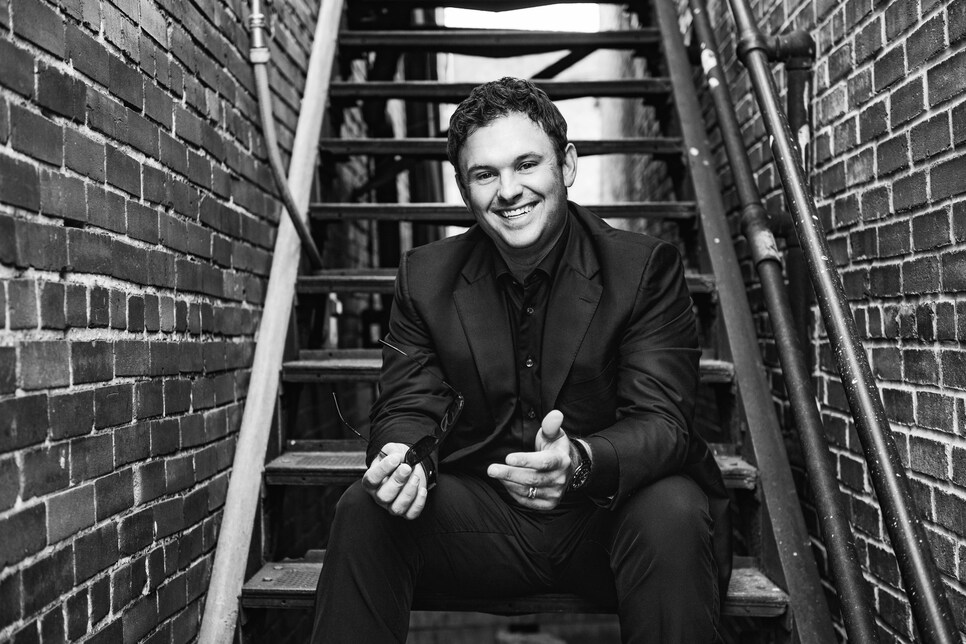 Anything you want to provide your kids that you weren't a recipient of?
I'm doing most everything the opposite of what I had as a kid. But the opportunity to travel the world is important. Experiencing different people and places makes you well-rounded. If you just watch the news, you just see what's negative. Before I played in Turkey, I might've thought that was a country where you had to go between the golf course and the hotel as fast as you could. But the people we met there were so friendly, so genuine, and their food was delicious. There are few things worse and more naïve than to make assumptions about people you don't know.
Anything you witness nowadays from golf parents that gets your attention?
Yes, too often. Make it fun. Seven hours is a long day for an adult, let alone a child, to concentrate on something that's hard. Sure, have a good practice session, but then run around and have a picnic on the range. When a kid wants to quit playing games and really get motivated, that transition will happen naturally and come from them.
Would you take a mulligan for anything you've done in your career?
I've been asked this question a thousand times, and I've never come up with an answer I liked. I feel like everything we've done on the course has been to the best of our ability and according to what felt like the right decision at the time. I'm sure there've been things I shouldn't have said, but nothing I would do over because I've always learned from my mistakes and experiences to get to where I am now.