Rocket Mortgage Classic
How Jason Day is rediscovering his golf game...with an assist from a nine-year-old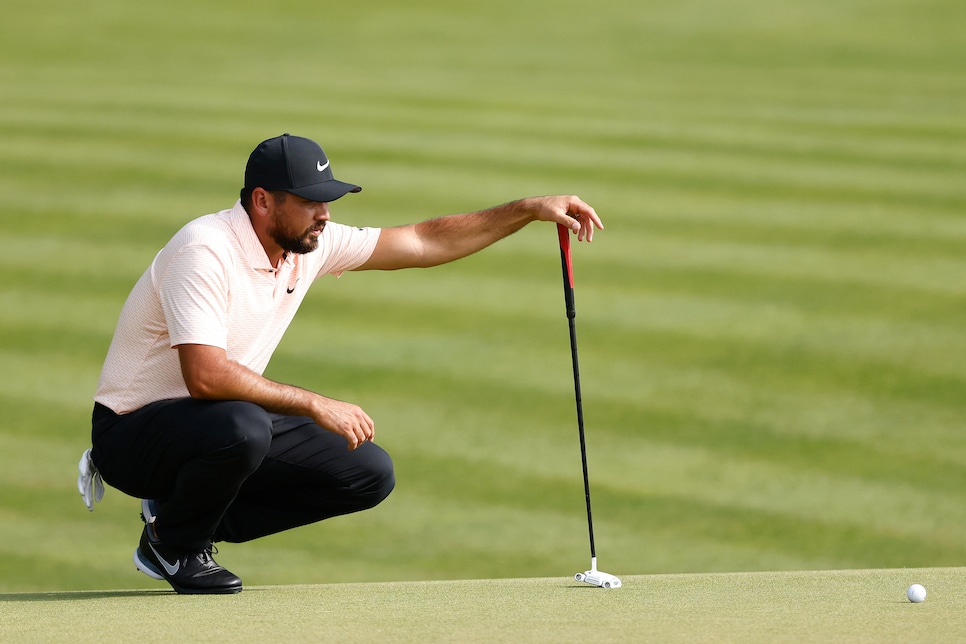 DETROIT – In this the year of rediscovery among some of the very best in the golf ranks, Jason Day is just getting started, but thanks to a young boy, a hardened mental coach, and the rekindling of belief in himself, the process is showing promise.
Coming on the heels of a decent showing at last week's Travelers Championship, Day, the former world No. 1, opened the weather-plagued Rocket Mortgage Classic with a five-under-par 67 at Detroit Golf Club. The effort marked his seventh straight round of par or better following an uncharacteristic stretch of three missed cuts in a row, and while it's too early to ratchet up expectations for the former PGA champion, it's well past time he started showing his oldest child how good he can be.
Day and his wife Ellie welcomed their fourth – and he says last – child three weeks ago, a son they named Oz Nilo. Oz, translated from Hebrew, means "strength" and Nilo is his fraternal grandfather's name. But it's their first born, Dash, who is reframing his father's self-image.
Now nine years old, Dash has taken a keen interest in golf and has joined some of his friends in the PGA Junior League in Central Ohio. The other day, Dash had a question for his father.
"He asked if I was a celebrity the other day and I said no," Day said as rain pelted Detroit Golf Club, not necessarily a bad sound because Day already was in with a round of seven birdies against two bogeys.
"Because I want him to look at me like I'm his dad instead of a celebrity," he replied. "I want him to be able to not look at me like a celebrity and that I'm a golfer, that I'm a good golfer, that I'm there to help him whenever he needs me."
Day, 33, is a very good golfer, one with 12 career PGA Tour titles, though the Aussie has gone more than three years without a victory. "It feels like a lifetime," he said.
Well, it was two children ago, we know that.
The dad thing he is still working through. Like the part where you might be a great golfer, but you're not penetrating the skull of your son with unsolicited wisdom. Day is "pumped" to see Dash taking greater interest in golf and practicing on his own on their 11-acre property, and yes, he wants to help. But, well, we'll let him explain.
"It gets me excited to be able to just kind of watch him, kind of help him, and I can sit here and just say, 'Dude, at one point I was the best in the world. Like, listen to me,'" Day said, starting to laugh at what he's about to say next, "But you know how kids work. It's like, 'You're my dad who cares what you think.' You know what I mean?"
Further bolstering Day's commitment to ending his winless drought and climbing from his current world ranking of 66th is his reunion with performance coach Jason Goldsmith, with whom he had worked when he was atop the rankings for a spell and won the PGA Championship and four other events in 2015. Goldsmith gave him structure he had been lacking in his approach to the game.
"He's very strategic. He's ex-military so he was like, it's funny stories. Like he … had diplomatic immunity, wherever he went. He was like guarding the nukes essentially," Day said. laughing. "I was sick of playing poorly, and I knew that he could give me some direction, and that's essentially … I just didn't have a lot of direction in my game itself. I would play, and I just kind of [was] wandering around. Like, we have after action reports. We're constantly writing things down, taking notes, everything is very structured."
After having to sit out the U.S. Open – he watched it, but it was "painful," he said – Day came back with a T-10 finish at the Travelers, just his third top-10 of the season. Now he has put together a solid round to start the Rocket Mortgage. While he gained 1.325 strokes off the tee Thursday, it's his putting that is giving him the most optimism. He holed 120 feet of putts, including two long ones, in a birdie barrage reminiscent of his more explosive days.
It's the best proof that Goldsmith is getting through.
"I'm starting to see the ball go in before I hit the putt, and when I was putting my best, that's what I started to see," Day explained. "At the start of the year I had no idea. Like I would sit there and go, 'OK, I have to hit the putt on the perfect line at the perfect speed just to get it in the hole, whereas when I'm putting my best, I feel like I can push it, pull it, hit it as hard as I want and it's going to go in.
"Putting was, like I said before, the sun in my universe, and I've just got to keep working on it, and that takes a lot of pressure off my game."
Power of the mind. Structure. Focus. Belief.
A good swing, a great putting stroke, those help. But there is nothing like thinking your way to better golf, thinking that you can do the things you used to do – and can still do. "I feel like things are progressing in my game," he said, "because I feel freed up, especially upstairs."
Something to talk to Dash about someday. Maybe. But you know how kids work when it comes to listening to their dads, even with dads who are celebrities.