Defeatists think it is a town built on broken dreams, false promises and unfounded hope. Optimists see it as a city of second chances where the unbelievable is routine. Realists understand these views are not mutually exclusive and, often, are one in the same. So while the sport may be lamenting a missed chance at witnessing Matthew Wolff complete a return from the abyss, it did watch—in local parlance—a heater as bright as Las Vegas Boulevard.
Riding a wave that delivered nine birdies in his first 13 holes Sunday afternoon, Sungjae Im dispatched the field at TPC Summerlin, a flex his opponents had no answer for. And for that Im leaves as the Shriners Children's Open champ.
"​​It was hard coming, but I think today, how everything went, I think it was a gift from above," Im said afterwards. "I played so well, and I'm glad I got the win."
This was not a tale of providence, of bad breaks and good luck. Those terms have no place in a performance where Im turned a three-shot deficit into a five-shot advantage. No, this was a showcase so thorough and strong it warrants residency on the Strip. That may seem like hyperbole considering Im is far from a showman (the opposite, in fact). Lower his ballcap ever so slightly, give the man a pair of sunglasses and he'd be a ringer for a high-stakes poker player, undisturbed by what is in front of him and concerned only by the command he follows within. In an era when players are allowed, even encouraged, to be more colorful, Im lets his game do the demonstration.
In the final round, that demonstration started with a 30-footer for 3 at Summerlin's opening par-4 first. He missed a makeable eight-footer for bird at the second but atoned with a birdie from the same distance at the fourth. He then added three more birdies at the sixth, seventh and ninth to make the turn in 30. At most tournaments that is a score that would send reverberations through the course.
But this is a TPC, where birdies aren't so much currency as they are travel permits. Marc Leishman posted an opening 30 earlier, with Rory Sabbatini, aka the Silver Slovak, hanging a 28 on the board through nine holes. There was also Wolff, the wunderkind who has experienced a great wandering of sorts throughout 2021, who was in the final group and just two shots behind Im with a stretch of gettable holes before him. It had all the trappings of a shootout.
Except Im proved the only one to keep firing on the back nine. He rolled in a 20-footer at the 10th and a pair of 10-footers at the 11th and 12th. He tapped in a two-footer at the par-5 13th for his fifth straight birdie and ninth of the afternoon. It wasn't flashy so much as it was fierce.
"To be honest with you, I didn't even know that I birdied five holes in a row," said Im, who closed the 2020-21 season with most birdies in a single season in the PGA Tour's ShotLink era. "I was just constantly focused each and every single hole to get through it without a mistake."
Ahead, Leishman sliced his tee shot on the drivable par-4 15th and put his approach at the par-5 16th in a pond. For all his moves on the front, Sabbatini was stuck in neutral on the back, making one bogey against one bird to stay put.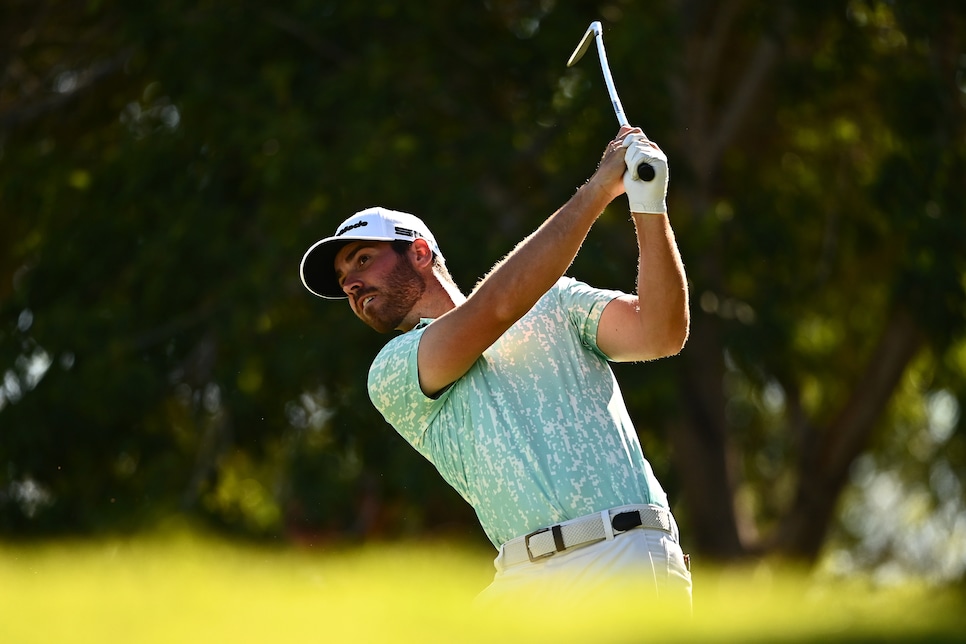 As for Wolff, he briefly held a share of the lead after a birdie at the sixth and a scrambling birdie at the par-5 ninth. It was this tournament last year that Wolff fell short in a playoff just weeks after he became the youngest player in U.S. Open history to hold the 54-hole lead, ultimately finishing in runner-up at Winged Foot. Golf can be overzealous with its rising stars, but Wolff's game was backing those expectations up, expectations he did not downplay.
But then there were a couple WDs and poor showings and a DQ at the Masters and puzzling displays, leading to an unannounced sabbatical that became public when he decided to skip the PGA Championship in May. As Wolff later explained, the lack of socialization on tour was impacting his mental health, which was impacting his performance. And maybe his performance was impacting his mental health. So Wolff decided the best way to take care of both was to do it out of the spotlight. He returned at Torrey Pines in June but hasn't been a true weekend factor since Vegas. And now he was on the precipice of something special.
If this was Hollywood, that would have been the script. But this is Vegas, which has little appetite for the sentimental.
While Im kept knocking down flags, Wolff took bogey at the 10th off another poor drive. He suffered two more wayward tee shots at the 11th and 12th, but salvaged pars. Yet, now was no time for salvaging. Wolff needed to be on the attack, which is why it was curious—down five with six to go—that he pulled out a 3-wood on the par-5 13th. The decision backfired, his ball failing to clear a bunker 300 yards out and burying near its lip. His second advanced 20 feet; his third caught the top of a hill. The final damage was a bogey 6 when he absolutely needed an eagle 3.
"I just … I really … I've never seen a break like that. I hit a good drive and I thought I could carry that bunker like I've been all week, but unfortunately, it just went in the lip," Wolff explained. "But, I mean, with a 3-wood you think it would just roll down to the middle of the bunker and then you would hit something into the fairway and then have a good look at birdie. For my ball to, someone left the rake at the top of the bunker and it left an indentation and my ball stuck in that indentation."
Yes, Wolff fell short. Still, given where Wolff has been, he needs no trophy to consider the week a triumph.
"Yeah, I was just really happy with how the week turned out," Wolff said. "I keep on putting myself in these positions I know that eventually it's going to be in my favor and I'm going to win. But really like the way my game's trending, especially from the beginning—or the end of last year. If you would have told me I would be in this position right now, I would be really happy."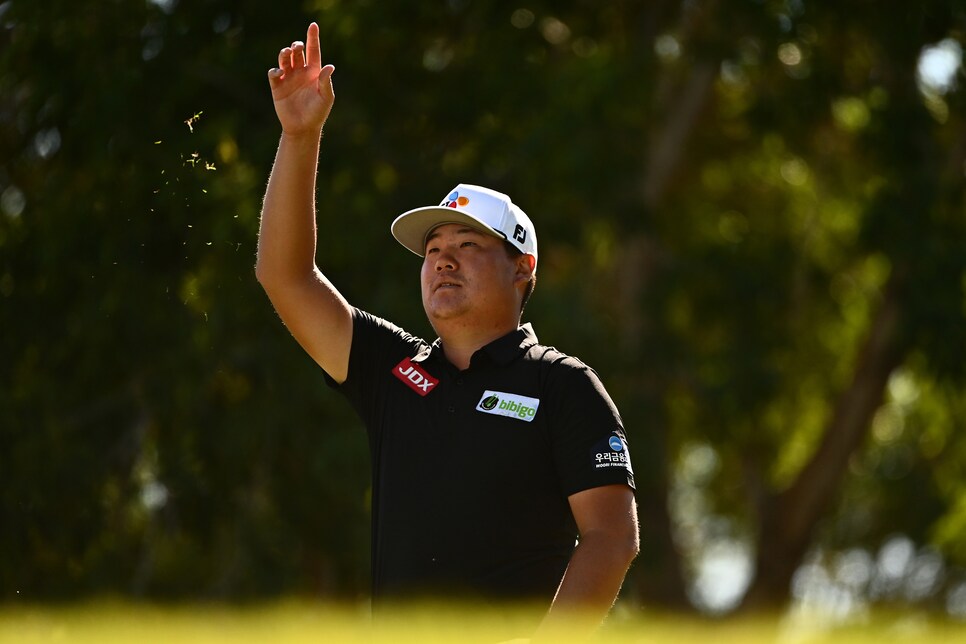 Back to Im. With a mountain of chips in his guard, the poker player held his cards tight as he watched those around him go for broke and wind up just that. He changed targets down the stretch, happy now aiming at the fat part of the greens and methodically, undramatically, taking pars.
"I saw the scoreboard for the first time on the 14th hole and when I saw that I was leading by five, I said to myself, 'Let's not make a mistake and I can get this done,'" Im said.
It was masterful, Im hitting all but one green on the day and turning in a bogey-free card. Wolff added birdies at the 16th and 17th, but the issue was no longer in doubt, Im's nine-under 62 winning by four shots.
It is Im's second career tour win, coming 19 months after his 2020 Honda Classic victory. In theory the game shouldn't need a reminder of Im's prowess; he's as present a star as golf has, leading the tour in starts in two of the last three seasons and is a good bet to make it three of the past four. He was one of the best 10 players in the world when the game was halted by the pandemic.
"I was on a really good roll, and I was feeling great about my game after the Honda win and I played well in the Arnold Palmer as well the week following it," Im says about the 2020 shutdown. "But it is unfortunate. It's something that I couldn't control. But after the pandemic, when golf was resumed, I really tried to find that rhythm again and there were times that was not easy. But, again, try to stay composed and believe in my game."
But Im's also coming off something of a down season—which is a heck of a thing to say about someone who finished T-2 at the Masters last November—and with a wealth of young stars Im's shine is collaterally dimmed.
Yet Im is just 23, two years younger than Scottie Scheffler and Sam Burns and Will Zalatoris. His swing is smoother than satin with the requisite power needed in today's game. He makes a ton of birdies while keeping the big numbers (13th in bogey avoidance last year) at bay. His short game isn't otherworldly, but it gets the job done. If there is a hole in his game, it has not been discovered. In short, his future is a one that looks bright.
"Obviously, when I'm playing well I feel great, but when I have a bad round I feel down easily. I think I've done that the last 10, 12 months. ... But it's a repetition every week and I learn from each week, and from that experience, I'm learning to control my emotions and everything on the course to stay composed, and I think this week it all paid off."
Of course, as Wolff's year has proven, success and growth are not linear, so we'll save the dreaming of what could be for another day. Because what Im is in the present is a pretty rare thing, too: A man leaving Vegas as a winner.