From the Magazine
Brooks Koepka doesn't hold back in our exclusive poolside interview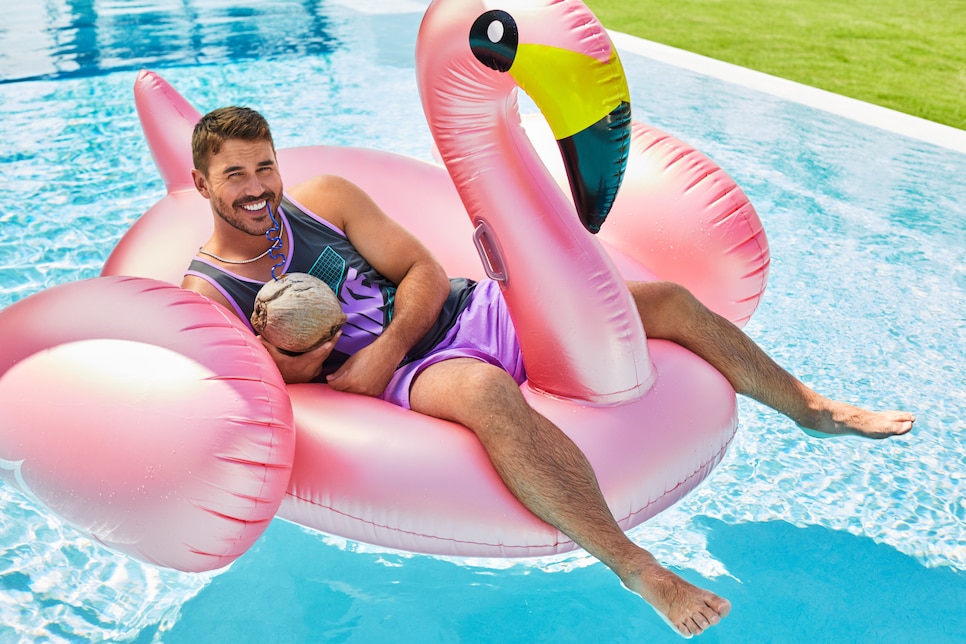 Brooks Koepka doesn't look like a stone-cold killer. The 31-year-old four-time major champion comes in all smiles, wearing a t-shirt and shorts and has a collection of formal clothes on hangers over his right shoulder. His right knee is puffy, misshapen and has a prominent scar—a leftover from a freak accident in March when a bad step turned into a dislocated kneecap, and his lower right leg turned unnaturally to the side. Then again, maybe it would take an assassin to do what Koepka did when he looked down. He straightened his leg and jammed the kneecap back in place, shattering it in the process—which required surgery to reconnect his patellar tendon to the bone remnant. His matter-of-fact recounting of that event before the photo shoot for this story is consistent with the player who has let his clubs do most of the talking for 15 top-10s in majors since 2015. If you aren't paying attention, he says, that's on you.
In a wide-ranging conversation that represents his most substantial interview as a pro, Koepka discusses the emotional makeup of the modern professional athlete, the physical and mental skills necessary to win, being in the fray during iconic wins by Tiger Woods at the 2019 Masters and Phil Mickelson at the 2021 PGA and the unique challenges presented by the Ryder Cup.
Your bag doesn't look like the standard tour-player setup—no big logo and an eclectic mix of clubs from several companies, including one that doesn't exist anymore.
I'm not a guy that switches. Dustin [Johnson] says he doesn't switch, but he switches the most out of anybody I've ever seen. You might not think it's a switch, but he'll have, like, five drivers with him for the week. He's always switching putters, or a 3-iron and 5-wood combo. I still have a Nike 3-iron. That's five years old. I still play an SM4 Vokey wedge. What are they on now? SM8? My putter has been in for a year and a half, but I've had the same model since 2008.
Is that part of taking variables out?
If it works, why mess with it? I haven't tested a driver or 3-wood shaft in seven years. Here's a funny story: At Oakmont the year Dustin won, I took a practice swing with my Nike driver and took a chunk out of the turf. It was a terrible practice swing—and graphite gets weak over time—and the shaft snapped under the grip. I call Blake [Smith, Koepka's agent since Koepka turned professional in 2012] and say, "I need you to go in my locker and grab another driver." I hit 3-wood off the tee, and I'm walking, and I see a kid up there, and I say, "Here you go," and give him the driver. My dad starts talking to him and makes friends with this kid and his dad. I didn't think of it at the time, but you can just unscrew the head, and I had made like $3 million using that driver. Claude [Harmon III, Koepka's coach at the time] says, "You have to get that driver back." My dad chimes in, "No, no, no, we gave it to that kid." Claude says, "That driver is perfect" and basically goes and snatches it from the kid. We tell the kid, "We swear we'll send you another driver." It gets shipped out, and the day after that, Nike stopped making clubs. Claude did the right thing because, let's be real, not every head is the same. I used that driver head for the rest of the year.
Off course with Brooks Koepka
Do you think there's still an artistry to this sport? Is the tour filled with mostly bombers, or can players control spin and trajectory like in the olden days?
There's both. Modern architects want to make courses longer to defend against length, but I always laugh because the best par 3s in the world—the hardest par 3s we play— are the ones that are around 150 yards, where you give us choices. Perfect example is No. 11 at Royal St. George's. It's a massive green with a little back shelf. Difficult hole when the wind is blowing. From the back tee, it's 235 to the middle, and the front tee is like 170 to the middle. The wind was pumping in pretty much every day, and the harder shot was the shorter shot. From the back, it's 3-iron all day. A 3-iron isn't affected by the wind that much. Let's be real. With 3-iron, I can't tell you if I've hit it five yards too short or five yards too far. But with a 7-iron? If it comes in with a little too much spin, or not enough spin, there's a big gap there. You're trying to do more with that shot.
It's a shot that entices you to take a risk.
The best designs are the ones where you must control your spin and control your flight. Like 12 at Augusta. When I hit it into the water on Sunday the year Tiger won, I hit a good shot with a hair too much spin. It probably went eight feet higher than a normal one. What does that wind do? It just eats it up. I mean, I'll be honest, I wasn't aiming at the center of the green. I was three shots back, and I had to make a move. Second place isn't very good for me. I gotta go at it, and I can live with the result. That's the beauty of the artistry in that design process that was created years ago. But it's less about creativity now and more about length.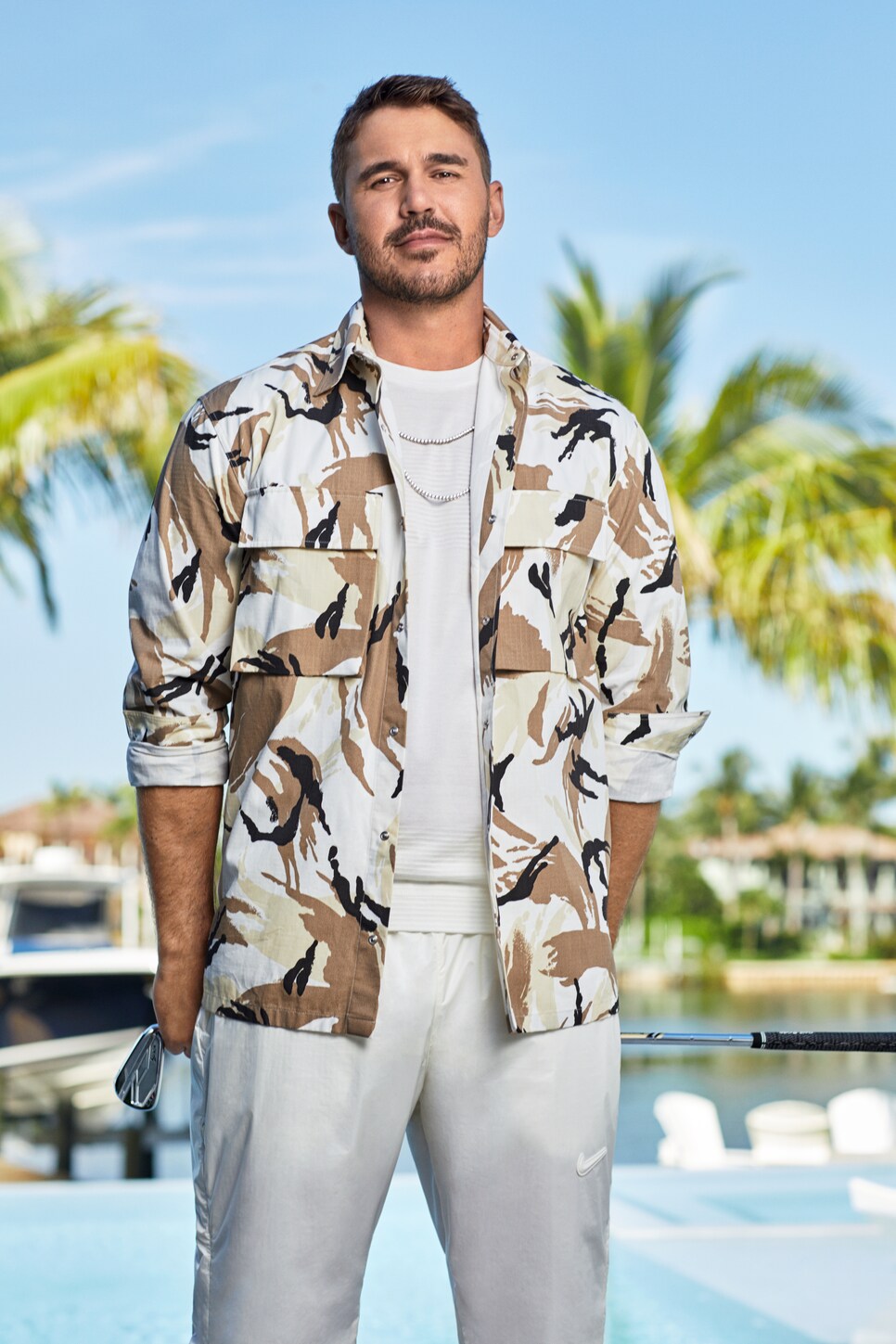 Photographs by Michael Schwartz
When you have stretches where you aren't playing well, is missing a cut a tragedy?
There have been times when I've walked off the course and thought, Hey, this ain't a bad cut to miss. People aren't going to agree with that. When you've played three or four tournaments in a row, you can sense when you're tired. Everyone around you can sense it because the atmosphere trickles down. [Missing the cut] saves you a little bit. You can take Saturday off and clear your mind.
You're 31. You've had wrist surgeries and a big knee surgery this year. You're physically not the same guy you were when you were 20. Is the future coming faster than you might have expected?
Mentally, I still think I'm 21. But the past three years, there's the realization I'm not that young person anymore who can go Jet Ski or wakeboard or whatever. Getting out of bed now takes 30 minutes to get going. You have to change your lifestyle. I probably packed on 10 to 15 pounds after the knee surgery because I can't be as active as I was. I can't go run. I'm never going to be able to run again. You're parking closer to the door than before and all that. I've had to switch up the way I eat and train. When I was 25, my metabolism was a hell of a lot faster than it is now. I could eat anything. Now I eat more anti-inflammatory foods so that I can feel better. There are certain meals the chef will prepare when it's early versus late because I have a long time or short time before I can eat again. I can go full speed on a bike, but I'm not going to be riding down to Miami like Camilo Villegas did back in the day.
I've heard you say you made dramatic lifestyle changes in the past literally on the spot—whether it was changing your diet or stopping drinking when you were in college so you could focus on your game.
Absolutely. Flip a switch. I don't know where it comes from, but I have no problem turning off my phone or shutting certain people off. My best friends, we have this massive group chat, and I used to read all the text messages. When I got done playing, there'd be 500, and I'd go through them all. Now I'm like, no, I'm not going to do that. Shoot, it's easier for me when I'm on the road. The only thing I care about is playing good golf. How am I going to do it? Good sleep, rest, eat, practice and work out. That's it. Everything else is an afterthought. When I'm in a major championship week, it's even more amplified. I'm going to the course and getting my work done. It's the primary reason I'm sitting here. I can separate things. When I get between the ropes, nothing else matters. Nothing.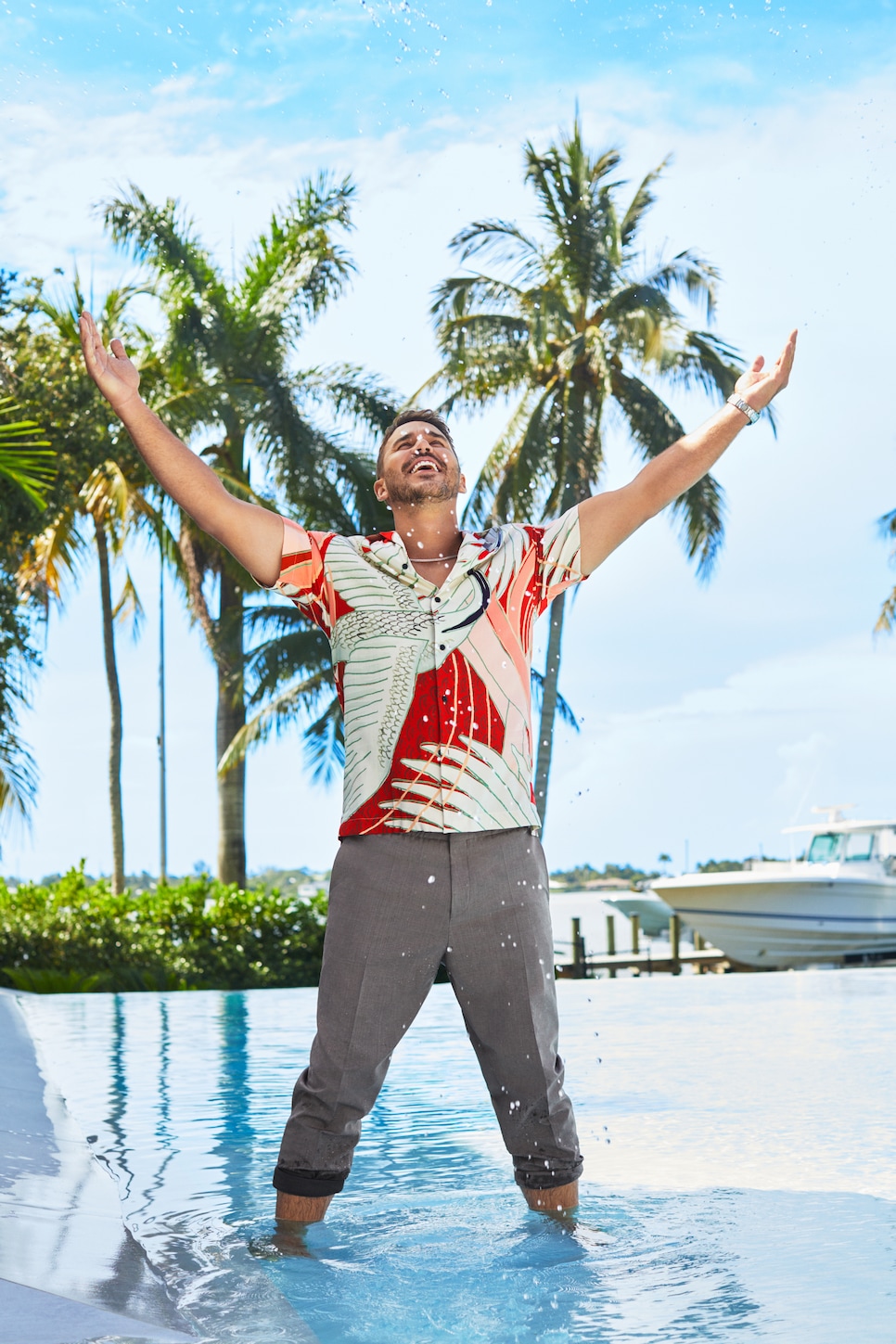 Has that made relationships hard to sustain?
Every great athlete struggles with that compared to a normal person. My family relationships aren't as good as they would be if I were a normal person. Sometimes I come home on an off week, and I know my parents want to see me, but for two or three days, I need to decompress and get out of that mode, or I'm going to stay in it. That makes it hard to have friends or dating or family. What makes it even harder for some players is that it's difficult for them to say no. Over the past few years, I've found that because I've grown into myself, and I'm genuinely happy inside, it's easier to say no. That's hard for some people to hear, especially my parents or my brother [Chase]. I don't get to see my brother as much as I'd like because he's on his own grind. I don't have the relationships in my life that I would want, but I want to be the best golfer I can be. So for another 10 years it's just going to be what it is, and that's the sacrifice you make when you're on the extreme end when it comes to the mental side.
Sounds like your circle has gotten smaller. I'd imagine it's people who can accept the dynamic you just described.
Yep. What has really helped me is that they're normal guys. They keep me grounded. I mean, if I go out and shoot 74, if I were to go back and read that group text, it'd be "Man, this guy can't putt. … He sucks. … Get him off my TV screen. I'm tired of watching this shit." You have to have those real people in your life.
Did you watch the Naomi Osaka documentary?
It made me sad because it seemed like she had the capacity to say no and exert more control over her life, but she wouldn't or couldn't. She didn't have people around her telling her the truth.
To be honest, there have been times when Blake has been like, "Bro, you need to chill." Jena [Sims, Koepka's fiancee] is the same way. I felt bad for [Osaka] in the same way you did. I remember the scene where her trainer came to her and said, "Hey, maybe every month we as a group should sit down and voice what's going on." And she was like, "I don't really have a voice." That was interesting because you know how she always referred to herself as a vessel? Sometimes you have to be strong enough to have that voice inside yourself and be the authoritative figure. Sometimes you have to sit back, listen and take the criticism. I really liked what Giannis [Antetokounmpo] said: When you're thinking about the past, that's ego. That was one of the coolest things I've ever heard because when you start thinking of mistakes or screw ups or how you missed that shot or this shot, that's just your ego being hurt. If you keep staying in the present, you're fine. The other part of it is that you can't look too far into the future. There's a fine little balance in there.
'In the past five years, I've been able to own who I am and find that happiness.'
You're surrounded by mechanisms—social media, this interview, television coverage—that are designed to remind you about the past and ask you about ongoing beefs with certain players or get you to speculate about the future. How do you stay balanced?
That's sport. That's your job. What did Marshawn Lynch say? Take care of your mentals? Your mind is just as important as your body. No athlete is ever 100 percent. But I'm there to play golf and play the best I can. There are going to be days when I suck, and there's nobody more embarrassed about that than me. Sometimes, walking through the fans when they're giving it to you, the eyes go down a little bit because you don't want to make eye contact with anybody. At the same time, you have to be strong enough on the inside to say, that's just one day in my whole life. That's not me. Your sport can't define you. That's something else I found interesting in the Osaka documentary: She didn't seem to have any hobbies or friends to keep her grounded. That makes me realize even more who I am because I have those friends who just view me as me.
I wonder if Tiger had anybody like that in his life. I don't know if he relaxed for 10 years.
I'd say that's right. The way I'm wired, I'm all on or all off. Maybe I didn't understand that the first 25 years of my life, but in the past five years I've been able to own who I am and find that happiness. I don't know if that's because of Jena or because I understand more of how things work, but you mature a little more. I can't put my finger on it. But when it comes together, and you see what works, you say, this is the program, and I'm going to stick with it.
When I first got out here, I was a hothead. In college, it was always the stand bag legs that gave you away. Mine were always bent. My college coach, Trey Jones, always said the bag doesn't represent you. It represents everybody else who has come through Florida State and everybody who is going to come through Florida State. One time I missed a green with a wedge, and I chucked the wedge at the bag, and it hit the leg. The bag leg bent. When I looked up, I'll never forget. I see him sprint, and I'm thinking, How am I going to fix this bag in five seconds before he gets here? Another time, we're playing an event at our home course, and I make a terrible 5 on the first hole, and on the second hole, I plug it in the bunker. My body language is just so bad, and I'm staring down at my shoes, thinking, Why am I out here? Trey was walking with me, and he said, "If you're going to look down at your shoes, I'm going to write something on them so every time you get down you realize what a big blank you are." I mean, he gave me an earful. He was pretty tough on me, but I needed it.
How long did it take for that to sink in?
Maybe three or four years. I was like, I really need to change. At Tampa in 2014, Blake and I were talking, and I was like, "Man, I just wish I could be more like Dustin on the golf course." My whole thing was, I was going to find out how he did it. Dustin had a shot where he had to punch it out, and it hit the lip of the curb and bounced up and kind of went back to where it was. And he laughed! I'll never forget that moment. I turned to Blake and said, "How does he laugh at that? I'd have gone ballistic." Blake says, we'll talk to him and find out. I started asking him things, and he probably didn't even know I was watching him—because, if I'm honest, I don't like making myself feel vulnerable. He's maybe the best athlete in the world at letting things roll off his back. My caddie, Ricky Elliott, is best friends with Graeme McDowell, and he'd say the same things. Graeme would tell you he's not the most talented guy in the world, but he figures out how to get the best out of his game and each shot, hit the correct shot and where to place it, and to move on to the next one.
You won your first PGA Tour event early the next season, in Phoenix.
I just started taking things and piecing them together. I didn't want to imitate Dustin and do things exactly the way he did, but I pulled from him and pulled from G-Mac. Now things start to come together, and it's like, OK, I've figured this out. To this day, I'll watch other guys and how they go about things and kind of snag from this guy or take from an athlete in another sport. Like, say, the step-on-your-throat mentality. There's a small opening, and you see a sliver of hope. What do you do with it? That comes from the more athletic side, right? When you're around successful people, it rubs off on you, and you make it your own.
Do you still get angry or just channel it differently?
It's more about not showing it outwardly and turning it into a positive. Before, I might pull a wedge and miss the green, and I'd think, What the hell! You're a hundred out and miss the green, but you can hit the fairway from 300 yards? And I would seethe inwardly for three holes. Now? I hit that shot, and I think, OK. That was embarrassing. Everyone here is laughing at me. I can hear the crowd snickering. All right, well, watch this.
What was it like at Augusta in 2019, when the entire place was going crazy for Tiger on Sunday? Do you feed off that kind of energy when it's going away from you?
There's more noise in silence. What was that play where Auburn caught that field goal Alabama tried and ran it all the way back for a touchdown with no time left? I'm pretty sure that aside from the Auburn guys, you could've heard a pin drop—and that's all they wanted. To me, that's cheering. The fans at Augusta, they're so respectful, but for Tiger? The cheering is 50 times bigger than anybody else. And in the moment, I want that silence.
'I just show up and win the thing, I remember thinking, "It's that easy? Really?"'
Tiger said something in his press conference afterward that was rare for him. He singled you out as the one name on the leader board he was watching because he knew you weren't going to go away.
I never heard that. I've been around him so much, and I respect everything he's accomplished. In my mind, he's the best player to ever play the game, and it isn't close. But when I'm playing, I don't care. He's in my way.
Does it bother you when you don't get the same kind of energy from the crowd when you're the leader?
It used to. I couldn't understand it. But now I'm happy enough. Outside golf, I have everything I want. I'm on the right path. Hopefully in a few years, we'll get to have kids. Even if I shoot 75, I come home to people I love. I finally understand that I'm not perfect, and I'm not going to play perfect. I just need to get the most out of what I'm doing that day. Good, bad, ugly. Doesn't matter. There's that satisfaction that you can say, Look, I had nothing, but I gave it everything, and I can leave it on the table.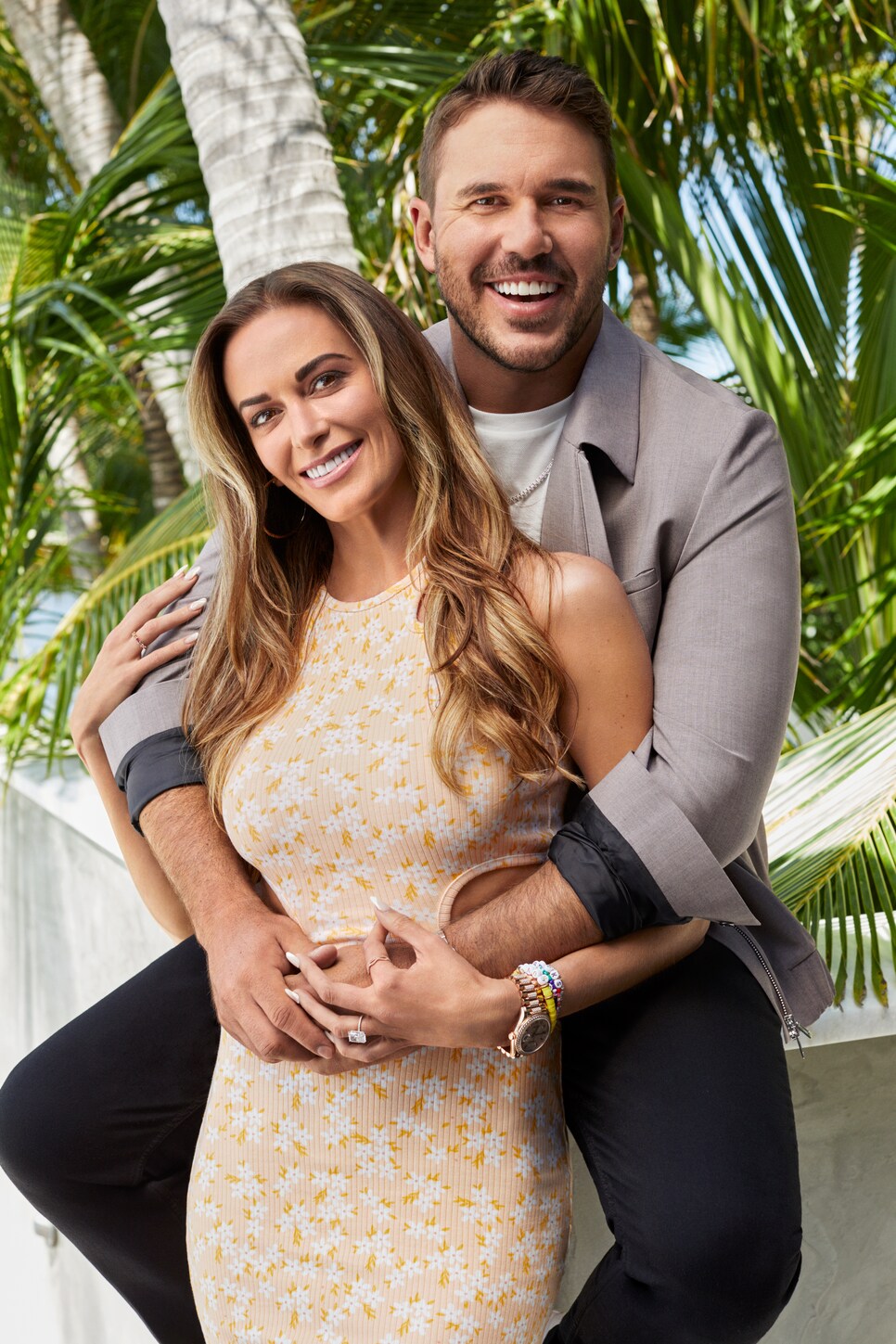 MATCH PLAY Koepka and fiancee Jena Sims have been together since 2017.
You aren't a guy who has always said what's on your mind. When you hurt your knee, people didn't know the extent of it. When you look back, are you content with the amount that you've revealed to people?
As my personal life goes, there are snippets people see, whether from my social or Jena's. You have to let some people in. Being out there, I'm just me. You can hate me for it or love me for it. I don't care about your opinion of me.
For virtually all of your career, you get to set the schedule and make the rules and be responsible for your own performance. How does that mesh with the Ryder Cup experience? Is it strange being on a team?
It's different. It's hectic. It's a bit odd, if I'm honest. I don't want to say it's a bad week. We're just so individualized, and everybody has their routine and a different way of doing things, and now, it's like, OK, we have to have a meeting at this time or go do this or go do that. It's the opposite of what happens during a major week. If I break down a major week, it's so chill. You wouldn't even believe me. I go to the course. I play nine holes. I go work out. Other than that, I'm sitting and watching TV, taking my mind off golf with relaxing stuff. The physical part, I can handle. The mental side, you have to be able to turn it off. Sometimes, the power comes from being able to turn it on. But for me, I get power from turning it off. That's been a huge, huge thing for me that I really haven't understood until the past five or six years of my career.
Right about when you started winning majors.
It comes from understanding who you are.
But, as you said, at a major, you're only concerned about yourself. At the Ryder Cup, that dynamic is different.
It's tough. There are times where I'm like, I won my match. I did my job. What do you want from me? I know how to take responsibility for the shots I hit every week. Now, somebody else hit a bad shot and left me in a bad spot, and I know this hole is a loss. That's new, and you have to change the way you think about things. You go from an individual sport all the time to a team sport one week a year. It's so far from my normal routine. I can barely see my [personal] team. It's hard to even go to the gym. At the Presidents Cup in New York, we had to go to the gym at 5 a.m. to get it in. We went to the Equinox, and it was me, Dustin and Tiger, and we come back and go to a team meeting. Under regular conditions, I take naps a lot. I might take an hour, hour-and-a-half nap, or just chill on the couch and watch "SportsCenter," before rounds, after rounds, whatever. There's no time to do that at the Ryder Cup. There's no time to decompress.
A genius-level captain would say, "We're not changing anything from your regular routine."
For sure. If I was ever to be named a captain, one of the things I'd do is get the caddies more involved. I thought it was weird in France that there was a sign on the door that said, "No caddies allowed." As a captain, it might be tough to get into a player's brain, but it's easier to get into a caddie's brain, and that's the next guy in line. Like, if you want to understand how it went, go talk to Ricky [Elliott] because sometimes I can't even articulate what I'm doing or how things are going. He's the best guy to talk to about how I'm feeling. There are times when I respond to people asking me if I'm OK by saying, "Yeah, I'm good," but I'm not good! I'm not feeling right. And he'll tell you.
'Second? Sports are made to have a winner and a loser. You're one or the other.'
It sounds like a demanding week.
It is. I make sure during tournament weeks that whether it be sponsors or whatever, there can't be any distractions. But there are meetings and team building, and you're whisked away for a lot of things like pictures and all that. It's more demanding than I'm used to, and there's a lot of emotion there, so by Sunday, you're just dead.
What about the Olympics? You turned down a spot as a replacement for Bryson DeChambeau this year.
I'd love to play in the Olympics. But this year I would have gotten there the day before, without seeing the course and with the time change. I didn't even have my clubs back from Europe yet. It would have been tough for me to be prepared. I'd love to represent my country. I think that's fun. It's just maybe not in my DNA, the team sports thing.
You caused a stir when you showed up at the Open Championship and said you hadn't touched a club in two weeks.
You can practice and still suck. You can get worse if you try too hard or whatever it might be. In sport, I think it's way more mental than you can ever understand.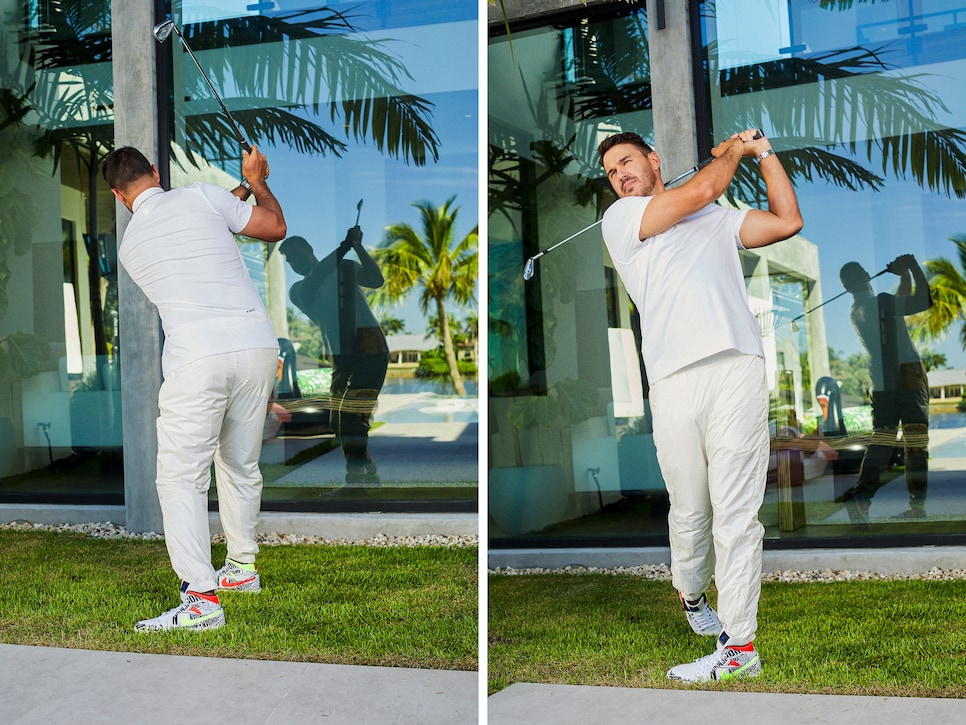 Is that why you don't have a regular swing coach?
That goes back to the last five years or so—owning who you are. I own my golf swing. I can take off as many days as I want. I can practice as long as I want, and my swing is probably not going to change.
The first Ryder Cup I covered was 1995 at Oak Hill, and walking with the singles match between Seve Ballesteros and Tom Lehman was a masterclass from Seve in gamesmanship and competitiveness. Seve didn't have the game, so he knew he needed a different weapon to bring to that fight. Is gamesmanship a dying art?
It's a state of mind. A lot of times when I go to the course, I don't know who I'm playing with or even my tee time. I just know it's in the afternoon. A great example of gamesmanship is what Phil did to me at the PGA. I got trounced on that one. I thought it was pretty good what he was doing.
His body language. I don't want to give it away, but I didn't handle it well. You'll have to ask him about it. I think he knew what he was doing. It wasn't the reason I lost. I lost because I didn't play well enough. It was tough for me to get into a rhythm, and the timing of how things were going.
I could see [what he was doing] because I know it. I do it.
I know it when I walk into a room. I've been this way since I was a kid. Maybe Jena comes home, and I ask her how her day was, I notice that her nail polish has changed, or she's moved her rings or bracelets. Nuances. I'm aware of little things. Are you fidgeting over something? Are you taking a bit longer over something? Are you reacting to something maybe I said? I mean, I've got no problem saying I've done it. In the middle of the round.
We're not talking about dirty stuff, like making noise to distract somebody.
No. That's uncalled for. A lot of guys don't like to say the word "shank" during a round. I don't care. I've said it before. I'll say, "Hey, didn't somebody shank one here?" Some guys will hear that and crumble. I'm not saying that's my go-to, but you can tell some guys are just . . .
Are you saying golfers might not be as tough as athletes in other sports?
Golf isn't really a sport where you trash talk, but I can trash talk with the best of them. I don't want to say gamesmanship is trash talk, but it borders the line. If I go with my buddies, what I say to them is completely different. Every bad shot, you're going to hear about it. On tour, it's more the little things. But the reality is, I take satisfaction from beating everybody more than anybody knows. I take so much satisfaction that there's something wrong in my head about it. It doesn't matter what we're doing, it's so intense. I might not always show it, but I'm so intense inside at wanting to beat the living crap out of you at whatever we're doing. It eats me up inside. We could be playing pingpong or cornhole or whatever. I just want to embarrass you. If golf wasn't the "gentleman's" sport it is, I would trash talk my entire way through it. I'd love to be in the NFL and just stand over you like Tyrann Mathieu does after a tackle.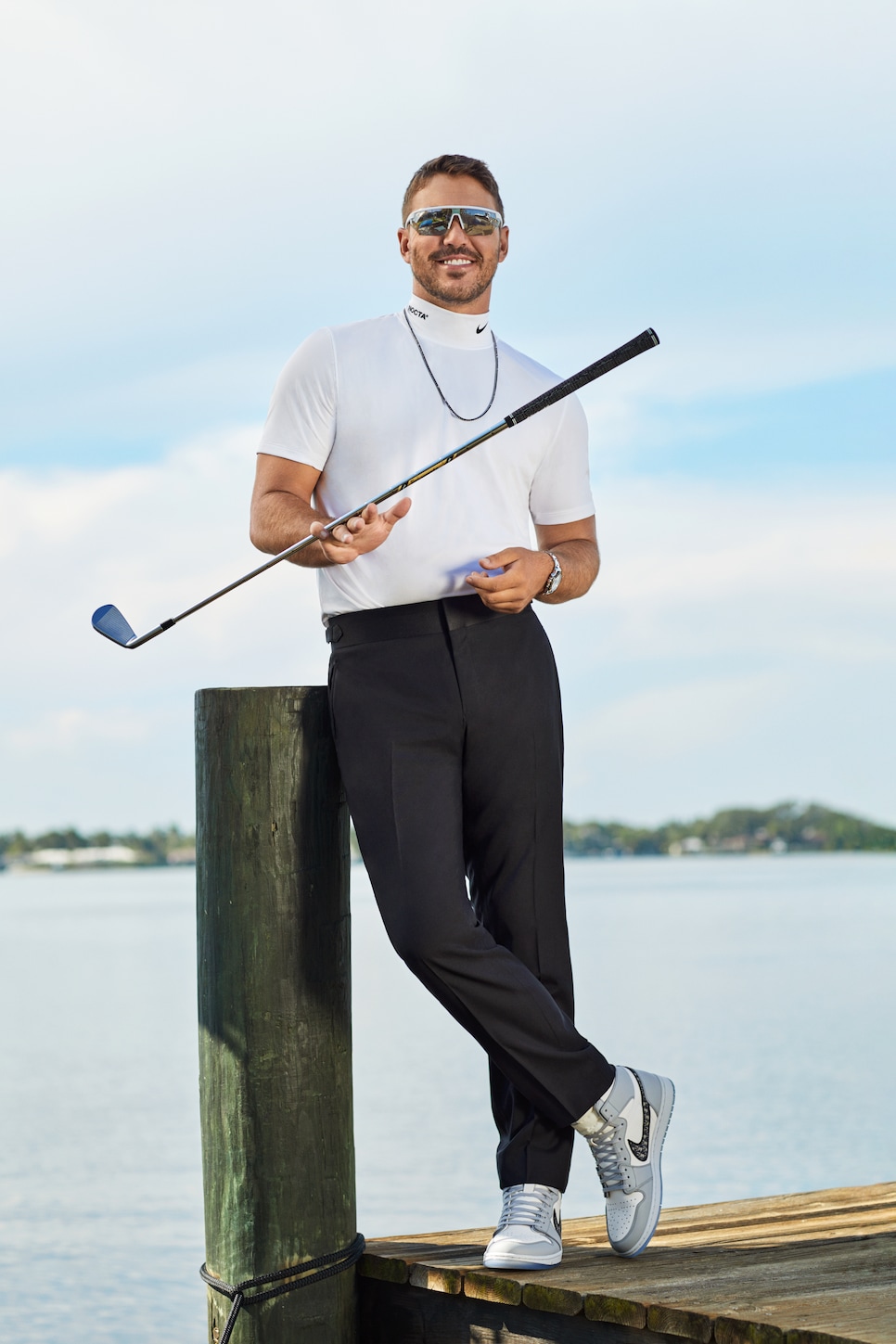 But part of that is being able to take it too.
I love it. Come at me all you want. There's a Kobe quote: "They don't hate the good ones. They hate the great ones." A lot of people get pissed off at the truth, so they don't like the trash talk. When you're at the top, you're going to have people hate you because you're so good at what you do. When you dive deep into those words, you understand it's coming from jealousy. I've been there. There are times when I've come off the course, and I'm jealous because somebody has won a couple of times, and I think, I know I'm better than them. I'm so jealous! You feel that burn and that competitiveness, and it just wills you to go farther. It keeps you going and gets you ready for the next time.
One of the biggest things now is that people have the hardest time taking accountability. You hear people say they want to hear the truth. But when you tell the truth, it hurts. Most people aren't ready for it. What was that quote I heard? Sometimes the bully is telling you the truth? Sometimes you need to look in the mirror. I know there have been times in my life where it's been hard to accept the truth. I know it, and I don't want to hear it. Sometimes the things I say get misconstrued. You might hear the way I speak, my monotone, and hear that instead of what I'm saying. I'm dry, and I try to be very chill. That's just who I am. I don't try to get too high or too low.
David Duval changed his body, worked relentlessly, got to World No. 1 and won the Open Championship. Then he looked around and asked himself, Is this all there is? He struggled to find something else to go after. How do you find what to go after next?
I had kind of a similar moment, where it was, It can't be this easy, can it? This was in 2018. I was playing the best in the world. I'm No. 1. I truly believe I'm the best. I go to Korea, haven't touched a club in three weeks, and I just show up and win the thing. I remember thinking, It's that easy? Really? And then you fall a little bit. The only difference is, I got humbled because I got hurt. That brought me back to reality. Then you see yourself fall in the world rankings, and then you say, No, I'm going to get back. Then I got it back and lost it again and then got it back and won the PGA. After that, it was tough to figure out what else to do. I understand where he was coming from with that. But I figured out it's not being the best in the world. It's about being the best you can be. I might be the best in the world, but I'm not the best I can be—so what's the point? You have to find the internal fire and just light it again.
That's what is so interesting about Tiger in 2019. He clearly wasn't the best player in the world again. He wasn't peak Tiger Woods.
But if you ask him, he believed he was the best player there. He wasn't the Tiger Woods of 10 years ago, but he extracted every bit out of the Tiger Woods that was at the 2019 Masters. That has to be satisfying. I mean, I hope when I'm 45, that happens to me. It was one of the coolest things I've ever seen in golf. It sucked in the moment. Don't get me wrong. But I'm good at removing myself from the situation when everything's done and looking at things, and that's maybe the coolest thing that's happened in golf besides that chip in he had on 16. To me, it's the most memorable, aside from getting absolutely trounced on.
Where does what Phil did at the PGA rate?
I don't know why, but it was different. Phil's not Tiger. We're sitting and listening to the coverage on Saturday night, and it was Brandel [Chamblee] and Justin [Leonard], and they were talking about if Phil won, would it bring him into the top 10 players of all time. I thought, F___ that, he's top 10 all time already. Now he's just moved up a couple of spots or whatever. I probably have him at five. But Tiger is in a league of his own. I felt like I gave everything I have with Tiger [at the 2019 Masters], and that shot on 12 killed me, but I was three or four shots back, and I had to do something. I followed up with an eagle and almost made another eagle. I gave him everything I had, and Tiger took it. With Phil, I didn't feel like I gave him any run for his money for 12 or 13 holes. I didn't push him. That's a credit to him, where I think some of his gamesmanship came into play. I have no problem looking in the mirror and saying, I gave it my all, and it just wasn't good enough. Think about Phil, always being second fiddle to Tiger. Imagine if he had been born 10 years earlier or 10 years later. He probably has four or five more majors and 15 more wins, which is crazy to think about. Part of me feels bad for Phil, but the only reason he's as rich and famous as he is is because of Tiger. That's the same thing for our generation.
That might be the one downside to the Tiger effect. You could finish 50th in money for 15 years, make enough cuts to qualify for the full tour pension and have $50 million.
People would take that career.
It comes down to what you want. Do you want to have security or greatness? What makes that person happy? Do you want to be the person who plays 15 years and never misses a cut but never wins or the person who misses seven cuts a year and wins every year? Different people want different things. What satisfies you doesn't satisfy me. I know what I want.
Has Tiger set the bar out of reach?
In my mind, I'm going to catch him on majors. I believe that. I don't see any reason that can stop me. I'm 31. I have another 14 years left. If I win one a year, I got Jack. People misconstrue that as being cocky. No, that's just my belief. If I don't have that belief, I shouldn't be out there. If you don't think you can win, why the hell are you teeing it up? Yeah, I'm just going for second place this week. There's a lot of that on tour. Even elite players are very happy with that. Second? Sports are made to have a winner and a loser. You're one or the other.