News & Tours
Louis Oosthuizen is not wondering 'what if' about major misses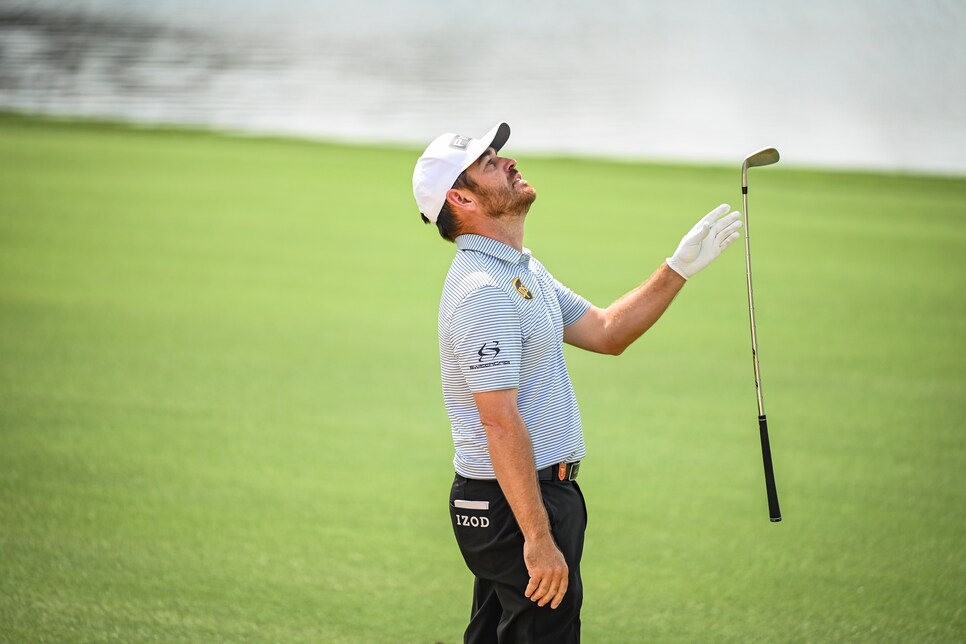 Louis Oosthuizen turned in a remarkable campaign last season. But it's also a campaign prefaced with "what if."
Oosthuizen, you may remember, had a whopping four top-three finishes in the 2020-21 superseason's six majors. The final three starts were particularly impressive, finishing runner-up at the 2021 PGA Championship and U.S. Open, and holding the 54-hole lead at the Open Championship. In that same breath, this is a sport that judges stars by wins and wins alone, so as strong as his showings were, they were without a trophy, begging the question, "What is holding Oosthuizen back?"
Tough as that inquiry may be—and eight major silver and bronze medals against a lone win make that inquiry fair—is it not one the man himself is entertaining.
Making his 2021-22 season debut at the Shriners Children's Open in Las Vegas this week, Oosthuizen said he has not wondered "what if" when looking back on the year that was.
"Not really. I think it was more just after the events that sort of you think what could have been, and you try and shake it off really quickly because there was always the next one coming, the next event," Oosthuizen said. "But, yeah, it could have been a really good season, but my whole goal always is to try and get my game in a good spot when it gets to majors and try and give myself a chance playing back nine of a major championship and see if I can do something.
"And I've done that pretty well last year and it's now just getting that next step by winning a championship."
It should be said Oosthuizen's runner-up woes were not just confined to the majors. Oosthuizen finished T-2 at the 3M Open, and he and fellow South African Charl Schwartzel came up short in a playoff at the Zurich Classic. Somewhat shockingly, Oosthuizen's triumph at St. Andrews in 2010 remains his lone PGA Tour victory.
Yet Oosthuizen, who turns 39 this month, does feel like he discovered a cadence to his schedule that will help him break that drought this season.
"I think I've learned a way to do it, rest quite a bit before, take a bit of time off and then certain time before the tournament start working on things for that tournament and always work short game, doesn't matter which event it is, you just try and keep your short game as sharp as possible," Oothuizen explained. "But there are certain things that you are looking for in your game, try and get it out in the other events and try and try things under pressure when you play other events, by the time you get to the major you should know what to do when you're in that situation.
"But I think we've, me and my team have a pretty good way of preparing for it and that's now just up to me to, that stepping over that line to get that second major."
Oosthuizen has made 205 starts in his PGA Tour career, racking up $27.6 million in the process. He begins his new season Thursday at 10:24 a.m. ET with Jason Kokrak and Sebastián Muñoz.