Crunching the Numbers
The Open 2021: The stats that show why Louis Oosthuizen finishes second so often at majors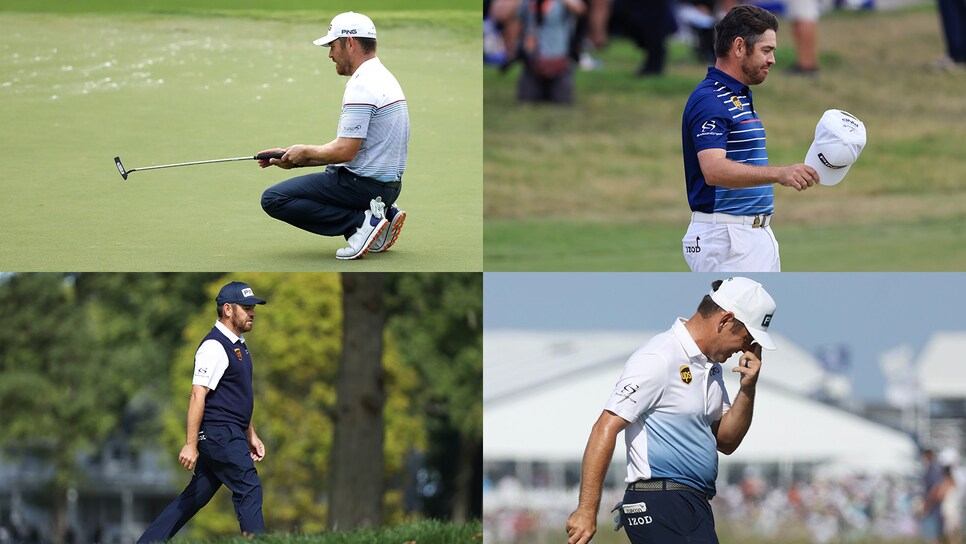 Louis Oosthuizen is halfway home to victory, his record-breaking 11-under total through two days at Royal St. George's providing a two-shot cushion over Collin Morikawa. Entering the Open off back-to-back major runner-ups and with a claret jug already to his name, it is a performance that ostensibly makes the South African the runaway favorite. But he is a favorite in numbers only, because Oosthuizen's major history is a contradiction. It is a profile well-known and respected, yet a profile becoming increasingly known for what it is not.
Oosthuizen has six career second-place major finishes, one at each of the big four. If that sounds incredible, you're correct, Oothuizen one of just eight players to accomplish that feat. In that same breath, fairly or not, this is a sport that judges its stars by wins above all, and while Oothuizen is not necessarily criticized for his major record, his cadre of silver medals against a lone Open conquest does provoke wonder, and raises the question: What's holding him back?
In Oosthuizen's defense, his past is not marked, or at least recalled, by Sunday blow-ups. He's maddingly consistent in scoring across all four rounds—Friday is the low at a 69 scoring mark, Thursday the highest at 70, with Saturday (69.16) and Sunday (69.83) sandwiched between. Coming in second doesn't mean a player did anything wrong, either; sometimes you get beat or you weren't that close to begin with. Still, with two of those runner-ups coming in the last seven weeks, it's fair to ask where the 38-year-old may be coming up short.
And a glance through his just-misses reveals a pretty clear answer: Driving.
Unlike other sports, golf woefully lacks publicly accessible historical stat-tracking. Even this week, fans who visit the Open's leader board page will see three stats—fairways hit, greens in regulation and putting. Which is a long-winded way of saying we can't produce a singular number to illustrate Oosthuizen's tee-ball troubles across this span. A visit to each of Oothuizen's six runner-ups, however, does reveal a pattern.
Let's start with the most recent second place at Torrey Pines. Starting Sunday in a tie for the lead with Russell Henley and Mackenzie Hughes, Oothuizen was ultimately bested by Jon Rahm by one, with Rahm's 67 overcoming a three-shot deficit. Oothuizen's 71 still beat the field average by 2.17 strokes, but he surrendered nearly a shot back to his competitors in SG/off-the-tee (-0.94) Sunday, with most of that damage (-0.77) coming on the back nine. We don't necessarily need stats to underline that sentiment. Needing a par-birdie finish to tie Rahm, Oothuizen instead made bogey at the 17th after sending his drive into the canyons, and when he absolutely had to make eagle, another wayward drive at the 18th found a spot in the rough so gnarly Oothuizen was forced to lay-up. Both of those drives find the short stuff, we may have a different U.S. Open champ.
The tipping point wasn't as drastic in May at Kiawah Island. Oosthuizen began his final round in the penultimate group two back of the lead. He briefly got that deficit to one but spent most of the front nine two back of Phil Mickelson, then fell to four thanks to a double bogey at the 13th and never truly threatened in coming in a tie for second with Brooks Koepka, two behind Mickelson. However, Oosthuizen was the co-leader with Mickelson after 36 holes, and over the final 36 gave up a whopping 2.63 strokes to the field off-the-tee, almost all of which came on the back nine (-2.27 shots). Suddenly that two-stroke deficit feels a heck of a lot closer. To be fair, conditions toughened on Sunday afternoon, although Mickelson gained 0.59 strokes in the final round playing in the same conditions.
The 2015 U.S. Open is an odd bird. Oosthuizen was lucky to make the cut after an opening-round 77, but consecutive 66s had him three off the lead heading into the final 18. He then opened with three straight bogeys starting at the second—two of which came off of bad drives—dropping him eight back of Dustin Johson at one point. Oosthuizen proceeded to orchestrate a backdoor special with birdies on six of the final seven holes to tie for the lead, only for Spieth to birdie the last (and Johnson to three-jack), with Oosthuizen falling by one. Now, a pro can go mad thinking of where they dropped a shot over 72 holes, but that Oosthuizen ranked T-68 (out of 74 qualified players) in driving accuracy didn't help.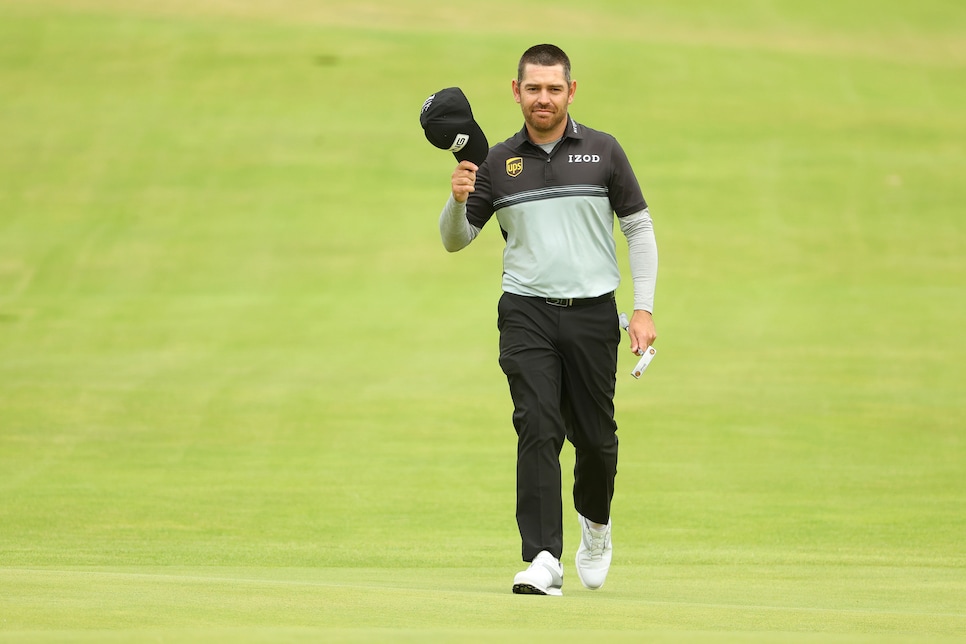 Oosthuizen's 2017 PGA doesn't fit quite as nicely in this narrative. He was two back of the leaders, never was in the mix at one over through 14 holes at Quail Hollow, bucked his head briefly thanks to an eagle at the 15th only to be knocked out by a bogey on the following hole. He was down four walking up the 18th fairway, with a birdie to close out and a bogey from eventual winner Justin Thomas making the two-stroke gap look more competitive on paper. It's worth noting, though, that Oosthuizen lost almost two strokes to the field thanks to errant drives at the 10th and 11th, drives that led to 5-5 when Thomas made 4-4 on those same holes.
We're briefly skipping his 2015 runner-up at St. Andrews to address the 2012 Masters. It was a tournament known for two things: Oosthuizen's albatross on the par-5 second, and Bubba Watson's physics-defying approach from the pine straw to 20 feet at the 10th hole in sudden death. What you likely forget is that on the 10th Oosthuizen blew his drive to the right, forcing a punch-out approach that was well short of the green. His chip wasn't much better, allowing Watson to win the green jacket with a par. To Oosthuizen's credit, he finished the week T-7 in fairways hit, including hitting eight of his final nine in regulation, and Watson's approach was an all-timer. But it was Oosthuizen's bad drive that allowed Watson's par to seal the win.
As for the 2015 Open … perhaps the driver wasn't a weapon, ranking a pedestrian T-23 in fairway accuracy, but he earned his way into a playoff with a final-round 69 and lipped out a birdie putt on the final hole of the playoff aggregate to go into sudden death with Zach Johnson. As we mentioned above, sometimes you just get beat.
The crazy thing is, the driver is normally not Oosthuizen's problem, as Louis annually ranked inside the top 40 in SG/off-the-tee for most of the previous decade. Moreover, as NBC Sports on-course reporter Notah Bogey III mentioned on Friday's broadcast, Oosthuizen is driving the ball beautifully at Royal St George's, hitting more than 80 percent of his fairways through two days.
Of course, one thing we can't quantify is what type of collateral damage comes from Torrey Pines, Kiawah and beyond. For his part, Oosthuizen dismissed that his past hurts his present.
"No, more inspiration I would say, knowing that I can still compete in majors," Oosthuizen said. "I just need to pull it through and see if I can go one better on this weekend." But when asked a follow-up of what he's learned from those seconds, Oosthuizen was more specific. "Having said that, I played well enough where I could have probably been a little bit more aggressive on a few occasions. It's just I don't think I would have done a lot different in a lot of them.
"Right now I think where my game is at, I just need to put myself in position, and this year is the best I've been putting, and I just need to hit greens and give myself any opportunities for birdies."
All fair and true. What was left unsaid, and what Oosthuizen's past proves, is that those opportunities begin on the tee box.