SAN DIEGO — There is a bike path off North Torrey Pines Road that starts on a beach and climbs up the cliffs of La Jolla. Those in the saddle are a fit bunch, evident by their skin-tight shirts or no shirts at all, with their wrap-around shades and polycarbonate-shell helmets and neon shoes exuding a belief they are more than weekend warriors. While that may be the case, they are still no match for what awaits. One by one—be it the hill or grade, the wind or the elements, their bike or the battle with themselves—they pull over. Some make it farther than others, some attempt to restart the ascension, some decide the beach looks far more appetizing. Theirs is not a Sisyphean struggle, for making it any distance is a feat. Still, no matter how far they make it, ultimately, they fall to the climb.
There was a moment Sunday afternoon at the U.S. Open when 10 players were within one shot of the lead, and another half dozen remained in shouting distance, the field taking the championship's "From Many, One" ethos to the extreme. For a tournament that through three days plodded along without much buzz or fanfare, it felt as if the property was quaking. There would be a cheer in the distance and fans would refresh their phones, seeing who produced the response, and in this window it felt like anything and everything was possible.
However, "From Many, One" signifies there can be only one. Whether this one rises or the rest fall is up for interpretation. Then again, the U.S. Open often is not so much a golf tournament as it is a prize fight, decided by whoever is left standing. And one by one Sunday, they hit the canvas.
The first to go down was Russell Henley. He was one of the tri-leaders after 54 holes. Many were surprised he was here. Many expected he wouldn't stay; he is a top 60 player in the world but a player with no top-10s in 26 career major starts. Henley erased a bogey at the first with a birdie at the third, and though his smooth swing looked quick, he did his damndest to hang on. He was also in front of a crowd that was desperately pulling for his playing partner, Rory McIlroy, and while that crowd was not hostile it had no interest in helping Henley stay afloat. He sank with three consecutive bogeys starting at the sixth.
One of the other 54-hole leaders, Mackenzie Hughes, was not far behind. When he was warming up before his round, he seemed to be upset that the bleachers emptied once Bryson DeChambeau headed to the first tee. Glancing at the now-barren stands, Hughes brandished a look that said, "I'll show you." And he did; he bogeyed the first, fifth and sixth to drop to two under yet answered with birdies at the seventh and ninth to be squarely in the mix. But then Hughes picked a hell of a time to hit a snap hook, doing so at the par-3 11th, his ball zipping toward a cart path, skying into the air and not coming down. For all the worry about Torrey's rough it apparently is not as thick as the eucalyptus trees, which snagged Hughes' ball and didn't give it back. He took an unplayable that led to a double, and an ensuing bogey at the 12th knocked him off the board.
Matthew Wolff, who finished runner-up at Winged Foot last fall and has been one of the feel-good stories of the week, pardoned his opening-hole bogey with birds at the fourth and six to get to three under. But as soon as he made an appearance Wolff proceeded with an Irish goodbye, three straight bogeys at the eighth, ninth and 10th sending him packing.
Justin Thomas, who got to two under on the front, quietly departed from the leader board with a double at the 10th. Dustin Johnson also got to two before two bogeys and a 7 erased any dreams of a third major title. Scottie Scheffler sat at two under before a bogey at the 11th and double at the 13th shooed him away. Paul Casey, who began the weekend at four over, bucked his head at three under with three straight birdies to finish the front. He then bogeyed the 11th and three-putted the 12th for a double. Only seven climbers remained on the hill.
Well, six. If Xander Schauffele didn't hail from San Diego he would have been considered out of the running well before. But the crowds that had been so vocal behind Phil Mickelson this week finally came to his rescue, doing their best to will Schauffele into contention. And the scoreboard said he was kind of there, reaching two under at a couple points Sunday. In truth, he never threatened, and if you're looking for the moment where Xander lost it, it may have been two weeks ago when he switched to the arm-lock grip. The move backfired and hard at Torrey: Schauffele, who entered the week ranked eighth on tour in strokes gained/putting, lost -1.56 strokes to the field on the greens.
"It's the U.S. Open. Sometimes you need things to go your way, and it just did not," Schauffele said. "You need a couple bounces, a couple of putts on Poa annua to bounce your way, and it just didn't."
Could Collin Morikawa break from the pack? He is ice veins incarnate, and a three-under front nine evoked images of his weekend run at the PGA at TPC Harding Park almost a year ago. But this is the U.S. Open, which can make the coolest customer come unglued. That was Morikawa's fate when he skulled his fourth at the par-5 13th. His fifth was as solid as it could be from behind the green, but he faced a 14-footer for bogey. The save wasn't close. A double-bogey 7 ended his day.
How about Rory McIlroy? It had to be Rory McIlroy. That was the sentimental favorite, even more so than Schauffele, as McIlroy began to emerge as a contender the day before with the notion cemented at the fourth on Sunday. With paragliders and the Pacific serving as backdrop, McIlroy converted a sidewinding 30-footer for birdie, and when Henley bogeyed the sixth it moved the Ulsterman into a share of the lead. McIlroy made the turn in one under, adding a no-nonsense par at the 10th and facing a 30-footer birdie at the 11th.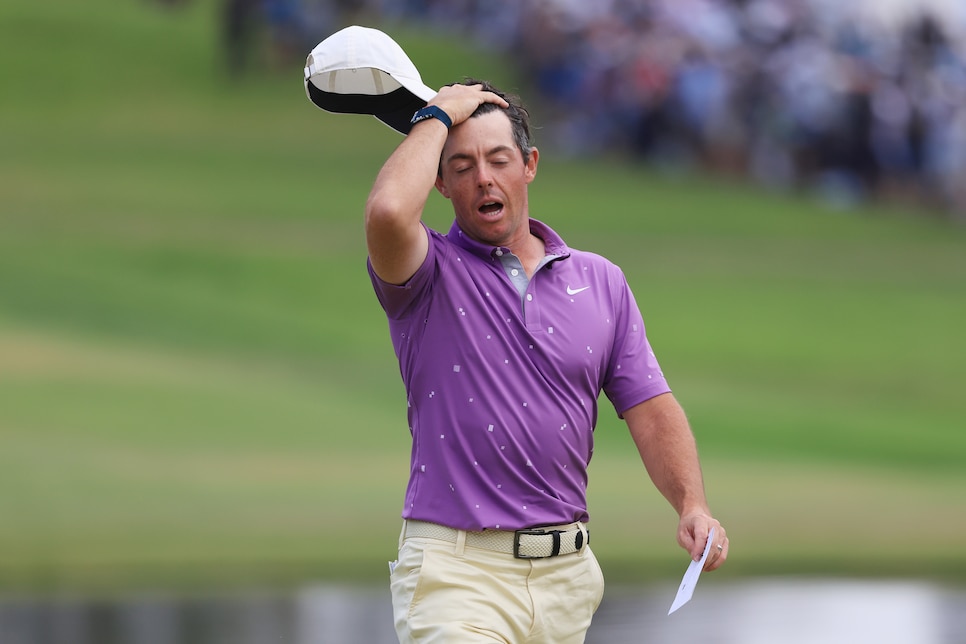 The 11th turned into foe. McIlroy needed three putts to find the hole. Bogey. The 12th was his executioner. He pumped his approach against the edge of a greenside bunker, the lie so nasty McIlroy was forced to advance it into the rough. That chip wasn't much better, and his eight-footer for bogey didn't go. McIlroy's shoulders slumped, the surest sign that his major slump would continue.
"I was right in the thick of things. It was really two holes that sort of … yeah, it was two holes that basically stopped the sort of run at the title," McIlroy said. "I played well. I felt comfortable with what I was doing out there. I felt like tee to green I was really solid for the first few holes, but once I made those little mistakes on 11 and 12, I felt like I was just chasing a little bit, and then ultimately couldn't really get anything done from there."
The race was down to four, with one of the sport's thoroughbreds making a spirited sprint. That would be Brooks Koepka, the man who refers to the majors as easy. He was making this one look like way, playing the front nine in 32 strokes to get to three under. He traded a bogey at the 12th for a birdie at the 13th, and when he made a 16-footer for birdie at the par-4 16th, the roars that roll produced sure felt like Brooks was on the verge of his third U.S. Open title.
But then Brooks Koepka, Destroyer of Worlds, looked like Brooks Koepka, human, on his next swing, his tee shot at the par-3 16th ducking left of the green. He couldn't get up-and-down for par. A poor drive at the 17th followed, and though he bailed himself out with a beautiful approach to 12 feet, his putt needed to go an extra rotation to the right. He sealed his fate at the 18th. Needing no worse than birdie, his approach from 218 yards was 18 yards right of the hole. He flubbed his eagle chip into the bunker and didn't scare the hole with his fourth. Koepka, out.
"All in all, I didn't really have my stuff," Koepka said of his two-under 69. "It is what it is. Not very pleased. I guess it could be worse."
Which brings us to Koepka's adversary, the reigning champion of this event. For an hour, it appeared Bryson DeChambeau would defend his belt. The beefy man executed a flawless front nine, birding the fifth hole and coming this close to an ace at the par-3 eighth, the ensuing tap-in giving DeChambeau the lead. He held on with pars at the ninth and 10th. He had been unflappable since an early stumble in his second round, and his bomb-and-gouge, bomb-and-gouge, bomb-and-gouge approach was doing what he did at Winged Foot. Consecutive bogeys at the 11th and 12th off short-game miscues were a setback, but with two par 5s ahead DeChambeau still felt like the man to beat. The 13th had other ideas.
It started on the tee box, which has been slippery thanks to the mists of the Pacific. DeChambeau was one of its victims, losing his footing and sending his drive into the gnarly rough. He could muster his second only 140 yards ahead. A streaker intervened, with said streaker taking a few swings before being tackled into tomorrow by security. Perhaps that streaker swung bad juju in DeChambeau's direction, because Bryson's third was barely in the air before it fiercely dived into a bunker. His fourth flew next to a case of beer (you read that correctly). The chip was good, but the putt wasn't. Like Morikawa, a double-bogey 7. His championship was effectively over, officially ending when he sent his drive at the 17th into the canyons en route to a quadruple-bogey 8. The final damage: a back-nine 44, dropping DeChambeau from first to T-26.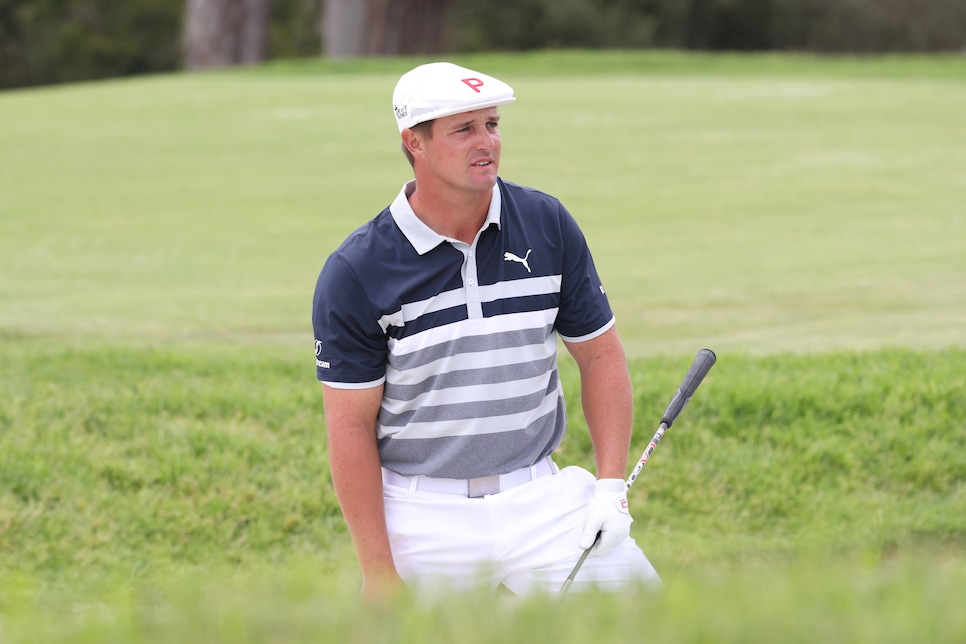 "Unfortunately, just had bad break after bad break happen," DeChambeau said after the round. "It is what it is. It's golf, it's life … I just didn't have full confidence in my swing and I got some unlucky lies down the stretch."
Two now remained. After DeChambeau faulted, the tournament was Louis Oosthuizen's with Jon Rahm in pursuit. Teeing off in the final group, the 2010 Open champ played the type of golf we expect from him on the game's biggest stages. Which is to play steady, if somewhat unspectacular, golf. See ball, hit ball, keep ball in play, keep the big numbers at bay. He bogeyed the fourth but back-to-back birdies at the ninth and 10th gave him a two-shot advantage. That advantage fell to one when he sailed his tee shot at the 11th into the crowd and couldn't get up-and-down.
Three holes ahead, Rahm couldn't get a birdie to fall at the 14th. A par at the 15th for the Spaniard, and another when his 21-footer for birdie on the 16th knocked on the door but didn't enter. Behind, Oosthuizen was answering with par after par. A playoff was not so much on the horizon as it was inevitable. On the final two holes, Rahm produced birdies, both of the "Did you see that?!?!" variety and punctuated with fists through the air and yells to the heavens. As Rahm should; those are moments that are a lifetime in the making. However, the issue was still in doubt. Oosthuizen needed only a par and birdie on the final two holes to force overtime.
But it is Sunday night and no playoff was needed. Oosthuizen made a mistake at the worst possible time, his drive at the 17th barrelling into a canyon. He saved bogey but now needed eagle. A poor drive on the final hole forced a layup, meaning Oosthuizen needed a hole-out from 70 yards. He hit a nice and proper wedge shot, but ...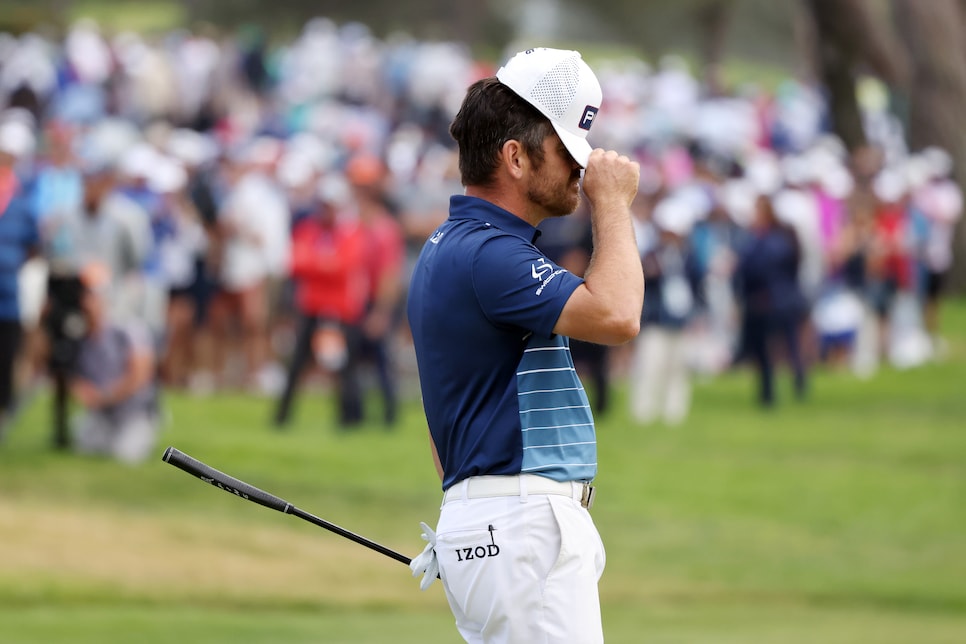 "I feel like I had my shots, I went for it, and that's what you have to do to win majors," Oosthuizen said. "Sometimes it goes your way, and other times it doesn't."
The history books will note the 2021 U.S. Open was captured by Jon Rahm, and that's what he did, capture it. But as Oosthuizen walked up to the green, his prayers to the golf gods unanswered, his face—bent down and buried in his hat—added the final word to this championship: For Rahm to rise, many had to fall.