U.S. Open 2021
U.S. Open 2021: Bryson DeChambeau's chances die with a slip, a streaker, a beer box and a back-nine implosion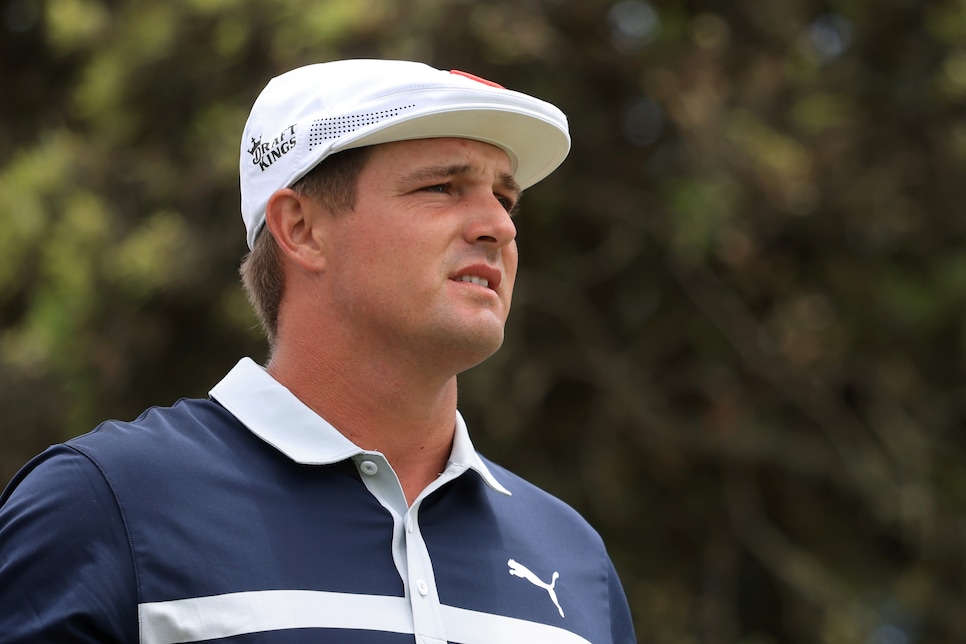 The U.S. Open took a turn for the chaotic around 3 p.m. local time on Sunday at Torrey Pines. A star-studded leader board began to thin out rapidly, and a number of very strange things seemed to happen in quick succession. Bryson DeChambeau's back-nine 44, which saw him drop from the solo lead to outisde the top 25, served as the perfect case study.
"Unfortunately, just had bad break after bad break happen," DeChambeau said after the round. "It is what it is. It's golf, it's life... I just didn't have full confidence in my swing and I got some unlucky lies down the stretch."
Allow us to explain. At five under total, the defending champion held the solo lead after 10 holes of his final round. He'd gone more than 30 holes without a bogey, and it all began to feel eerily similar to his performance last year at Winged Foot. He was bombing driver everywhere, missing a bunch of fairways but finding a way to save par when out of position. But a first misstep came at 11, when he wasn't able to overcome a fanned tee shot on the par 3. Bogey. At 12, a three-putt from the front of the green resulted in another bogey.
Still, with everyone around him making bogeys, DeChambeau was very much still in it as he stepped to the par-5 13th. He could easily reach it in two with his length, but he'd first need to find the fairway—a proposition made much more difficult given the condition of that teebox. NBC's Shane Bacon had warned of this possibility earlier in the day, pointing out in a tweet that "we've been seeing players slip on the 13th tee most of the week but even more today. The tee is so close to the water and the back foot has been slipping out from under players on the transition."
That's exactly what happened to DeChambeau. His right foot gave out in transition, and it was enough to ruin the sequence of his powerful move. The drive went way right, and things only got weirder from there.
With DeChambeau preparing to play his second, a scantily clad and "unruly" fan ran into the 13th fairway, with a club in his hand, and proceeded to hit a few golf shots before security tackled him.
Once play resumed, DeChambeau's third shot eventually found a bunker and he caught his fourth thin, sending it bounding over the green and finishing directly next to an empty Stella Artois box. Predictably, the internet collectively wished it would've been a different beer brand—the one that sponsors his arch-enemy Brooks Koepka.
DeChambeau got a free drop from there but couldn't do much with his fourth, sending it to the front of the green. From there, a two-putt for double bogey that killed his chances of a successful title defense.
Would you believe us if we said it got worse from there? Because it got much, much worse from there. Four holes later, DeChambeau smothered his tee shot into the hazard left of 17. He took a drop and played his third just short of the green, only to cold-shank his fourth shot into Arizona. His fifth came up short again, this sixth found the green, and he two-putted for a quadruple-bogey 8. In the end, it added up to an eight-over 44 on the back-nine and a 77 that saw him drop all the way to T-26.
The lesson? Golf is very hard, and 72 holes is a very long time.