U.S. Open
U.S. Open 2021: Putts haven't dropped. He played in front of a circus. How is Xander Schauffele in this?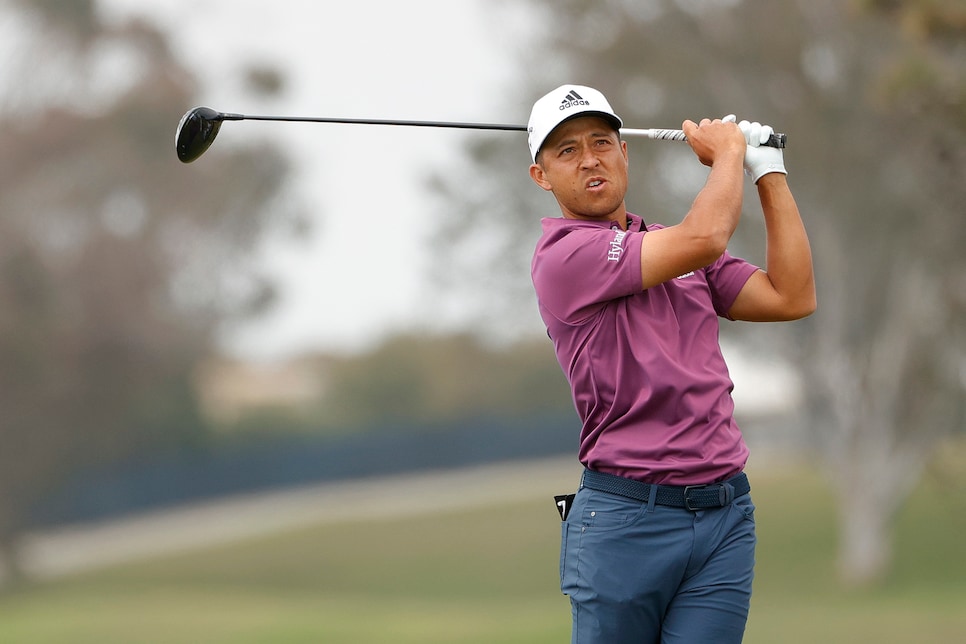 SAN DIEGO—It has been two days of contradiction for Xander Schauffele. He is the hometown kid who hasn't received much hometown love, and his game, often considered the most complete in golf, has a sudden laceration. This sounds like the opening dispatch to inform you, dear reader, that Schauffele's U.S. Open bid went unanswered.
Except his bid is very much alive. The rest of the game has served as a tourniquet, and his resolve helped quiet the circus that surrounded him. Besides, there is hope that hometown love will come. As for the gaping hole that has appeared … that is a problem for tomorrow. What matters is there is a tomorrow, and it is a tomorrow that matters because Schauffele is just three back of the 36-hole lead.
"It was kind of a fun start," Schauffele said Friday evening after a 71 left him two under for the tournament. "In good position."
An even-par score conveys a workmanlike trek around Torrey Pines, and it's a score many in the field would happily take. It's also a score that could have been, should have been better. Schauffele gained nearly a stroke-and-a-half off the tee. The production was similarly efficient with his irons (1.36 SG/approach) and his wedge play was pretty solid too. Unfortunately for Schauffele, he could not convert when on the green, losing half a stroke on Torrey's putting surfaces.
"Missed a few short ones and hit it great," Schauffele said. "I think I could have capitalized a little bit throughout the round with a few putts, but it's late in the day, afternoon tee time on poa annua, you can never expect too much."
In itself, no big whoop. Even the world's best have those days where the cup has posted a "Sorry, we're closed" sign. What's concerning is that sign has been up for two days for a guy who entered the week eighth in strokes gained: putting. Worse, this performance may be self-inflicted.
Two weeks ago Schauffele implemented a new putting style, switching to the armlock grip. He did so against the advice of his putting coach, believing the grip—which he stated should be banned—would give him an advantage on poa annua greens.
"They're tricky greens to putt on," Schauffele said earlier in the week of Torrey's dance floors. "The longer the day goes on, the bumpier they get with people walking on them. Launch conditions are very important out here, and I feel like my launch is even more consistent with this arm-lock style putter."
But it hasn't worked. As the second round neared completion Schauffele was outside the top 100 in putting for the week. Still, he remains steadfast that what he's doing is the right route to where he wants to go.
"I'm happy. I pretty much did a lot of prep for this event," Schauffele said. "Prep's paid off, and playing pretty solid golf, and just got to kind of hang in there."
The U.S. Open is known for just that, testing a player's perseverance and temerity. However, usually the test is the course, not the people on it.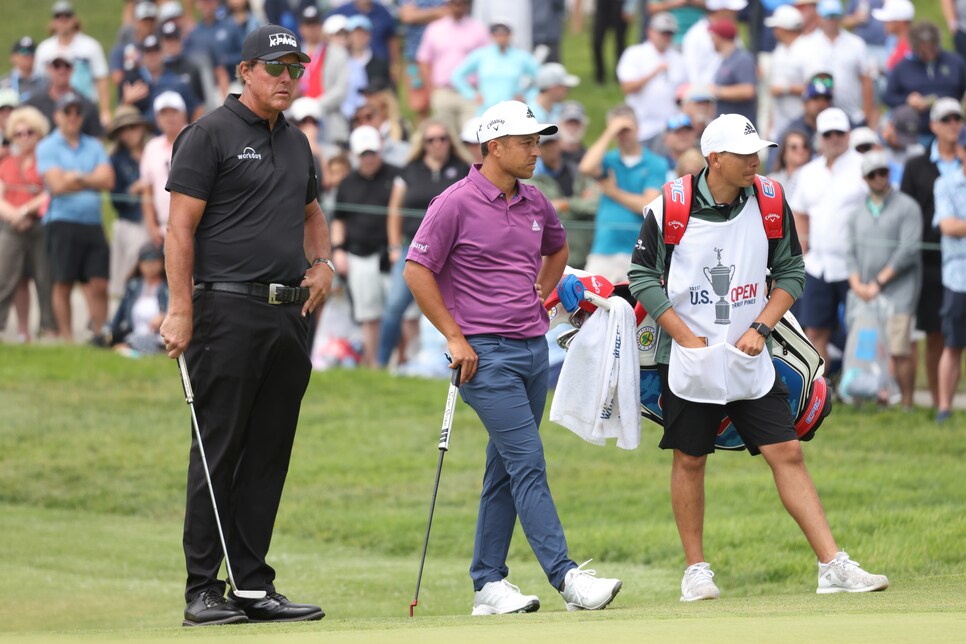 Xander was paired with Max Homa and Phil Mickelson in Rounds 1 and 2, a pairing billed as Southern California's favorite sons. Popular as Homa and Schauffele are, it was clear there was only one planet in this solar system. The reception wasn't surprising; Mickelson is wrapped in the golden aura of Kiawah, and what happened in South Carolina gave promise that something similar could happen in San Diego. It was a dynamic that made this pairing part victory lap, part pep rally.
The only problem is Phil was the only one on stage. The crowds were mostly indifferent to Xander, and juxtaposed to the vocal support showered on Phil, it was, well, weird. Schauffele did not indicate it was a nuisance— "Definitely a comfortable pairing for me and I think for them as well," he said afterwards—but it was not an environment especially conducive to success.
He should see a different setting Saturday, as the Mickelson circus will be hours ahead of him. That separation should put the focus back on Schauffele to provide a more galvanizing reception. The putting is worrisome, yes, although the armlock was not a disaster at Muirfield Village, and he mentioned that with every round comes more comfortability with it. The U.S. Open is within reach.
Of course, to get there Schauffele will need to conquer the biggest contradiction of them all.
He is known as a big-game hunter and rightfully so, bagging seven finishes of T-6 or better in 16 major starts. Therein lies the paradox: none of those finishes are attached to a title. The prevailing notion has been that title will come, eventually; he is just 27 years old, his runway so long the end is not in sight. There's also the belief that sometimes you need the reps of falling out of the saddle before riding the bull.
There's truth to those sentiments. One could also argue that not all experience is good experience, that scar tissue can build from those near misses and close calls. And, fairly or not, there comes a point when the connotation of all those high finishes change if there's not a trophy to show for it.
However, we are getting ahead of the story, for there are 36 holes left of this 2021 U.S. Open story to write. We don't have the faintest idea what will unfold in the pages ahead, although this much is clear: Despite battling the course, its crowd and himself, Xander Schauffele will be a prominent character, more than capable of writing a happy ending.
"It's the U.S. Open," Schauffele said. "You never know what can happen."


MORE U.S. OPEN 2021 STORIES FROM GOLF DIGEST: