Courses
A drone video tour of every hole at Torrey Pines (South), one of golf's great settings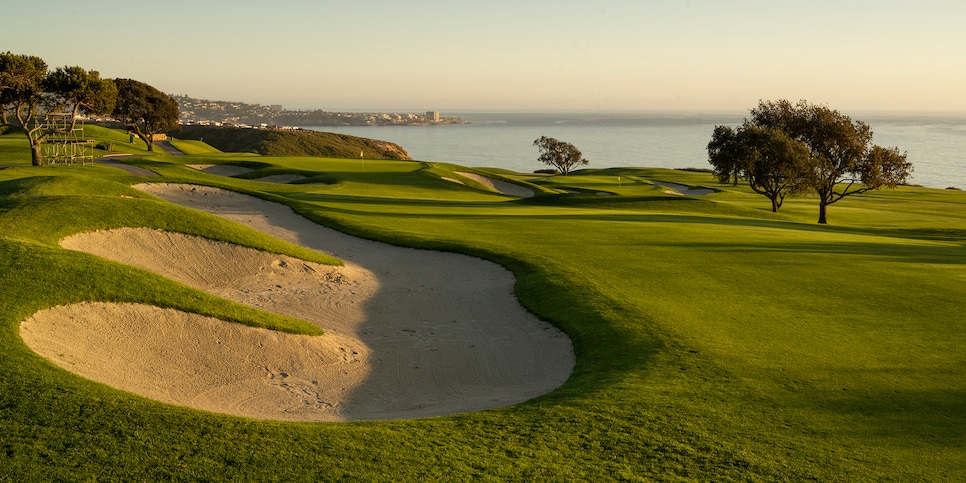 It would be difficult to conjure a better setting for golf than Torrey Pines. Set on high bluffs along the Pacific Ocean, with steep canyons tumbling toward the beach below, the scenery is dazzling. The holes of the North and South courses race out onto fingers of land above the ravines, taking golfers to places that feel like the edge of the Earth, which in a sense they are. Yet as dramatic as the land is, Torrey Pines is eminently convenient, located just minutes north of San Diego, and accessible to anyone with a tee time. San Diego residents can play the famous South Course, host of the U.S. Open in 2008 and this June, for less than $70.
Built in 1957, at a time when interest in golf was beginning to consume the public, Torrey Pines was part of a wave of municipal courses that crashed across the country in the 1950s and '60s. Few, however, had the shimmering sea, the Southern California sun and Torrey Pines' other natural assets. Though both courses were designed and built at the same time by William F. Bell, the South Course has always been the marquee venue and has hosted the final rounds of the annual PGA Tour event, now called the Farmers Insurance Open, since 1968.
When former USGA executive director David Fay, in the mid 1990s, made a push to take the U.S. Open to public courses, Torrey Pines became an obvious target. Rees Jones, who had remodeled Bethpage State Park's Black Course in New York in preparation for the 2002 U.S. Open, was hired to revamp the South, transforming the beloved but rough-around-the-edges Bell course into a major championship monster, with narrow fairways, thick rough and slick greens pitched back to front and above deep-set bunkers. The competitive theater that the South Course produced in its big-stage debut during the 2008 U.S. Open was as aesthetically beautiful as the sensational Torrey Pines setting—and secured its place within the hearts of golf fans.
Though day-to-day the South Course doesn't play as demanding as it does in tournament form, it's never a pushover. Whether the rough is up or down, driving it straight is a necessity, and the ball must be kept below the hole on the greens. Control and solid striking are required to score well. And while the canyons play largely as parallel hazards rather than strategically with shots angled across them, their effect is invigorating, even therapeutic—poor play is easily forgotten standing on land's end and taking in one of the game's greatest views. Municipal golf has rarely had it so good.
Watch our Drone Video Above