Home Game
U.S. Open 2021: An inside look at Phil Mickelson's love-hate relationship with Torrey Pines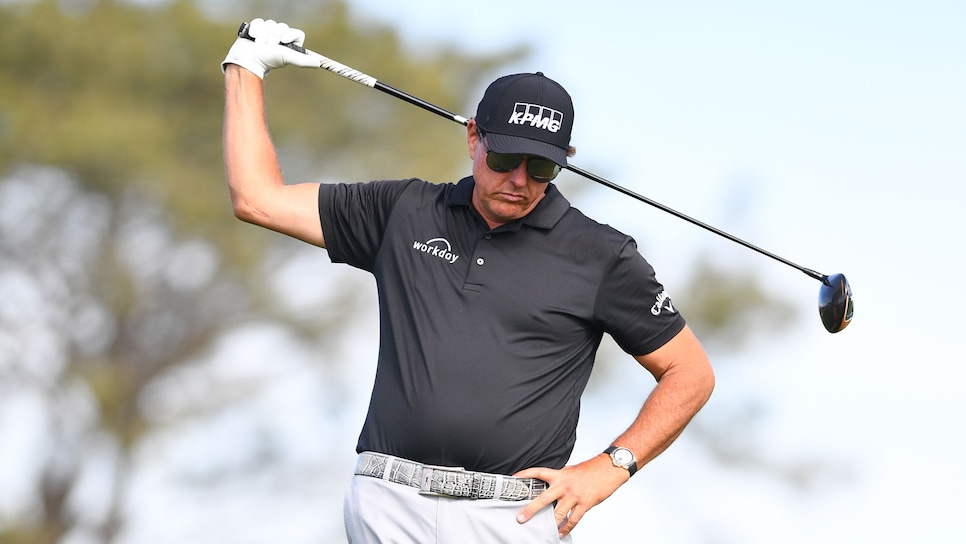 Photo By: Icon Sportswire
SAN DIEGO — There is most certainly a before and after to the complicated love affair—and eventual falling out—between Phil Mickelson and the Torrey Pines golf courses. There is even a date of demarcation: Feb. 11, 2001.
On that Sunday, Mickelson, a lifelong San Diegan, won the then-Buick Invitational (now Farmers Insurance Open) for the third time in a dreamy nine-year span. The victory was so Phil-like and bizarre, in that he scorched the Torrey Pines South Course for a six-under-par 66 in the final round to get into a playoff with Davis Love III and Frank Lickliter. And then he won with a double bogey on the third extra hole after Mickelson and Lickliter both hit their first drives into the canyon on the 17th hole. Lickliter further butchered the job with a three-putt for triple, and that was it. Tour win No. 18 for Mickelson at the time.
Lucky as it was, that was the last time—now 20 years ago­— that Mickelson lifted a trophy at Torrey Pines. Three months after, bulldozers arrived on the South Course to render Mickelson's playground all but unrecognizable. Architect Rees Jones was tasked by the Friends of Torrey Pines group to redesign the South in a way that would attract the USGA to bring a U.S. Open to San Diego. Everything fell into place, and in 2002, the municipal course was awarded the 2008 U.S. Open.
Tiger Woods, who earned his first tour title at Torrey in 1999, appeared to be the biggest beneficiary of the redesign, winning seven times, including the '08 Open. But Mickelson lost his magic at Torrey. In his 18 starts there since the 2001 victory, he has only had four top-10 finishes. His best result came a decade ago in 2011, when he shot 68-69 on the weekend and finished second to Bubba Watson by one stroke—the tournament that Lefty had caddie Jim "Bones" Mackay tend the flagstick on the 72nd hole for his 60-yard wedge shot.
The last seven years in the Farmers Open have been particularly ugly. Mickelson has missed the cut three times, withdrawn once with a sore back, skipped one year to play in the Middle East, and has a best finish of T-14 in 2017.
In the buildup to next week's return U.S. Open at Torrey Pines, Mickelson is the story, coming off his historic win last month in the PGA Championship at 50 years old. The spin has already begun: That Mickelson is the hometown boy, playing on the course he grew up on and adores, with a chance to finally capture the one major title that has so cruelly eluded him. The USGA and golf fans could hope for no better encore to Woods' playoff win over Rocco Mediate in '08 at Torrey than a Mickelson triumph to complete the career Grand Slam.
But don't take all the hype as gospel. The history between man and course is far more tangled—and compelling—than that. From that time of his first win to the more recent struggles on the South Course, for his disdain for Rees Jones' work and getting knocked out of his planned redesign of Torrey North by a government technicality, Mickelson and Torrey indeed have a love-hate relationship. Neither would be the same without the other, but there's pain that comes with that intimacy, too, and they've had to grudgingly come to accept each other, wounds and scars be damned.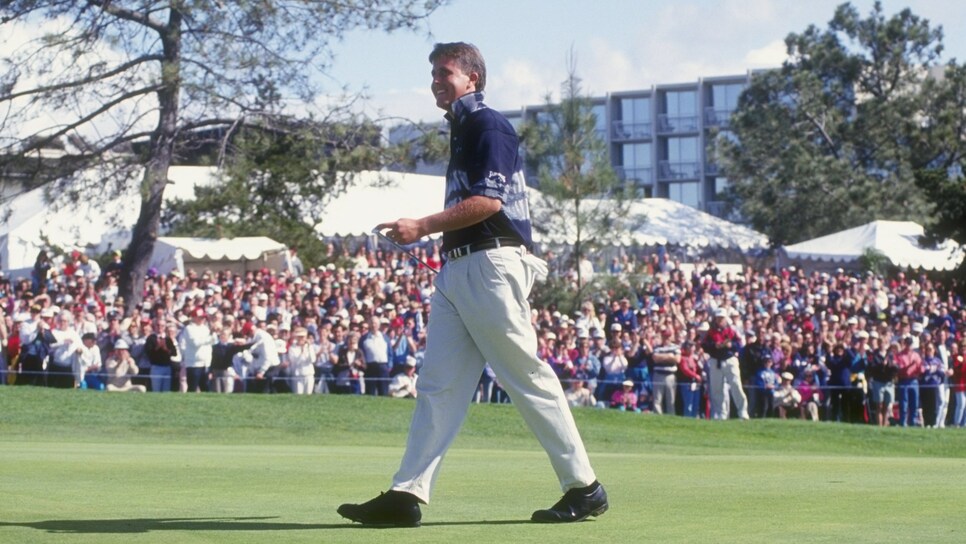 Phil Mickelson walks up the 18th hole during his victory in the 1993 Buick Invitational.
Gary Newkirk
In the romantic view of Mickelson's career, it is said that he "grew up" at Torrey, though that really isn't true. In reflective moments, Mickelson speaks most lovingly of the Balboa Park Golf Course near downtown, the other San Diego muny that to this day is subsidized by the cash cow that is the Torrey facility. It's there that Phil played many a round with his dad, Phil Sr., and his siblings, Tina and Tim. The Mickelsons also played frequently at the scruffy public course nearest to home, Navajo Canyon (now Mission Trails), where Phil, at 12, got his first job cleaning up trash.
To be sure, the Mickelsons revered Torrey Pines because it hosted the PGA Tour event starting in 1968, but it wasn't until later in Phil's teenage years, when his high school golf team played matches there, that he got in more frequent rounds on the coast.
Mickelson's potential greatness was observed in 1988 at Torrey Pines, when, at 17, he played in his first PGA Tour event, making it through the then-traditional amateur qualifier. He missed the cut in the tournament, won by Steve Pate, but only five years later, Mickelson—his blue and white tie-dye collar upturned—walked up Torrey South's 18th fairway to roaring adulation as the 22-year-old won his first PGA Tour event as a pro. (Two years earlier, he'd captured the Northern Telecom Open as an amateur.)
Mickelson's playing partner in the final group that day in 1993? Payne Stewart, who had to remind Phil he should putt out last on the 72nd hole. "It's your show. You're supposed to enjoy the moment," Stewart told him. "Kids," the veteran added with a smirk. "You can't teach 'em anything."
The following year, Mickelson charged with a final-round 64—his best weekend effort on the old South Course—but came up short in the win of another hometown guy, Craig Stadler.
The year 2000 is remembered in golf for Woods' monster season, but Mickelson prevailed early at Torrey, snapping Tiger's streak of six consecutive tour wins. That still has to rank as one of Lefty's sweetest victories. "I wasn't out to end the streak. I don't want to be the bad guy," Mickelson said at the time. "I just wanted to win the tournament."
The following year, Mickelson beat Lickliter while Woods finished two shots out of the playoff. And then came Jones and the bulldozers.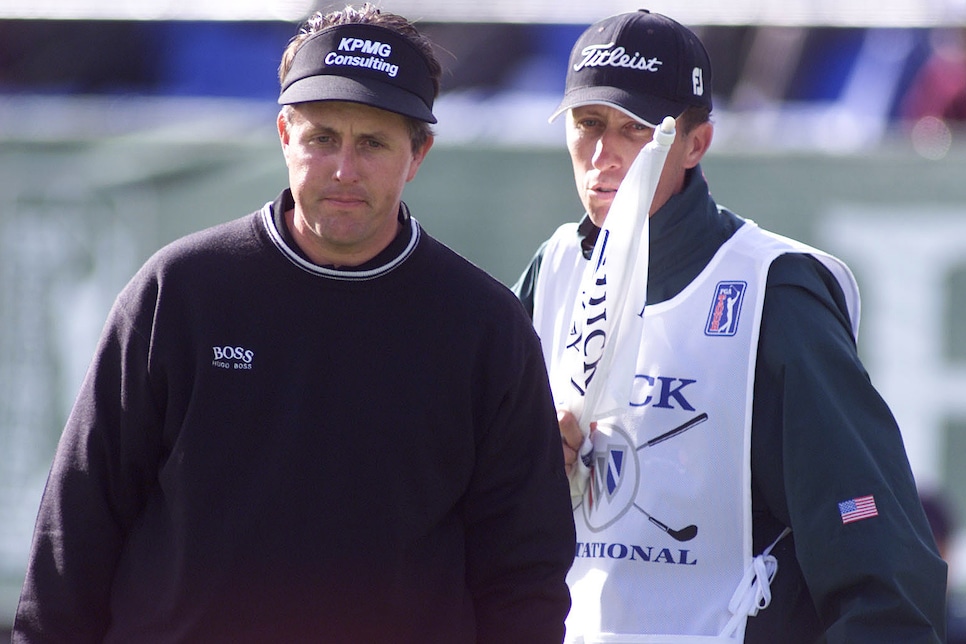 Phil Mickelson and caddie Jim "Bones" Mackay look over a putt on the 18th green during the third round of the 2001 Buick Invitational.
Scott Halleran
At the San Diego tour stop, they play one round on the North and South courses the first two days, then move exclusively to the South for the weekend. In the nine years Mickelson played the tournament as a pro before the redesign, he posted five top-three finishes and his average score was 69.33 on the South during the weekend. Fifty-three percent of his rounds were in the 60s. The change in Mickelson's results after the redesign is startling. In 18 starts since, he has four top-six finishes, a scoring average of 71.45 and only 29 percent of his rounds are in the 60s. His lowest weekend score since 2001: 68.
Mind you, almost everyone's scores were elevated by the muscling up of the South. But none have seen the bottom drop out on previous success at Torrey like Mickelson. "Mickelson lost all of his home-course advantage when they re-did that golf course," Paul Azinger said on an NBC conference call Wednesday. Mickelson himself has said that the changes to the greens erased years of invaluable information in his memory bank.
No one was closer to experiencing the change in fortune than Mackay. On the NBC call, the caddie turned broadcaster offered: "Certainly, he's an opinionated guy, and certainly the course changed pretty dramatically. And to me, in my experience caddieing for some of these guys, so much of what they have that is important to them is mojo. And whether it's Phil at Augusta, Tiger, any one of a number of places, and certainly Phil had that great mojo at Torrey Pines."
It's widely recognized that Mickelson struggles to control his driver—he ranks 189th in driving accuracy (51.16 percent) this season—and while that may have been passable on the old South, the new South's fairways are narrower and the rough far more lush and demanding. In 2018, the last year Mickelson made the Farmers cut, tying for 45th, he ranked 64th in the field in driving accuracy and lost 3.1 shots in strokes gained/off-the-tee. He was actually strong on the greens, gaining 3.5 strokes.
No one but Mickelson knows exactly how his feelings about Jones' redo of the South have affected his attitude and results at Torrey, but Phil has made it abundantly clear that he is not a fan of the architect's work. Though he's mostly been mum about Torrey South, Mickelson has taken opportunities to take jabs at Jones­—known as the "Open Doctor"—over his renovations of courses such as Atlanta Athletic Club, Congressional and Cog Hill's No. 4 Course.
At ACC for the 2011 PGA Championship, Mickelson said, "Modern architecture, there are some great ones, but the guy that redid this one—you know, it's great for the championship, but it's not great for the membership."
Seemingly making a stand for the average golfer, Mickelson took a swipe earlier that year when the U.S. Open was played at Congressional. He was particularly miffed at long par 3s. "It's a perfect example of how modern architecture is killing the game, because these holes are unplayable for the member," Mickelson said. "You have water in front and you have a bunker behind, and you give the player no avenue to run a shot up."
Jones did have a wry response to Mickelson after the AAC punch. "Phil's just trying to round up some course design work for himself," Jones told the Wall Street Journal.
It promised to be a legacy project. At a function in San Diego, Mickelson got the ear of then-Mayor Jerry Sanders. Phil floated the idea that he would love to redesign the Torrey Pines North Course, free of charge. Mickelson understood that there were locals who'd lost their enjoyment of the South Course because it was so difficult, and he had some creative ideas about a North renovation that would bring the nearby canyon's cliffs and colors more into play, without punishing Torrey's devoted regulars.
The city got excited about it and had Mickelson and his lead architect, Mike Angus, draw up plans in early 2011. On a couple of occasions, Mickelson went to public meetings to tout the idea, and he pulled off the near-impossible, getting nearly everyone to agree that he was the right man for the job.
Imagine what it meant to the San Diego native: Beyond victories, his name and his vision would be forever linked to Torrey Pines. And likely in his own mind, he'd get to show Rees Jones what he thought a well-done rework looked like.
But in a stunning reversal in September 2015, Mickelson's company was locked out of the project by a California Fair Political Practices Commission rule that stated that a person or company that worked on preliminary designs and a request for proposal cannot participate in the actual design or construction.
"I'm deeply disappointed with this entire process," Mickelson said. "We did a lot of good work, we had overwhelming support from the residents of San Diego on this project and now we're disqualified from bidding on it."
After the proposals were taken, it was Tom Weiskopf who was selected to renovate the North Course, and in November 2016 the layout reopened to generally positive reviews. After shooting 68 on the new North in his first competitive round on it in 2017, Mickelson was asked what he thought of the redesign. After somewhat dodging the question anad speaking about course conditions, he was pressed again. "My idea was different, but Tom's got a great track record," he said. "He's a wonderful designer. He's done a lot of great courses, and the course certainly is a good challenge."
Mark that down as a "meh."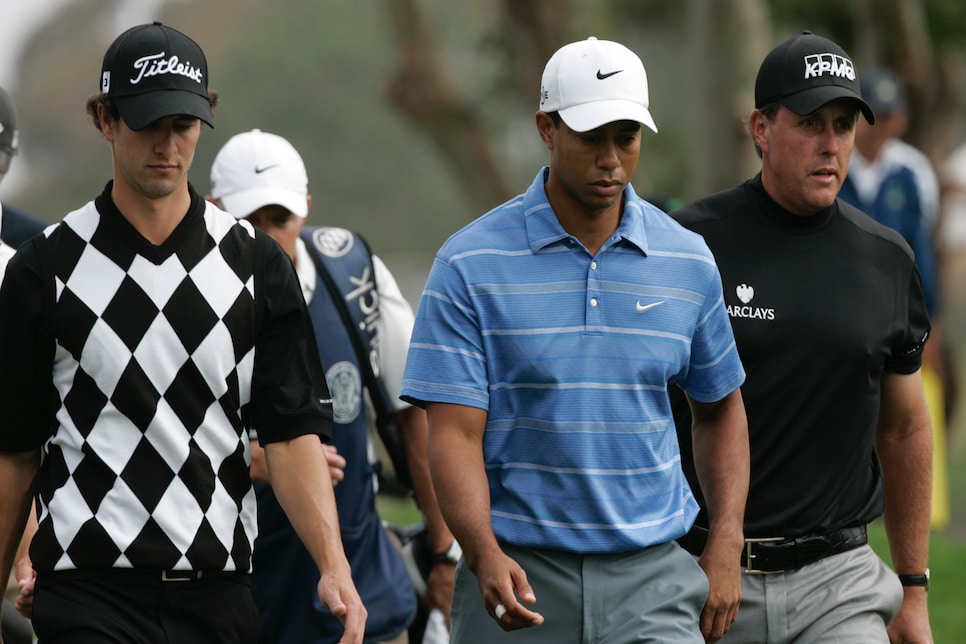 Adam Scott, Tiger Woods and Phil Mickelson were paired together during the first two rounds of the 2008 U.S. Open.
Icon Sportswire
Four months prior to the U.S. Open reaching Torrey Pines in 2008, Woods had decimated the field in the Buick Invitational, winning by eight shots. He was primed for the South, but Mickelson was on a heater, too. He'd tied for sixth at Torrey that year, finished second in Phoenix and won at Riviera. Then came a T-5 in the Masters and another win, at Colonial only three weeks before the U.S. Open.
The Open week began with a trifecta of distractions. Mickelson had a bug and didn't feel well. Then, the USGA announced that for the first time it would group together the top three players in the world—Woods, Mickelson and Adam Scott—in the opening two rounds. On Thursday when the group teed off, it was highly chaotic, thousands of fans encircling the first hole. Finally, Mickelson had decided not to use a driver on the longest U.S. Open course in history. Yep, Phil being Phil. He explained that he didn't want to hit it too far and have his ball run out of the fairway.
Lefty did OK in the first round, shooting even-par 71, though he bogeyed the fifth, sixth and seventh holes by missing fairways and said, "When I made some terrible swings and hit it in the rough, it kind of defeats the game plan, because now I'm short and crooked."
A 75 followed on Friday, after which Mickelson took the driver off the bench. But it was his wedge and one hole that all but took him out of the tournament in a third-round 76. At the par-5 13th, where a new back tee was added—"A waste of money," Mickelson deemed—golf karma slapped hard. Three times Mickelson's wedge approach to a front pin came up short and rolled back to him. Sensing his discouragement, the crowd began to clap rhythmically, and Mickelson got his sixth shot on the green—only to three-putt for quadruple-bogey 9.
"I've had a 9 on 13 [before]," Mickelson said. "I was 8 years old."
The disaster, blurred by Woods' theatrics on Saturday, likely is what people most remember about Mickelson's Torrey Open. Maybe forgotten is that he rallied for a 68 on Sunday and tied for 18th. If he had simply made par at 13 on Saturday, he'd have finished in a tie for fourth, three shots out of the playoff.
"When I think back to that week," Mackay said, "it was certainly a week where he was hitting it where he was looking and had a chance to make some noise."
After a 2008 U.S. Open that was a runaway success at every level, impatient San Diegans waited for the next call from the USGA. It finally happened in March 2014—probably with an assist for the PGA of America, which had not hidden its interest in staging a future PGA Championship in San Diego. The USGA was coming back in 2021, and it happened to be during the week that Mickelson would celebrate his 51st birthday.
Would he be too old for the trials of a U.S. Open at Torrey Pines? There were plenty who wondered about Lefty. Would he be exempt? Would he try to qualify? Would he accept a special invitation? None of those questions were answered until a few weeks ago, when Mickelson first did take the special exemption, and then happily gave it back when he seized his sixth major win in the PGA Championship at Kiawah Island.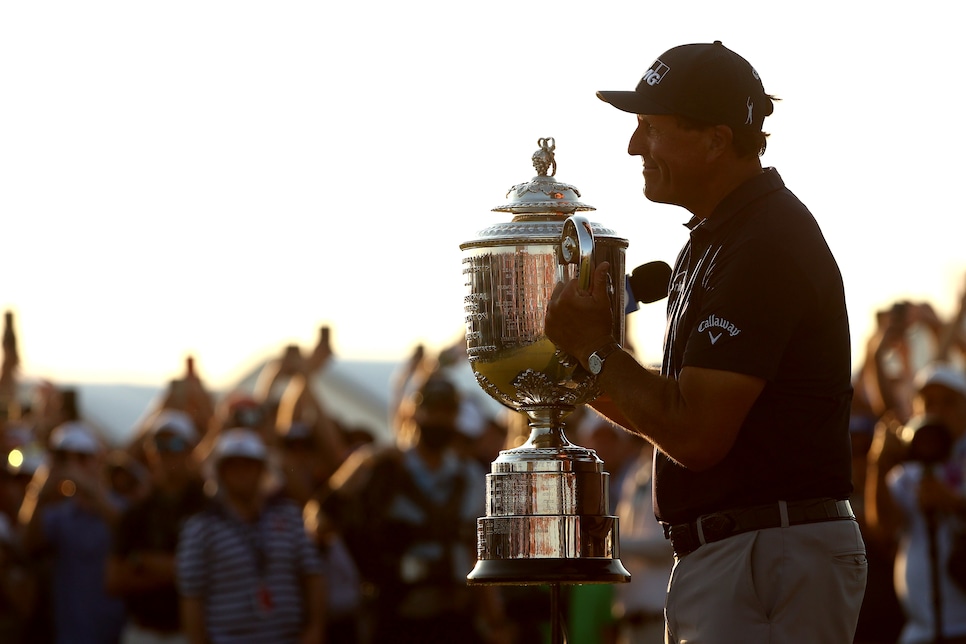 Mickelson's historic (and surprising) victory at last month's PGA Championship racheted up the anticipation for what might happen at the upcoming Open at Torrey Pines.
Patrick Smith
Other than the PGA triumph, which was predicted by virtually no one, there are no indicators that say Mickelson has much of a chance to win the 121st U.S. Open at Torrey Pines. His Farmers record of late is suspect, and since tying for second in 2013 at Merion, he hasn't been in contention in another U.S. Open. Last year, he slunk away from Winged Foot on Friday night after shooting 79-74.
It looked like that could be Mickelson's farewell, but he's made it back to Torrey Pines and the PGA title gives him five more opportunities to chase down and tackle the national championship.
It's been now or never before, and Mickelson has bucked those odds.
"I don't care if they're playing on the moon next week, he's going to come in feeling very bulletproof, in my opinion," Mackay said. "It wouldn't surprise me one bit if he got right in the mix and all those thoughts that he's got about his performance there of late or about the golf course [are] going to go right out the window. Because the bottom line is they're going to be giving out a trophy on Sunday, and he wants it as bad or more than anybody else in the field."