Major Moment
Our 50 favorite 'Phil being Phil' moments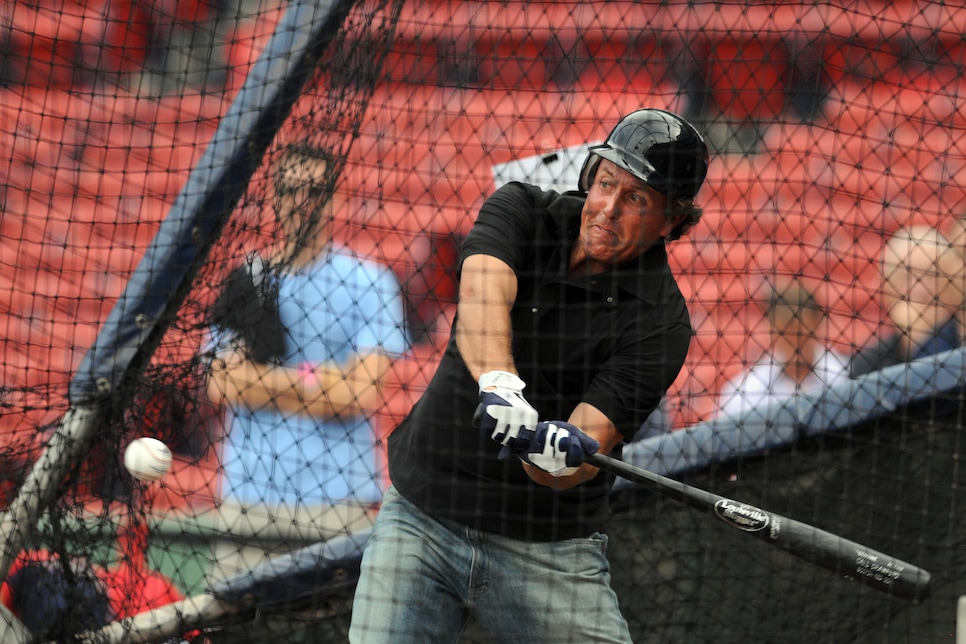 Phil Mickelson takes batting practice prior to a Boston Red Sox-New York Yankees game in 2011.
Darren McCollester
In celebration of Phil Mickelson's 50th birthday in June 2020 we offered our 50 favorite examples of "Phil being Phil," because the World Golf Hall of Famer is one of the most unique golfers—and people—of this or any time. Well, we should have known this was neither definitive nor comprehensive, when Mickelson is capable of doing things like winning the PGA Championship, as he did on Sunday—at the age of 50—to be the all-time oldest major victor. With a few new juicy tibits, oin us as we marvel at this most accomplished and unique human being ...
1. At 300-1 odds, won the 2021 PGA Championship at Kiawah Island by going head-to-head with Brooks Koepka, surpassing the 2013 Open Championship at Royal Birkdale as Lefty's most improbable major triumph.
1a. In Phil-like fashion, holed out bunker shot for birdie at No. 5 in final round after Dottie Pepper noted how poorly he'd been in sand saves this season.
2. After his impressive 69 on the Ocean Course in the second round vaulted him into the lead, answered just four questions from reporters before being whisked off the podium.
3. Ordered donuts at a drive through Krispy Kreme in Augusta the Monday after his 2010 Masters win … while wearing his green jacket.
4. Hit the par-5 13th in two at Augusta National on Sunday that year while using a 6-iron from the pine straw en route to the win. ("The epitome of who I am," Mickelson said.)
4a. Missed the eagle putt.
5. Waited two months after turning 50 to make his PGA Tour Champions debut in August 2020—and won. And then won again in his next senior start.
6. Railed against California's rising taxes in 2013, saying he was paying "62 or 63 percent" on his reported $60 million per year in earnings and said he'd have to make "drastic" changes in his life.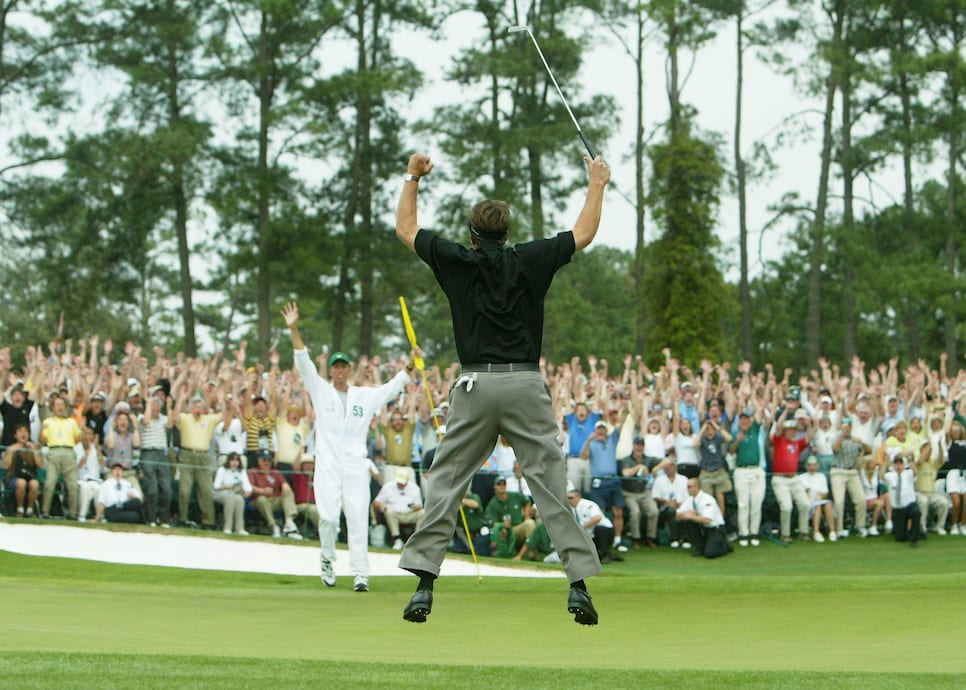 7. Produced "The Leap" on the 18th green at Augusta National after winning the 2004 Masters, his first major title in his 47th major start.
7a. Set up by a back-nine 31.
7c. Turned "The Leap" into a logo that he now wears on his shirts.
8. Mastered the backward flop shot—lofting the ball back over his head—immortalized in a 1992 video.
8a. Has used the shot at least twice during competition.
9. Stirred an overblown controversy in 2003 when he kidded Tiger Woods for using "inferior equipment" from Nike. ("Tiger is the only player who is good enough to overcome the equipment he's stuck with.")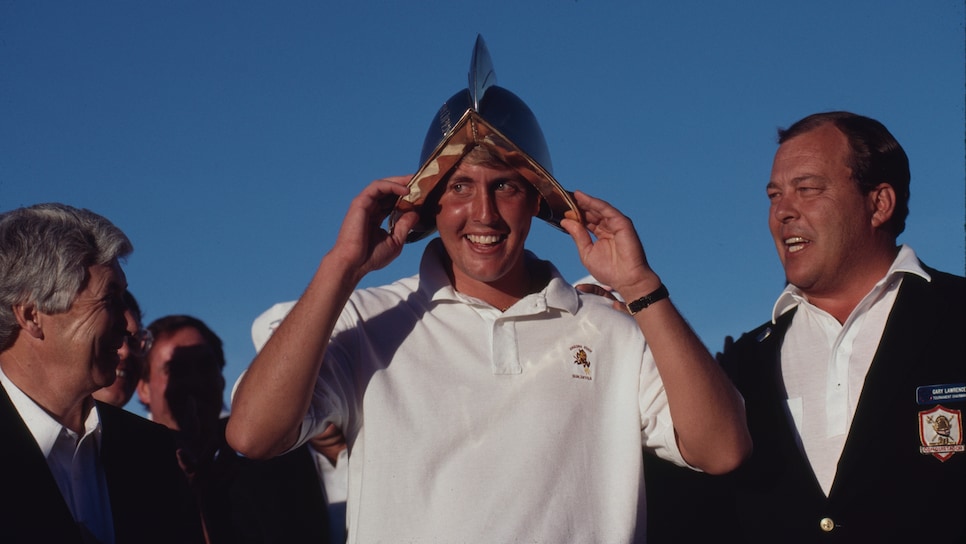 10. Donned the prized (and somewhat goofy) conquistador helmet, proudly, after birdieing the 18th hole to win the PGA Tour's Northern Telecom Open in Tucson as a 20-year-old amateur in 1991.
11. Put two drivers in his bag while winning the BellSouth Classic and Masters in back-to-back weeks in 2006.
12. Played with no driver (until the weekend) in 2008 at Torrey Pines on the then-longest U.S. Open course in history.
13. Putted a moving ball, to the shock and dismay of golf fans (and USGA officials), during the third round of the 2018 U.S. Open at Shinnecock Hills after becoming frustrated by the course set-up.
13a. Offered this explanation (among others) for why he putted the moving ball: "It was meant to take advantage of the rules as best as you can."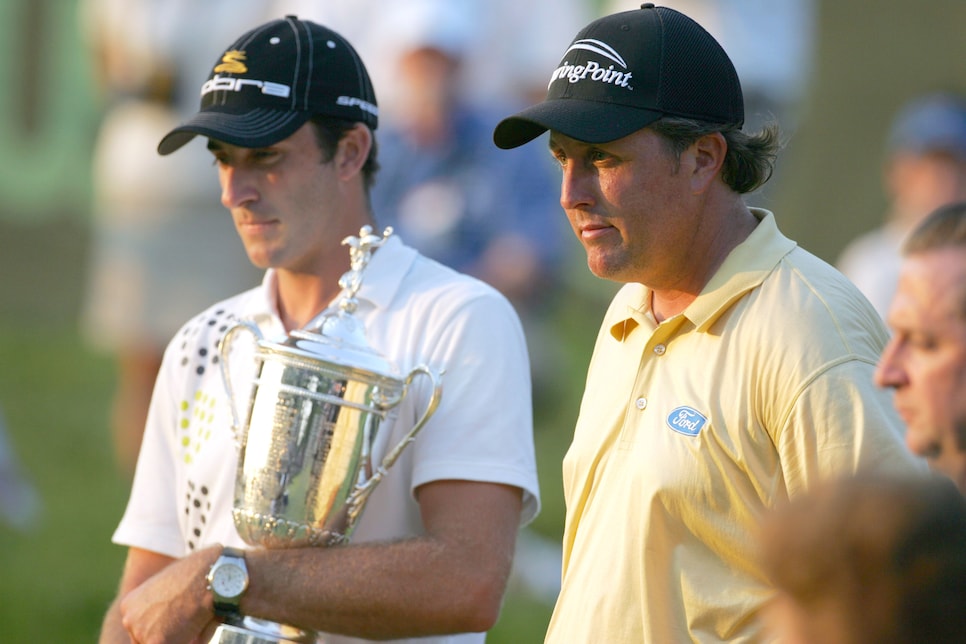 14. Double bogeyed the 72nd hole (when he needed a par to win) to give away the 2006 U.S. Open title to Geoff Ogilvy at Winged Foot.
14a. Uttered probably the most memorable line of his career afterward: "I am such an idiot."
14b. Left an estimated $10,000 in tips, according to one Golf Digest story to the staff at Winged Foot after the brutal defeat, further burnishing his reputation as a legendary tipper.
15. Called out in a full press conference U.S. Ryder Cup captain Tom Watson for a lack of leadership in the Americans' 2014 loss at Gleneagles moments after said loss.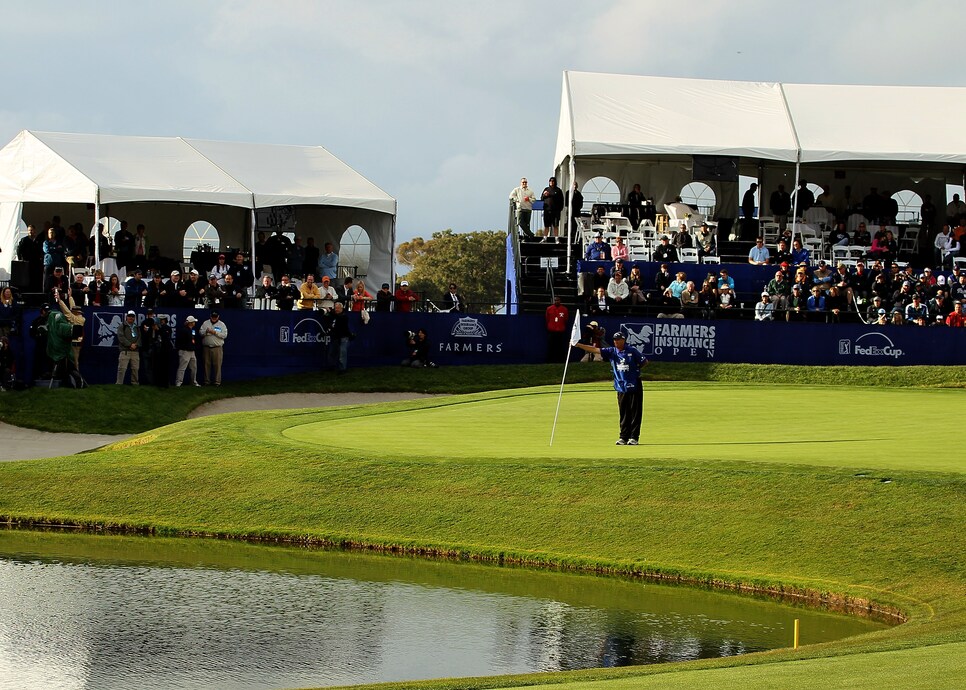 15a. With Watson sitting 20 feet from him.
16. Shocked virtually everyone by capturing the 2013 Open Championship, his least successful major to that point.
16a. After hitting a 302-yard second shot onto the green at Muirfield's par-5 17th.
17. Had then-caddie Jim "Bones" Mackay tend the flagstick for a 72-yard shot when needing an eagle to get into a playoff in the 2011 Farmers Insurance Open
17a. Missed holing it out by three feet.
18. Provided financial support in 2007, with no fanfare, to former NFL player Conrad Dobler and his family because Dobler was severely disabled. (The Doblers dubbed Mickelson "an angel without wings.")
19. Skipped 2017 U.S. Open at Erin Hills to attend daughter Amanda's high school graduation, the most extreme of the several occasions he flew from the site of the U.S. Open to his home in San Diego to attend family milestones.
20. Flew daily from his home outside San Diego to Riviera Country Club in Los Angeles regularly while competing in the now-Genesis Invitational, including two straight years (2008-09) winning the event.
21. Offered an all-time great explanation, in 2002, for why he couldn't trim down: "I've got subcutaneous fat. It just lies underneath the skin, as opposed to visceral fat. There's nothing I can do about it."
21a. Disproved his explanation in 2019 by trimming down to the leanest he's been in decades.
22. "Tried out" as a pitcher for the Toledo Mud Hens in 2003.
22a. Was not offered a contract.
22b. Said major league pitcher Steve Avery: "Phil sort of pitches like me since I lost my fastball."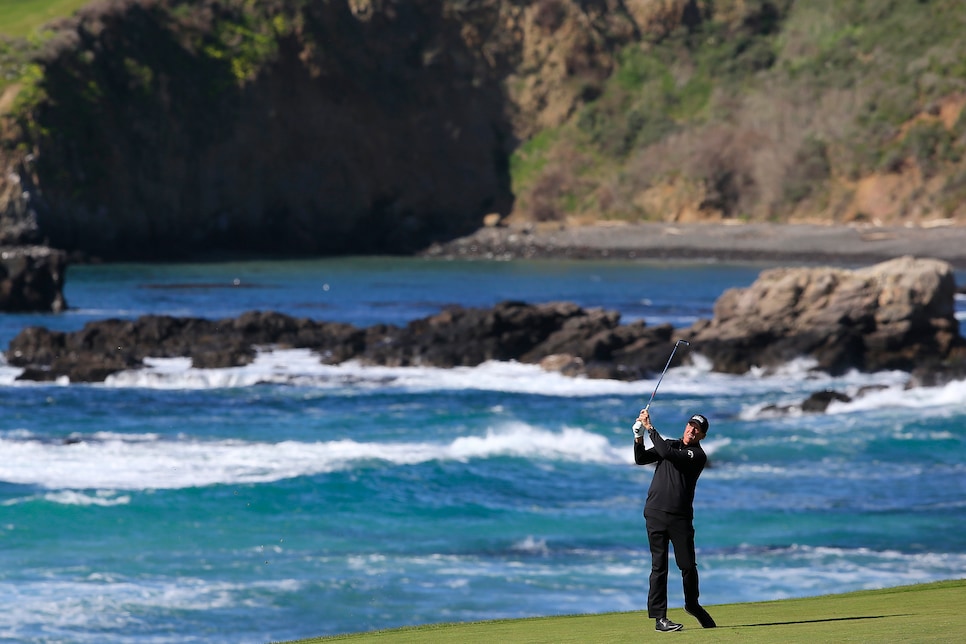 23. Wore Red Sox jersey to take batting practice at Fenway Park in 2011.
23a. Donned Yankee pinstripe pants at the Deutsche Bank Championship outside Boston the next day. ("Lost a wager to a friend," he explained.)
24. Bet 1,000 with Nick Watney in practice round for Open Championship, and, after winning insisted wager was in pounds, not dollars. Watney had to scrounge up $1,700.
25. Won the AT&T Pebble Beach Pro-Am five times, which is especially meaningful since the course has tremendous sentiment for him because his maternal grandfather, Al Santos, caddied there soon after it opened in 1919.
25a. Smoked Tiger Woods by 11 shots while playing with him in the final group at Pebble in 2012, shooting a 64 to take the title.
26. Won $9 million in a head-to-head pay-per-view showdown with Tiger, dubbed "The Match," at Shadow Creek in 2018.
27. Showed his dance moves during a notably comic Mizzen+Main TV ad.
28. Came late but enthusiastically to social media.
28a. On Twitter, pulled Boss move with commentary driving up Magnolia Lane on Saturday of 2019 Masters. (It was spot on, too, with needles of Matt Kuchar and a Phil-splainer on why hitting "bombs" at Augusta is key.)
28b. Tweeted a video vow on Saturday of 2019 PGA Championship at Bethpage to break his own "thumbs up record." (Weekend of 76-76 was a thumbs-downer.)
29. Created Phireside with Phil on Twitter.
29a. The greatest of which might be having "guest" Tiger (a photo on his laptop) listen to Phil talk about hammering him at Pebble in '12 and the dinner he had with Woods' partner, Tony Romo, the night before.
29b. Runner-up is seven-minute chat with Larry David while wearing shorts and Hall of Fame blazer. (Yes, Larry gave him crap about Winged Foot.)
30. Dubious sense of fashion through the years. (Unless Amy put him up to it; then all is good.)
30a. List includes buttoned-up, long-sleeve dress shirt (when it was 85 degrees at Players Championship).
30b. At Colonial in 2020, mirrored shades that simultaneously produced "Chips" and "Top Gun" references. Nobody was laughing at those same shades at Kiawah.