News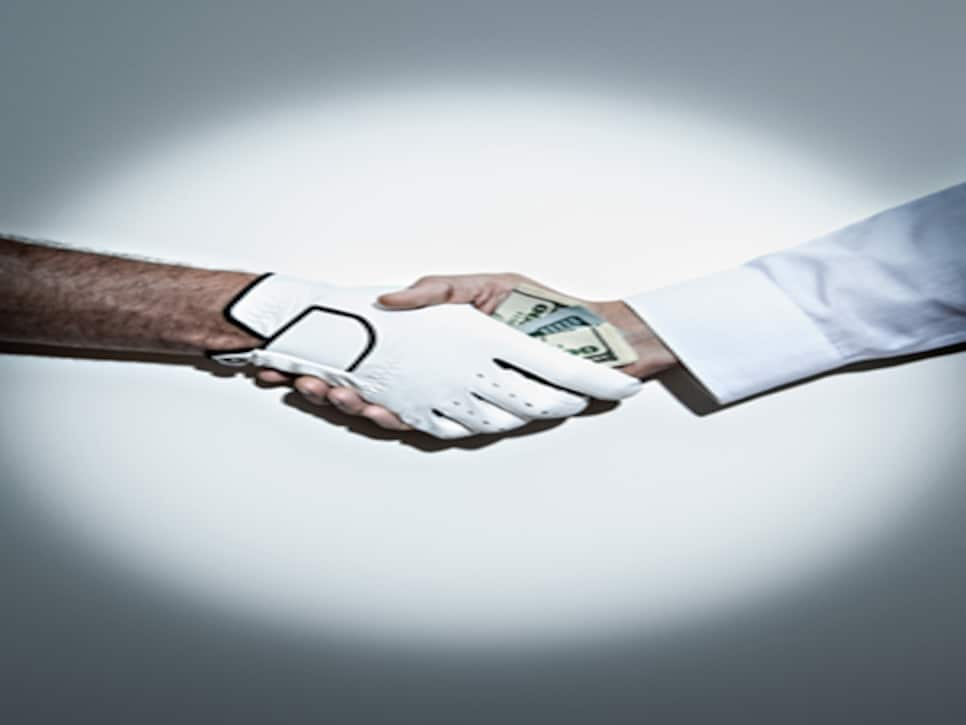 Phil Mickelson's ball started left and kept fading. Left of Winged Foot's 72nd-hole fairway; left of the rough, the crowd, the trees lining the fairway, and into a hospitality tent stationed on the neighboring hole. After four more shots, Phil held his head in his hands before making a meaningless putt.
"I just can't believe I did that," he said afterward. "I am such an idiot."
The worst collapse of Mickelson's career was complete. He had lost the 2006 U.S. Open by one shot with a double bogey on the final hole.
But that's not where the story ends. After making the obligatory media stops and signing autographs, Phil sought out Winged Foot's staff members. He thanked them for their work, shook their hands, and discreetly handed each a wad of cash: $1,000 here, $1,500 there. Phil had spent a lot of time preparing at Winged Foot before that year's Open, so he wanted to thank everyone.
It's reasonable to estimate that Mickelson handed about $10,000 in tips to staff throughout the week, according to people who were there. But as he was driving away, Phil felt compelled to turn the car around. In the craziness after his collapse, he realized he had forgotten to tip a handful of the locker-room guys, and he didn't want to leave without taking care of everyone.
"Phil is one of the most generous men I've ever had the pleasure of knowing," says Doug Steffen, the director of golf at Baltusrol Golf Club, where the year before Winged Foot, Mickelson had claimed his second major championship. "The way he takes the time to meet all the staff and thank them for their work, I've never seen anything like it."
Everyone has a Mickelson tipping story. ESPN's Rick Reilly says his favorite happened in the Augusta National parking lot the Sunday night of Phil's first Masters victory, in 2004. "There were three emotional club employees giving him long bear hugs," Reilly wrote. "Turns out they were the lower-locker-room guys who were losing Mickelson and his fat $1,000 tips to the Champions Locker Room guys upstairs. They were nearly weeping."
TRAINING WHEELS FOR TIPPING
Like most things on the PGA Tour not involving golf, tipping has become its own little world. It starts on the Web.com Tour, filled mostly with golfers straight out of college. So the tour assumes a kind of coaching role, preparing players for life in The Show.
After getting tipping pointers during orientation, players get text messages and memos throughout the season, reminding them to tip as they go. At the start of every week, when players check in for tournaments, Web.com Tour staff members collect $20 from each player to give to the locker-room workers on Sunday.
"We're just trying to educate guys," says Jim Duncan, vice president of Rules, Competitions and Administration on the tour. "The Web.com Tour generally doesn't have the kind of resources that make clubs jump up and down because of the money we help them make, but we try to do right by them, and I keep hearing stories about how the staff looks forward to having us back each year."
Purses on the Web.com Tour hover around $700,000—with the winner's share around $125,000--so it's not unusual for pros to spread the wealth after a victory. Johnson Wagner holds the most famous story in that department. After his second win on the Nationwide Tour in 2006--the same year as Phil's famous collapse at Winged Foot—Wagner purchased a new flat-screen television for the tour's 18-wheel mobile-operation hub known affectionately as "the truck."
"Our guys, they love that thing," Duncan says of the television. "Johnson's just one of those guys who wanted to give back a little bit."
The PGA Tour is structured similarly to its developmental tour, albeit with the formality kicked up a few notches.
Like the Web.com Tour, players are briefed at the start of the season about what's expected in the tipping department--mainly, in the words of Andy Pazder, the executive vice president and chief of operations, "to conduct themselves in a professional manner that's come to be expected of professional golfers."
At the start of each week, tournament officials give locker-room attendants a list of every player in the field. The tour's official tournament regulations stipulate that players are required to tip locker-room attendants a minimum of $50 for the week. In a 156-player field, that comes to at least $7,800 divided among the handful of attendants clubs usually employ.
If players forget--perhaps after a bad round or when they're in a hurry—attendants are encouraged to notify the tour, which will follow up with the specific players and deliver the missing tip. If a player doesn't pay the minimum gratuity, the tour reserves the right to take disciplinary action, but this is never an issue.
"Tournament weeks, it's kind of like the Super Bowl to [locker-room attendants]," Pazder says. "It's grueling and tiring. It's a lot of work, and guys don't get much sleep, but it's also very rewarding."
It's an unwritten rule that players tip a little extra if they win, Pazder says. There's a famous story of a 20-year-old Tiger Woods taking his trophy and preparing to go home after his first PGA Tour victory, in Las Vegas in 1996. Butch Harmon, his coach at the time, stepped in and emptied his pockets to cover for his student.
"Even though he'd signed contracts worth north of $40 million," Harmon wrote in his book, The Pro, "he still lived and acted like a college student. Tipping, an appropriate and expected practice on tour, hadn't occurred to him. So I gave the head locker-room attendant $300, not enough by any stretch, but all the cash I had on me at the time." After hopping into a limo with Woods, Harmon told him, "You just won close to $300,000. You should have tipped them a grand. And you should do the same thing every week, win or lose. Every Tuesday when you show up, you should hand out hundreds to everybody in the locker room and thank them in advance for taking care of you."
After failing to tip a caddie as a 13-year-old, Butch got similar advice from his father, Claude, the 1948 Masters champion and the longtime pro at Winged Foot. "If you can't afford to tip the people who clean your clubs, you don't need to have them cleaned," Claude told him. "And what about a thank-you? Could you not afford that, either?" After letting that sink in, Claude added, "If you're down to your last dollar, give it to the guy who helps you out. You can make more money. You can never make up for slighting a man."
"On the whole, the guys are good to us," says a locker-room attendant at one popular PGA Tour event. In front of him as he spoke was a gleaming pair of white shoes that he was methodically shining. "It tends to be the foreign or young guys who are a little tight. Like it's a cultural or generational thing."
Tom Weiskopf would also incriminate a few of the older guys. "It's just pathetic," he told Golf Digest's Guy Yocom in 2000. "There are guys you see at the end of the day taking the plastic bag you're supposed to put your golf shoes in and filling it up with beer or soft drinks to take it back to their room or out to their buddies.... And they're cheap. I've watched some of them tip the locker-room attendant, the guy who shines their shoes all week long, as little as $20. I mean, they drink $30 worth of soft drinks and beer alone. I just couldn't believe it."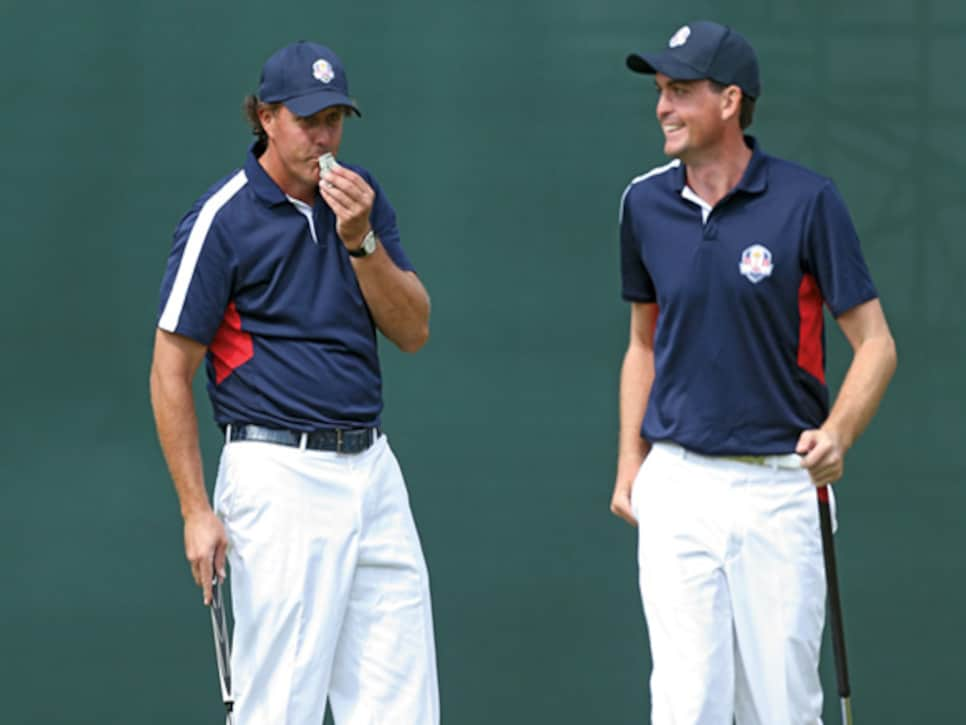 Photo: Andy Lyons/Getty Images
And then there's Phil, the king of the underground world of PGA Tour tipping. (He doesn't comment on his largesse.) Everywhere he goes, the five-time major champion leaves a trail of exceptionally happy staff members.
He'll tip $300 to hostesses for seating him at empty restaurants, and another $300 to valets parking his car. The stories of him handing small, folded-up $100 bills to the young girls at lemonade stands at the Byron Nelson Championship, then watching in delight as they unravel the prize, have made their way into folklore.
After his second win at Colonial, in 2008, Mickelson was loading his car when he realized he had forgotten to tip the locker-room attendants. He promptly had more than $1,500 delivered to them. Something similar happened in 2002: After being ousted in the first round of the Match Play at La Costa, Phil had another large sum delivered to the guys inside.
Why else does Phil do it? For the same reason anybody overtips. Pete Dye likes to over-tip the girl at the ice-cream counter, he says, because "it leaves her happy and makes my ice cream taste better." It's a similar philosophy with Phil: What's a few hundred dollars to me, when I know it's going to make the other person's day?
And so he does. Like that one time, when a woman trying to drum up attention for her line of sunglasses tried to give Phil a pair while he was eating lunch, according to a tour player who was with him at the time. Phil doesn't wear sunglasses, so he politely declined... while handing her a wad of $100 bills.
A little something for the effort.