Patience Rewarded
PGA Championship 2021: Phil Mickelson's most incredible win came by staying true to himself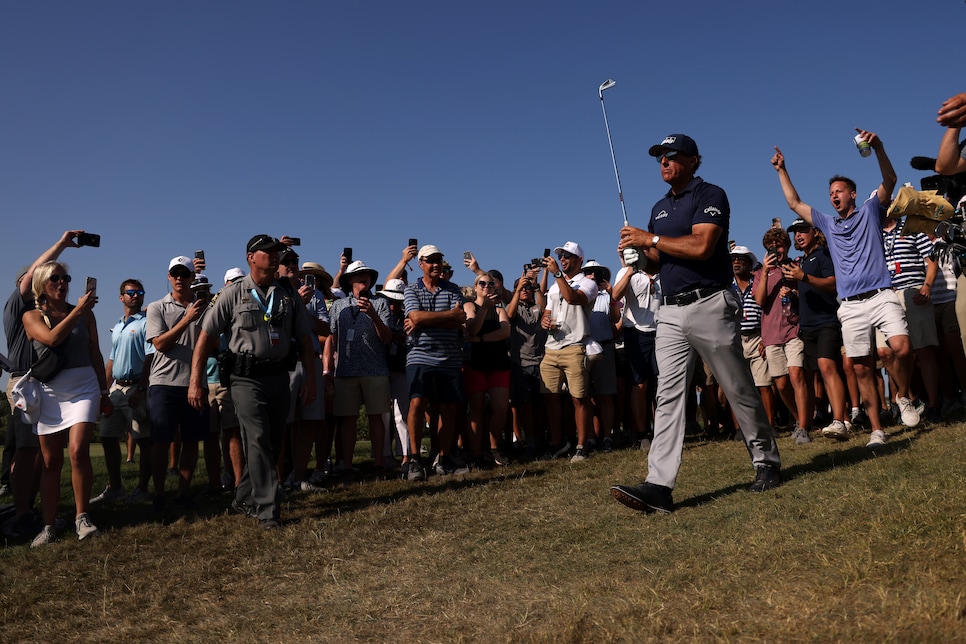 KIAWAH ISLAND, S.C. — Running, sweating, screaming, scuffling, tweeting, the fans that swarmed the 18th hole of the Ocean Course on Sunday evening were not merely cheering for a golfer. They had been swept up in a communal experience that was bigger and grander than that. Phil Mickelson didn't just win the PGA Championship a month shy of his 51st birthday, he exploded our notion of what is possible. How can golf's most wayward champion survive a booby-trapped course that severely punished impudence? Five years removed from the last time he even contended at a major, how could Phil reinvent himself yet again? Golf genius can be perishable; Mickelson's idol, Seve Ballesteros, is proof of that. Yet here was Phil, still bailing himself out with wizardly wedge shots on one of golf's toughest tests while his contemporaries are riding carts and battling the yips on the senior tour. It defied belief.
Finally, Mickelson fought his way through the crowd (with the help of a phalanx of cops) and reached the final green to tidy up a two-shot victory. ("It was a little bit unnerving but it was exceptionally awesome, too," he said of the crush of humanity.) The crowd erupted at the sight of him but it wasn't awe or reverence that fueled the cheers. It was unfettered joy. Mickelson has always had a deep connection with the golf public, who appreciate the dignity he displayed despite slapstick losses and his class through 44 victories … and counting. They cried along with him when he won the 2010 Masters for his cancer-stricken bride, and they now laugh at his deadpan, self-deprecating social-media posts. They forgive his trespasses (meaty gambling debts and questionable stock transactions; talking smack about Tiger Woods's equipment; attempting hero shots on the 72nd hole at Winged Foot) because even Mickelson's failings feed his image as an uninhibited thrill-seeker. Love him or hate him, Mickelson inspires emotion. In the Sunday twilight, Paul Casey stood on a hill behind the 18th green. He had finished his round nearly an hour earlier but stuck around to take in the scene. "This is cool shit," he said.
Jon Rahm, in a T-shirt emblazoned with DAD BOD, wormed his way to the edge of the green to get a better view of history. "If I know one thing about Phil," Rahm said, "he wants to make the putt." It wouldn't make a difference in the outcome but Mickelson is a consummate showman. He missed the putt but secured the trophy, a dizzying turn of events even he struggled to put into words.
"Although I believed it, until I actually did it, there was a lot of doubt," he said. "Certainly one of the moments I'll cherish my entire life."
His date with destiny had begun at 2:30 p.m., under a blazing sun. Brooks Koepka, one shot back of Mickelson and playing alongside him, rolled up to the tee with his familiar cocksure swagger, like a heavyweight prizefighter confident he is going to land a few haymakers. A win would end two years of injury-related frustrations and give Koepka a whopping five major championships, tying him with a trio of all-time geniuses: Seve, (Lord) Byron Nelson and the living legend with whom he was paired. Koepka has strained to brand himself an anti-hero and now he had a chance to ruin another Hollywood storyline, having already done so at the 2018 PGA Championship when he thwarted Tiger's bid with a cold-blooded closing 66. He was clearly spoiling for a fight.
Mickelson exuded a different energy. Jaw already clenched tight, hiding behind aviators as if they were the tinted windows of a limousine, his burden was palpable. The swollen crowd was already in a frenzy, desperate to witness the crowning achievement of a career of unsurpassed longevity. Mickelson is convinced he will be a force in the game more or less forever—"He thinks he can outsmart Father Time," his friend and college teammate Rob Mangini said recently—but how many such golden opportunities could he realistically expect? His last good chance to win a major was way back in 2016, when he lost a duel in the gloaming to Henrik Stenson at Royal Troon. Since then Mickelson has remade his body and his swing in an effort to remain relevant, finding a fountain of youth in a New Age coffee elixir of his own devising (and perhaps bottles of hair dye.) His obsessive quest for more distance off the tee felt like folly, or madness, until this week when he came to the brawniest major championship venue in history and bashed his way to the 54-hole lead. "He's hitting it so long and straight it's incredible," said his third-round playing partner Louis Oosthuizen.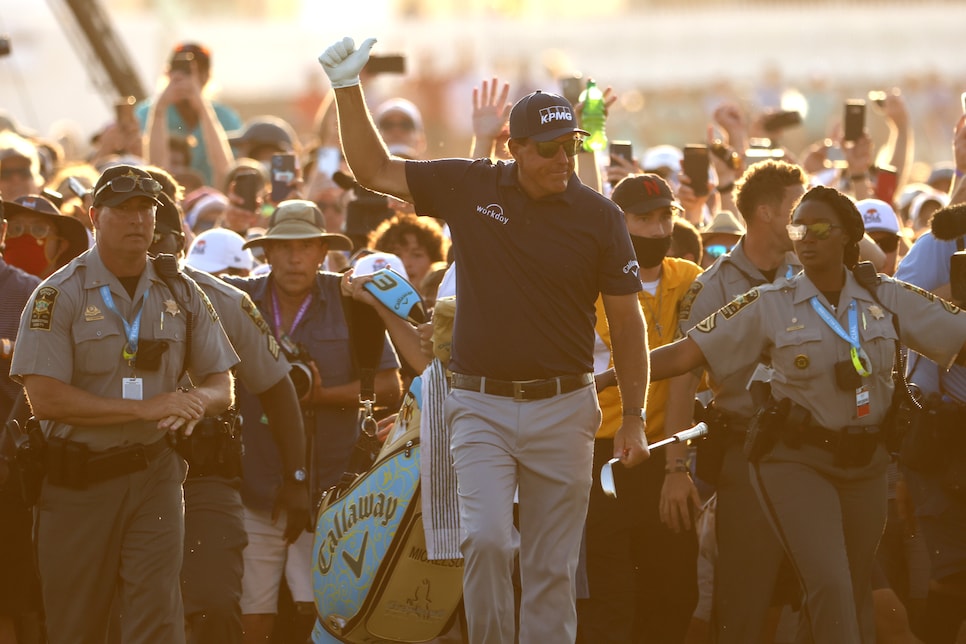 On Saturday, Mickelson was on the verge of a runaway until the tenor of the tournament flipped on one swing when he sniped a drive into the water on the 13th hole, leading to a buzzkill double bogey. That stirred the angst living inside every Mickelson fan, who have long been traumatized by the big miss. More wild shots ensued but Phil the Thrill showed a ton of heart getting in the house without further damage. Still, the existential dread lingered.
On the first tee on Sunday, Koepka smashed one down the middle, taking the most aggressive of lines; over the first three rounds his ball-striking was so reliable it was boring to watch. As Mickelson stood over the ball you could almost hear the clack-clack-clack of a roller-coaster car inching toward a summit. Phil lashed his drive into the deep left rough and then came up miles short with his approach, leading to a three-putt bogey. Brooks, with typical ruthlessness, brushed in a birdie and just like that had snatched the lead. The ride had begun.
For Mickelson, it's been three decades in the making. When he showed up at Arizona State he was so confident he was destined to be a tour pro he already dressed like one; on a campus where students favored shorts and flip-flops, Mickelson wore Sansabelt slacks, hard-collared shirts and belts with oversized buckles. (Since he was heading straight to the course after class he figured why waste time having to change?) His teammates were so aghast that late in Mickelson's freshman year a group of them broke into his dorm room, gathered up the offending garments and set them ablaze in a fire pit. He has undergone constant metamorphosis ever since: Can't-miss kid; mega-talent who can't win the big one; Tiger tragic; lovable loser; Phil in full; beloved elder statesman. When a 42-year-old Mickelson roared to victory at the 2013 Open Championship, on the strength of what he has called perhaps the finest round of his career, it felt like a victory lap. Phil made strong runs at the 2014 PGA, '15 Masters and '16 Open Championship but didn't have quite enough firepower to win any of them. That set off what felt like a mid-life crisis, with Mickelson taking to social media to crow about his (admittedly impressive) calves and film increasingly goofy TV commercials. He couldn't let go of the spotlight, even as the victories stopped coming.
But beneath all the salesmanship and showmanship Mickelson is a grinder and a golf obsessive. As his contemporaries grew fat and happy—or in the case of Woods, had their bodies break down—Phil kept doing the work, largely out of sight, whether in his backyard practice facility, the Callaway test center or in money games around Southern California and the Arizona desert. "What people don't fully appreciate about Phil is how much he loves golf," says Brendan Steele, who plays often with Mickelson on off weeks. "He gets so much joy from playing the game and he's on a never-ending quest to get better. He never stops. The passion is always there. Yes, he has great hands and all of that, but I think his love for the game is the biggest reason why he's been one of the best players in the world for 30 straight years."
And yet the downside of experience is all the scar tissue, as Mickelson's playing partner over the first two rounds, Padraig Harrington, noted poignantly. After Mickelson's first hole debacle on Sunday he steadied himself with a birdie on the par-5 second, thanks to an adroit up-and-down. But he bogeyed No. 3, a short par-4, after missing the green from 30 yards out. You could feel the tension, in the gallery at the Ocean Course and across Golf Twitter. On the tough par-3 fifth hole, Mickelson lost his tee shot into a bunker on the short-side and it felt like the tournament was already slipping away. But he summoned some vintage magic, holing out for a game-changing birdie. It instantly joined the pantheon of Mickelsonian highlights, alongside the walk-off putt at the 2004 Masters that released so much catharsis; the tapping of the Nicklaus plaque on the 72nd hole at Baltusrol and then the exquisite chip that clinched the win at the '05 PGA; overpowering Augusta National with two different drivers to nab another green jacket in '06; the fearless 6-iron out of the trees in Amen Corner at the '10 Masters; and the curling birdie putt to clinch the Open two years later.
Of course, Phil is Phil so it was never going to be easy. He bogeyed the sixth hole out of the rough. But Koepka had little control of his golf ball, easing the pressure on Mickelson, who got up-and-down on the par-5 seventh hole to push his lead to two strokes. Across the front nine Mickelson hit only two fairways, suffered a three-putt, made three bogeys … and had somehow doubled his lead. When he flagged his approach on the 10th hole, and Koepka made another soft bogey, the margin was a commanding four strokes. The only question now was whether or not Phil could avoid self-immolation, a la Winged Foot (and sundry others). When he split the fairway on the 12th hole, Mickelson gave a little fist pump on the tee box, a nod to how important every drive had become. But he began playing prevent defense a little too early, leading to bogeys on the next two holes. On a day when every other would-be contender retreated, Louis Oosthuizen finally showed some life with a birdie on the par-5 16th hole, cutting Mickelson's lead to a tenuous two strokes. But Phil responded with two fearless swings, leaving himself just over the 16th green in two, and then followed with a quintessentially good chip. The kick-in birdie put him in a commanding position, and Mickelson was carried home on the closing holes by the delirious fans, who chanted over and over "Phil! Phil! Phil!" The galleries love him because he lets them in. His colleagues may be annoyed by the marathon autograph sessions and the innumerable aw-shucks smiles and the endless thumbs-up gestures but it's part of Mickelson's gift for connecting. "People like to call him a phony," says tour veteran Kirk Triplett, "but I never understood that critique. Because he looks the fans in the eye and because he's nice to the volunteers? Because he tips every clubhouse attendant $100? If the worst thing other players can say about you is that you're trying too hard to be nice, you must be doing something right."
A little jealousy is inevitable when you're ninth all-time in victories on the PGA Tour. Mickelson had been stoic all week about what a victory would mean, part of a renewed emphasis on mental discipline, but in accepting the trophy he finally let a little emotion flow: "This is just an incredible feeling because I believed it was possible yet everything was saying it wasn't. I hope that others find that inspiration. It might take a little extra work, a little harder effort, but it's so worth it in the end."
This sixth major championship victory ties him with his diametric opposite, the fastidious Nick Faldo, and Lee Trevino, one of the three or four greatest ball-strikers who has ever lived. If Mickelson can somehow steal another one—and at this point, how can you possibly bet against him?—he would join the immortals with seven majors: Arnold Palmer, Sam Snead, Gene Sarazen and Harry Vardon.
One measure of the greatness of a career is the span between a first and last major championship victory. Nicklaus, of course, leads the way at 24 years. Since the birth of the Masters, only Tiger Woods (22) Gary Player (19) and Ernie Els (18) can say they were better longer than Mickelson.
Of course, Phil's prime overlapped with Tiger's. Mickelson honks can lament how much more he would have won without Woods around, but it was Tiger's incomparable excellence that forced Lefty to dig deep and realize his own awesome potential. They were never true rivals because Tiger was clearly better. But while Woods's life was sidetracked by scandal, addiction and carelessness, Mickelson sailed on—healthy, happily married and still beloved in the marketplace. What used to be said about his role model Arnold Palmer applies to Phil, too: no one could have more fun being Phil Mickelson than Phil Mickelson has. Woods's dominance is unrivaled but you have to wonder if he would trade lives with the man he regularly bested.
On Sunday evening, when it was all over, Mickelson marched triumphantly across the grounds of the Ocean Course, serenaded by the fans. It now takes two hands to count his majors, but in victory he offered only one digit: a thumb raised triumphantly to the sky.