Method To The Madness
Coffee, meditation, and 'bombs': How Phil Mickelson defied his age to make history
Phil Mickelson's success at the Ocean Course was a reflection of a late-career transformation of his body and his mind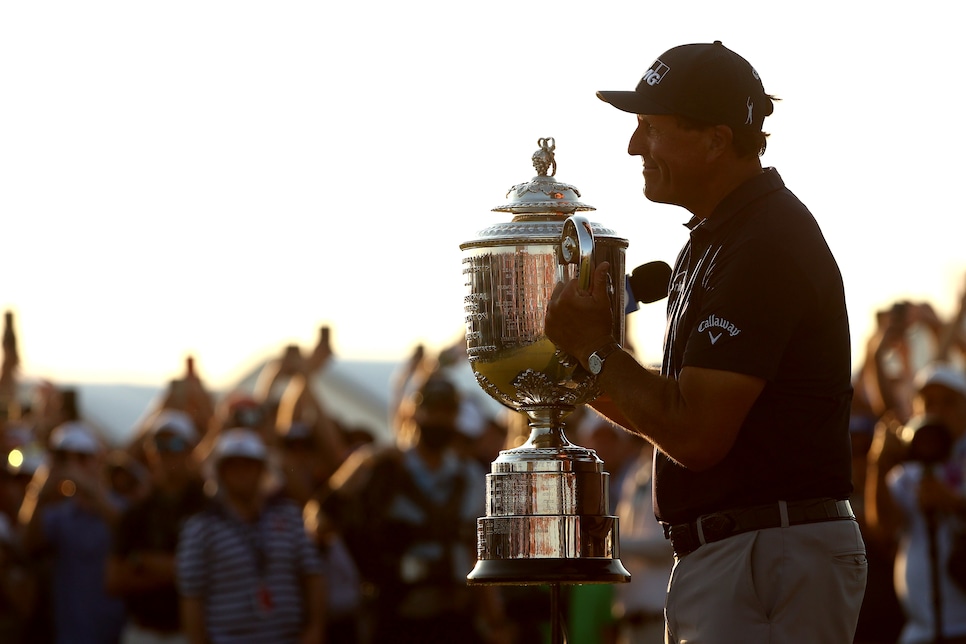 KIAWAH ISLAND, S.C. — Your friends consider golf the domain of retired geezers, but at the elite level, it really is a young man's game. At least relatively so. In your 20s, you're fearless, completely devoid of scar tissue, and you ram that 'sumbitch in the back of the cup. Your 30s find you in your prime, still physically pliable but also efficient with your practice, disciplined in decision-making. The great ones get a few looks in their 40s. It's a recent thing, the product of sports getting smarter and equipment getting, well, better.
But your 50s? You want to win a major past the half-century mark? Bollocks.
So, how did he do it? How did a man who turns 51 next month keep it together for four days on a relentlessly brutal golf course? How did he keep his wits about him, his hands steady, his mind clear to clinch a legacy-defining victory? As with all things Phil Mickelson, the answer isn't exactly a simple one.
The first step toward advanced-age greatness is passion. Simple passion. It's a prerequisite. Without it, none of this is possible. Coming into this week, Phil Mickelson had 44 wins on the PGA Tour, five majors, a beautiful family, a gazillion dollars in career earnings…you get the picture. He did not need this by any stretch. He could've easily rode off into the sunset, slowly converting into a ceremonial golfer. Eight starts a year. Play the majors, maybe Torrey, the Memorial, shoot some commercials, call it a career. For normal people, this option grows more enticing with each failure. Lefty had gone 18 straight starts without a top 20; that would crush the spirit of most every 50-year-old, and would you blame them?
But Mickelson has been adamant his work isn't done.
"My desire to play is the same," he said Sunday night. "I've never been driven by exterior things. I've always been intrinsically motivated because I love to compete, I love playing the game. I love having opportunities to play against the best at the highest level. That's what drives me, and I think that that's what is—the belief that I could still do it inspired me to work harder.
Indeed, Phil kept on working. He kept on heading straight for the range after yet another disappointing 74, bouncing ideas off swing coach Andrew Getson and insisting he wasn't as far off as his results showed. For a while there, it bordered on quixotic. Like, why are you doing this to yourself? On Sunday, looking back, the sheer resilience to go from gut-punch to gut-punch with no loss of enthusiasm looks downright heroic.
"The passion is what distinguishes Phil," says Dr. Michael Lardon, a San Diego-based sports psychologist who worked with Mickelson during his 2013 British Open victory. "I was always amazed when I'd spend time with him. He's as excited as Will Zalatoris is when I see him, and he's 24. And it's both golf and life. If you talk to him about any number of subjects that aren't golf related—politics, consciousness, astrology­—he's just so excited. Child-like. That's part of his genius."
Mickelson's peers are in utter amazement of his motor.
"His enthusiasm is what keeps him going; at his age, has the same enthusiasm I have at 26, and he's been doing this a very long time," says fellow Arizona State grad Jon Rahm. "I mean, he's been on Tour as long as I've been alive. For him to keep that willingness to play and compete and practice, even when he hasn't been working, it's truly admirable."
Collin Morikawa, still shy of his 25th birthday, can only hope he'll feel the fire in 25 years.
"To see what he's doing—I mean, that's amazing," he says. "And to see him just wanting to keep getting better, wanting to learn, I hope when I hit that age I'm still trying to do that, trying to get better. You can just see it in his eyes that he wants to win, and nothing is really stopping him."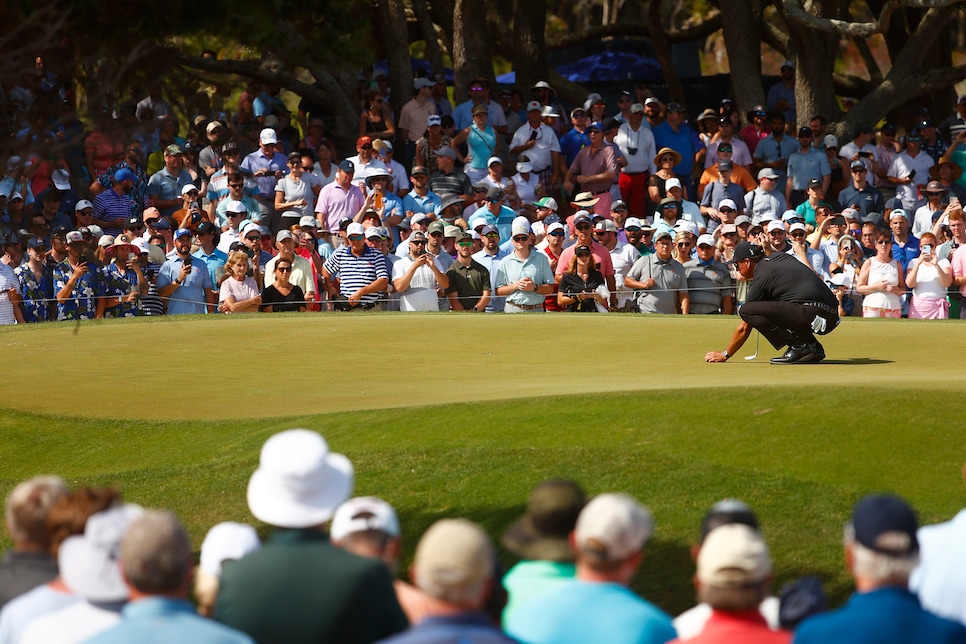 Maddie Meyer/PGA of America
The flatstick tends to be the first club to betray an aging golfer. It's why you see so many guys in their 40s and beyond toy around with the broomstick, the armbar, the claw. The reasons are multiple. A young man does not fear the four-foot comebacker, allowing him to putt aggressively and confidently. An older man, simply put, thinks about the comebacker. Ahem, most old men.
"Phil has only got memories for the best shots he's ever hit," says Parker McLachlin, a 42-year-old Tour player whose embarking on a second career in instruction. "He forgets his bad shots quicker than anyone I've ever seen. This is extremely helpful when it comes to short game."
Even with the right mental outlook, there's a physiological hurdle to overcome; as we age, we lose fine motor control of our extremities. We are not physically capable of letting the putter swing the way we used to. There's the eyes. So much of putting at the elite level is about reading greens. As your eyes deteriorate, so does your ability to see break, and that bleeds into your confidence.
Which makes that much more impressive that Mickelson accomplished this with a conventional putting grip. And after years of toying with the claw and different putters, he returned to the heel-shafted stick he used in his youth.
"Putting doesn't have to get worse as you age," says Stan Utley, a 59-year-old former winner on Tour and current putting guru. "Most older guys, they've tried so many things that are wrong, and then these get ingrained. It was so great to see Phil back with a normal putting grip, because so often, guys are band-aiding stuff that wasn't really broke in the first place. They're fixing the wrong stuff."
The most obvious answer to the why-old-guys-get-worse question: they get weak and slow. It's why you don't see any 45-year-old NBA players or NFL players not named Brady. Our bodies peak sometime in the mid-to-late 20s before slowly tapering off. Golfers are not immune to this—granted, Phil wasn't exactly LeBron to begin with, but if you had him run through a full combine at 30 and one today, 30-year-old Phil would prevail easily. But golf does not force you to run or jump or cut; it calls for a very specific type of physical exertion.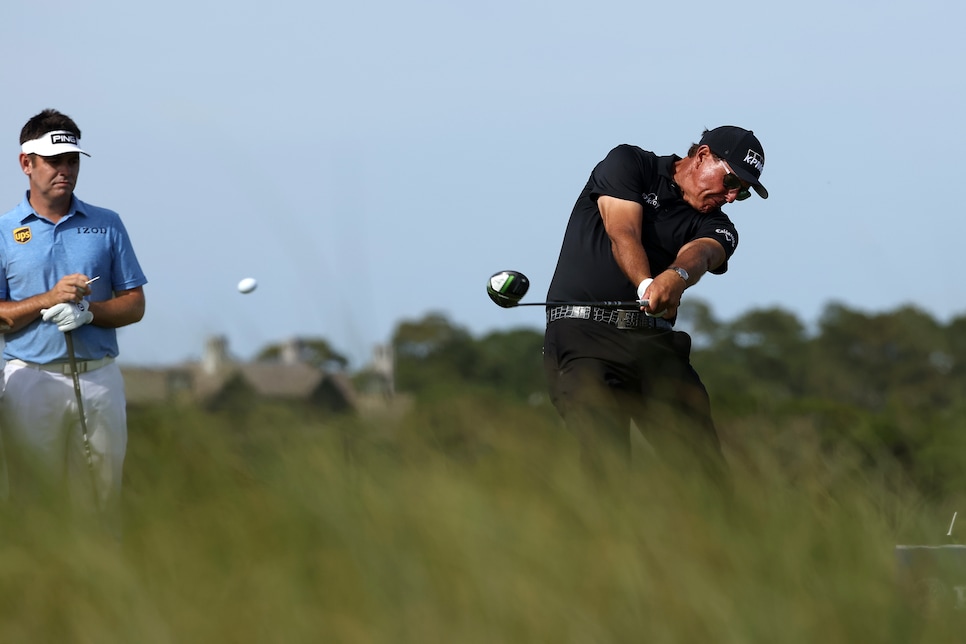 Phil has tailor made his fitness routine with flexibility in mind. He won't get confused for Adonis, but he's found a way to stay springy and actually gain speed in the last five years. On 16, his veins coursing with major-Sunday adrenaline, Mickelson pumped his drive well past 31-year-old Brooks Koepka, 366 down the center, with a cut. He is still long as hell.
Lefty has become obsessive about taking care of his body in recent years. It's almost Brady-like. He leaves no stone unturned in his quest to resist aging. In July 2019, with his game lagging and his energy levels sagging, he opted for a six-day fast where all he consumed was coffee. The goal, he said, was a "hard reset." That takes a level of commitment you or I are not familiar with. He's since developed his own "Coffee for Wellness"—just ask him about it—but he's also become a super disciplined eater, cutting out most meats and just generally being extremely careful about what he lets into his stomach.
LeBron and Brady have gone this route. So have Novak Djokovic and Roger Federer. It is no coincidence that sporting careers continue to stretch far beyond what we thought was possible. The more we learn about the body, the better equipped athletes are to maximize its performance.
"I wasn't educated," Phil told Golf.com's Luke Kerr-Dineen at last year's U.S. Open. "I either wasn't aware or didn't want to know the things I was putting in my body, whether it was diet soda and how toxic that is, or whether it was the amount of sugar and how much inflammation it causes, or whether it was the quantity; all of those things, I just kind of shut my eyes to."
Surely, such clean eating (and drinking) has kept him feeling fresh and helped him mitigate the effect of his psoriatic arthritis, which he was diagnosed with in 2010. It's no coincidence he's been able to play.
If you watched Phil down the stretch closely, you couldn't help but be struck by his sense of zen. He oozed calmness. Interestingly enough, in recent months he'd been honest about his problems focusing. He'd hit good shots and even piece together good rounds, but he'd have a hard time stacking good rounds on top of one another or re-focusing when something takes him out of the zone. Which is totally normal.
"As you age, it typically takes more effort to sustain focus," says Dr. Bhrett McCabe, who works with a number of PGA Tour pros. "Golf is so hard because the mind is flooded constantly with processes and challenges that make it so hard to stay focused. You add in a major championship, it's brutal."
Unwilling to simply accept that new reality, Mickelson has proactively sought out tangible remedies to keep himself sharp.
"I'm working on it,'' Mickelson said Friday. "I'm making more and more progress just by trying to elongate my focus. I might try to play 36, 45 holes in a day and try to focus on each shot so that when I go out and play 18, it doesn't feel like it's that much. I might try to elongate the time that I end up meditating. I'm trying to use my mind like a muscle and just expand it because as I've gotten older, it's been more difficult for me to maintain a sharp focus, a good visualization and see the shot."
As he strolled up the final fairway on Sunday, with a mob of fans sprinting in his rearview mirror, Mickelson made a concerted effort to control his breathing. It's a meditative practice that dates back millennia but is also backed up by modern physiology.
"When you focus on your breathing—say, breathe in on a three-count, hold it for two, then very slowly breathe out—you saturate your red blood cells with oxygen," says Sean Foley, the noted swing instructor who takes a holistic approach to improvement. "When this happens, the primal part of our hardware is tricked into believing that everything is calm and under control. When our breathing hastens and we don't have enough oxygen in our red blood cells, our brain begins to detect a threat. This activates our sympathetic nervous system, which regulates our "fight or flight" response."
How easy it would have been, in that moment, with a cacophony of overserved well-wishers ringing in your ears and history at your fingertips, to let it all spiral out of control. Instead, 50-year-old Phil Mickelson calmy traipsed up toward Kiawah's 18th green and two-putted for the W. It was the summation of his multi-year crusade against the proverbial setting sun. This time, for once, Father Time finished second.