History Revisited
PGA Championship 2021: Julius Boros is no longer the oldest major champ of all-time, but his 1968 PGA win lives on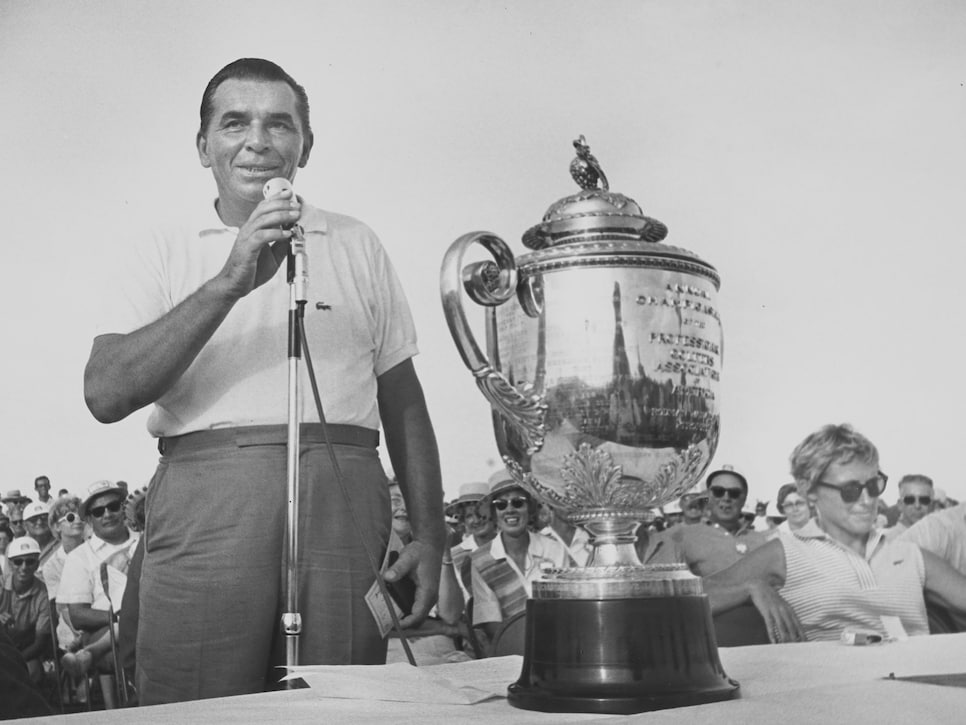 Julius Boros poses with the Wanamaker Trophy after winning the 1968 PGA Championship, and taking the title of oldest major champion away from Old Tom Morris.
PGA of America
Julius Boros is not a name prominent in the annals of major-championship golf, although he twice won the U.S. Open as well as the 1968 PGA Championship at Pecan Valley Golf Club in San Antonio, Texas.
It was the latter victory, amid sweltering conditions, for which his name would be invoked, predictably, whenever a player of a certain age—like 50-year-old Phil Mickelson— contended for a major title. For more than a half-century, Boros held the record as the oldest winner of a major, clocking in at 48 years, 4 months, 18 days when he beat Arnold Palmer and Bob Charles by one stroke on July 21, 1968.
In recent years, Boros' record withstood legitimate challenges by Greg Norman, 53, at the 2008 Open Championship and Tom Watson, who was 59 when he lost to Stewart Cink in a playoff in the 2009 Open. But he no longer owns the mark now that Mickelson, a month shy of 51, has captured his second PGA title and sixth career major on Sunday at the Ocean Course at Kiawah Island, S.C.
Two years before Mickelson was born, Boros won the 50th PGA Championship by "throwing junk in the air," as he described, it on the relatively new and not all that popular Pecan Valley layout.
With temperatures hovering near 100 degrees, Boros, nicknamed "Moose" because of his large frame and phlegmatic disposition, began the final round trailing Frank Beard and Marty Fleckman by two strokes but fired a one-under 69, just one of three sub-par rounds on the day, to finish at one-over 281.
Oddly, the most memorable shot coming down the stretch was not struck by Boros, but by Palmer, seeking the one major title that he never claimed. With his sweaty Army in tow, Palmer, trailing by one, unleashed a 230-yard 3-wood from the left rough on the home hole that stopped eight feet from the cup. And then he missed the tying stroke.
Boros' winning shot was much less memorable, a three-footer for par, set up by a gutsy pitch from 30 yards short of the green. A Connecticut native of Hungarian descent, Boros surpassed the record as oldest major champion that Old Tom Morris had held since winning the 1867 Open Championship at the age of 46 years, 3 months. It was the penultimate win of a career that included 18 PGA Tour titles.
The late Dan Jenkins, writing for Sports Illustrated at the time, wrote of Boros' win that "a middle-aged man struck a marvelous blow for tired, portly, beer-drinking, slow-moving fathers of seven." In other words, Boros looked his age. But he was a deserving winner.
Five years later, at 53 and undoubtedly moving even slower, Boros still was competitive. He held the 54-hole lead in the 1973 U.S. Open at Oakmont. He went on to tie for seventh, run over by a slew of hard-charging closers, including, of course, 26-year-old Johnny Miller and his record 63.
Inducted into the World Golf Hall of Fame in 1982, Boros twice was PGA Player of the Year, in 1952 and '63. He later won two Senior PGA Championships.
He went out a champ. On May 28, 1994, at the age of 74, Boros died of a heart attack. He no longer played, but he often rode around in a cart at Coral Ridge Country Club in Fort Lauderdale, Fla. An assistant pro discovered him slumped in his cart under a willow tree near the 16th hole, his favorite spot.
Thanks to Phil Mickelson, he was rediscovered one more time this week.