Upsets
PGA Championship 2021: Phil Mickelson becomes biggest underdog to win a major in at least 16 years (Yeah, it's complicated)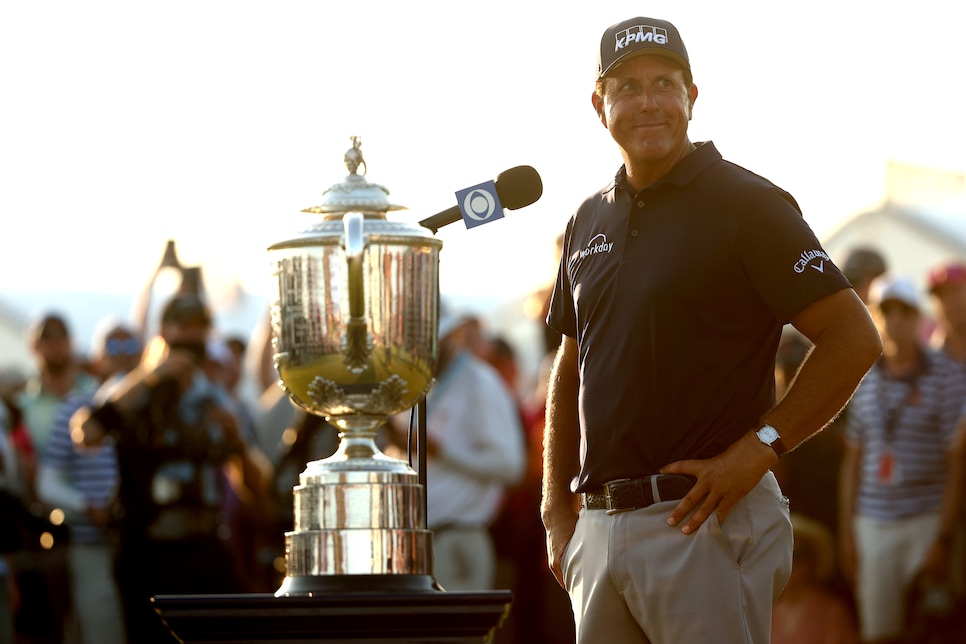 As golf fans were made well aware, Phil Mickelson became the oldest player to win a major at the 2021 PGA Championship. But he also made a bit of gambling history.
With pre-tournament odds of more than 200-to-1 (and as high as 250-to-1 at Westgate SuperBook), Mickelson is the biggest underdog to win one of the four biggest men's tournaments in at least 16 years. We say, "at least," because, well, it's a bit complicated.
Westgate golf oddsmaker Jeff Sherman has been tracking such things since 2008 and he has Mickelson as the golfer with the longest odds to win a major in that span. Before that, though, it gets a bit trickier, but there are several that stand out.
We'll start with Michael Campbell winning the 2005 U.S. Open at Pinehurst and taking down Tiger Woods in the process. That New Zealander's win was more unlikely than Mickelson's, but technically, he was listed as part of the field (6-to-1 odds) at most sportsbooks after making it through two rounds of qualifying. That means the only way you could have bet on him would be by wagering on Campbell and others who didn't have a specified line so you wouldn't have been able to cash as big of a ticket like the one for $300,000(!) at DraftKings as Covers.com's Patrick Everson reports.
But you don't have to go back much farther to find an even bigger longshot. That distinction goes to Todd Hamilton, who beat Ernie Els in a playoff to win the 2004 Open Championship. The journeyman was listed at 500-to-1 odds entering that week at Royal Troon.
Actually, that was all part of an incredible three-year run of upsets at majors starting with Rich Beem at the 2002 PGA, Ben Curtis at the 2003 Open, and Shaun Micheel at the 2003 PGA. All three were at least 250-to-1 odds. Crazy stuff.
Which brings us back to Mickelson. What makes his situation so unique, obviously, is that he's not a journeyman like those other guys, but rather an all-time great. At nearly 51, he just happens to be an old all-time great.
And if you're wondering what 59-year-old Tom Watson would have been at the 2009 Open, well, it's another Michael Campbell situation. The eight-time major champ was listed as part of the field that week at Turnberry at 9-to-2 odds. And winner Stewart Cink was 100-to-1.
At the following major, the 2009 PGA, another longshot won his maiden major when Y.E. Yang stunned Tiger Woods at Hazeltine. But even Yang was "only" 125-to-1 odds. Again, Mickelson was double that at some sportsbooks. Same with Keegan Bradley, who was 125-to-1 when he won in his major championship debut at the 2011 PGA.
So again, kudos to Mickelson for making (even more) history. And kudos to you, if you happened to bet on this legendary longshot.