EDITORS' NOTE: This story first ran in August 2012 issue of Golf Digest prior the PGA of America returning to the Ocean Course at Kiawah Island for that year's PGA Championship.
When the PGA Championship is played at Kiawah Island, S.C., in August, it will be hard-pressed to match what transpired there over three blustery days more than two decades ago. The same goes for the Ryder Cup in September at Medinah outside Chicago. For drama, international intrigue, incredible golf and pressure at its most intense, neither event is likely to surpass the 1991 Ryder Cup played over Kiawah's mean and unrelenting Ocean Course. It was dubbed The War by the Shore, and the hyped-up nickname notwithstanding, it was as cruel and remorseless as sport can get.
The 1991 Ryder Cup was played only months after the Gulf War had concluded. Patriotism had been running high and unchecked on the American side, and the Europeans were fueled by a relatively new continental pride. Kiawah came after European victories in 1985 and 1987 and a draw in 1989, which meant six years of Europe holding the Ryder Cup after decades of American domination. Both teams were thick with brilliant, strong-ego players, eight of whom have already made the World Golf Hall of Fame (it's up to 11 in 2021). Further separating the teams was the fact that golf wasn't quite the global tour it is today, with few Europeans playing the PGA Tour full time. Finally there was the setting, a barren, exposed and unforgiving Pete Dye course that stretched players' physical and emotional constitutions to the limit.
Portents of trouble came early in the week with a three-car pileup involving American players on their way to a Wednesday gala. On the first day of play on Friday, controversy erupted immediately when several Americans showed up wearing camouflage caps. The tenor grew worse, and over the three days of competition there were tense accusations of gamesmanship and rules-bending. Bizarre conspiracy theories were set forth, including claims of an exaggerated injury, manipulated pairings and intercepted walkie-talkie conversations. The galleries were predictably partisan.
At the forefront, though, was some of the most compelling golf ever seen in the Ryder Cup. The teams began the final day tied, 8-8, and several hours later it came down to two good men—Hale Irwin and Bernhard Langer—playing the final hole, head-to-head, for the Ryder Cup.
What happened that day, and indeed the entire week, is best left to the men who experienced it. Through late winter and spring this year, Golf Digest sought recollections from the players who competed that year as well as the two captains, Dave Stockton and Bernard Gallacher, and we include observations from the late Payne Stewart and Seve Ballesteros from previous interviews with us. Players and those behind the scenes talked freely of their experiences, needing little prodding. Old wounds from that Ryder Cup clearly have never quite healed. Many players reverted to speaking of Kiawah in the present tense, and accusations and barbs flew all over again. Here, in the words of those who were there, is the final summation on one of the greatest events in golf history.
Mark Calcavecchia: I played in 1987 at Muirfield Village when we lost, and at The Belfry in '89, when we tied and they kept the cup, which meant we lost. At The Belfry, Ken Green, Payne Stewart, Paul Azinger and I all hit it in the water on the 18th hole. That sucked. After '89, it became more of an us-against-them thing. It got more intense—probably too intense.
Paul Azinger: The Europeans had been better than us, and they weren't shy about reminding us. The British media especially weren't bashful about letting us know about that. But in 1991 we had a new wave of young, terrific players who were also patriotic. Payne, me, [Corey] Pavin and [Steve] Pate especially, along with warriors like Raymond [Floyd], Lanny [Wadkins], Hale and Stockton as captain. We didn't like having our noses rubbed in it, and we took it kind of personally.
Corey Pavin: I flew into Kiawah from Orlando with Payne the week before the Ryder Cup. When we arrived, maybe six of our guys were already there. We stayed on the upper floors of some apartments, or condos, with the Europeans in the floors just below us. On Monday of Ryder Cup week, Payne opened the windows and put on Bruce Springsteen's "Born in the U.S.A." He had the volume turned all the way up, so the music poured down on the Europeans. I wouldn't doubt that the whole island heard it.
Bernard Gallacher: The local radio station got hold of some of our phone numbers. The disc jockey seemed to think it was funny to call our players in the middle of the night. It was called Wake the Enemy. And that went on all week, even during the tournament.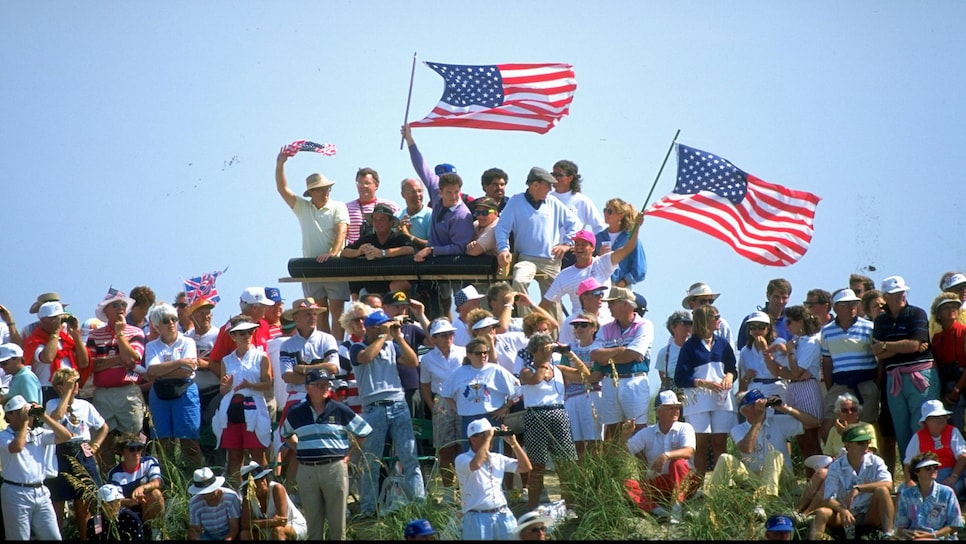 Of the course of the week, the home fans at the Ocean Course didn't keep it quiet who they were rooting for.
David Cannon
Paul Broadhurst: I got a call from the local radio station at 5 a.m. on the Friday, I think. The guy told me he was part of the "anti-European Ryder Cup campaign." At least he didn't deny anything.
Nick Faldo: The truth is, the Wake the Enemy scheme didn't work. It was a morning radio show, and the idiot there called me at about 6 a.m. "We're calling to wake you up," he said. Well, we'd been up since 5 a.m. preparing for the day's play. "I'm already up," I said and hung up the phone.
Bernard Gallacher: The tournament dinner [Wednesday night] was a farce in more ways than one. First there was the car crash on the way to Charleston. The Americans treated it like there had been a death. Then Steve Pate walked in having suffered only a few bruises.
Steve Pate: We were toward the end of a line of limousines taking players to a gala. It was raining, and the line of limousines got separated a little bit. We had a police escort, and for whatever reason, they unexpectedly stopped the last three cars. Our driver wasn't ready for that, and we hit the car in front of us.
Raymond Floyd: [Wife] Maria and I, along with Freddie [Couples] and his wife, were in the car in front of Steve's, so we were the first to get hit. It knocked all of us onto the floor of the limo we were in. We were OK, although I remember Freddie immediately started checking his back. The car that took the big hits was Steve's. As hard as Steve's car hit us, he got hit much harder by the car that rear-ended his.
Steve Pate: It threw me to the floor of the limousine, sitting sideways, when we immediately got rear-ended—hard—by the car behind us. The edge of the seat dug into my side, below my ribs. It hurt like hell. It was soft-tissue stuff; I had a CAT scan that night, and fortunately nothing showed up.
Mark Calcavecchia: Pate's injury was downright gross. He pulled up his shirt, and there was this huge splotch of purple, black and blue, with a little pink and yellow in there. It made me almost sick to look at it.
Paul Broadhurst: Which led to Pate pulling out of the singles—eventually.
Bernard Gallacher: The film they showed at the dinner was a joke. All they showed were Americans hitting shots. Ken Schofield [then the executive director of the European Tour] was all for walking out, but we stayed to the end.
Paul Broadhurst: Ken Schofield wanted to march up on the stage and tell them what he thought. We had to hold him back.
Mark James: My memory of the dinner is of a guy coming up on the stage and asking all of us to "pray for American birdies." But for me it went in one ear and out the other. Come to think of it, shouldn't asking God for help have made them liable to a two-shot penalty?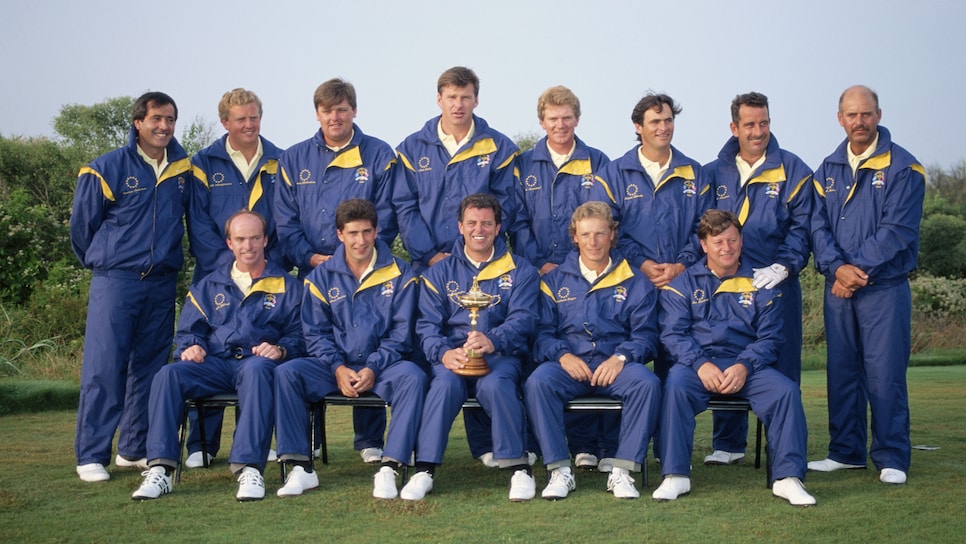 Team Europe poses for a photo ahead of the 1991 Ryder Cup.
Stephen Munday
DAY 1: CONTROVERSIES, CAMOUFLAGE & THE BALL WAR
Paul Broadhurst: One or two of the Americans didn't help the event by wearing Desert Storm hats. It was a sensitive enough time without guys inflaming things. The Americans didn't seem to realize that there were troops there [the Persian Gulf] from all over the world, and certainly from all the countries represented in our side.
Hale Irwin: At Kiawah, you're in a part of the world with a lot of military installations, and the environment was just charged up. The whole thing went too far. It went beyond a golf competition. Having said that, the objection about the camo hats from the Europeans was a stretch. They could have worn something to support their troops if they wanted. British troops wear camo, too. Last I heard, they don't wear bright-yellow jumpsuits.
Bernard Gallacher: 1991 was a turning point for the Ryder Cup. And not in a good way. Suddenly, there was hostility out there. And it was the first time the crowd actually participated in a match. The spectators affected the outcome of matches.
Hale Irwin: The good ol' boys down there got that rebel-yell thing going, and the whoopin' and hollerin' wasn't exactly reserved. I'll tell you what, though: You get the same thing over there.
Bernhard Langer: If I hit a ball into the water at any other tournament, I don't hear thousands of people cheering, where they're happy you hit into the water. It's like an away game in soccer or football.
Ian Woosnam: Americans can't drink beer, which was one factor in what went on. They shouldn't be allowed to buy it at Ryder Cups.
Johnny Miller [NBC]: The chemistry between the two teams was like oil and water. I've never seen guys more combative or trying harder to win.
Bernard Gallacher: The general feeling among our players was one of disappointment that the Americans were prepared to try anything just to win. It was that simple. And it was the first sign of a downturn in the matches that came to a head eight years later in Boston [the 1999 matches at The Country Club in Brookline]. It's better now, thankfully.
Paul Broadhurst: Back then there was more of a "them and us" feel to the matches. Now the top guys see each other a lot more and know each other better.
Bernard Gallacher: Still, I was surprised when Corey Pavin appeared on the first tee wearing his battle-fatigue hat. I felt that was rude and unnecessary.
Corey Pavin: I explained that it was in support of the troops, and that it was a coalition effort, and that's all it was about. But people are going to take it the way they want. There was backlash, and I continue to be asked about it to this day.
Bernard Gallacher: Paul Azinger didn't help matters. He was such a volatile guy. I know Paul blames Seve for using gamesmanship, but that's ridiculous. To be honest, Paul was the worst for that. He would try anything to win. That was certainly true when it transpired that Paul and Chip Beck were switching balls [in Friday's foursomes match with Ballesteros and Jose Maria Olazabal]. It was actually Jose who spotted what they were doing. Not Seve.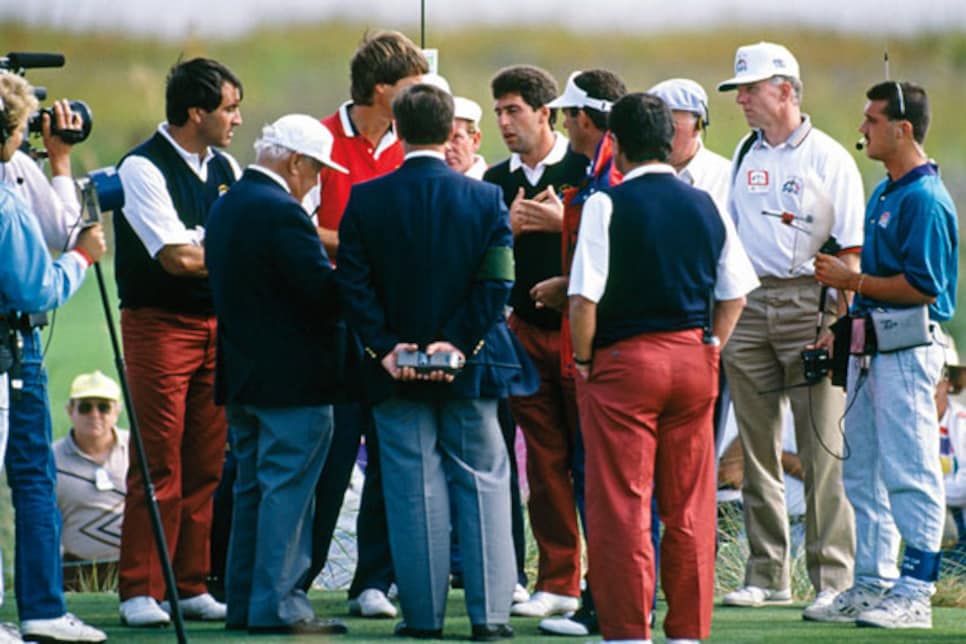 The tension in the match between with Azinger/Pate and Ballesteros/Olazabal bubble over mid-match. (Photo by Bob Thomas)
Billy Foster [Ballesteros' caddie]: We were on the seventh hole when Jose noticed that Azinger and Beck would play either a 100-compression or a 90-compression ball depending on the wind. So Seve and Jose called for Bernard Gallacher. He appeared after the ninth hole [which the Americans had won to go 3 up]. The argument broke out on the 10th tee. It got a bit heated at times. And a bit nasty.
Paul Azinger: The local rule [captains' agreement] was, each player could choose the type of ball he wanted to play. The player had to tee off with the ball he declared on his assigned holes—even holes for me and my 100-compression Titleist, odd holes for Chip and his 90-compression [with the ball being played off the tee used for the remainder of the hole.].
Chip Beck: Playing different types of balls was my idea. I just wasn't aware. I suggested to Paul that it would help to be able to play our own types of ball for our shots into the greens. When Jose and Seve protested after the ninth hole, it got contentious—and I mean very contentious.
Paul Azinger: That's nice of Chip to say it was his idea, but my memory is that I suggested it. Either way, we didn't know we were breaching a rule. No. 7, a par 5, was the only hole where we violated that rule. [Using Azinger's 100-compression ball, the Americans were just short of hitting the green in two and halved the hole.] They were passionate when they objected on No. 10 tee. I think they wanted to claim violations on holes 7, 8 and 9 and claim those holes. As it turned out, those holes had already been played, so they weren't able to make the claim. And we violated the rule only on No. 7 anyway.
Bernard Gallacher: I had to go to the referee and get him to explain the one-ball rule to the Americans. I didn't want my players involved. I wanted the referee to take responsibility for applying the rule. But it kicked off when the Americans denied it. Of course, they changed that story when it was clear there could be no penalty [for completed holes]. That was disappointing. I said to Paul, "If you didn't know the rule at the seventh, how come you knew it at the ninth?" Funnily enough, he didn't answer that.
Billy Foster: At first, Azinger was denying that they were switching balls. But when he realized that they weren't going to be penalized, he changed his story. I can still remember the look of contempt on Jose's face.
Paul Azinger: When they called us on it, it was on the heels of them taking a scary-bad drop on No. 2 and a poor ruling at No. 4. So at No. 10, when they brought up our playing the wrong-compression ball, I was mad from the stuff that had happened earlier, and the whole episode just made me madder. They didn't claim we were cheating, only that we'd made a mistake, but still I was upset. It changed the whole momentum and dynamic of the match.
Jose Maria Olazabal: We were very clear that we didn't think Paul and Chip were cheating. But they did break the rule. And when it was clear that there was no penalty, we played on.
Billy Foster: To say that got Seve's and Ollie's backs up would be the biggest understatement of all time. As Azinger walked past me to the tee, he said, "Nice try." I told Seve after they had driven. I'll never forget the look on his face. I remember thinking the Americans were going to get it now. And sure enough, they did.
Chip Beck: It did not work out well for us. Seve and Jose played like they were possessed.
Jose Maria Olazabal: It is true that some of the things said on that tee did inspire us to play better. Playing foursomes, we were something like four or five under par for the back nine. On that course, that was extraordinary.
Billy Foster: I was holding the pin when Seve made a 40-footer on the 17th to finish the match. The message: Don't f--- with Spaniards.
Lanny Wadkins: The media perpetuated and heightened all the contentiousness. A lot of it was the writers, but the players obviously fed a lot of what they wrote. And there was one guy who fed it better than anyone else: Seve. He stirred up more trouble than you can imagine. He was an expert on seizing on little things and stirring up the media. It wasn't just the off-course stuff, either. During matches there was always the coughing, the throat-clearing. [Ballesteros, who died in 2011, addressed the match in a Golf Digest Interview with John Huggan in 2000: Everybody knows that I have allergies. So I cough all the time. For years I have been coughing. But Paul, who at that point had not played with me very much, thought I was coughing to put them off during the match. That was bull----. Then when he finished the round, he was upset because he lost the match, a match he thought he should have won. Or because he didn't feel comfortable in his mind about what happened, he came out and said that Seve is the king of gamesmanship. He did that really to change the focus of what happened. He was very smart. He knew exactly what happened. Ballesteros would also proclaim: The American team has 11 nice guys ... and Paul Azinger.]
Paul Azinger: The fact is, Seve and Jose were better than Chip and I were. That's all there is to it. Back then, I didn't like Seve or Ollie. I matured over the years, and eventually that changed. Now, I look back, and it's totally a pleasure to reflect on how good they were. They were as passionate about their homeland as we were about ours. And the Ryder Cup maybe meant more to them than it did to us. I've always said that the Americans' love for the Ryder Cup is in our heads, but for the Europeans, it's in their blood. There's a difference. The Ryder Cup meant everything to them.
DAY 2: THE TENSION CONTINUES TO ESCALATE
Bernard Gallacher paired Nick Faldo with David Gilford after two Day 1 losses by the team of Ian Woosnam and Faldo, then ranked Nos. 1 and 3 in the world, respectively.
Paul Broadhurst: The Faldo/Gilford pairing was a mystery. David is not the biggest talker in the world, and Faldo doesn't say anything to anybody.
David Gilford: My partnership with Faldo has been written about a lot over the years, but he was friendly enough. And he did talk. I'm not sure how the story that he didn't talk got started. Maybe it was Peter Alliss, who is not a Nick Faldo fan.
Nick Faldo: We all are used to good shots not always being rewarded, but at Kiawah a decent shot didn't just result in a bogey or a double bogey—it could go into a waste area or some terrible clump of growth where you couldn't play at all. You put your ball in your pocket and go to the next hole.
Bernard Gallacher: Seve and Ollie pulled the team round that week. As long as they were playing, I felt like we had a chance. I never felt like they were going to lose. And they never did. They had the most fantastic match with Fred and Payne [a halved four-ball match]. I still can't believe that, after that game, some of the American press asked me if the Spaniards were playing slowly to put the other guys off. That was just the most stupid thing I had ever heard, at the end of a match that was one of the best in Ryder Cup history. Even the press were trying to put us off.
Fred Couples: Seve and Jose were­—are—the best team in Ryder Cup history. There were just too many times when my partner or I would have our ball on the green with a putt for birdie, and Seve and Jose would be off the green with some really difficult shot, and you'd come away with a halve. It could seem impossible to win holes against those guys.
DAY 3: MORE CONTROVERSY AFTER A SWITCH IN THE LINEUP
Sunday began with Dave Stockton's controversial scratch of Steve Pate from the singles because of the injuries suffered in the pre-event car crash. Under the rules, the Europeans had to reveal the player "placed in the envelope" for such circumstances, forcing him to sit out and giving each team a half point for the match not played. That left the teams tied, 8½-8½, entering the final 11 matches.
David Gilford: I remember arriving at the course on the Sunday morning. At that stage I thought I was playing.
Bernard Gallacher: What was odd was that Steve Pate had already played since the accident [losing a Saturday-afternoon four-ball match]. Of course, had Pate not done so and then pulled out of the singles, we would have been awarded a full point. Because Steve was injured before the opening ceremony, they would have had time to replace him with a reserve. I don't want to sound too cynical, but if Steve was fit enough to play on the Saturday, why could he not do the same on Sunday? What upset me most, though, was that I heard nothing from the U.S. officials. The first I knew of the problem was at breakfast on the Sunday morning. I was not impressed.
Steve Pate: I was a no-go for Friday but felt a little better on Saturday. I went along OK for a while, but I stepped along the sideslope of a hollow, and that made the injury worse. I knew when I woke up on Sunday morning I couldn't play.
Al Mellan [Pate's caddie]: On Sunday, Steve gave it a go, but he couldn't hit the ball 60 yards. He was devastated. He was lined up to play Seve, which is exactly what he wanted.
David Gilford: Pate was drawn to play Seve, our best player at the time. So chances were, we would win that match. I was drawn against Wayne Levi, who was having trouble hitting his hat that week, so I'm confident I could have beaten him. [Ballesteros, scheduled to go out seventh, moved up in the order to play Levi, who lost his only two matches that week and was the only American who failed to score a point.]
Paul Broadhurst: The Americans obviously had a look—knowing that Levi was playing garbage—and thought, *Rather than lose two games, we might as well get a half from one. *It was a bit dodgy.
David Gilford: Mark Calcavecchia came up to me just before the closing ceremony and said: "I'm sorry about today. A few of our guys don't like what happened." Which was nice of him. Look, I know Steve Pate had been in an accident and had bruising, but he did play on the Saturday. And to say that he was appreciably worse on the Sunday would be a very charitable interpretation of Dave Stockton's captaincy. At best, it was ungentlemanly and unsportsmanlike; at worst it was cheating.
Dave Stockton: Steve couldn't play on Friday; he could barely move. On Saturday, he was game and wanted to play, and I didn't have the heart to bench him. He got beat, and then he got only half a point for the Sunday singles match he didn't play. Steve hadn't shot worse than 67 in the practice rounds, and suddenly he was crippled. I felt that if he'd been healthy, it would not have been as close on Sunday as it was.
Al Mellan: Steve still has problems with his hips from that car wreck. I've worked for him since 1985, and although he's had his moments, that thing had a huge impact on his career.
Bernhard Langer: If a guy says he's hurt and can't play or feels he's going to do long-term damage by playing, that's good enough for me. They get half a point, and we get half a point. The longer time passes, the bigger the stories grow.
Tony Jacklin [European team vice captain]: Bernhard Gallacher, bless his heart, chose me to inform Gilford he wouldn't be playing. When I broke the news, Gilford was absolutely gutted. I've never seen a man so broken. That's one part of the Ryder Cup I do not miss.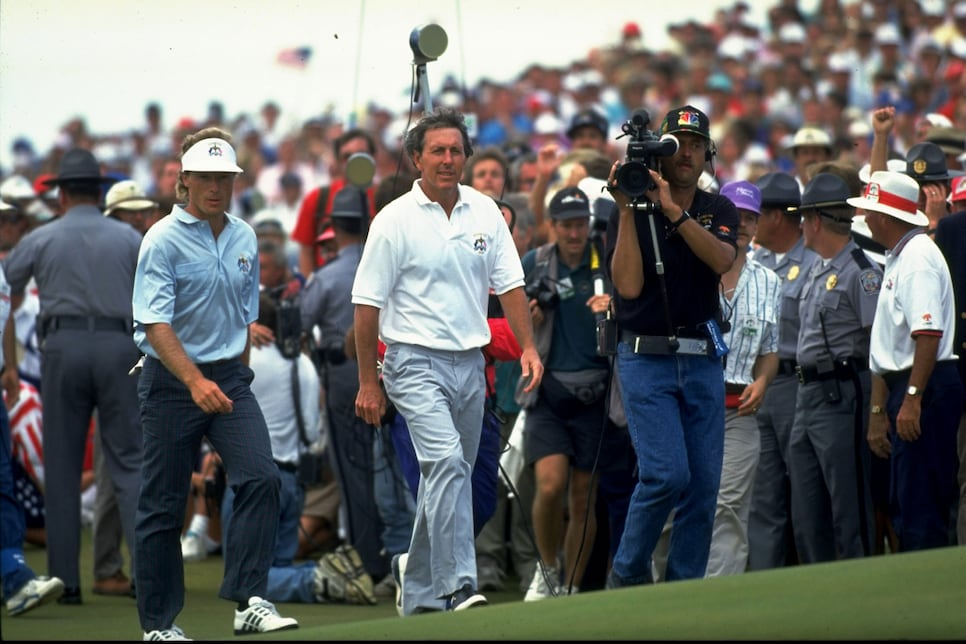 Bernhard Langer versus Hale Irwin became the Ryder Cup-deciding match on Sunday.
Simon Bruty
THE STRAIN IS ON IN THE FINAL MATCHES
Johnny Miller: Every day of the Ryder Cup is like a dozen tournaments happening simultaneously. And the pressure is so obvious that the viewer is almost sucked through the screen and placed on the course.
Paul Broadhurst: I was proud of the way I played in the singles against Mark O'Meara. [Broadhurst won, 3 and 1.] I think Seve was level par in his game [a 3-and-2 victory over Levi], and I was one over. And they were the best scores of the day. A few guys like Monty and Calc were miles over par. It was a very difficult day. Guys were winning shooting 76 and 77. So the scoring was poor, not that it matters in match play.
Lanny Wadkins: I don't know that I've worked any harder. Seve even insinuated himself into other matches. In my singles match with Mark James [Wadkins won, 3 and 2, to give the U.S. team its first lead of the final day, 14-13], Seve tried to argue relief for Mark's ball on the 16th hole. It was on sand behind the green, and Seve was pleading for a drop. I said, "Seve, go away. You're not an official. We have officials here. Get out of here." It's just typical of what he did.
Paul Azinger: I don't recall saying a word to Olazabal during my singles match with him. I will flat-out tell you, I feared him. I knew I could not afford to not give that match my complete attention, or I'd get beat. To this day, he is the greatest iron player I've ever seen. He's what I call a zero-mistake guy. Most players, you can count on them making a certain number of mistakes during a match. With Olazabal, I knew I couldn't count on him making any mistakes at all. I was full-blown scared, I was aggravated by how my earlier matches had turned out, and I was desperate to beat him. There were very few halved holes in that match. I was very fortunate to win, 2 up.
Fred Couples: After I won my match against Sam Torrance [3 and 2], I watched the other guys come in. All I could think of was how hard the course and conditions were. Bogey was a good score on a lot of those holes coming in. When you're out there playing, you don't realize how hard a course is because you're so wrapped up in what you're doing. But watching the others after I'd finished, it seemed brutal.
Ian Woosnam: I do remember one hole from my match with Chip Beck. [Beck won, 3 and 1.] I was 1 down playing the 14th. He missed the green to the right. I was 15 feet away. He chipped over the green. Then did the same again. Then he chipped in. And I three-putted! That summed up my week.
Dave Stockton: Momentum is a funny thing. In the singles, I believe in sending your strongest players out first and last, and positioning the guys who aren't playing well in the middle. So I led off with Raymond Floyd and Payne Stewart, and darned if Gallacher didn't put the strongest part of his lineup in the middle.
Raymond Floyd: After the matches finished on Saturday, Dave approached me and asked who I'd like to play against on Sunday. I told him it didn't matter one bit, but I asked one favor: Do not put me out early. I explained that I was 49 and needed my sleep, that my motor never started early anyway, and that it would be much better for me—and the team—if I could play later in the day. Dave said, "Yep, got it." At dinner that night, I look at the pairings and see he has me in the first match. I said, "Dave, what did you do? I might not be awake until the sixth hole." He said, "I just felt that's where I wanted you." I kept my match against Faldo close but lost, 2 up.
Dave Stockton: When Payne and Raymond fell behind [Stewart lost to David Feherty, 2 and 1], I thought we might be in trouble. But we had a secret weapon in Mark Calcavecchia. He was just burying Colin Montgomerie, at one point going 5 up through nine. The rest of the team was really inspired by that and played great. Calcavecchia lost the last four holes, of course, and halved his match, but by then the momentum had been established. So even though Mark collapsed and felt humiliated, his performance really was our greatest weapon.
Mark Calcavecchia: The killer was No. 17.
Lanny Wadkins: The 17th hole [197 yards over water in 1991, and 223 yards for this year's PGA Championship] was not the same hole on Sunday that it was earlier in the week. [Langer aced the 17th in a practice round.] On Friday, when I teamed with Mark O'Meara against Sam Torrance and David Feherty, three of the four of us hit it within eight feet. It was a front-left pin, and we hit 3- or 4-irons. We halved the hole with 2s. On Sunday, it was a completely different animal.
Raymond Floyd: The wind was blowing so hard. It was very hard to picture the kind of shot to play at the 17th. You made up your mind and then just hit and hoped, knowing that if the shot wasn't perfect you might have a big problem.
Mark Calcavecchia: Monty had already hit it in the water. There was a howling left-to-right wind, which is the worst wind for me because I hit a fade. I don't know what happened on the shot. I smothered it, a diving topspin slice. It deserved everything that was said about it. Johnny Miller said it was the worst pressure shot he'd ever seen. [Charlie Jones' call for NBC as the 2-iron shot skipped into the water: "Are you kidding me?" Added Johnny Miller: "It had about two seconds' hang time." Golf World wrote that the shot "looked like a sick pelican looking for lunch."] The key there, the thing nobody remembers, is my missing a two-footer for double bogey that would have won the match. That was brutal. Every golfer has their bugaboo, a shot they screw up more than any other. For me, it's always been short putts. The miss at 17 has stayed with me forever. Even today, when I have important short putts, I think of them differently than I did before Kiawah. The 17th stunk, but even on 18, I hit two good shots, a good drive and then a smoked 3-iron that was right at the flagstick. To this day I can hear Ray Floyd shouting, "What a shot, Calc!" like it was dead perfect. But it went a little long, and I didn't get up and down. [Montgomerie's par halved the match.] To be honest, I didn't feel the wheels falling off until it was all over. I just knew that half a point was going to cost us the Ryder Cup. It was too much for me to handle. I cracked up.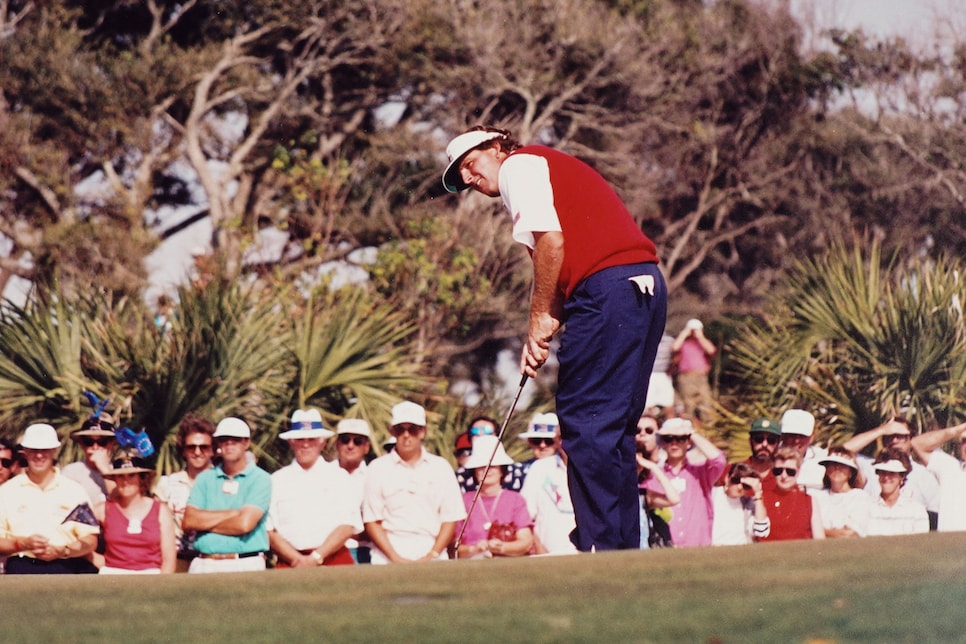 Mark Calcavecchia looked like he was cruising to a singles win over Colin Montgomerie, but last the last four holes to only get a halve.
PGA of America
Roger Maltbie [NBC]: I was sent to get a word with Mark. I found him in the television compound, with Peter Kostis, his coach and mine at the time. As soon as I walked in, I knew Mark was in no condition to say anything. He was crying almost hysterically. His eyes were very swollen, and Peter told me he had been physically sick. I'm not a mental-health expert, and I don't know what a nervous breakdown is, but it was pretty obvious that Calc had had just about all the stress he could cope with. I left right away and went back to the NBC production truck. The then-executive producer of NBC Sports, Terry O'Neil, was there. I told him I had found Mark but that he was in no condition to talk. He snapped at me. "Stay with him," he said. "He'll talk." Now, I was still thinking like a player back then. I told him I thought it would be intrusive to go back, and that it wasn't the right time. Anyway, Mark Rolfing had a few words with Mark much later. He was feeling a bit better after the U.S. team won.
Mark Calcavecchia: I did not throw up. I felt like it, though.
Lanny Wadkins: Dave put Hale out last with me right in front of him, and it proved to be a smart move. The way our scores and those of Mark James and Langer worked, if the order had been reversed, we would have lost one match and won the other. And Europe would have kept the cup.
Hale Irwin: Dave came to me the night before and asked if I cared where I was positioned. I told him it didn't matter to me at all, that he should put me where he could best use me.
Corey Pavin [a 2-and-1 winner over Steven Richardson]: Fans see the leaders on TV every week when they're playing great, and they sort of assume that players are at the top of their games at the Ryder Cup. That definitely is not the case. When someone is struggling a little, and you put Ryder Cup pressure on it, it magnifies their struggle and makes it a hundred times harder. That was the case with Hale on the back nine. His game was good but not great, and he was desperately trying to hold it together.
Hale Irwin: I wasn't playing particularly well, and I'm playing Bernhard Langer, one of the toughest players of all time. As the day went on, it got more and more intense. It was an accumulation of things. The roars of the galleries were monstrous, but we couldn't tell who they were for. The sand dunes obscured what scoreboards there were, so I didn't know the score. It was a little like playing in the dark. Then our teammates and wives, and the galleries who'd been watching the other matches, all converged on us. I kept hearing "U-S-A! U-S-A!" and I couldn't breathe or swallow. By 12, I could hardly hit the ball. Coming home, Bernhard started chipping away. [Langer double-bogeyed the 14th to go 2 down but won the 15th with a par and made a six-foot par-saving putt to halve the 16th hole.]
Bernhard Langer: It wasn't just the pressure of the last hole. It was the last three or four holes. It was clear by then that it was coming down to my match. The point is, there was an hour or so of great pressure.
Pete Dye [who passed away in 2020]: It was unbelievable. During the practice rounds the weather was in the 80s, and the wind was out of the southeast. Next morning, it dropped to 55, and the wind came strong out of the northwest—20 knots—and it stayed that way most of the week. Instead of a 6- or 7-iron, Hale Irwin hit a wood to the 17th green on the final day.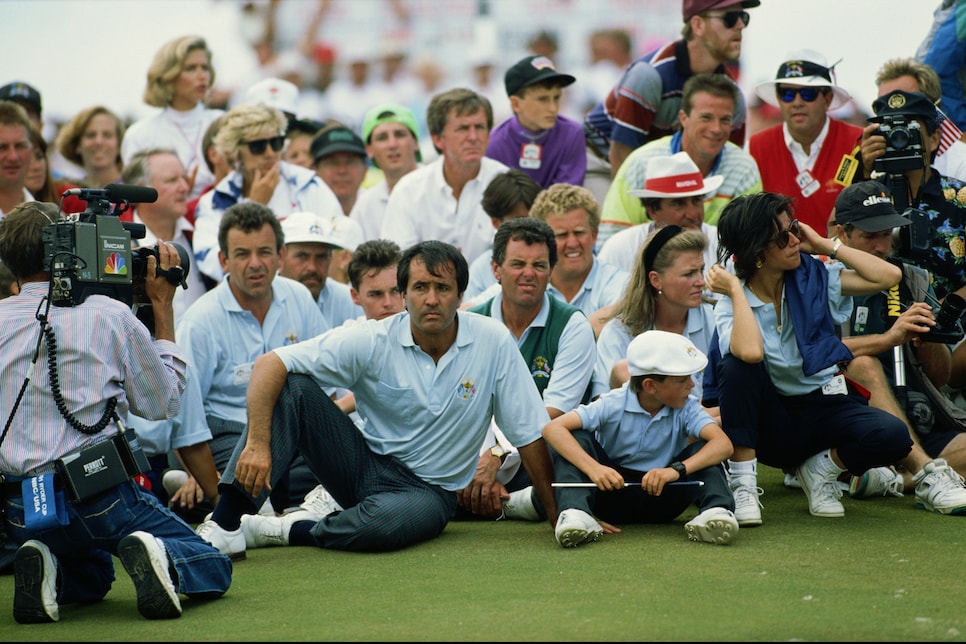 Seve Ballesteros and some of his European teammates watch on anxiously as the drama unfolded on Sunday.
Simon Bruty
Hale Irwin: My golf swing was sort of a mess that week, and for the first time my senses became overloaded. I couldn't process everything. I felt so much anxiety I was just playing by instinct. I was 1 up but missed the green with my tee shot. As I'm walking to the green I see Seve talking to a teammate in Spanish. Trying to keep things light, I say, "Hey, Seve, what did you say?" He looked at me and says, "I said, 'Too bad you didn't knock it in the water.' " That didn't bother me at all. He's competitive. That's fine. [After Langer lagged to within four feet of the hole, Irwin charged his putt from just off the green well by the hole and missed the comebacker. With the cup on the line, Langer made the four-footer to win the hole, squaring the singles match and sending it to the 18th hole. With the U.S. team leading, 14-13, Irwin needed to halve the final hole to secure a 14½-13½ victory for the Americans. Langer needed to win the last hole to leave the competition tied at 14, which would have kept the cup with the Europeans.]
Paul Broadhurst: More than once that week American balls appeared in the middle of fairways when they seemed to be headed toward places not quite so friendly. Hale Irwin's drive off the last tee in the last match was one. It was headed way left, yet suddenly it was back in play.
Bernhard Langer: One thing I never understood, and which no one has explained to me, was what happened on No. 18 when Hale Irwin drove off. He totally snap-hooked his tee shot 40 yards left of where his ball ended up. It looked like his ball was going into the sand dunes, but when we got down there it was on the edge of the fairway where he could hit a 3-wood.
Kathy Jorden: Hale's ball struck me, on the fly, in the small of the back. I was liaison for the PGA of America, assisting with the TV broadcast, and was walking just inside the ropes with our president, Dick Smith. We had been at the 17th green, and the Ryder Cup trophy was nearby. We wanted to make sure the winning captain got it immediately when the outcome was decided so NBC would have a great celebration scene. That could have happened on the 17th hole with Hale and Bernhard but didn't, so Dick and I headed up the 18th hole. Dick got a little ahead of me. He had a very large stride, plus I was six weeks pregnant, so I couldn't keep up. A volunteer marshal hollered "Fore!" and I instinctively ducked. When it hit me, it deflected about five feet into the fairway. If it hadn't hit me, it would have hit somebody else, because pretty much the entire gallery had gravitated to the 18th hole, and it was packed where we were. It didn't seem like that bad a shot, because I was nearer the fairway than any of the people in the gallery. Boy, did that thing smart. I was wearing a light-wool blazer over my golf shirt, and still it left a welt larger than a golf ball. It took six weeks for the welt to disappear.
Hale Irwin: She wasn't trying to redirect the shot; she was trying to get out of the way. The ball stopped right there. If it hadn't hit her, it could have gone 20 yards closer to the green. Now I'm at a point where I can't reach the green, so I have to hit the 3-wood out to the right and hope that I can salvage a 4. So you can argue that point one way or the other. I've gone back there and looked at that shot and said, "Well, you know, it wasn't that far off-line."
Johnny Miller: There was more pressure put on those two players than ever was exerted on anyone on a golf course, ever. Irwin's nerves might have been good enough to win three U.S. Opens, but this was too much, even for him.
Sam Torrance: I was down on my haunches behind the 18th green when Irwin and Langer were in the fairway. I was with Ollie. He was quiet at first, but not for long. Suddenly, Ollie elbowed me in the ribs and started shouting to Langer at the top of his voice: "Come on, son! Come on, son! Watch the ball. Watch the ball. You can make it move!" He was gone, really. So I quietly moved away; I thought he was f------ mad, to be honest.
Bernhard Langer: On 18, Hale didn't get up and down. He made a very bad chip [about 30 feet short], and I didn't think he'd make that long putt he had. So I knew if I could make par, I would win the point. My first putt had to go over the sprinkler head, then over a hill, and it was getting a little dark. I thought it was a fairly good putt, but it just ran on and on [missing left of the hole by inches], and it went six feet by. And then he left his short and made 5.
Bernard Gallacher: It looked like Hale Irwin was lucky to finish the hole. Bernhard gave him an 18-inch putt I'm not sure everyone would have.
David Feherty: I'm sitting with the rest of the European team, all jammed together in a 10-square-foot area. Remember the late Lawrence Levy, the photographer? He was one of my greatest friends. He was right beside me, and I'm shaking so badly he says, "Stop shaking—you're shaking my lens." I said, "I can't stop." He turns to me, and he says, "You know, it occurs to me that the last time a German was under this kind of pressure, he shot himself in a bunker." [Laughs.] Which is still maybe the most inappropriate thing I've ever heard on a golf course.
Paul Azinger: The pressure on Bernhard was just too much. It was almost unfair to ask someone to perform in that kind of situation. At the 1993 Ryder Cup, Tom Watson, our captain, and Lanny Wadkins, who was co-captain, pulled me off to the side and asked me if I'd like to go out last. I said, "Hell, yeah, I'll take that." But I lied. [Payne Stewart, interviewed by Guy Yocom for a June 1999 Golf Digest story, was asked if he would have wanted to be in Langer's position with that final putt: I would like to tell you yes, but I'm glad I didn't have it. I wouldn't have wished that on anybody. But I will tell you who would have liked to have been in that position: Jack Nicklaus. Ballesteros, interviewed that final day at Kiawah: I wouldn't have made that putt under those circumstances. Jack Nicklaus wouldn't have made it. Nobody would have made it. Incredible pressure.]
Roger Maltbie: I was at the front of the green when Irwin and Langer were putting out. The crowd was enormous and completely encircled the green. I was kneeling next to Feherty. When Langer was over his putt, David announces, "This is bull----. We've all dreamed about having putts to win the Open or the Masters, but nobody wants this putt right now." It was as dramatic a moment as I have ever experienced.
Raymond Floyd: Just think about the situation. In the minute or so Bernhard took to play that putt, can you imagine how that win-lose realization must have hit him?
Bernhard Langer: I knew what it meant. I knew I had to make this. I read the putt with my caddie. I asked him, "What do you see?" He said, "Left edge." I said, "That's what I see." Then he said, "Do you see that spike mark?" I said, "Yes, I see it, too." This spike mark [one of two] was about 10 inches in front of my ball, exactly on my line. It was tall, about half an inch, and it was crusty Bermuda. It was a sunny, windy day, and the grass was not soft. It definitely would have deflected my ball if I'd hit it. He said, "Maybe we should play it straight to miss the spike mark."
Hale Irwin: I'd been down there the weekend before, and the grain on the 18th green seems to be stronger than on any other green on the course. My thought was, I certainly hope he doesn't know what I know, that it breaks more than it appears.
Bernhard Langer: We looked at the putt again and agreed that playing it straight was the best thing to do. Perhaps it would hold its line. I hit a good putt, but it did break and go to the right of the hole. But I did as well as I could.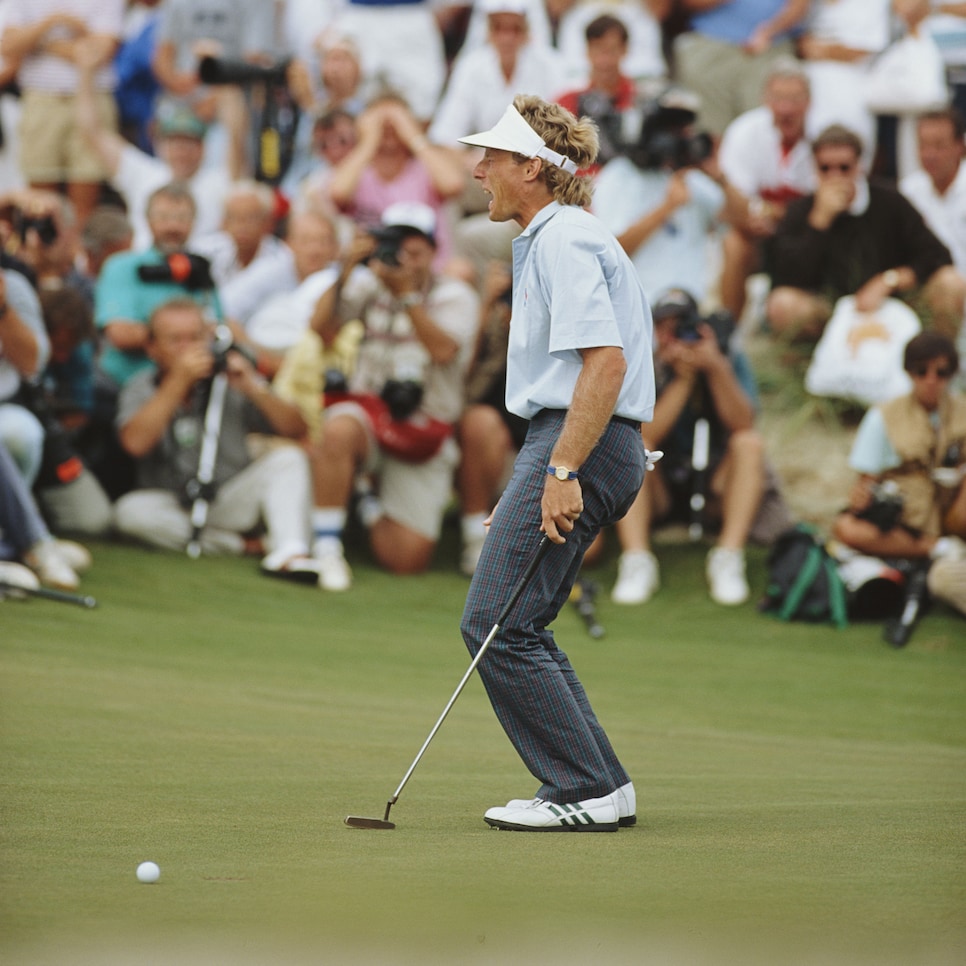 Bernhard Langer reacts after missing a six-foot par putt that would have won his match with Irwin and let Europe keep the Ryder Cup.
David Cannon
Hale Irwin: I was happy but not gleeful. A part of me wanted to cry, out of relief and joy, and out of sympathy for Bernhard. As the game of golf goes, there was never a moment like that one in history.
Bernhard Langer: My faith carried me a long way. I had become a believer in 1985, after I won the Masters. It gave me a different perspective. As it was, I won the German Masters the following week. In fact, I had to make a big putt to get into a playoff.
Hale Irwin: Somebody asked me, "What if you had to go through that situation at Kiawah every day?" My answer is, "I'd get used to it." I really believe that. Human beings can adjust to anything.
Paul Broadhurst: The team room at the end was a mess. Sam Torrance, Langer and Seve were in bits. They were crying proper tears. Langer was inconsolable.
Bernhard Langer: My teammates all were very nice to me. They patted me on the shoulder and said things such as, "Nobody should have had that putt," "It was our fault for even putting you there," and "It wouldn't have come to that if we'd scored another point earlier." I was fine right when we finished. I gave my wife a hug and went over to the team trailer. But then Seve came up to me, gave me a hug and started bawling. That set me off. I cried, too. Up to that moment, I had only cried when my kids were born. I never cried over golf until that moment, and I haven't cried since.
Dave Stockton: After it was over, Bernard Gallacher decided to get a little pissy; he wrote a book. For example, he'd had some problems with their walkie-talkies, and he harpooned me with the suggestion that maybe we'd sabotaged them. Hell, I can barely turn on the TV, let alone monkey with radio signals.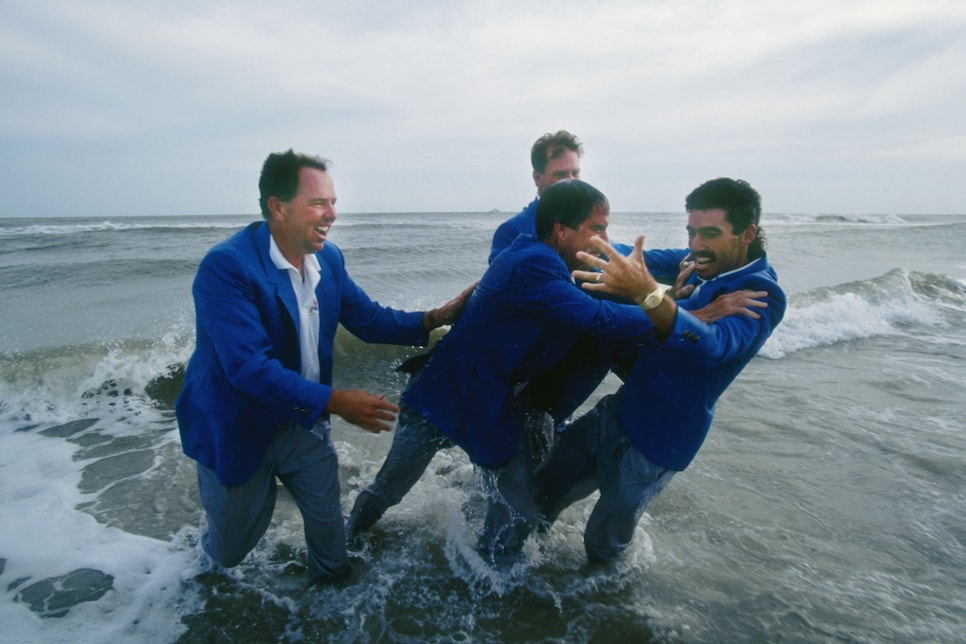 Mark O'Meara and Payne Stewart look on as team captain Dave Stockton pushes Corey Pavin into the water as the USA celebrate on the beach after victory in the Ryder Cup.
Simon Bruty
Bernard Gallacher: I like to think we were gracious losers. Which is not to say that we enjoy losing, but we lost in the right way. It didn't take us long to get going again, even though there was a lot of emotion in the room. Besides, it doesn't take guys like Sam and Woosie long to get a party going.
Jane James [Mark James' wife]: He, Sam and Woosie went into the supporters' tent. It was enormous and packed. We could hardly move, and we certainly couldn't get to the big stage in the middle. Or so we thought. It was like that scene in "Crocodile Dundee" where he's passed over the heads of the crowd in the [subway] station. We were held up head-high all the way to the stage. The guys were throwing shirts and shoes and almost everything else into the crowd. By the end they were nearly naked.
Wayne Levi: I was amazed at how much drinking the Europeans did after they played. And I imagine, before they played. There were these kids who serviced the team trailers, who brought us drinks and stuff. They serviced the European trailer, too, and they told us they couldn't believe how much they were drinking. And their players would visit the tents where a lot of the European fans were, and there was all kinds of chanting, singing songs and dancing. I thought it was pretty neat, really. But I couldn't believe they could drink that much and still play.
Steve Pate: We all partied together after it was over. Both sides, together. It was like one big, happy family. It doesn't seem like that anymore, does it?
Paul Broadhurst: The radio station rang back on the Monday morning before we left. I think they expected us to talk to them. They were wrong. But the guy who came on my phone invited me down to Charleston Harbor "just to show there are no hard feelings." I just laughed.
Bernhard Langer: I think people realized after 1991 that it wasn't a War by the Shore; it was a golf competition between the 12 best players on two sides of the ocean. It was founded to create friendship, right?