But there was so much more to that week that you've probably forgotten. And no, we're not talking about young Rory still having some wild hair—or all the complaining by members of the media about that interminable shuttle ride onto the island. Here's a look back at 13 other things you might not remember from the 2012 PGA.
1. Carl Pettersson had the solo lead after Day 1.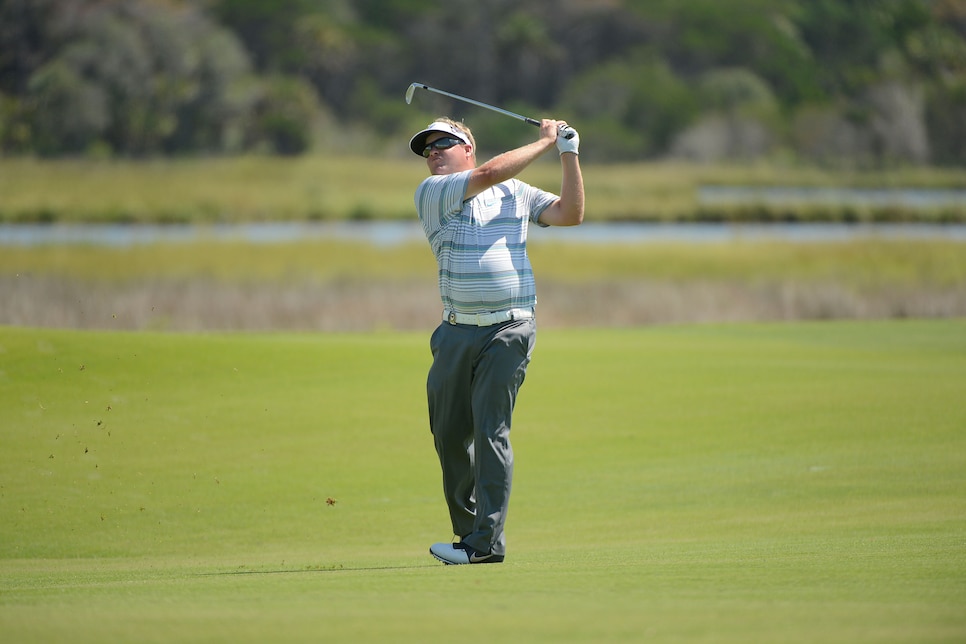 Yep, Carl Pettersson. And nope, it really wasn't that weird. The Swede had won his fifth (and probably final) career PGA Tour title earlier that season at Hilton Head and entered the week No. 38 on the World Ranking. But sadly for golf fans in Sweden, they would have to wait another four years for a native golfer to claim the country's first men's major with Henrik Stenson at the 2016 Open Championship.
2. Vijay Singh had a share of the lead after Day 2.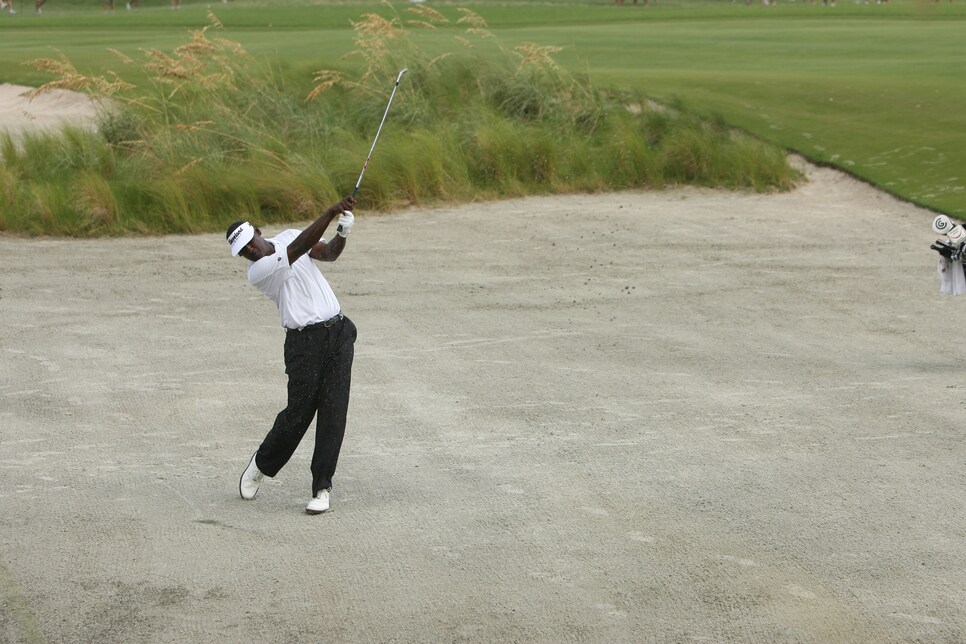 Why is that significant? Well, at 49 he was also attempting to make history by becoming the oldest major champ ever. Alas, Julius Boros (48 years, four months) at the 1968 PGA Championship kept hold of his record. Speaking of the 36-hole leaders …
3. Tiger Woods was also a 36-hole co-leader.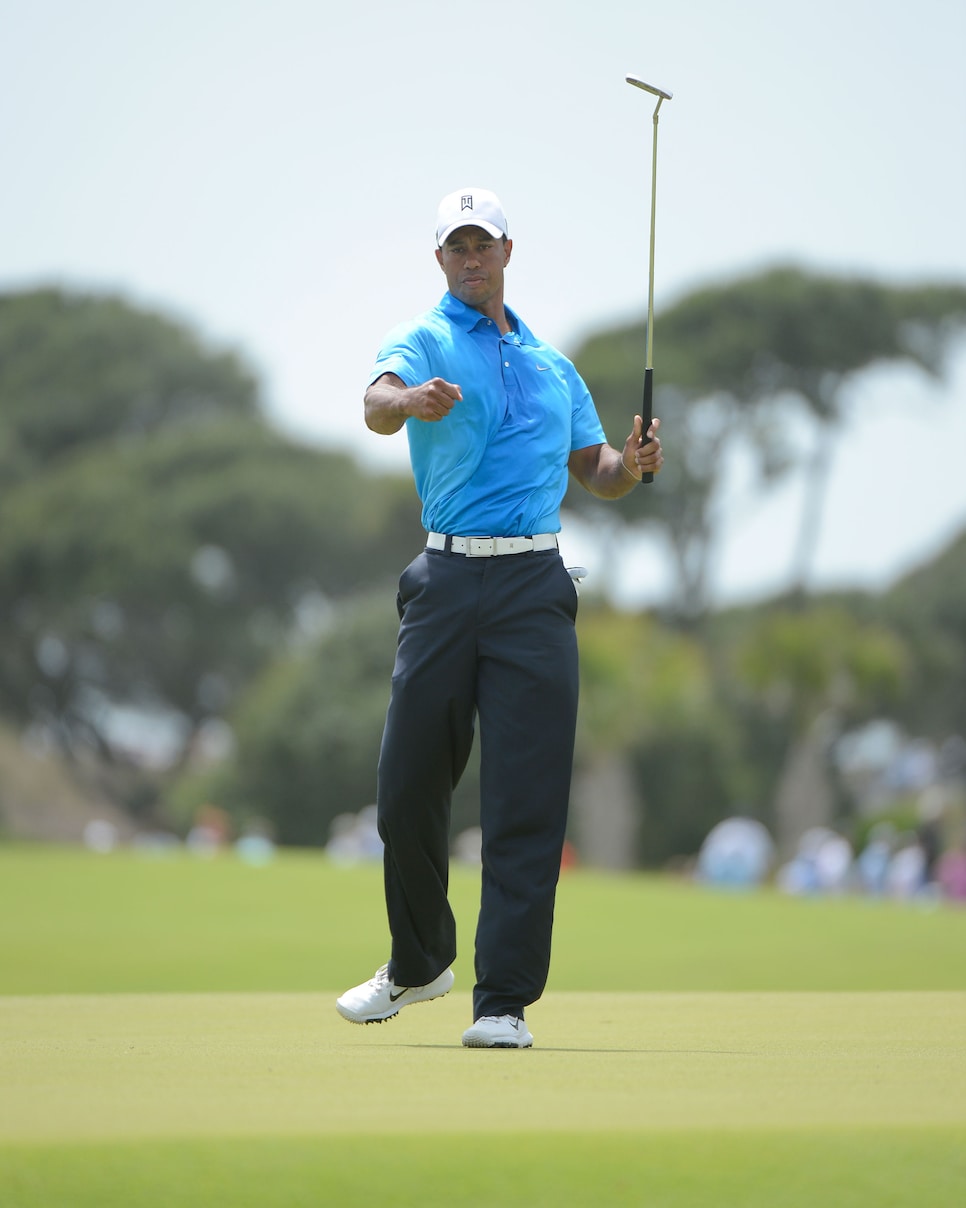 You probably don't remember that either because Woods was still in the early years of that decade-plus winless drought in majors. Oh, and despite getting off to a great start, he only wound up finishing T-18. Just one shot ahead of a certain Loudmouth wearing fellow former PGA champ …
4. John Daly finished T-18.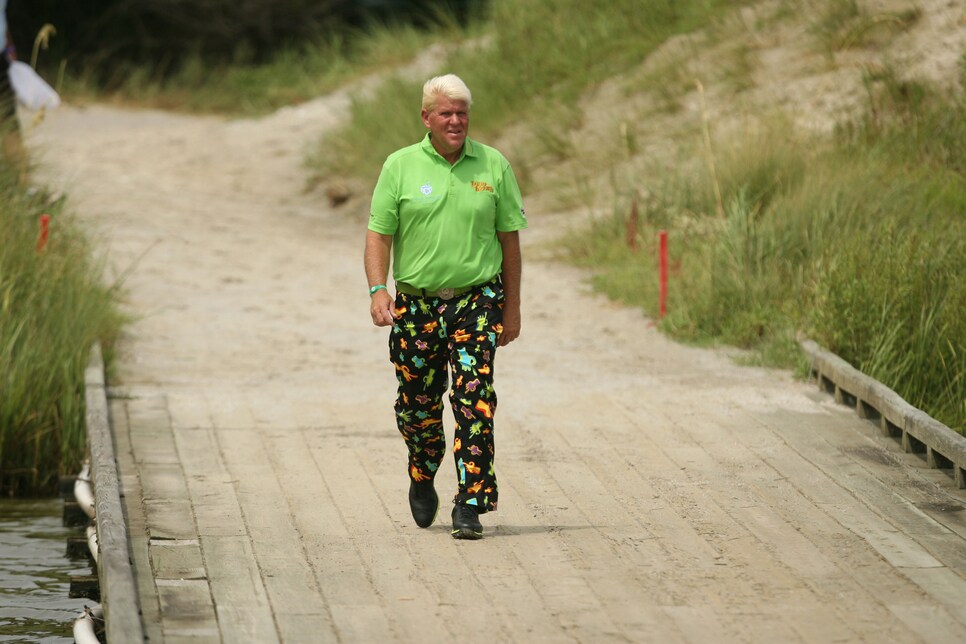 That's a pretty big deal because that was his best finish in the event since hoisting the Wanamaker Trophy at Crooked Stick more than two decades before in 1991. And it was his second-best finish in any major since winning the 1995 Open Championship. So we're guessing you don't remember that because it was pretty much out of nowhere. In fact, JD hasn't even made a cut at a major since.
5. The second round was brutal.
Historically brutal, in fact. The Ocean Course's notorious winds blew consistently at 20 to 30 miles per hour causing a scoring average of 78.1, the highest of any round in PGA Championship history since the event switched to stroke play in 1958. And to find a higher scoring average at any major you have to go back to the infamous final round of the 2004 U.S. Open. Unlike that day at Shinnecock Hills, this wasn't a case of the PGA losing control of the golf course, but rather the players losing to Mother Nature. Speaking of her …
6. The third round was largely wiped out on Saturday.
Those Friday winds eventually blew in quite a storm as the leaders only played seven holes on Saturday before play was suspended that afternoon. That set up a marathon conclusion on Sunday. Although, again, it didn't turn out to be much of a race to the finish line.
7. Carl Pettersson had a bizarre (and costly) penalty.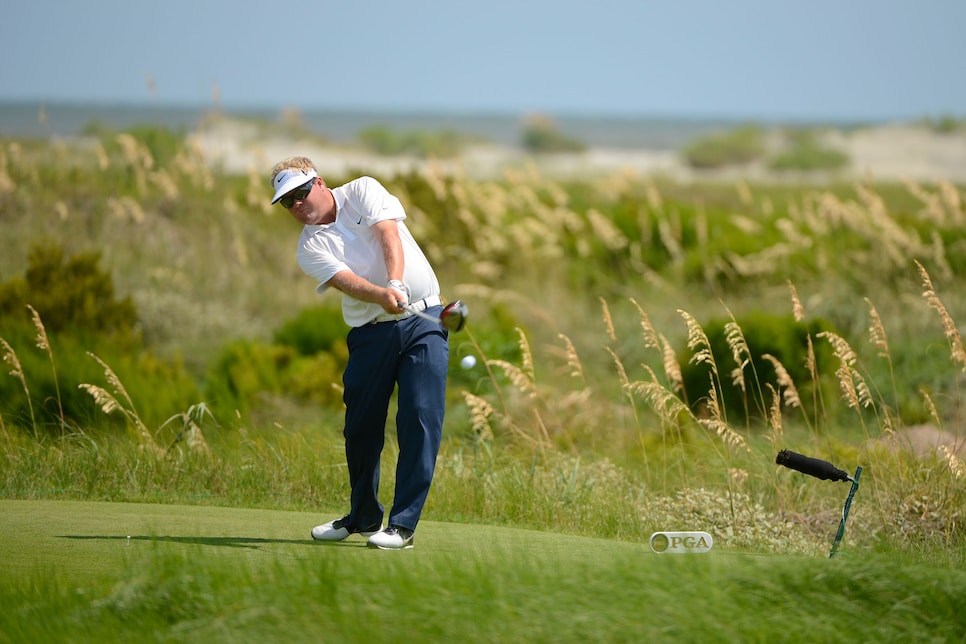 Oh, you thought we were done talking about Carl Pettersson? Wrong! The Swede inadvertently made contact with a leaf in a hazard on the first hole during the final round with his backswing. After the infraction was caught on replay, Pettersson was informed on the fourth hole that he was being assessed a two-shot penalty. Rough. "We have a lot of stupid rules in golf," he said after. And we feel his pain. Those two shots wouldn't have won him the Wanamaker, but would have given him a solo second and about $500,000 more in earnings. Again, rough.
8. Ian Poulter made the biggest Sunday charge.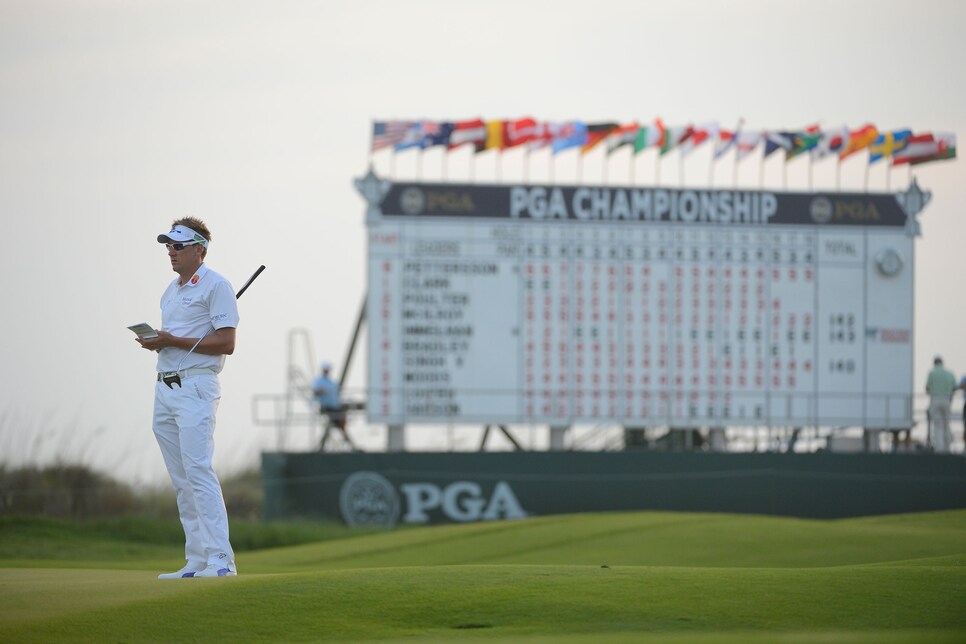 The Englishman started the final round well off the pace, but birdied his first five (!) holes of the final round and six of his first seven to briefly pull within one shot of McIlroy's lead. Of course, he couldn't keep it up and wound up tying for third with Pettersson, Justin Rose and this guy …
9. Keegan Bradley had an admirable title defense.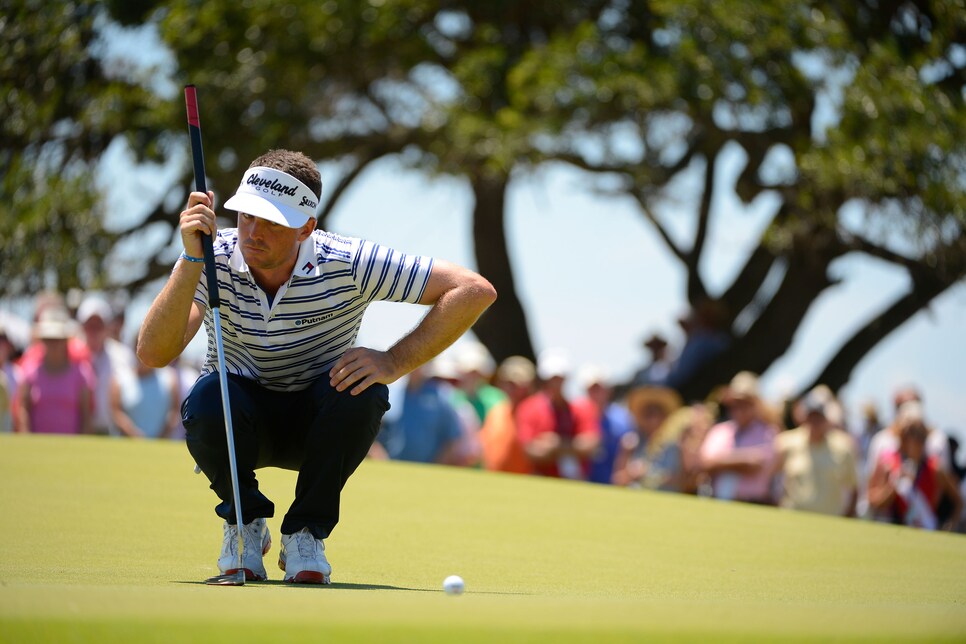 First off, you might not even remember Bradley was the defending champ. He was, though, and he had a great week while still wielding that belly putter, finishing T-3 despite never seriously contending on Sunday (Who really did?). But he couldn't quite catch this (random) dude …
10. David Lynn finished runner-up.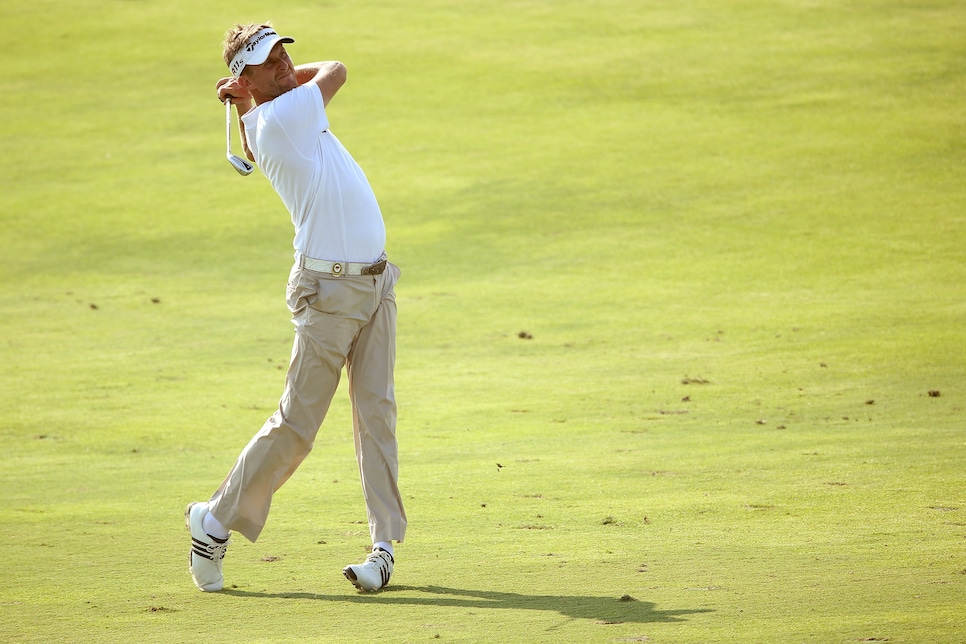 That's David, normal spelling, Lynn, L-Y-N-N. We kid because Lynn was on the brink of having a nice run in 2013 that included a second European Tour title and nearly a maiden PGA Tour win when he lost a playoff at the Wells Fargo to the even lesser known Derek Ernst. But the then 38-year-old Englishman was playing in just his second career major and his first in nine years. Lynn played in four more majors over the next two years and then never again, retiring in 2014 due to tendinitis in his right elbow. But like Gregory Havret at the 2010 U.S. Open, he'll always be able to say he's one of the most surprising runners-up in major championship history. Even if he finished eight shots behind. OK, let's get to that dominant winner …
11. Rory lit it up on the weekend—despite a really bad break.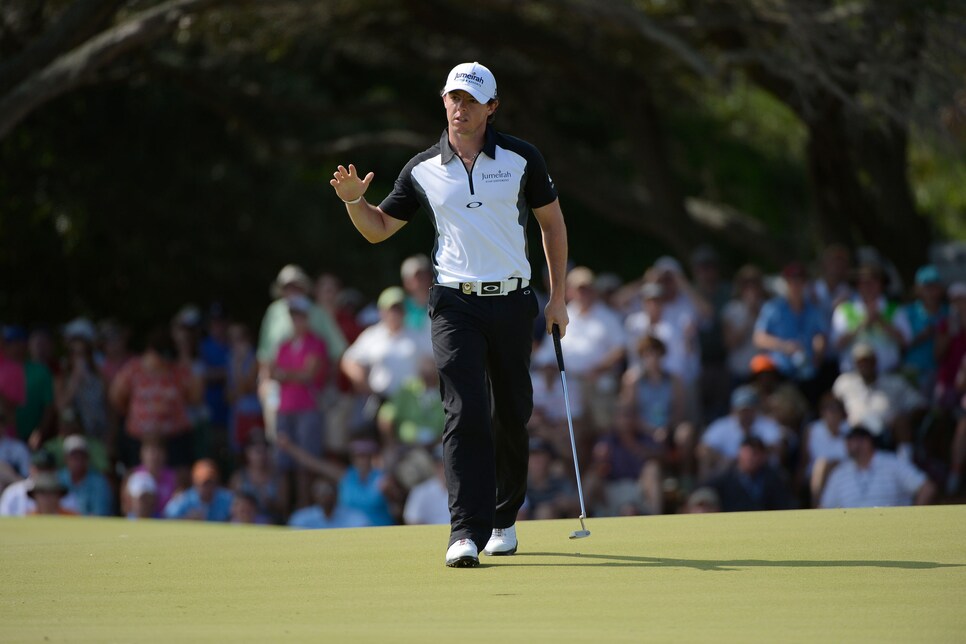 Following a 75 in the second round (which actually beat the field average by more than three shots), McIlroy was only two under, but he played the final two rounds in a brilliant 11 under to blitz the rest of the field. His third round included a tee shot getting stuck in a tree on the par-4 third hole. But McIlroy dropped, pitched on and made a 15-footer for par. It was pretty clear at that point it was going to be his week.
12. Rory wore a Sunday red shirt.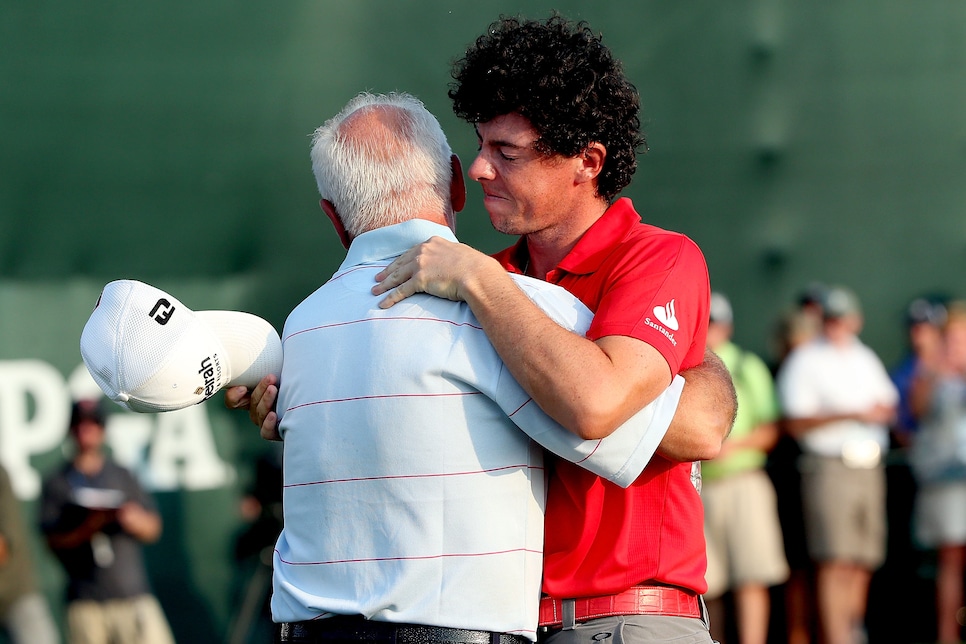 I know, it's tough to notice his shirt color with all that hair. Seriously, wow. Anyway, this kind of thing is a big deal in the Woods Era. So was the young pup trying to send the old dog Tiger a message? Actually, no. "It was in the script that Oakley sent me at the start of the week. If I was going to be paired with him today, I wasn't going to wear red," McIlroy said after, recalling that Tiger buried Luke Donald in a final pairing at the 2006 PGA after the Brit made that fashion mistake. Smart, Rory. Also, who the heck remembers him being outfitted by Oakley?
13. Rory's final putt actually mattered. (Sort of.)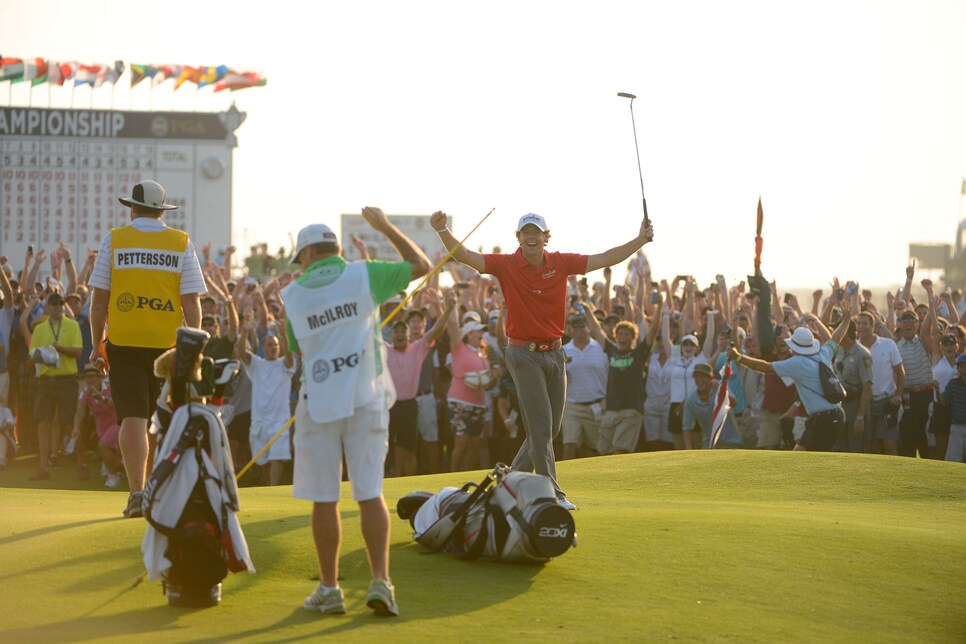 At least, if you're into breaking records by arguably the greatest player of all time, that is. With a 20-footer from the fringe for a finishing birdie, McIlroy made the final margin eight shots, one better than Jack Nicklaus at the 1980 PGA Championship. The win gave the 23-year-old McIlroy two majors—incredibly, both by eight shots. Here was the finish, including a great call by CBS' Jim Nantz:
"The new ruler of the game of golf is Rory McIlroy!" Nine years later—and seven years after adding a second PGA and fourth major—McIlroy hopes the good vibes at Kiawah can help him get back on top. Maybe he should start by growing out his hair again.