News
PGA Championship 2021 live updates: Phil Mickelson wins the 103rd PGA Championship at Kiawah Island, becomes oldest major winner ever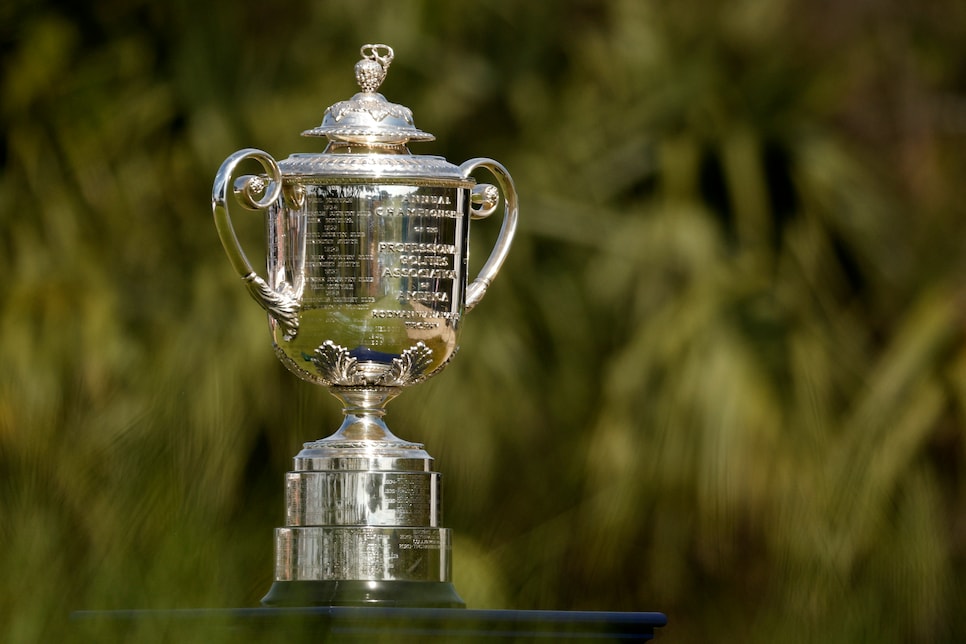 We've been blessed as golf fans with some amazing final rounds at majors in recent memory. The palpable anticipation on Sunday at the 2021 PGA Championship ranks up there with any other, as 50-year-old Phil Mickelson has the chance to become the oldest major champion in our sport's history (Julius Boros winning the 1968 PGA at age 48 holds that mark).
(Scroll down for the latest updates)
Mickelson will have to stare down Brooks Koepka, one of the most intimidating players of his generation—which explains why Sunday is shaping up to be one of the best final rounds in recent memory. Koepka's confidence seems to be pretty high—remarking on Saturday that a two-under 70 was the "worst score I could've shot." That certainly sounds like a Tiger Woods in his prime comment.
If we've learned anything from early action on Sunday, there are low scores to be had—so this is nothing close to a two-horse race. Abraham Ancer carded the lowest nine-hole score of the week, going out in five-under 31. Garrick Higgo made seven birdies over his first 11 holes, so the chasers at 2- and 3-under probably still have a chance. Bryson DeChambeau (2 p.m.) is one of those at 2-under, and we know the 2020 U.S. Open champion is capable of something special. And the 2019 U.S. Open champ Gary Woodland is also at 2-under. Don't sleep on South Africans Branden Grace and Christiaan Bezuidenhout, either, who tee off together at 3-under (2:10 p.m.).
Here are the latest updates from Sunday at Kiawah Island:
7:39 p.m.: And that's a wrap, folks! Now we get a whole year of press conferences with Phil as the defending PGA Champion. So yes, he's the winner, but in the end, we're all winners.
7:33 p.m.: "I don't think I've ever had an experience like that, so thank you for that," Mickelson said of the crazy mob of fans on the 72nd hole. "Slightly unnerving but exceptionally awesome, so thank you. And for the way you've supported the game of golf for so many years, going all the way back to the '91 Ryder Cup, this place has been a big part of the game of golf, so thank you everybody here at Kiawah Island and South Carolina."
7:25 p.m.: "I just love this game of golf," Mickelson said. "I love what I do and I love the challange of competing against such great players. I mean what an incredible competitor and tough player Brooks Koepka is. And to have the chance to play in the final group with him was an exceptional honor."
7:23 p.m.: "This is just an incredible feeling," Mickelson said on the 18th green at the Wanamaker Trophy presentation ceremony. "I just believed that it was possible but yet everything was saying it wasn't. And I hope that others find that inspiration. It might take a litte bit of extra work, a little bit of harder effort to maintain physically or maintain the skills, but gosh is it worth it in the end."
7:19 p.m.: What a scene this is.
7:17 p.m.: Phil tweeted this two weeks ago. Now he's the PGA Champion.
7:15 p.m.: "I love you very, very much. I'll see you later tonight." Phil says on the phone to his wife, Amy, who didn't travel to Kiawah this week. One tear rolls down the cheek of this blogger.
7:11 p.m.: Phil Mickelson has become the oldest major winner of all time.
7:08 p.m.: After the 15 months we've had, this is quite the sight to see.
7:02 p.m.: OK ... Brooks is in the step cut just to the right of the fairway. Phil is in the left rough. Phil to play first from 174 .... AND HE STICKS IT. 15 feet right of the flag. The gallery is on the fairway. Two putts from there and he's the champ, unless Koepka holes out. Absolutely insane scene on 18.
6:58 p.m.: Let's reset, shall we. Phil and Brooks are the only two left. Phil has a two-shot lead on the 72nd hole. It's been the Day of the Two-Shot Swing. Five times today, Phil and Brooks have bogeyed and birdied the same hole. A two-shot swing here in Koepka's favor would send us to a playoff.
6:49 p.m.: And that's perfect. Phil just chunks one out and it trundles down to the green about 20 feet from the hole. Two putts from there is a bogey, but he can afford that with his three-shot lead. Koepka makes par and will need another one of those two-shot swings on 18 to force a playoff. Oosthuizen makes par up ahead and is the leader in the clubhouse at -4.
6:45 p.m.: It can never be easy. With the juices surely pumping, Mickelson pumps one through the 17th green and up onto the back bank into some long grass. He'll be playing back toward the water with his second. There's absolutely no need to go anywhere near the hole with this one. He has a three shot lead and a nasty lie. Anywhere out of this tall grass would be sufficient.
6:38 p.m.: It's a three-shot lead for Mickelson! Lefty nips a tidy chip to kick-in range and converts his birdie. He's three good swings away from another major championship. Pete Dye's monster Par 3 17th looms large. It's downwind today, which is helpful. He'll get a look at Koepka's shot, who has the honor after another birdie on 16. He's three back with two to play.
6:33 p.m.: Forget nerves, how about some adrenaline from Phil! Lefty pumps the longest drive anyone has hit all week down the 16th, 366 yards (!) from the tee. That's past Koepka, who plays first and finds the sandy area short and left of the green. His 6-iron from 220 lands on the front of the green but bounds over the back. He'll be able to chip from there. His lead is two over Oosthuizen, who birdied 16 and has found land just behind the 17th green.
6:20 p.m.: Well well well. Oosthuizen reaches the right fringe of the Par 5 16th in two and will have about 10-12 feet for his eagle to get within one of Mickelson. Something tells us the diabolical 17th hole may have something to say about the outcome of this one.
Mickelson, on the 15th green misses an oh-so-makeable birdie putt that could've driven the first nail in the coffin. It's his second tentative putting stroke in as many holes. Some nerves may be creeping in here for the 50-year-old. He's won five majors, but that doesn't mean there's no pressure in going for his sixth.
Meanwhile, Brooks Koepka, who has looked completely lost for about half the round today, knocks in a short one for birdie on 15 to move three back with three to play, then steps up to the 16th tee and cranks one right down the middle. If there's one alpha left in contention, he's the one.
6:08 p.m.: Sorry for the jinx, Rickie. A par putt on 18 lips out and he falls into a tie for 9th.
On 14, Mickelson makes a second bogey in a row to fall to -6, just three shots clear of Louis Oosthuizen, whose birdie putt on 15 goes begging. He'll need some Par 5 16th hole heroics and a mistake from Phil to make things interesting.
5:58 p.m.: Alright, no biggie. Because of "Rules" Phil is allowed to drop on the green and two-putt for his bogey. He's able to limit the damage to just one and now he's heading for the clubhouse with the wind at his back and a four-shot lead over Oosthuizen.
Up ahead, Rickie Fowler is taking full advantage of his sponsors exemption as he's putting together one of the best backdoor top five performances of his career. He started the day at even par and has made two birdies and 15 pars and done nothing to scare the leaders, yet he is now in a tie for third.
5:51 p.m.: Well. It wouldn't be Phil Mickelson without a little drama. Lefty tugs his approach right and it trickles over the bulkhead and into the water right of the 13th green. If the rest of the players in contention weren't tripping all over themselves, it might be cause for concern. But with a five-shot lead, we'll just say this is Phil helping to make sure that the audience stays engaged for a little longer.
5:45 p.m.: This had the makings of a high-pressure, knockdown-drag-em-out fight early on. The back-nine has been anything but. Mickelson, with a three-shot lead on the 13th hole, avoids hitting his drive in the water for a second straight day. Ousthuizen, his closest chaser, just double bogeyed to fall five back. Koepka, also five back, has completely lost the plot, missing the 13th fairway miles left.
It's finally starting to feel real. Phil has a five-shot lead in the 13th fairway with one more hole into the wind before turning back toward the clubhouse with the wind at his back.
5:27 p.m.: If Koepka doesn't close the gap on Mickelson, he can point directly to his Par 5 performance today. With another short missed par put on 11, he's four-over on three Par 5s this afternoon, now five behind Mickelson.
The final group will play two more holes into the wind before turning for home and playing 13-18 downwind.
5:06 p.m.: It's the Day of the Two-Shot Swing. Another one here at the 10th as Mickelson throws a dart in tight and birdies to get to -8, while Koepka misses another short-ish par putt. Mickelson moves to -8 and extends his lead to four over Koepka and Oosthuizen.
4:43 p.m.: Koepka two putts, though it wasn't without suspense. Same goes for Mickelson. Back-to-back pars for both our leaders, a much-needed come down for those of us locked into those first seven holes, which we'd imagine is what taking crystal meth feels like.
Quick shoutout to Euro Ryder Cup captain Padraig Harrington, who shot a three-under 69 and is currently in the top 5. Hell of a week for the 49-year-old, who is currently the leader in the clubhouse. Hey, if the wind picks up, anything could happen on this pack nine. Stick around, Paddy!
4:38 p.m.: Oosthuizen makes a nice up and down par save at the ninth to turn in even par, staying at five under for the week. Probably doesn't even realize how good that is right now. Koepka and Mickelson both find the green and will have long (Koepka) and medium (Phil) looks at birdie.
4:29 p.m.: Two pars at No. 8 for the leaders, which those of us watching welcome with open arms right now. The crazy bogey and birdie swings can't be good for our health. We'll take the pars when we can get 'em, just as a breather.
4:21 p.m.: If Brooks Koepka goes on to lose this thing, he will never forgive himself for his performance on the par 5s today. After doubling No. 2, he also made a mess of No. 7, missing the green in two, leaving his chip short of the green on his third, then hitting it 20 feet past with his fourth. He missed the long par try, then finished up the bogey. Mickelson, meanwhile, got up and down for his birdie, getting his two-shot lead back. It's just haymaker after haymaker right now.
4:08 p.m.: Some solid right and left hooks in the penultimate group as well, with Oosthuizen finally nabbing a birdie at No. 7 and Streelman making bogey. Louie is not one off the lead, Streelman two back. Behind them, both Koepka and Phil failed to reach the green in two, and each will have a hard time getting up and down for birdie.
4 p.m.: There it is, ANOTHER two-shot swing. Mickelson bogeys, Koepka makes his birdie. We are tied up at six under. Streelman is in solo third at five, while Oosthuizen is at four. And how about Patrick Cantlay creeping around at three under? He truly came out of nowhere.
3:52 p.m.: Mickelson and Koepka are literally trading blows like this is a prize fight right now. After Phil's bunker hole out heard 'round the world, he misses the fairway at the sixth and then badly misses the green, and will have a tough up and down to save par. Koepka plays the hole beautifully, splitting the fairway and then stuffing his approach to kick-in range. That said, he's had some trouble with the shorties this week. Stay tuned.
3:44 p.m.: Phil misses the par-3 fifth green into the left bunker, then holes out for birdie. "OH MY GRACIOUS!" shouts Verne Lundqvist. What a shot. What a call. What a tournament! Mickelson is back up by two over Koepka, who two-putted for par. It's absolutely LIT at Kiawah Island.
3:36 p.m.: Two routine pars for Koepka and Mickelson at the fourth, which feel like birdies the way these two have started. Wind starting to pick up a bit. Things could get real nuts this afternoon.
3:21 p.m.: Man, we've got some CHAOS early and often! Mickelson hooks one at No. 3, which leads to a bogey. Koepka hits a great drive, then chips one to three feet and ... misses the putt. Holy moly. It truly is all happening now. Mickelson at six under, Koepka, Oosthuizen and Streelman at five, and Woodland at four. We've got action.
3:06 p.m.: Oh my goodness. It's a mangle fest from Brooksy. He flubbed his first chip, then couldn't spin his next one and it rolled well past. He misses the bogey putt and drops two shots back to five under. Mickelson gets up and down for birdie to get back to seven under. What a turn of events. Up ahead at No. 3, Streelman makes bogey and drops to five under with Koepka. After a brutal start, suddenly everything is coming up Phil. Going to be a crazy day, apparently.
3:03 p.m.: Two holes, two birdies for Streelman, who is now six under, one back of Koepka. We may have a Y.E. Yang/Rich Beem/Shaun Micheel situation on our hands, not that there's anything wrong with that. Koepka, by the way, might not be the leader much longer. His poor drive at No. 2 forced him to lay up, and then he badly missed the green with his third and is now facing a testy up and down. Mickelson, meanwhile, flew the green in two, and will have a tricky up and down as well, though his is for birdie.
2:47 p.m.: Oh we've got some early action at Kiawah, folks. Streelman birdies the first to get to five under, then Woodland makes his second birdie in three holes to get to four under. Back at No. 1, Mickelson makes a bit of a mess on the green and makes bogey to drop to six under. Koepka follows by pouring his birdie putt right in the heart of the cup for a huge two-shot swing to kick off this Sunday. He leads Phil by one.
2:33 p.m.: And Here. We. Go. The leaders are off and running at Kiawah, and so far it's Brooks 1, Phil 0. Well, not really. Koepka hit the fairway and Phil did not, but Phil's in fine shape in the left rough. Let's do this dance.
2:02 p.m.: Well, that wasn't the best of starts for Bryson DeChambeau who pulverizes the golf ball into the rough right out of the gate. He's paired with Joaquin Niemann today. Both will begin at 2-under, five strokes off the lead.
Not a birdie, but that's a huge par save for Jordan Spieth on the par-4 3. 15 feet away, not an easy one. Rickie Fowler birdies the same hole to get to 1-under seconds before Keegan Bradley sinks a birdie of his own to get to 2-under.
1:49 p.m.: It's certainly not the PGA Championship he was looking for, as Rory will finish 5-over for the tournament. More than 30 minutes before the leaders tee off, McIlroy will conclude his weekend.
1:31 p.m.: Jordan Spieth misses an early chance for birdie on the first hole. If he wants to make a run of some sort, he'll have to convert on the second and third at Kiawah, both relatively easy today. Oh, terrible segue here, but Koepka arrives slightly less than an hour before teeing off. Felt like you needed to know that.
1:20 p.m.: And look who's here? Jordan Spieth and Rickie Fowler tee off to get their Sundays started. Both at even, the duo are each seven shots back of the lead.
He's not teeing off until 2:30 p.m., but Phil has arrived at Kiawah as well. The leader, as you may have heard, has the chance to become the oldest champion in major history. The pairing with Brooks Koepka will certainly be a fun one.
1:08 p.m.: It won't win him the Wanamaker, but what a Sunday for Abraham Ancer. Finishing with a 7-under 65 (nearly a 64), Ancer finishes the PGA Championship at 1-under and shows just how gettable Kiawah can be today. It's the low round, so far, of the week and Ancer is currently T-11. Seven birdies and zero bogeys ... what a round.
1:01 p.m.: It's CBS time. We have Nantz, we have inspiring instrumentals, we even have an immediate "wind" mention.
12:50 p.m.: After an, umm, unpleasant Saturday, Jon Rahm's hit a bit of a groove here at Kiawah. The Spaniard is even for the tournament now and 3-under thru 7 already. It's certainly a nice change of pace from how he was looking yesterday and he has plenty of time left to do some more leader board climbing.
12:43 p.m.: On his second hole of the day, Will Zalatoris gets back to even with a birdie on the second hole. He dropped quite a bit to end his Saturday, but he's still having a good showing at the PGA.
The wind looks to be picking up a bit more at Kiawah Island, which (of course) will be critical over the rest of the day. If you want to read more about wind—you definitely do—check out this piece on the wind direction and how it will affect the play on Sunday. It's only supposed to increase over the next few hours, so you may hear the word "wind" once or twice on the broadcast during the final pairing.
12:16 p.m.: We continue to see some really low scores early on Sunday. Justin Rose is 5-under through his first eight holes (Rose is now -1 and six back of Mickelson). Patrick Reed justtt missed a putt at No. 3 that would've given him back-to-back eagles ... but he'll settle for a 3-under start through his first three holes (Reed is also now -1).
Abraham Ancer still can boast the lowest round on the course by virtue of a sixth birdie—the latest one at the par-4 15th hole—to get it to even par (six under on Sunday).
With the change in wind direction, the first three holes are playing incredibly easy compared to the first few days. So far, 62 birdies and three eagles have been made over the first three holes—significantly more than any of the total numbers in any round (49 birdies were the most made in that stretch over the entirety of the first three rounds).
11:53 a.m.: The Ocean Course might be playing easier today, but that doesn't mean the Pete Dye design isn't frustrating the world's best players.
The latest example? Henrik Stenson and a club snap ... who doesn't love a good club snap video.
11:39 a.m.: Justin Rose is en fuego so far in his final round—the 2013 U.S. Open champion birdied his first three holes, then just rolled in a fourth birdie on the sixth hole. He's currently even par for the tourney, which is T-13 at the moment. Rose would need a something like a historic final-round 61 to give the leaders truly something to think about—but he can rack up a bunch of money and world ranking points if he keeps these low scores up.
11:25 a.m.: Out of the 40-plus golfers already on the golf course, only 11 have rounds over-par at the moment, and we don't expect the conditions to really change too dramatically as the leaders get out on the course.
The best round on the course still belongs to Abraham Ancer (5-under through 12)—here's Ancer rolling in his fifth birdie of his front nine on the ninth hole.