PGA
PGA Championship 2021: Brooks Koepka—the man, not machine—is about to do the impossible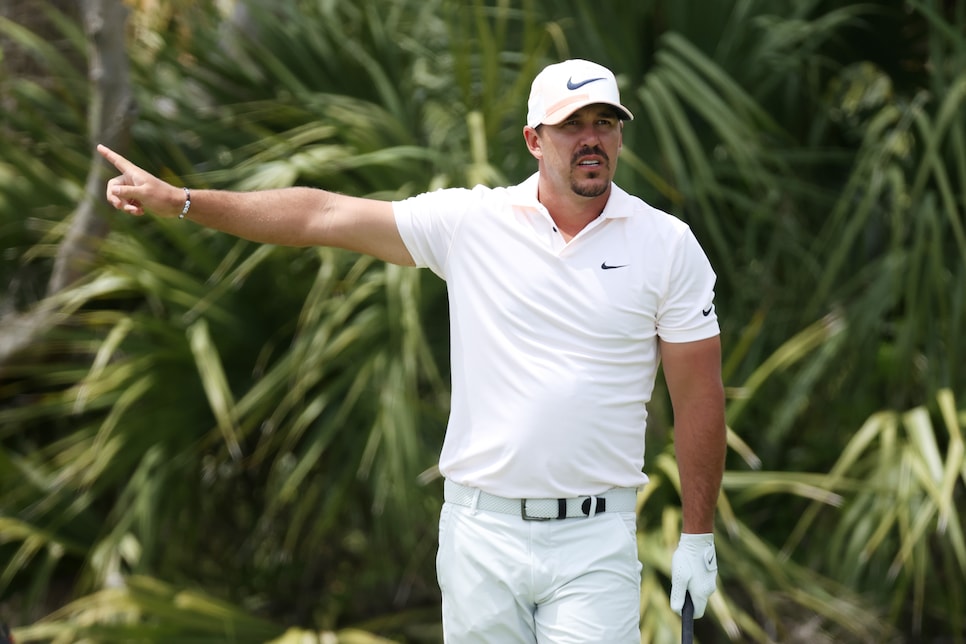 Brooks Koepka reacts after playing his shot on the second tee during the third round of the 2021 PGA Championship.
Gregory Shamus
KIAWAH ISLAND, S.C — He is no longer a machine. His invincibility has been undone by his own hand. He remains a physical specimen but his physicality has become a question mark.
Yet it is Saturday night and here Brooks Koepka is, 18 holes away from a fifth major.
Despite a bad putter and balky knee, Koepka is playing in the final group at the PGA Championship, his six-under score one back of Phil Mickelson.
"I've got a chance to win, so that's all I wanted to do today is not give back any shots and be there tomorrow with a chance," Koepka said after a two-under 70, "and I've got that."
Saturday wasn't pretty, and we're not just talking about Koepka's quilted hat or Stillwater goatee. He hit 14 greens and racked up five birdies, which even against a less-irritated Ocean Course is fine work, but work that was somewhat hampered by a short game that has been just slightly off all week. Well, off to us observers; Koepka himself called it the "worst putting performance ever."
"Can't get much worse," Koepka sighed. "I thought 70 was about the highest I could have shot today."
He's not wrong. Those five birdies lost a bit of shine thanks to three bogeys and one of those birdies could have been an eagle at the par-5 16th. His standing is also not solely his own; had Mickelson not run into a pair of back-nine misfortunes, Saturday night's conversation is about coronations, not competition.
However, that is shorting what Koepka did. Down five entering the second nine, he birdied the 10th off a 12-footer and added another at the 12th from 20 feet—see, the putting wasn't that bad—to stay in shouting distance, then sent a blow that reverberated through the wind by reaching the 608-yard 16th in two. A closing bogey left a sour taste. Then again, Koepka endlessly treats this sport like he just chugged a glass of orange juice after brushing his teeth.
"Yeah, it's a tough golf course," Koepka said. "I thought it definitely played easier for sure, but this golf course you can make one little mistake and it can be costly. That's why it's a major championship."
So Koepka is one round away from glory. The number part is easy. It would be a fifth major, something only 14 other golfers have accomplished. It would be his third Wanamaker, tying him with Snead and Sarazen, with only Nicklaus, Woods and Hagen owning more. That is audacious company, but Koepka is building an audacious resume.
In that same breath, this performance, this situation is one that cannot be quantified.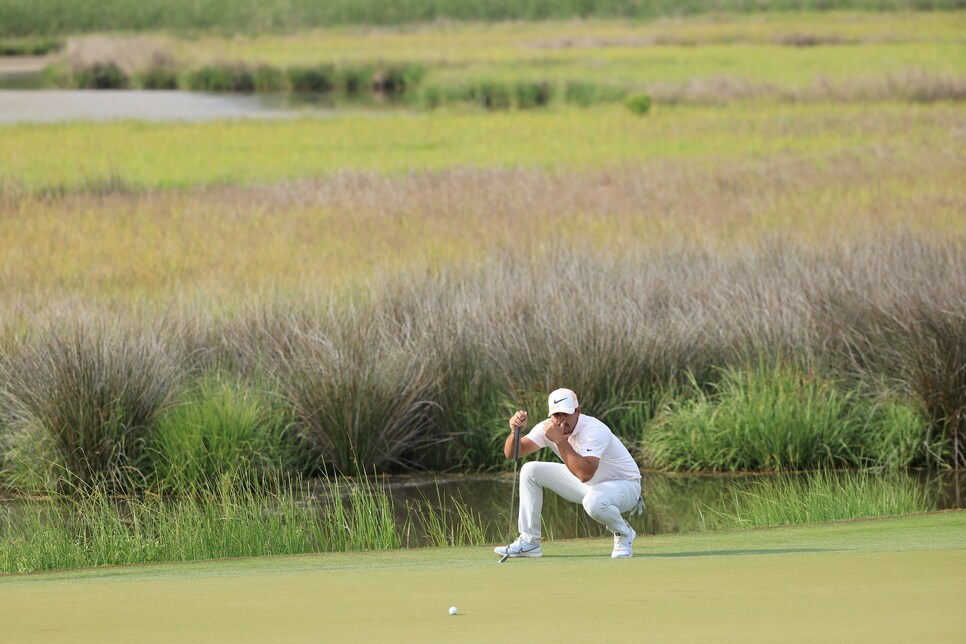 Brooks Koepka prepares to putt for birdie on the 13th green during the third round of the 2021 PGA Championship.
Sam Greenwood
To the casual fan, perhaps to the regulars and even diehards, the sight of "KOEPKA" on the leader board doesn't garner a second glance. This is a major week, the only weeks Koepka cares about and the weeks he's called easy. To watch him at a major is to watch a rock star; the venues and crowds and cast of characters change. The song list remains the same. Unlike Mickelson, whose standing has been built and solidified over three decades, Koepka's perception is one of recency. It is a reputation not entirely congruent with the present, either.
For the better part of two years Koepka has been betrayed by his body, the very body whose awesome power fueled his success. A bothersome knee forced him out of the U.S. Open and Players Championship and Presidents Cup. When he did play, he was no longer Brooks Koepka, Destroyer of Worlds. He was Brooks Koepka, former major winner. Worse, no one bothered to tell him.
That sentiment was encapsulated at this event last year when Koepka threw shade at his competitors, particularly Dustin Johnson, when examining his Sunday chances. It was cocky, but gunslingers run off cocky. Unfortunately for Brooks the following day revealed he had no bullets in the chamber. He stumbled to a final-round 74 that many judged as karma. The bully had lost his playground and was put in timeout.
To say he hasn't been the same since is a dramatic oversimplification; he did win this February at the Phoenix Open and finished T-4 at the WGC-Concession two weeks later. Conversely, Brooks is not a player judged by Phoenix Opens and top-five finishes. Weeks after that WGC he underwent surgery, one that reportedly would sideline him for six months. Koepka returned a month later at the Masters, mainly to show he could. It was an exercise in grit as he dragged himself around Augusta National on one leg. Scorecards do not care about such theatrics; Koepka did not advance to the weekend. After a month off his performance was much of the same at last week's Byron Nelson. He arrived in South Carolina as the unthinkable: an afterthought.
Yes, this is the Year of the Comeback, and some have included Koepka's win in the desert as part of that narrative. His last three months have made that win feel awfully long ago. Not every player that goes into the wilderness comes back to civilization and we often don't know they're gone until that time has long passed.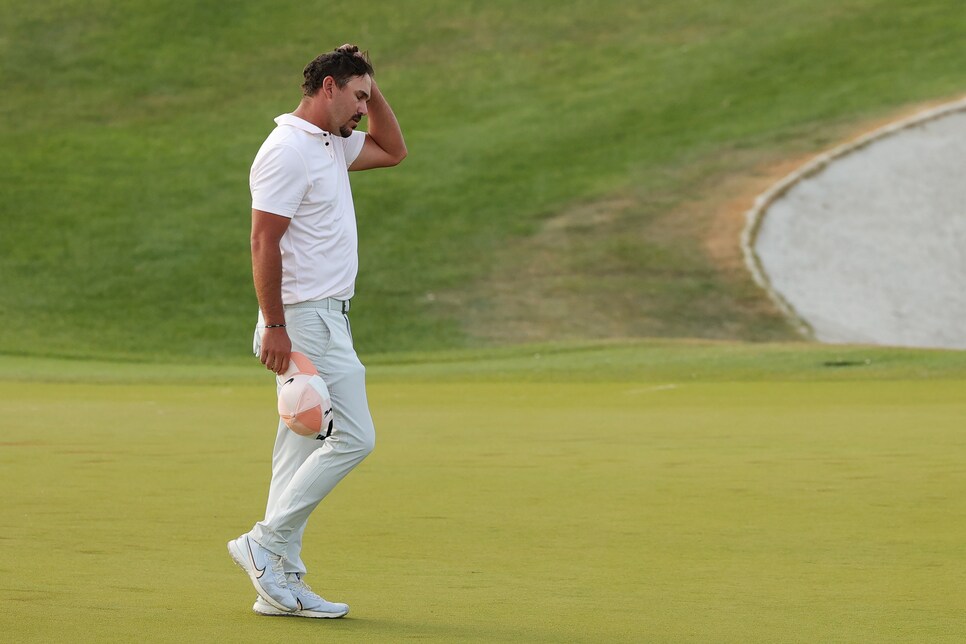 And, frankly, if you watched Koepka between shots, you'd wonder what the heck he's doing here. Keopka refuses to acknowledge vulnerability. He'd rather keep the walls up and moat filled and fire his shots from the parapet. He can say the knee is at 50 or 70 or 90 percent or that it's fine. It's not fine. Looks like it could go at any misstep, and he knows it.
But that knee, that one he still can't full bend down on to read putts, has given us a peak inside the castle, to see the king behind the stone. The relationship between Koepka and fans, a relationship that neither has fully embraced, seems warmer at Kiawah. Maybe the fans are happy to be at a golf event again. Maybe they're happy to be doing anything, period, outside the house. Maybe they're cheering because he's the only household name aside from Phil in contention.
Or maybe they see past Koepka's big drives and baby-sized shirts and see a guy laboring like hell but still throwing everything he's got, because only Mickelson received more encouragement and attaboys and cheer on Saturday. Forget trophies; those are the moments, and this is the performance, that build legacies. Koepka will need that and more tomorrow to tackle Mickelson, the wind, his putter, himself.
"Simple," Koepka said of Sunday. "If I strike it anything like I did the last three days, I'll have a chance."
Chance? Brooks Koepka, Destroyer of Worlds, is not one to dabble in chance. He is conviction incarnate. Clearly he is no longer a machine. The crowds see that, and know what they see. A man, with the heart to prove it.