Welcome Back
PGA Championship 2021: A rowdy atmosphere at Kiawah reminds us what a major is supposed to feel like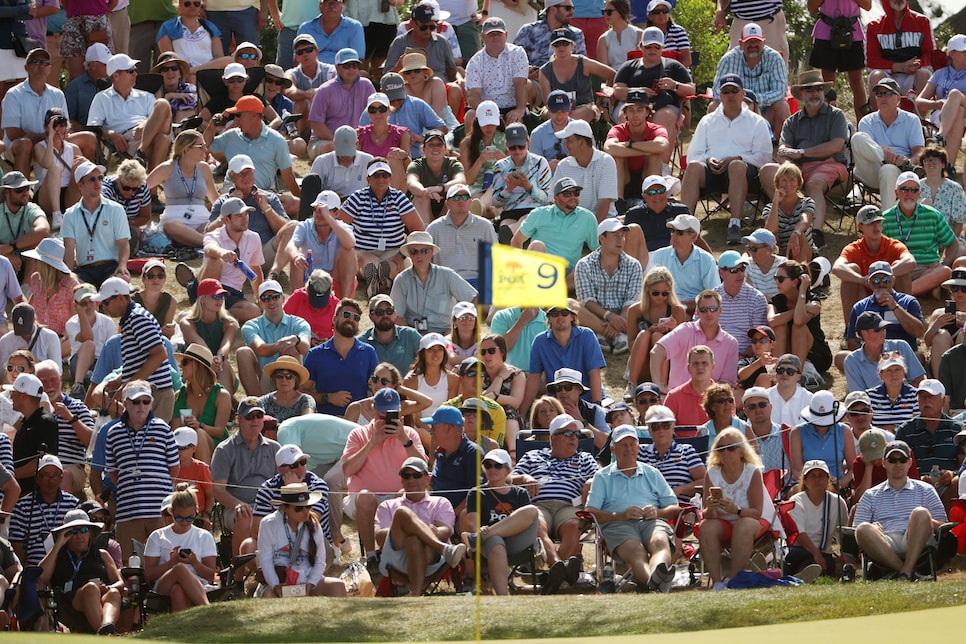 KIAWAH ISLAND, S.C. — Who knew we had collectively missed the Mashed Potato Guy? That wayward cries of "You da man, Phil!" could stir the soul? Yet, more than the spectacular play of Mickelson, or the challenges of the Ocean Course, the biggest revelation of this PGA Championship is how much fun it is to have fans back in the arena. This is the first Grand Slam event of the COVID era that actually feels major, thanks to the teeming masses crowding the fairways and ringing the greens and tees at the Ocean Course. Under blue skies there has been a palpable electricity in the air, with players and fans reveling in the communal experience of big-time golf played in front of throngs, something once taken for granted but for which we now have a heightened appreciation.
"It feels like golf used to feel,2 and it's so great," says Stewart Cink.
In fact, it feels slightly different. Fourteen months after COVID upended our lives—and following four straight major championships with little or no spectators—there is a sense of gratitude that can be felt on both sides of the ropes.
"One thing I've noticed as the years have gone is fans have gotten more vocal instead of just cheering," says Cink, 48. "A significant portion of that has not been positive. You know they yell things just to get a rise out of their friends. But this week I feel like a lot of vocal fans have been nothing but positive. It feels like people are excited to be at a sporting event in person, around other people and just having fun."
Maybe a tad too much fun? Late in the day things had gotten a little raucous around the Ocean Course as sun-baked and overserved spectators had their tongues loosened. "You can tell people have been pent up too long," Steve Stricker said early on Saturday afternoon, following a sporty 70. "They're drinking, they're talking, they're just full of life. I talked to a couple guys and they were drinking vodka lemonades. They keep going with that today, they're going to have some problems. But it's good to see them."
The teeming masses introduce another dynamic into the competition, as Louis Oosthuizen discovered on Saturday when he was paired with Mickelson and all of South Carolina was rooting against him. History-altering sporting events are not supposed to take place in a vacuum. "It's just a proper atmosphere," says Rickie Fowler. "We've had a handful of majors where there's been none of this—it was like you were out playing a Monday or Tuesday practice round." Joel Dahmen ticked off a few ways that infrastructure helps players notice the magnitude of the moment: "The buildout is bigger and there's more hoops to jump through. There's more media, there's more trucks, there's more of that stuff." In the absence of all of that, and with nonexistent galleries, last year's U.S. Open and PGA Championship didn't quite feel right. "Winged Foot just wasn't Winged Foot," Dahmen says. "You didn't have that New York crowd. Same with Harding Park [site of the PGA]."
First-time major championship winners enjoyed breakthroughs at each venue and there is a school of thought that Bryson DeChambeu and Collin Morikawa benefited from the more benign environment. "Absolutely, I think so," says Dahmen. "The whole energy of everything just completely changes. If you're coming down the stretch and there's no one there, it's just you and the golf course and your competitors."
Which should make it easier to execute, though Jordan Spieth bristled at the suggestion that any major championship victory in the fan-free COVID epoch should be devalued. "Sure, I think the crowds and the big grandstands and the setting is different than when it's quiet," Spieth says. "But the pressure of a major and understanding where that puts you in the history books, the caliber of tournament to win, the caliber of players you have to beat and the caliber of golf course that you have to beat, is enough to say that there shouldn't be an asterisk there, no."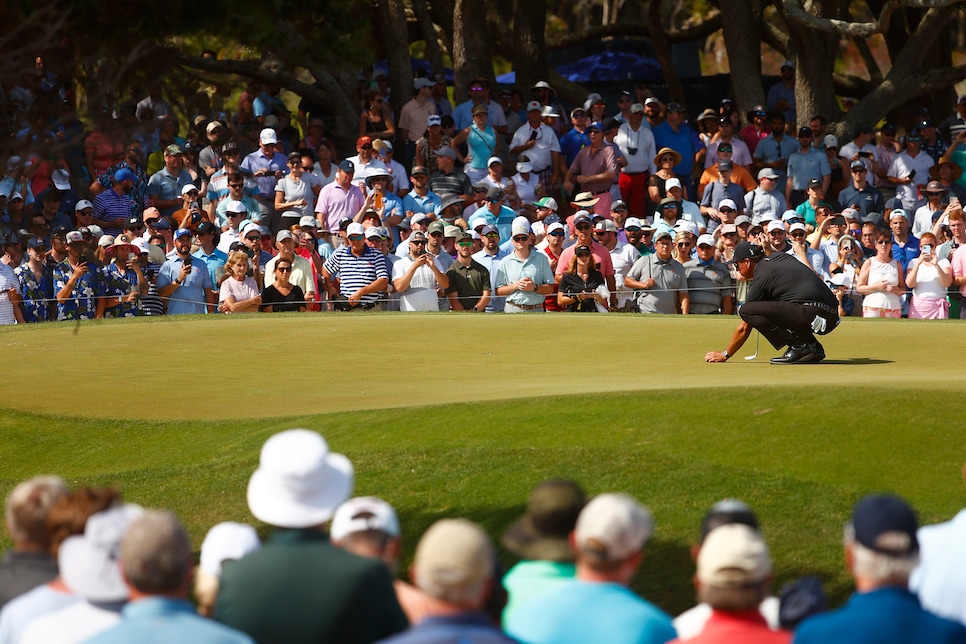 Maddie Meyer/PGA of America
It is an interesting debate and the coming drama on the Ocean Course will add more context. Whatever happens, it will be visceral. "Having so many fans, and the noise they make down the stretch at a major, that definitely brings out more adrenaline," Cink says. "But adrenaline is like a fork in the road: You can go the fear route or the intensity route. When somebody is in contention for a major, they're clearly playing well enough so I think adrenaline really helps them focus and elevates their play. But it can go both ways, certainly. That's why it's so fascinating to watch. And whichever way it goes, the fans help with that. They are certainly part of the experience."
MORE PGA CHAMPIONSHIP 2021 STORIES FROM GOLF DIGEST: