Instruction
Playing in the wind? Try this tour-proven warm-up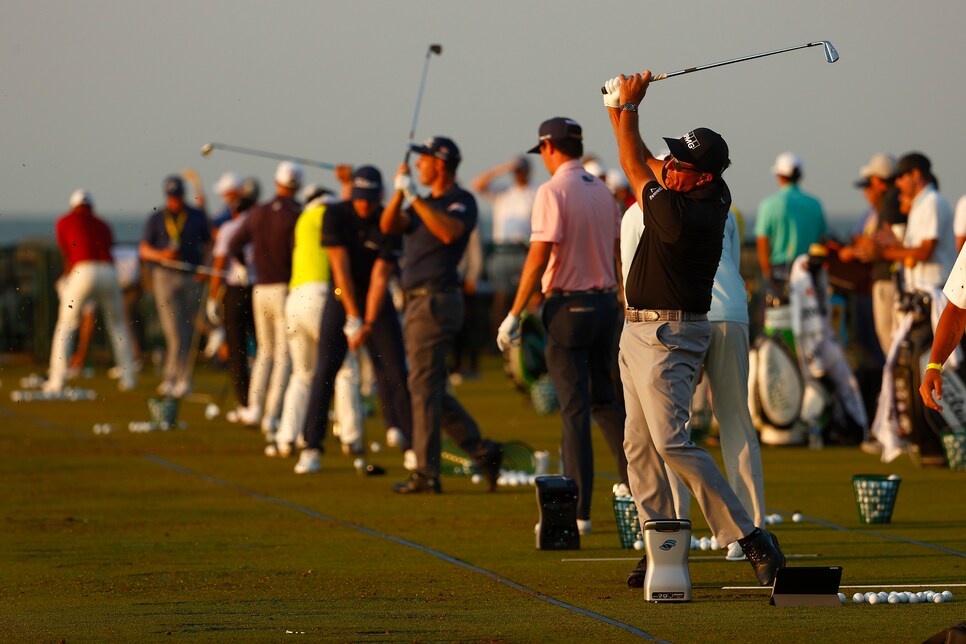 Maddie Meyer/PGA of America
Major championships are different animals, but Kiawah Island is presenting an especially complicated puzzle this week: Strong winds that can change a 6-iron from a smooth 230-yarder downwind to a smashed 165-yard punch, and green speeds that make stopping short-game shots in that wind a challenge.

That has translated into different than normal, longer pre-round preparation than pros go through on a normal tour week.
"A significant part of getting ready to play is just evaluating how the wind each day is changing your shots," says Golf Digest teaching professional Mark Blackburn, who works with Max Homa, Charley Hoffman, Adam Hadwin and Chez Reavie among others. "The difference in temperature and humidity from morning to afternoon, what the wind is doing, and even the spin characteristics of the ball you play all mix together and need to be sorted. Ideally, you wouldn't want to change your preparation routine from normal, but there's so much more to deal with here that you pretty much have to."

Players will use a launch monitor to compare the feel they have on a shot to the distance it actually travelled—essentially calibrating their club and swing selection for the conditions.
"There's data involved, but it's very much an art form," says Blackburn. "It doesn't surprise me that Phil Mickelson has played well, because he loves to manufacture shots. This isn't a week where hitting stock shot after stock shot is going to get rewarded."

Conditions are part of the game for everybody, and the better you get at being open-minded and accepting of what they'll do to your shots, the better you'll play next time.
"If it's blowing, you want to warm up hitting shots into that wind if you can, so you can understand what you want to do to your trajectory instead of going out and throwing up your hands when your standard 9-iron ends up 30 yards short of the green."

And short game is a place many amateurs forget to take wind into consideration. On fast greens like at the Ocean Course, a stiff breeze can fundamentally change a read—and blow a putt moving slowly near the hole off line.
"Stability and solid contact become even more important, as does being accepting of bogeys," says Blackburn. "Whatever the level, being able to right yourself after a bad shot and limit damage is much more of a factor for your day-to-day score than making more birdies."