Senior Moments
PGA Championship 2021: Phil Mickelson and Padraig Harrington are not just happy to be here
'Winning is the only thing that will bring any satisfaction to myself or Phil,' Harrington says.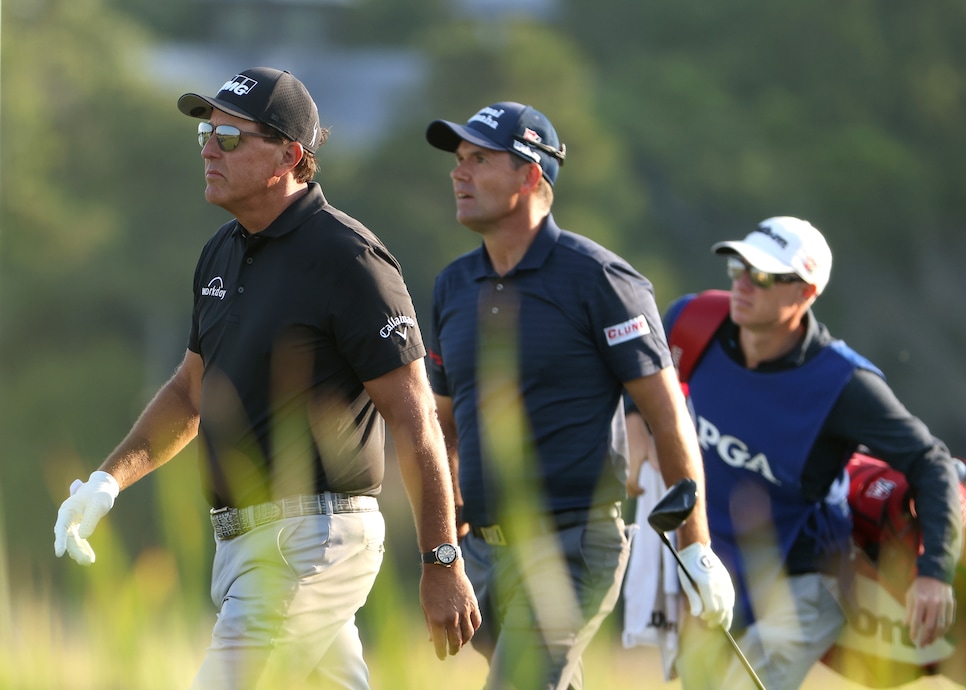 KIAWAH ISLAND, S.C. — They are two of the keynote players of the Tiger Woods era but otherwise Phil Mickelson and Padraig Harrington have almost nothing else in common. Paddy is a fastidious ex-accountant, a grinder who has thrived by playing smart, cautious percentage golf. Phil the Thrill has built a dazzling career by defying the odds and overwhelming golf courses with his derring-do.
Mickelson, 50, lives large, with snakeskin shoes and outlandish wagers, the latter both burnishing his legend and attracting scrutiny from the Feds. Harrington, 49, is a low-key presence whose social-media posts are mostly about his dog. They have taken very, very different routes to the Hall of Fame but for two days at this PGA Championship, these aging warriors played alongside each other, offering a chance to appreciate them anew. Mickelson's ball-striking was more impressive while Harrington was more efficient on and around the greens but that's not the key takeaway. Across 36 holes on a brutally difficult golf course these proud champions conducted a master class in grit, grind and professionalism. By Friday afternoon, Mickelson (five under) was at the top of the leader board and Harrington (even par) was very much in contention. It remains to be seen if either or both can continue summoning such fine play. What is certain is that none of the younger, lither players in the field will exude more passion for their craft.
It was particularly poignant to see Harrington efficiently plotting his way around the course again, with his distinctive John Wayne-style amble and gentle self-talk delivered in a lilting brogue. During a first-round 71, he got up-and-down nine times out of 11 and needed just 24 putts, a reminder of the superb chipping and pitching which helped carry him to three major championships, including back-to-back wins at the Open Championships. On Friday his short game was not quite as crisp, and he bogeyed three of the last six holes, leaving Harrington to rue the missed opportunities.
"In 2008, it was inevitable I was going to win majors, so it didn't bother me if I didn't have a good day," he said. "I knew I just had to turn up, play my game, and that would put me in position to win majors and it would happen. Now I turn up at a tournament and I think everything has to go right. I'm afraid that I can't take as many punches. I can't make as many mistakes. I feel on edge to compete. When I play well like today and leave shots out there, I'm thinking,I can't afford to do that."
Harrington is on the precipice of two big life-events: becoming eligible for the senior tour and captaining a Ryder Cup team. He hasn't had a top-10 at a major championship since the 2012 U.S. Open and, as of a couple of days ago, had made peace that his days as a serious contender are over. "This is kind of the last roll of the dice for these events," he said in a pre-tournament press conference, also describing himself as "a little long in the tooth." But Harrington is a man of immense pride and he was visibly pleased to mostly keep pace with Mickelson, an enduring fan favorite, and outplay the other member of the threesome, former world No. 1 Jason Day, 33. "It was a bigger draw," he said of the pairing. "That's kind of self-fulfilling. You play in the bigger draws, you tend to play better. It's an ego thing, and that's just the way it is, so I was happy that I was comfortable out there and played my golf."
Mickelson is hardly ready to concede that he is a ceremonial golfer and over the first two rounds on the Ocean Course the strain of major-championship pressure showed in his clenched jaw and the way he strangled the grip of his putter. At last month's Masters, he drove it like a stallion (to use a favorite phrase of Mickelson's) and displayed some vintage iron play but putted like he had a rattlesnake in his hands, dooming him to 21st place. (He was so flummoxed he abandoned the claw grip mid-tournament.) Two dominant wins on the PGA Tour Champions has given Phil a renewed taste for victory, and it was only last year that he finished top-3 at Pebble Beach and the WGC in Memphis. Mickelson left Augusta feeling pent up: "It's close. It's very close. When it clicks I'm gonna go off."
Four bogeys in the first six holes of the first round of this PGA made that sound like wishful thinking but then Mickelson caught fire, playing the final 12 holes in five under to trump Harrington by a shot and leave himself just two strokes off the lead. It was cute to have both of these past winners of the PGA Championship on the leader board together but surely it couldn't last on such an unforgiving course. But when have these two iconoclasts been constrained by conventional thinking?
Harrington has chased the game's secrets as hard as anyone this side of Ben Hogan, obsessing over the tiniest details, such as how the placement of his tongue could loosen his jaw and thus free up his shoulder turn. Mickelson has brought an obsessive quest to finding technological edges, bugging Callaway technicians in Carlsbad, Cal. at all hours, though he has a habit of showing up at the lab with bags full of In-N-Out burgers to help compensate his faithful elves for their loyalty. (A new 2-wood he put in play at Augusta has been a very useful fairway finder at the Ocean Course, especially on the downwind holes.) Over the last couple of years Mickelson has remade his diet and his body, chasing ever more distance to keep up with the flat-bellies. During the second round of the PGA he relentlessly attacked the Ocean Course, taking bold lines off the tee. His putter betrayed him in the middle of the round but he kept brawling; when Phil buried an 18-footer to save par on number 3—he had begun the round on the 10th tee— that brought a rare Friday morning fist pump. Mickelson followed with birdies on the next two holes and another meaty par save at number 6, roaring up the leader board. On the par-5 7th hole he smashed two macho shots to the front of the green to set up a tap-in birdie.
Just like that 15 years melted away; he was tied for second, only one shot off the lead, and the gallery was in full throat. He ended the round with a walk-off 22-footer, which would propel him into the lead. The fans crowding the dunesy amphitheater around the green gave Mickelson a standing ovation and he responded with not one or two but five thumbs-up. Mickelson credited his mid-round bounce-back to a renewed focus on his mental game, which has included practicing meditation. "I'm trying to use my mind like a muscle and just expand it," he said, "because as I've gotten older, it's been more difficult for me to maintain a sharp focus, a good visualization and see the shot. Physically I feel like I'm able to perform and hit the shots that I've hit throughout my career, and I feel like I can do it every bit as well as I have, but I've got to have that clear picture and focus. So these first two days have been much better."
Now Mickelson will press forward, trying to become the oldest major championship winner ever (Julius Boros, 48); a sixth major would tie him with Lee Trevino and bring him within one of demi-gods Arnold Palmer, Sam Snead, Gene Sarazen and Harry Vardon. Harrington will try to turn back the clock to 1997, when he won the World Cup on the Ocean Course. Across 36 holes both players have proven they have the game to compete; the challenge now is mostly metaphysical. "Unfortunately as you gain experience, you lose innocence," says Harrington, who has a habit of neatly distilling the essence of tournament golf. "There is a sweet spot on the way up when you're gaining a bit of experience and yet you still have that innocence. Myself and Phil, yeah, we have experience, but we have some scar tissue in there and we can overthink things at times."
And yet their situation is now breathtaking in its simplicity. These wounded champions have done the hard work of putting themselves in contention. All that's left to do is gallop home. "I think he has the bit between his teeth," Harrington said of Mickelson. "I think he believes he can do it in these conditions, just like myself. He's not here to finish 15th. You know what? Even second would be a disappointment for Phil. I'm a little bit like that, too. If you said to me now I'm going to finish 10th, I'd actually say no, because it doesn't do my career any good. It doesn't do Phil's any good. That might make it harder for us at times because we over-push and over-try because only winning is the only thing that will bring any satisfaction to myself or Phil."