Looking ahead
PGA Championship 2021: Phil's focus, a westerly wind, and a Hideki double: Here's what you should be watching for this weekend at Kiawah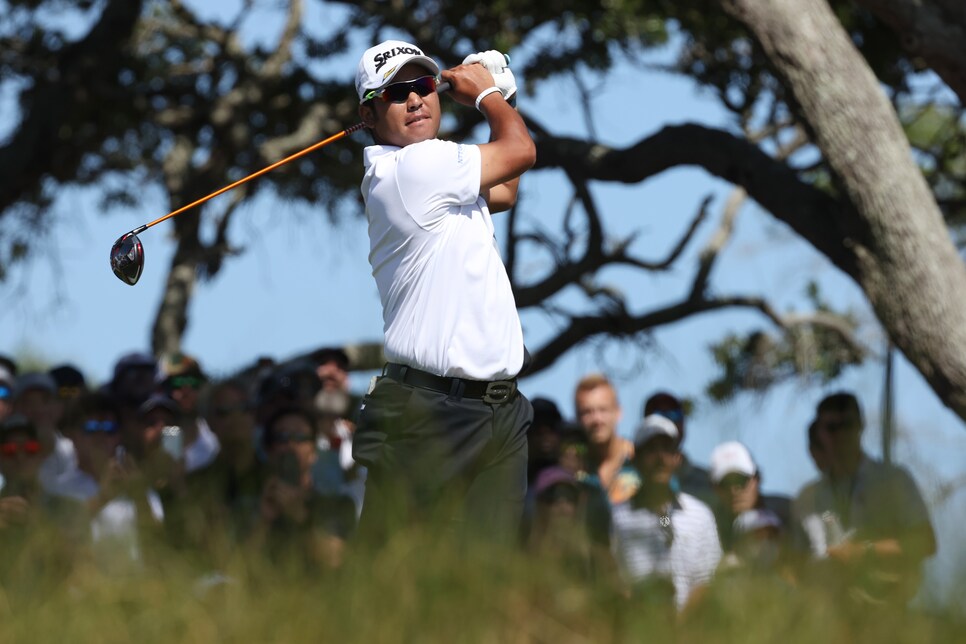 Hideki Matsuyama plays his shot from the seventh tee during the second round of the 2021 PGA Championship.
Gregory Shamus
KIAWAH ISLAND, S.C. — It feels silly to type, but each major championship serves as a reminder of just how long major championships are. From the media circus lead up, to the inevitable look at this crazy leader board takes pre-noon on Thursday, to the cutline battles on Friday afternoon—add in the literal longest course in major championship history and five-plus hour rounds, and this PGA Championship already feels like a complete five-act drama.
Still, we are just halfway through the actual golf portion here at the Ocean Course. A hodge-podge leader board after Round 1 has given way to a star-studded soiree heading into the weekend, with two major champions setting the pace and another major champion one shot behind. Here are five storylines to keep an eye on as we head into the business half of the year's second major.
He may be PGA Tour Champions eligible, but Lefty clearly still has the physical tools to remain a top-level player on the PGA Tour. Thanks to a diet and exercise program tailored toward the goal of additional miles per hour, Mickelson hasn't lost any speed and may have actually gained some whip over the past half-decade. He still hits quality iron shots and still nips jaw-dropping flicks around the green. He even puts together sparkling rounds, like his opening 64 at Quail Hollow just two weeks ago.
The issue has been stacking one of those rounds on top of another one, let alone four in a row. He followed up that 64 in Charlotte with 75-76-76 and finished two touchdowns plus a field goal behind the winning number. Hugely encouraging, then, to see him follow up an opening 70 at the Ocean Course with a three-under 69 on Friday, which included a back-nine 31. Lefty knows his focus has been an issue; he's spoken about it at length in recent weeks, including on Friday.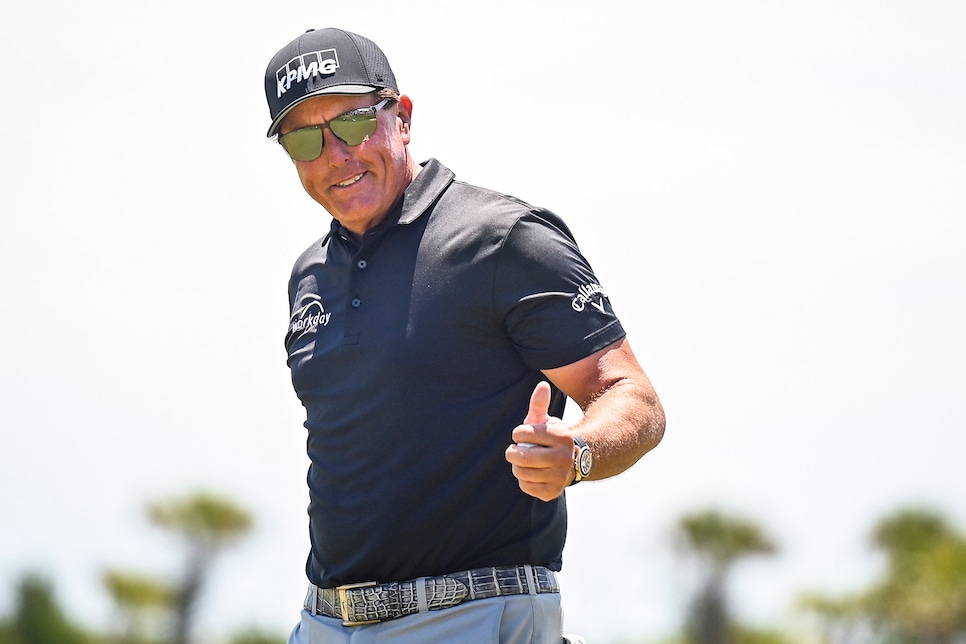 Phil Mickelson smiles and gives a thumbs up to fans after making a birdie putt on the ninth hole.
Keyur Khamar
"I'm just making more and more progress just by trying to elongate my focus," he said. "I might try to play 36, 45 holes in a day and try to focus on each shot, so that when I go out and play 18, it doesn't feel like it's that much. I might try to elongate the time that I end up meditating, but I'm trying to use my mind like a muscle and just expand it because as I've gotten older, it's been more difficult for me to maintain a sharp focus, a good visualization and see the shot.
"Physically, I feel like I'm able to perform and hit the shots that I've hit throughout my career, and I feel like I can do it every bit as well as I have, but I've got to have that clear picture and focus."
This is a course that demands attention on each and every shot, which would seem a tall task. But this is also a major championship, and Mickelson is 50 years old and in contention, and he knows that may never happen again. If this won't jolt him into gear, what will?
What, oh what, will the wind do?
It's all anyone's talking about this week. Although modern by age, Kiawah resembles an old-school links layout in that both nines go out, turn, and then head back into the clubhouse. As a result, half the holes play into the wind and half play downwind, and the direction a player faces dictates his mood. Wind at your back, you're in attack mode. Wind in your face, you're hanging on for dear life.
The breeze was a bit friskier on Friday than Thursday, which is why the scoring average rose to 75.5. The forecast actually calls for a calmer Saturday, but the intrigue lies with Sunday, when the wind is supposed to flip directions. It's been out of the east all week, with holes 1-4 playing into the wind, 5 playing crosswind, 6-13 downwind, 14 cross, and 15-18 back into the teeth of it. If that switches to a westerly wind, the entire course flips. The closing four holes, which have been a hold-on-for-your-life situation, suddenly become birdie opportunities. And those who arrived here last weekend will be glad they did—for there was indeed a westerly wind five days ago.
As golf fans, there's not much better than the golf gods pulling a 180 on the best players in the world for the final round of a major championship.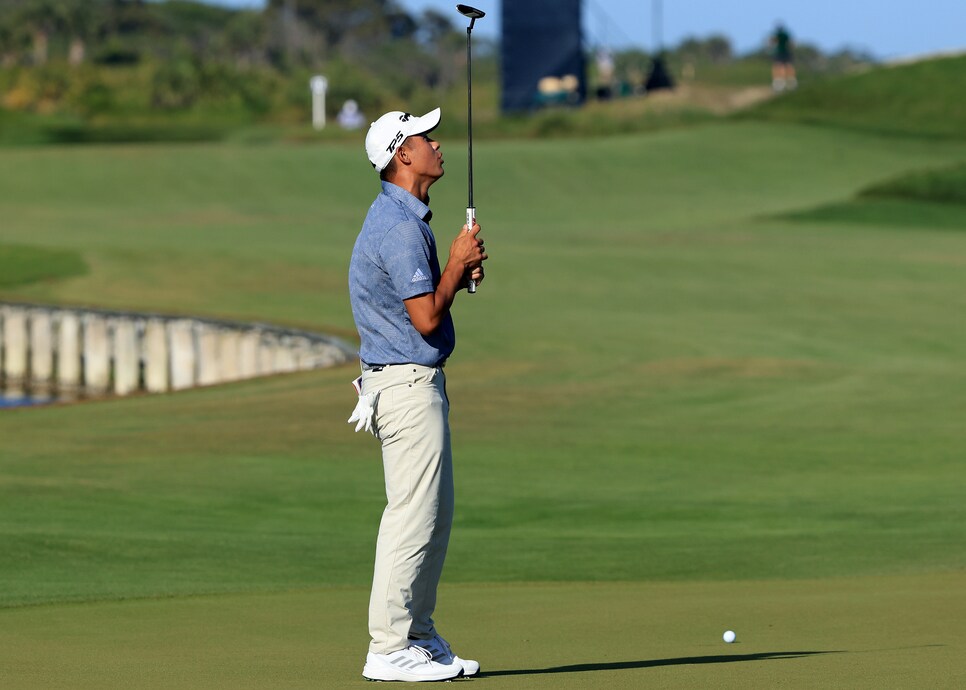 Collin Morikawa reacts to a missed putt on the 13th green.
Sam Greenwood
Who's got a (relatively) low one in them on Saturday to get back in the mix?
There are 31 guys six shots or closer to the lead, which does not feel too far back on a course where 69 will send you shooting up the board. Any number of players can get right back into it with a low one on Saturday. How about Collin Morikawa, six behind, who ranks fourth in strokes gained/off-the-tee and fifth in SG/approach, but 113th in around the green and 118th in putting? Maybe it's Matt Fitzpatrick, five back, who somehow made six birdies and an eagle on Friday? Joaquin Niemann, four back, who loves flighting it under the wind and profiles as a future major winner? Bryson DeChambeau, also four back? Corey Conners, three back, a flusher's flusher whose Thursday 67 remains the low round of the week?
Other notable names in that group: Gary Woodland (-2), Sungjae Im (-2), Paul Casey (-2), Viktor Hovland (E), Will Zalatoris (+1), and Lee Westwood (+1), to name a few. Just takes a low one. Easy to say from behind a computer—less so from the first tee of a Pete Dye masterpiece designed to torture.
Can Hideki pull off the double?
You'd excuse Hideki Matsuyama for trudging through a post-Masters lull. Satisfying the cravings of a golf-mad nation by becoming its first male major winner can't be the most relaxing experience. Since Augusta, he's flown back to Japan, quarantined in a hotel for two weeks, returned back to the States and played last week in Dallas. So, any fatigue?
"Actually, my energy level is good," Matsuyama said after an opening-round 73. "I'm really not tired, but my game isn't where it should be. All my focus is on that right now."
The focus paid off, as Matsuyama matched the low round of the day with a four-under 68 to get to three under for the tournament, just two back of the lead. We're not saying the calendar Grand Slam dream remains alive and well, but we're also not not saying it.
Will the PGA of America give these guys a break with the setup?

The PGA Championship is, historically, the gentlest of the four majors as far as course setup. Of the 37 63s in major history, 17 have come in the PGA. The winning score has been single digits under par just twice in the past nine years, with a 20 under and a 16 under sprinkled in. The question, then, is whether the PGA of America will soften the Ocean Course a bit this weekend by using the flexibility it has with tees.
"I noticed it last week when someone sent me a scorecard," Justin Thomas, who missed the cut, said Tuesday, "and I saw that the back nine was 4,000 yards. I think I actually laughed out loud when I saw it because I was looking at the numbers. They can't possibly play it that long."
And they haven't. During their practice rounds, players were encouraged to hit shots from up tees on 14 holes. They've already made use of a number of those tees, particularly on the par-3 17th, which has not yet used the way-back box that tips out past 230 yards. Whether they give these guys more head starts will largely depend on the wind—if it's soft, they won't need to, as you simply cannot make a course long enough that players won't tear it up on a calm afternoon. But if it does continue to blow, and it usually does here, the question then becomes whether the PGA of America wants this to be a '19 Bethpage-style war of attrition, or a '20 Harding Park-style race to 14 under. Given the Ocean Course's reputation, our money is on the former.
MORE PGA CHAMPIONSHIP 2021 STORIES FROM GOLF DIGEST: