brotherly love
PGA Championship 2021: Tim Mickelson's own sacrifices pay off with brother Phil's historic win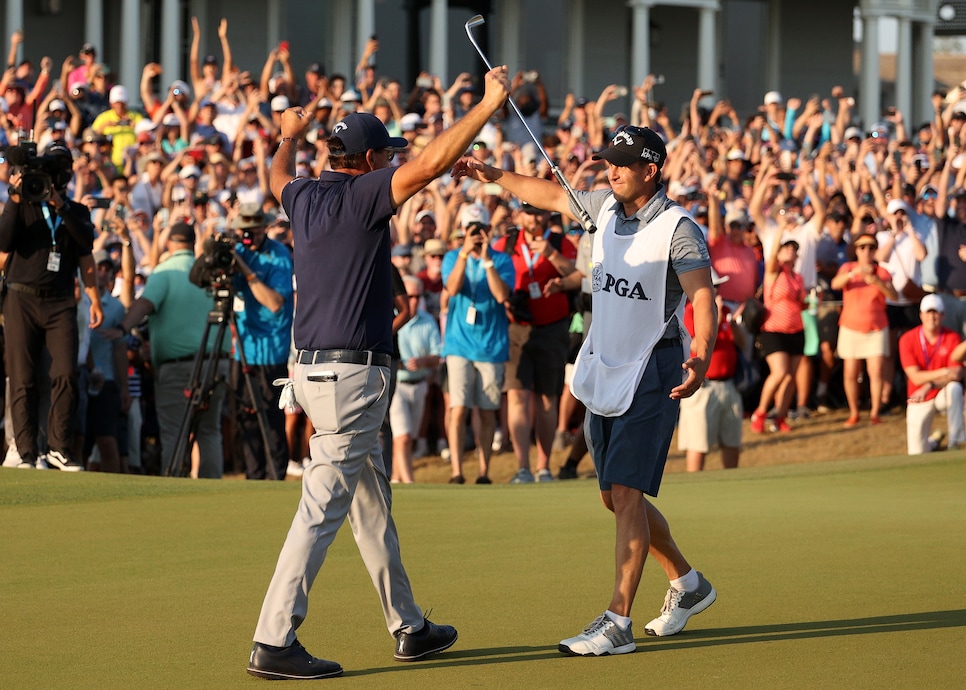 Phil Mickelson celebrates with brother and caddie Tim Mickelson on the 18th green after winning during the final round of the 2021 PGA Championship.
Patrick Smith
To reach that moment on Sunday at Kiawah Island, where he tearfully hugged his brother after Phil Mickelson seized the PGA Championship in a stunning victory, Tim Mickelson sacrificed more than most of us know.
He'd been a successful college golf coach, including at Arizona State, where he introduced a wildly talented young Spaniard, Jon Rahm, to America. Tim Mickelson was then set to be Rahm's agent—a job that figured to be highly lucrative. And it no doubt has been for somebody else, with Rahm having already won 11 times between the PGA and European Tours.
Tim was set for that new chapter, until Phil called him to ask for a favor. An enormous, life-changing favor. Phil split with longtime caddie Jim "Bones" Mackay in the summer of 2017, and his choice to replace him was the only man with whom he was closer—Tim.
It was, Tim has admitted, a difficult decision. Tim was single and 40 years old, seven years younger than Phil. He wanted to have a family soon. And he was headed for a hectic, but decidedly cushier life as an agent. Now he was going to sling a bag around the world for his brother, who was most certainly past the prime of his playing career.
"The biggest thing is, it's family," Tim said as the PGA Tour opened its season in 2018. "I thought it would be neat to be out here more, to spend more time with my brother. And, indirectly, I'm going to end up spending more time with everyone else in my family."
There had been some very good days, like their first Team Mickelson victory together in the 2018 WGC-Mexico Championship, followed by a win in the Pebble Beach Pro-Am in 2019. And there were the two wins last summer in their first two starts on PGA Tour Champions.
Life was good outside the ropes, too. Tim and his wife Maranda welcomed the birth of their first child this past January.
But Tim has also been there through some of the worst struggles of Phil's career, and watched and heard as others wrote him off.
All of those emotions wrapped into one gritty, grassy, wind-tattered package is what made Sunday on the Ocean Course feel so special.
"This is obviously awesome," Tim Mickelson said. "Any win is special, but to win a major championship at this stage of his career, I definitely teared up for the first time since caddying for him four and a half years ago."
The embrace the brothers shared on 18 was all the more notable because it didn't appear that any other members of their family was at Kiawah, fter they've been so prominent at Phil's other major wins. CBS did capture Phil speaking to his wife Amy, to whom he said, "I love you. See you tonight." Tina Mickelson, their sister shared her joy on Twitter, while also relating an interesting dinner conversation they had.
Phil Mickelson credited Tim for his work during the week at Kiawah Island, where caddies and their players were challenged on every single shot because of the wind coming from various directions off the Atlantic Ocean. Phil had an example from the final round:
"This is an intangible that makes him relatable or understand me, get the best out of me and makes him a great caddie," Phil said. "I'm walking off 6; I had made some uncommitted swings the first six holes. I had been striking the ball awesome the first three days. I had a wonderful warmup session, like I was ready to go, and I made some uncommitted swings the first six holes. He pulled me aside and said, 'If you're going to win this thing, you're going to have to make committed golf swings.'
"It hit me in the head, I can't make passive—I can't control the outcome, I have to swing committed. The first one I made was the drive on 7. Good drive on 7 gave me a chance to get down by the green and make birdie. From there on, I hit a lot of really good shots because I was committed to each one."
Tim demurred about his contributions—"He's the one that's executing the shots. I'm just telling him what distance I think it's going to go'—but the comfort of his brother being at his side, truly having his back, just as Mackay did, is unmistakably critical to Phil.
"His will and desire to win now is as high as it's ever been in my opinion," Tim said. "Certainly, it's probably higher than when I started caddying for him.
"He's the same guy he was when he went to college as it relates to the enjoyment factor of playing golf and competing," he said. "He just loves to compete. Obviously at the highest level like this is what he loves to do, but he loves doing it at home, too, even if he's playing with 4-handicaps, 5-handicaps, whatever it is. He just loves to compete against people in golf."